Here you can see the 15 Denier Nylon baffle pattern.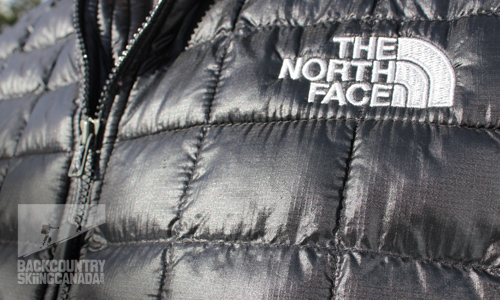 The ThermoBall Hoodie accomplishes this by using a unique insulation material. Traditionally, synthetic down jackets have used long, continuous fibres, which are sewn into the jacket in long "sheets". The ThermoBall does not. Developed in partnership with PrimaLoft, ThermoBall insulation mimics down clusters, but with a few added benefits. Instead of long sheets, small baffles containing hundreds of small synthetic clusters "balls" are utilized to retain warmth (figure below).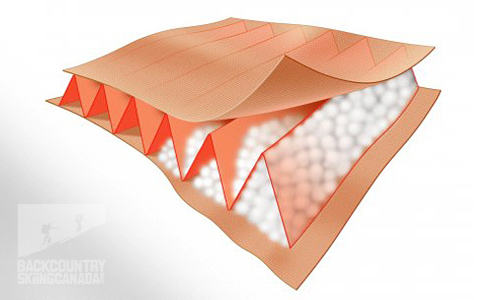 Each baffle contains hundreds of synthetic "balls" (figure below), that mimic down clusters.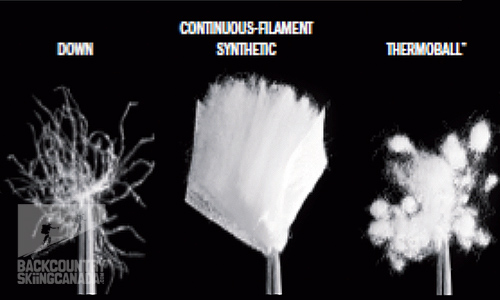 And the benefits? The ThermoBall clusters provide more loft, and therefore more warmth than a continuous-filament synthetic. Unlike down, synthetic insulation handles moisture much more competently. For a garment that is predominantly used in an environment featuring water, snow and sweat, this is a huge advantage.
Down's insulating qualities are severely affected in damp, wet conditions, and when repeatedly compressed. Synthetic insulation, handles these conditions with ease.
Intended as a mid-layer insulator, this Hoodie is designed for layering between a baselayer and a hardshell exterior layer, or as a standalone piece on warmer spring days.
The North Face has a two year exclusive deal with PrimaLoft® on the ThermoBall technology, and they have extended the technology to a number of other pieces. These include:
- Women's ThermoBall Hoodie
- Men's & Women's Full-Zip Jacket (identical to this piece, minus the hood)
- Men's and Women's Vest
- Boy's and Girl's Full-Zip Jacket
- Women's Roll-Down Bootie
- Men's Bootie
- Women's NSE Traction Skinny Mule
- Men's NSE Tent Mule III SE
Simple to the core, no added pockets or bells & whistles to keep this jacket light and compressible.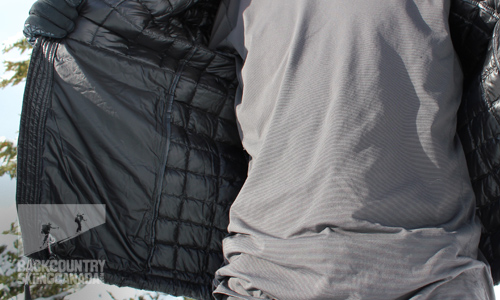 Simple hem cynch to keep the cold out.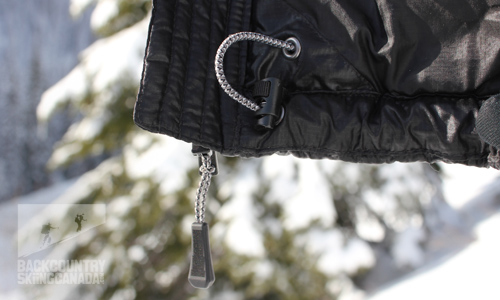 Cuffs with out adjustability, again to keep things simple.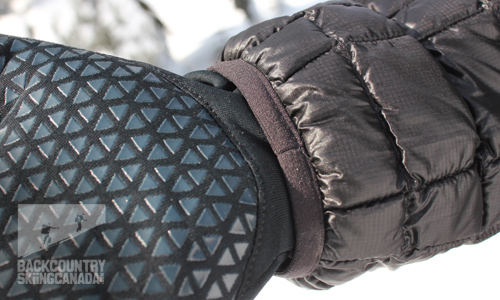 Features:
- Thermoball synthetic insulation (warmth equivalent of 600-fill down)
- Two hand pockets
- Elastic binding at cuff and hood
- Hem cinch-cord system in hand pockets
- Stowable in hand pocket
- Three-color zipper-pull detail
The hood fits well but it again very simplistic in its design.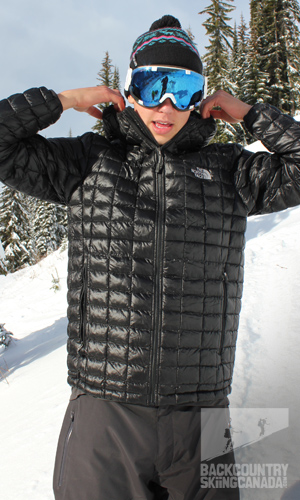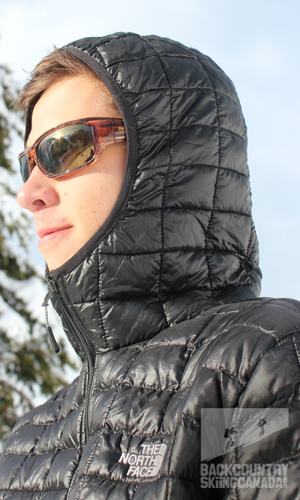 Verdict:
The ThermoBall Hoodie is an amazing jacket. Excellent performance in damp, wet conditions, and a decent warmth/weight ratio make this a functional piece. Does it live up to the hype surrounding it? Absolutely. The ThermoBall is one small step forward for man, one…OK that may be a slight exaggeration, but the innovation behind the jacket is remarkable, and it is an extremely competent insulation layer.
The importance of wet weather performance cannot be underestimated, especially in a sport wrought with as much snow, sweat and moisture as backcountry skiing.
The North Face, in partnership with Primaloft, have pushed the boundaries of synthetic insulation, and while its continued warmth in damp conditions sets it on-par with other synthetic insulation layers, it's superior warmth sets it a step ahead of the rest.
SPECS:
Price: $250 CAD
Sizes: S, M, L, XL, XXL
Colours: Nautical Blue, Pache Grey, TNF Black, TNF Red
Fabric: 15D 33 g/m² (1.16 oz/yd²) 100% nylon (bluesign® approved)
Insulation: PrimaLoft ThermoBall
Weight: 400g (14.11 oz)
Guarantee: Lifetime Warranty
PROS:
Retention of warmth in damp conditions is excellent, and a huge benefit for a jacket designed for high tempo activities often conducted in moist environments. Excellent form fitting hood, hem draw-strings, and functional, appropriately sized pockets all create a very functional package.
CONS:
The ThermoBall's glossy exterior, and numerous small baffles, many not appeal to everyone. When compared to similar jackets that use down insulation, The North Face ThermoBall Hoodie does not compact as small, a definite con for space-conscious backcountry skiers.
Rating: 8/10
Fit                    2/2
Packability        1.5/2
Warmth             1.5/2
Features            1.5/2
Quality / Price   1.5/2

This is only our opinion. Do you disagree? Did we miss something? Are we totally out to lunch? Join the discussion in the forums here, and let us know what you think. People like/dislike gear for different reasons so chime in and we'll get a well-rounded evaluation.
Back to the rest of the reviews.
---