The North Face Phoenix 3 Tent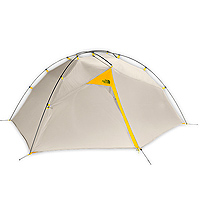 To produce a lightweight tent you need to decrease either the physical size of the tent or the materials used to create it. In the case of The North Face Phoenix 3 Tent it's the latter that allows it to weigh in at a paltry 1.97kg. For a three person, three season tent with two entrances and two vestibules, it's lighter than most two person tents on the market with the same specifications. It also clocks in at a full two pounds lighter than The North Face Rock 32 Tent I reviewed a few years back. The North Face's secret to reducing the materials is achieved by getting rid of the tent / fly combo. The result is a waterproof yet breathable single wall tent design. DryWall is the proprietary technology that The North Face came up with in 2011 and it's inherently fire resistant which eliminates the need to add fire retardant to its' polyurethane coating; this saves weight and increases breathability and strength. An added benefit of this single wall tent design is also a quicker set up time since there is no fly to mess around with. You can set the Phoenix 3 tent up in the rain as the interior is protected from the elements, unlike traditional two wall tent designs. Pole twist clips are used to hang the tent from the DAC Featherlite® NSL poles however all other hard wear is pretty standard issue and no fancy "jake's foot" systems are found except for the ball joints at the end of the ridge pole. Speaking of poles the DAC Featherlite NSL poles are anodized without the use of harmful acids which is good for the planet and thankfully pretty much an industry standard for reputable tent manufacturers these days.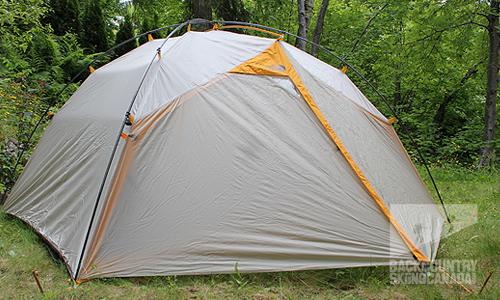 The interior of the tent provides adequate space for three with overall dimensions of 87" x 63" and a floor space of 41.2 square feet or 3.8 square metres. In addition to this the two vestibules offer up an additional 8.6 square feet of room per vestibule. While this isn't the largest we've seen on tents it is more than enough to store three large packs. The vestibules also do double duty to promote cross ventilation thanks to the full mesh doors. Since there are no other secondary vents on the tent the Phoenix 3 doors need to be made out of mesh and managed in accordance with the conditions inside the tent to prevent condensation. One of the vestibules also needs to be left clear for entry and exit.
With 45" of head room in the centre and 40" at the walls there is plenty of room to sit up and read or play cards on those days when it just doesn't make sense to leave the tent for anything other than necessary business. Most of this room is thanks to the third pole which gives The North Face Phoenix 3 Tent its main ridge and hence the head room. This ridge pole is unfortunately not connected to the other two poles which themselves are not connected to one another. This all typically lends itself to an unstable tent, which is not the case with the Phoenix 3. It's a relatively stable tent when you consider direct vertical load as well as cross loading due to wind, but it does't get full marks for structural integrity when compared to other tents with hinged cross poles. The reverse-combi cross poles however are at a steeper angle than most which allows the Phoenix tent walls to be steeper than normal. This increases the tent's livable space. To aid in reading or all-night Euchre sessions there is a single interior loop affixed to the tent ceiling. This loop allows you to hang your headlamp (or other accessories) and is a such a welcome feature that two would have been even better. During the daylight hours the two large mesh doors let in available light as does the neutral colour of the tent fly itself. However boring this colour is, it does keep things bright inside on overcast days. A small amount of light is also allowed in by the small polyurethane windows located in the top of each vestibule door. These provide some view of the outside conditions however they are pretty small overall, again in order to keep weight to a minimum.
Features:
- DryWall™ proprietary single skin
- Light and simple clip pitch
- High-low venting
- Compression sac included
- DAC Featherlite NSL poles are lightweight and rigid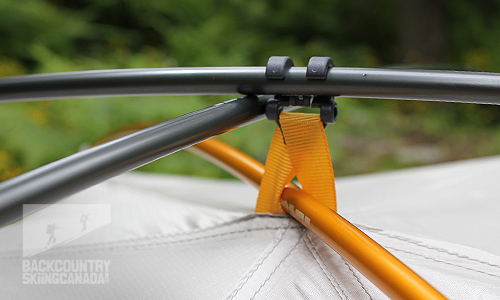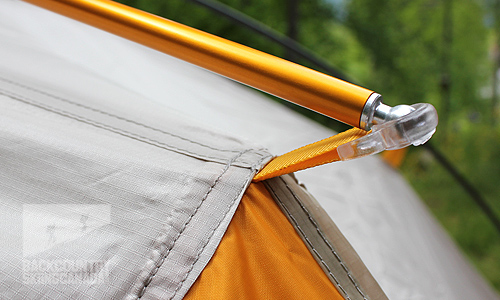 - Polyurethane windows, one in each vestibule to let in light

- DAC stakes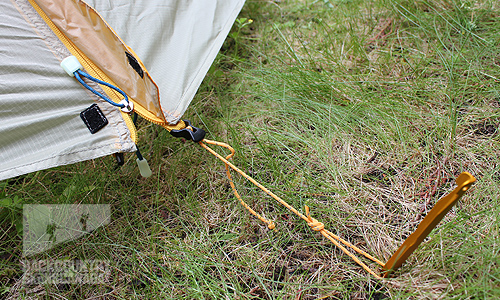 - Double door and double vestibule offer easy in/out and lots of space for wet storage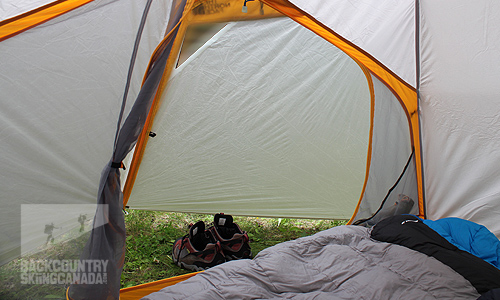 - Interior hang loop for headlamp or other accessories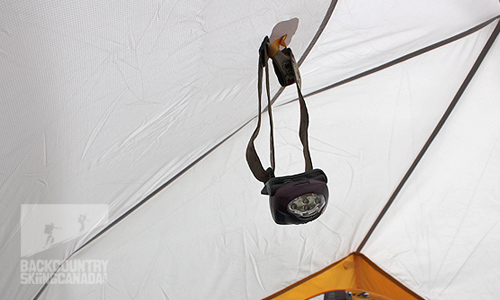 - Four large mesh pockets to hold essentials and small items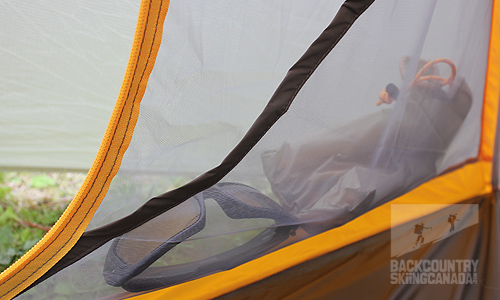 - Glow in the dark zipper pulls on the inside, very cool!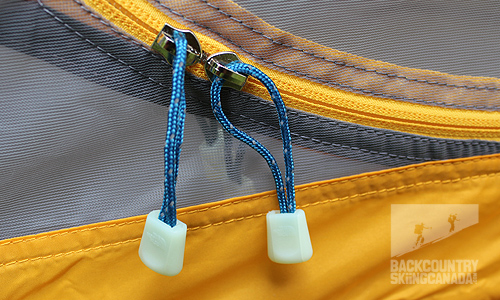 Materials:
Fly: 33D nylon ripstop, 1500mm PU coating/silicone water-resistant finish DryWall™
Canopy: 50D polyester ripstop, 1200mm hydrostatic head
Mesh: 20D polyester "no-see-um" mesh
Floor: 50D 270T nylon taffeta, 3000mm PU coating, water-resistant finish
Poles: DAC Featherlite NSL aluminum (9mm)
There was very little information to be found on The North Face's DryWall technology and as far as I could tell it is essentially a polyurethane/silicone coating over proprietary breathable nylon fabric with the addition of a DWR (Durable water repellant) coating. Since DryWall naturally meets fire regulations the lack of other required fire retardant chemicals allows the fabric to breath while still repelling water.
Verdict:
While The North Face Phoenix 3 Tent is innovative with its single wall design, the first question that arose for me as I'm sure it did for some of those reading was "does it work?" I want to know that I am not sacrificing being dry and comfortable for additional weight savings and faster set up times. During my testing in a variety of conditions I found that the DryWall technology did a fair job of regulating moisture inside the tent. The vast majority of the success though (I think) has to be attributed to adequate ventilation, ambient air temperature and it's moisture content. Any tent will produce condensation on it's walls if it is colder outside the tent than it is on the inside and there is no air exchange. This is how condensation forms after all, the meeting of warm air against a colder surface. To combat this you forego some of the interior warmth that you have created from body heat and have to open up the doors on the vestibule to let in fresh air which is typically cooler and also less humid. While the DryWall does breath it needs help to do it's thing and efficient management of interior humidity is crucial. On most nights I did experience some condensation on the interior of the tent, however this was to be expected. It was not a huge problem but the ends of my sleeping bag did start to wet out as they were in contact with the tent walls. Cooler spring nights when conditions outside are typically drier are more conducive to the movement of warm, moist inner air through the Drywall fabric which resulted in less to no condensation inside the tent.
When it rained the Drywall fabric was successful in keeping the moisture where it belonged - outside. It would be nice however to have more protection over the door zippers as venting was limited in inclement weather. This might also help with condensation in the vestibules themselves since they are made from standard polyurethane-coated nylon and are not breathable like the DryWall fabric. Even the addition of a dedicated wall or ceiling vent(s) with a built in prop to keep the vent open and the air flowing would be a big help.
My next question was "do you have to replenish the DWR over time to ensure waterproofness is maintained?" This however can only be answered with time itself so I will keep an eye on this.
On the plus side the Phoenix 3 offers up adequate interior space as well as storage space in the vestibules, all for under two kilograms. The convenience of having two doors and two vestibules (while not massive) is a huge plus as well. The ease of set up (since there is no fly) is also welcome.
On the down side I found that not having the ability to hang a gear attic inside the tent was limiting since these things are ideal for storing and drying gear. There are large mesh pockets in each of the four corners that provide lots of additional space for the small things you need access to quickly. The non-bathtub construction of the floor and the fact that there was a seam that runs the entire length of the floor was reason for concern. Seam sealing ensures water does not penetrate but in my experience the factory seam seal always tends to wear out on any tent. This is no doubt a cost saving strategy as I cannot think of any reason why you would not simply use a single piece of nylon fabric for the floor. Staying with the floor, I also found the 50 denier fabric was not as thick as it could be, on other tents it's not uncommon to find 70 denier fabric which does a much better job of reducing the possibility of holes due to gravel or other sharp objects. A drop sheet is always recommended for any tent for this very reason. I have already touched on the stability of the tent in the first few paragraphs but wanted to reiterate that while the stability is good, it could be vastly improved by joining the poles to one another and thus be capable of taking more wind or even snow load in those late spring early fall alpine storms.
Since the "details are where the devil hides" as they say, one of my favourite details has to be the glow in the dark zipper pull tabs. It's a great idea that doesn't add much weight but instead a whole lotta convenience. Second to this has to be the price; at just $389 this tent is a real deal.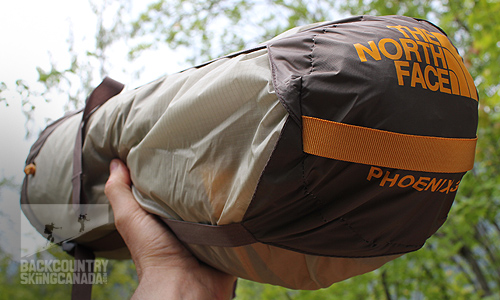 SPECS:
Price: $389US
Minimum Weight: 1.97kg / 4lb 5.2oz
Packed Weight: 2.17kg / 4lb 12.5oz
Packed size: 61cm x 17cm / 7" x 24"
Colour: Winterstone Ivory / Weimaraner Brown
Capacity: 3 person
Season: 3 season
Vestibule area: 8.6sq ft / 0.8m2 per vestibule
Floor Area: 41.2sq ft / 3.8m2
Warranty: Lifetime
PROS:
- Light weight 3 person tent with dual doors and vestibules
- Good rigidity to load and wind
- Quick to set up and keeps the interior protected and dry even in pouring rain
- Price is very reasonable
- Glow in the dark zipper pulls
- Included compression sack
CONS:
- Colour is not safety orientated but does keep it relatively bright inside
- Poles are not joined at the apex so structural integrity is not as good as it could be
- No fly to remove when it is warm out or you want a 360 view
- Floor is not bathtub construction and has a seam running through it which could be compromised by water over time
- No gear attic available
- Floor fabric is only 50 denier so a ground sheet is needed to protect it from damage caused by rocks and other sharp debris
Rating: 7.5/10
Interior Space     2/2
Design                1/2
Features             1/2
Weight                2/2
Quality / Price    1.5/2

This is only our opinion. Do you disagree? Did we miss something? Are we totally out to lunch? Join the discussion in the forums here, and let us know what you think. People like/dislike gear for different reasons so chime in and we'll get a well-rounded evaluation.
Back to the rest of the reviews.
---