The North Face Hightail 3S Down Sleeping Bag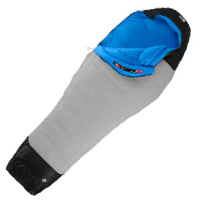 The North Face Hightail 3S sleeping bag is the second bag we have tested from The North Face, the first being The North Face Blue Kazoo back in 2011. The big difference between these two sleeping bags is that the Hightail 3S uses 850 down insulation instead of the 650 down found in the Blue Kazoo. The Hightail 3S is also 10oz or 300 grams lighter due to the elimination of some Blue Kazoo features. In fact, the Hightail 3S was the lightest of all the sleeping bags we tested this spring.
The Blue Kazoo accompanied this reviewer on a 5 week Himalayan trek where the bag performed quite well other than at elevation (we're talking 18,000 feet here) where it was simply not warm enough at night. These cold nights were the impetus to review a sleeping bag from the North Face which used 850 down instead of 650. The other main attributes of the Hightail 3S sleeping bag are the silky nylon taffeta lining (which I was a big fan of in the Blue Kazoo), trapezoidal baffle construction, ergonomic vaulted foot box design and strategically located compression zones which use Climashield™ Prism. These compression zones are essentially additional padding and insulation in areas that need it most in order to keep your warm, namely under your head, shoulders, butt and feet.
With 850 Down fill and a lower limit temperature rating of -9 the specifications are (what I believe) to be right on the money for a 3 season bag that is ideal for hut based winter backcountry skiing use. If you are looking to actually winter camp then I would recommend a much warmer sleeping bag, that is if your intentions are to actually get a good night's sleep. However if you are hut based during winter and there is no heat source you should be adequately warm with the Hightail 3S. Likewise in spring, summer and fall the -9 rating of The North Face Hightail 3S sleeping bag will keep you warm in alpine environments where night time temperatures typically approach 0°C. This is where our testing took place in the months of May and June at 7,000 ft where there's typically still almost a meter of snow on the ground and the lakes are still frozen. To find out how the Hightail 3S performed in our tests and also how it compared to several other similar sleeping bags we reviewed this spring be sure to read the verdict at the bottom of this review.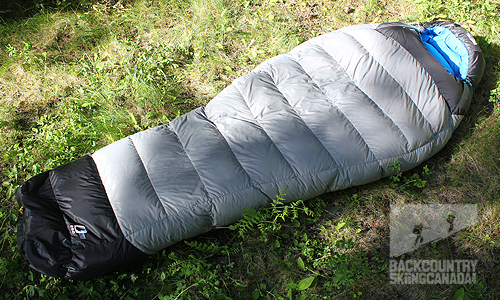 Features:
- Anti compression pads use Climashield Prism in high-pressure areas such as head, shoulders, butt and feet to increase thermal efficiency by 13%
- No-Snag stiffener in zipper column
- Nylon mesh storage sack and stuff sack included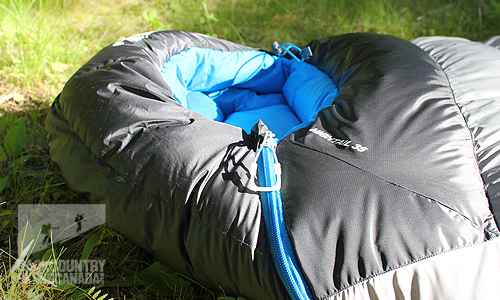 - One-hand pull cord for easy hood adjustments.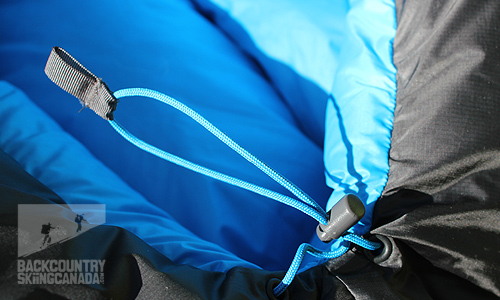 - Larger glow in the dark zipper pulls.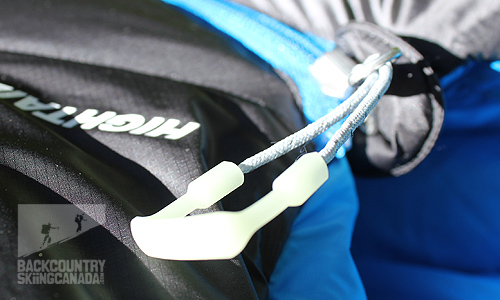 - Trapezoid Box Baffles provide more warmth and loft in areas vulnerable to cold spots.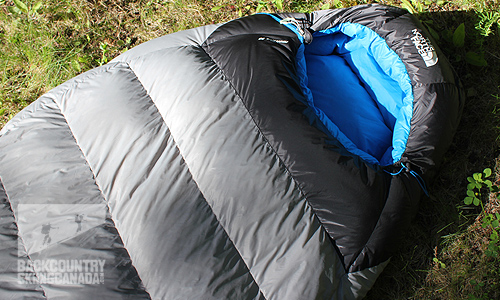 - Footbox contoured for comfort.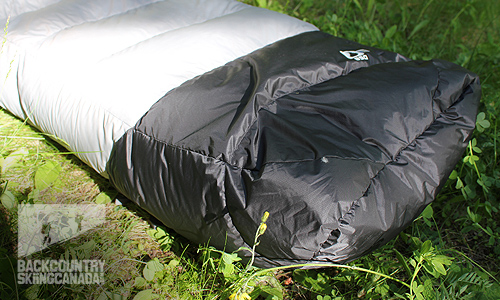 - Down-filled draft tube and face comfort tubes.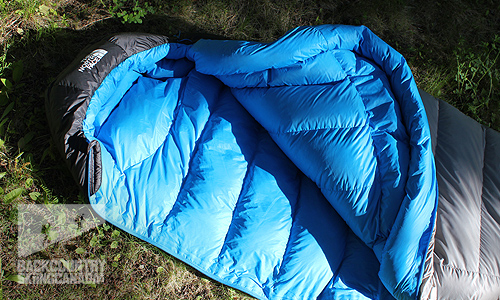 - Heat-transfer logos to save embroidery thread weight.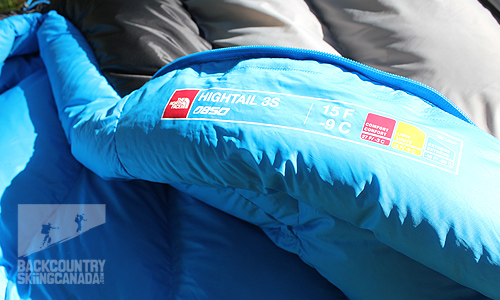 Fabrics:
Shell: Pertex Endurance at hood and feet area to prevent wet out
Insulation: 850+ fill Eastern European grey goose Down
Lining: Pertex silky nylon taffeta
Verdict:
This spring we reviewed the latest down seeping bags from manufacturers such as First Ascent, Sea to Summit, Mountain Hardwear, Sierra Designs, The North Face, Deuter and Big Agnes. We wanted to give The North Face Hightail 3S sleeping bag a fair shake on its own as well as compared to other down sleeping bag on the market with a rating in the -10°C range. This provides you, the reader, with a better idea of what's available in the market place should you be considering an imminent purchase.
As I mentioned at the start of this review The North Face Hightail 3S sleeping bag is the lightest of the sleeping bags we tested this spring and only the Brooks Range Alpini 15 which we tested last year was lighter. In order to achieve this weight savings several features were omitted, for example, a zippered stash pocket which is something I think is very handy for storing ear plugs and a headlamp. Most of the other sleeping bags we reviewed had an integrated stash pocket of some sort with the Sea to Summit sleeping bag winning the best overall pocket design. The North Face didn't skimp on the quality of the zipper pull though; they used the same plasticized glow-in-the-dark zipper pull as found on the Blue Kazoo bag. This proved to be the best zipper pull we tested as most other manufacturers used an inexpensive and often small cloth zipper pull. While these work, they are hard to find in the middle of the night, unlike The North Face zipper pull which you can not only easily feel but you can also see it as it actually does glow in the dark all night long. One feature that would make things even better, however, would be to have two zipper pulls, one on the inside of the bag and one on the outside. A single zipper pull can flip from the inside to the outside which can be frustrating and make the user feel slightly claustrophobic when they are struggling to free themselves for a quick mid-sleep bladder relief.
While the colour combination of the Hightail 3S is not the most striking, the black highlights on grey does show where The North Face used Pertex Endurance fabric. This fabric is found on the hood and at the feet and is meant to prevent wet-out occurring when your bag touches the tent walls as this is where moisture can collect over night and ultimately end up on your sleeping bag. This is not a replacement for the new waterproof down that some sleeping bags on the market (and in our tests) use but in my testing it still did a nice job of keeping the Hightail bag dry. The interior fabric (still being grey) was among the most comfortable and soft that we tested. Unfortunately this fabric was also used around the zipper which did lead to several annoying snags. A thicker more rigid fabric would have prevented this but The North Face simply used a stiffer fabric backing which did not adequately do the job.
To keep drafts out, the Hightail 3S has a built in neck collar that is simply an extension of the zipper draft tube which is a nice design option. Unfortunately, the neck collar uses the same adjustment as the hood so both will synch at once. This is also a two handed operation as the adjustment is not fixed to the sleeping bag as it is with most other bags we tested.
The overall fit of the Hightail 3S is just right and provides more than enough room for a comfortable sleep. With an ergonomic foot box design your feet have plenty of room no matter if your sleeping preference is on your side or on your back. The anti compression pads found under the foot area (as well as the head, shoulders and butt) are a unique feature found only on The North Face bags and are a great idea for improved comfort and reduced heat loss to the ground.
In order to keep The North Face Hightail 3S sleeping bag protected and prevent the down from loosing its loft a mesh storage sac is provided. An additional bag is provided for when the sleeping bag is in your pack but I was surprised to find that this was only an inexpensive nylon bag with no compression straps. Nearly all the other bags we tested came complete with a high-quality compression sac so this was one area that could easily be improved upon.
Overall for a mid priced down sleeping bag The North Face Hightail 3S comes with some unique features that truly are innovative, however it also lacks some basic features that this reviewer would require in order to award a higher score but this is likely because The North Face is trying to keep this bag on the lighter end of the scale.
- Stuff sac has no compression so it doesn't show the true size of how small the sleeping bag can go.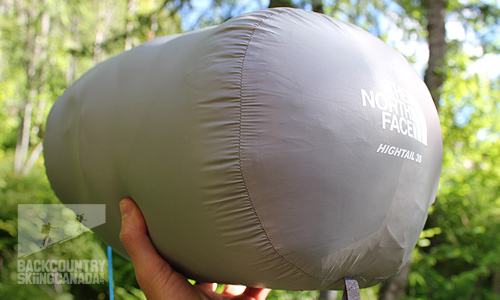 SPECS:
Price: $429CAN
Weight: 975g / 2lb 2oz
Size: Long
Dimensions (length / shoulder / Foot / Hip): 198 / 157 / 97 / 152 cm, 78 / 62 / 43 / 60 inches
Fill: 850+ fill Eastern European grey goose Down
Fill weight: 538g / 19 oz
Stuff-Size: 20 x 35.5 cm / 8 x 14inches
Temperature Rating: comfort -3°C, lower limit -9°C, extreme -28°C
PROS:
- Most comfortable interior fabric of all the bags we tested
- Lightest bag tested
- Zipper pulls are big, easy to find and they glow in the dark!
- Anti compression pads provide more comfort and warmth
CONS:
- No built in pocket
- No compression sack included
- No separate adjustment on the neck collar draft tube
- Two hands required to adjust the hood
- Zipper snags frequently due to lack of reinforced fabric beside the zipper
Rating: 7.5/10
Warmth 2/2
Compressibility 1.5/2
Features 1/2
Weight 2/2
Quality / Price 1/2

This is only our opinion. Do you disagree? Did we miss something? Are we totally out to lunch? Join the discussion in the forums here, and let us know what you think. People like/dislike gear for different reasons so chime in and we'll get a well-rounded evaluation.
Back to the rest of the reviews.
---