The North Face Rock 32 tent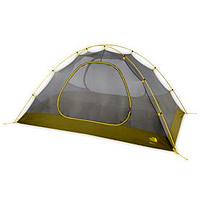 Extended daylight hours and milder temps mean April, May and June are made for backcountry ski traverses. While we can assume mother nature will be easier on us at that time of year we still have to be prepared for what she can throw at us, especially when traveling in high alpine mountainous terrain. Based on your route, time of year, latitudinal location and, of course, forecasted weather patterns one needs to choose their gear accordingly. If the stars align, the forecast is good and you are not expecting any 60cm dumps over night then The North Face Rock 32 tent would be a good light and fast shelter to consider.
The North Face Rock 32 tent is a relatively light weight 3 season, 3 person tent with dual entry/dual vestibules that gives you just enough room while minimizing weight per person ratios. The Rock 32 tent has recently been updated by The North Face but still remains a user friendly and easy to set-up X frame tent with only two main poles to limit fuss and muss when you just gotta get it set up in a pinch. The main differences with the new Rock 32 tent are an increased vestibule size and more ventilation.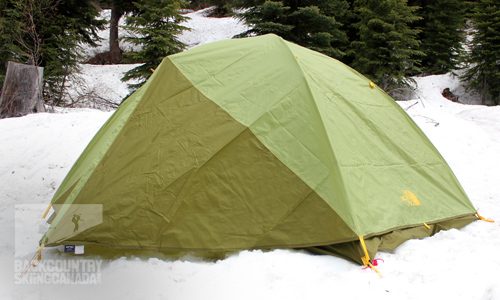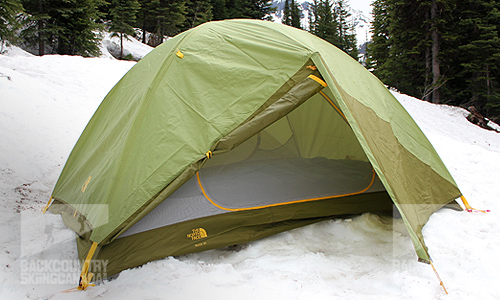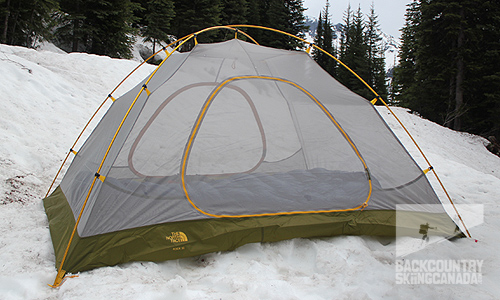 Materials:
Canopy: 70D 190T nylon ripstop
Floor: 70D 190T nylon taffeta with 5000 mm PU coating
Fly: 70D 190T nylon ripstop with 1500 mm PU coating
Poles: The North Face Rock 32 tent uses DAC Featherlite™ NSL aluminum tent poles that offer a high strength-to-weight ratio (which makes my back feel good already). The pole design includes an insert tube with a thinner wall than the main tube giving added strength to the sleeve joints. This construction detail eliminates excess weight and is balanced by a small strengthening tube at the joining position.
Features:
DAC Press-Fit™ poles: Good weight to strength ratio.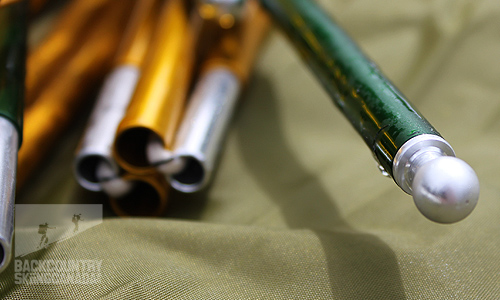 Pitch system: Lightweight, easy-to-use clip system.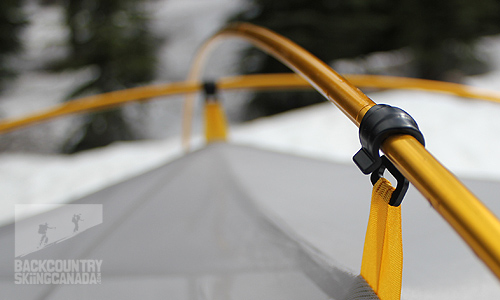 Color-coded pitch system: Keeps things super simply for erecting poles, canopy and fly.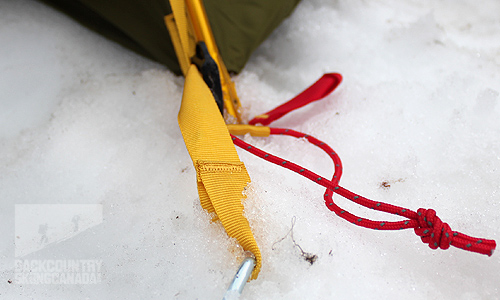 Gear attic: Perfect for storing or drying things that need drying.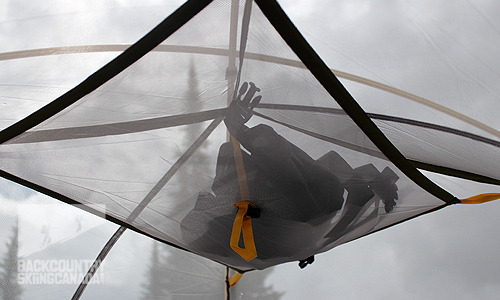 Two large vestibules and full-zip doors: Gives you multiple entry and gear storage options.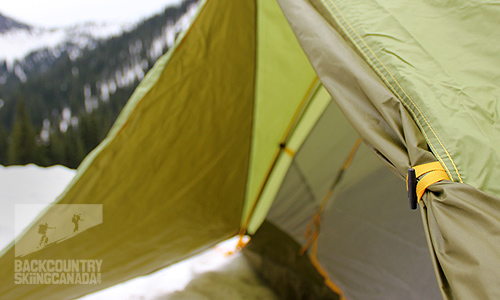 Fully taped bathtub floor construction: Keeps you dry on wet April / May snow.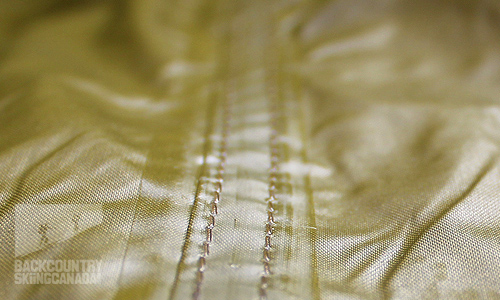 Pockets: Four pockets in each corner so everyone has there own to stow headlamps and fragile items.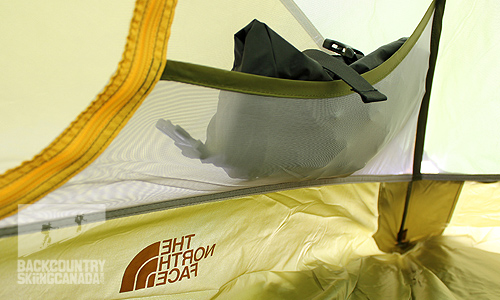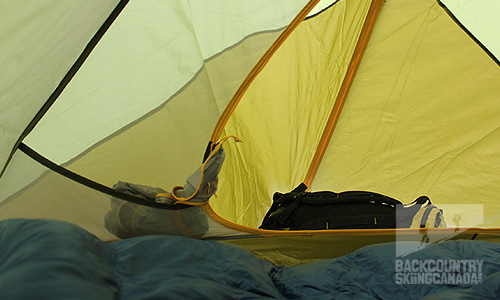 Brow Pole: The integration of a simple and lightweight Ball Cap clips on brow pole ends is a nice touch.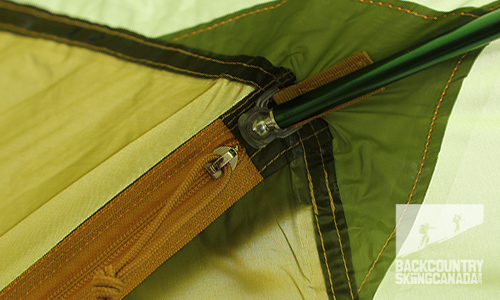 Verdict:
The biggest benefit of The North Face Rock 32 tent is its roomy vestibules and 3 man capacity all for the weight of an average two-man tent. If you are camping on a traverse you are going to have a lot of gear and you need a lot of room to store that gear out of the elements while still being able to easily access the tent interior. With two doors and two giant vestibules, you can pack one vestibule to the limit and use the other door as access, or spread things out between the two and keep your smelly ski boots away from your tent mates (good fences make for good neighbours after all). The vestibules each offer 4.6 square feet of space (0.5 m²) thanks to the third pole which extends the vestibule height on either side making it super simple to get in and out of the tent and also store so much more backcountry ski gear. To keep confusion to a minimum The North Face Rock 32 tent has a colour coded pitch system but with only three poles (two being identical) this is not really required - unless of course you're really spatially challenged. My favourite features had to be the gear attic for storing and drying damp cloths and also the big full zip doors that allow easy in/out (these store neatly in the side pockets if you want to get them out of the way).
Overall The Northface Rock 32 is a good tent for spring ski touring, it is by no means made for winter camping or if heavy snow fall is forecasted as the structural integrity will just not stand up to this kind of abuse. It would be an ideal tent for Canoe Camping or Summer adventures. The advantage here is weight savings for three people. Sure, you'll be snug in there with three people and have little room for gear but that's what the two huge vestibules are for - and your back and legs will thank you on the trail breaking as you only carry 1kg/person for your shelter. The only two words of wisdom for The North Face on this one is perhaps add in an adjustable loop pegging system so things can be snugged up as needed and rethink the colour. While I like the green colour, it is not the most visible choice should you need help midway through your traverse and it also may not be the cheeriest environment to spend three days while waiting out bad weather. I am thinking a bright and cheerful orange or yellow could be a better choice of colour.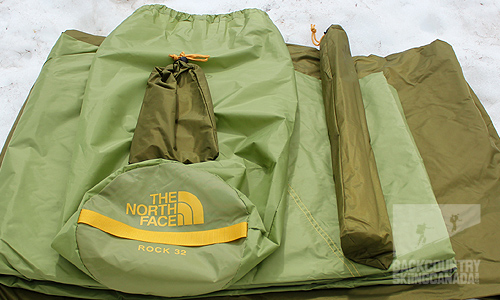 SPECS:
Price: $209
Weight: 6lb 7 oz / 2.9kg
Capacity: 3
Colour: Bamboo Green
Material: 70D 190T nylon
Floor Area: 43.5 ft2 / 4.0m2
Stuffed size: 24.5" x 8" / 62cm x 20cm
PROS:
A relatively 3 season shelter for three with plenty of storage pockets and generous vestibules - love the gear attic!
CONS:
Stability: This is not a beefy tent that can take excessive winds and snow loads - to strengthen things a little consider strapping the tent poles where they cross and using the velcro pole straps on the fly. Weight: It is pretty heavy for a three person tent.
Rating: 8.5/10
Interior Space 2/2
Design 1.5/2
Features 2/2
Weight 1/2
Quality / Price 2/2

This is only our opinion. Do you disagree? Did we miss something? Are we totally out to lunch? Join the discussion in the forums here, and let us know what you think. People like/dislike gear for different reasons so chime in and we'll get a well-rounded evaluation. Check back mid-season to see how our review stands up to our in-the-field testing.
Back to the rest of the reviews.
---