The North Face Kannon FlashDry Insulated Jacket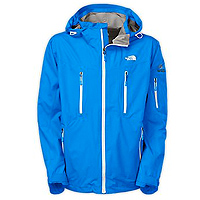 I have always struggled to find the perfect outter layer for skiing/riding in the mountains. As an aggressive rider I constantly have sweat dripping from my brow by the time I reach the bottom, and in turn, I am shivering on the way up the chair lift or skin track. I have finally found a system that works; The North Face Kannon FlashDry Insulated Jacket. This jacket was built for maximum warmth and breathability. I have skied in minus ten weather with nothing but a bamboo t-shirt underneath and have been extremely comfortable. If I didn't have to take this jacket off inside the lodge to prevent perspiration, I would consider going topless; but the jacket is designed to circulate air to regulate body temperature by keeping the hand warmer pockets open. The breathability also reduces any odour built up, keeping the jacket fresh.
The seam sealed polyurethane HyVent 2.5L fabric and the new FlashDry technology keeps warmth in and moisture out without sacrificing the breathability and increases dry time tenfold, providing there is a warm, dry place to hang it up. It is lightweight and roomy, but can provide more heat retention then necessary. There are also polyurethane pit vents to allow excess heat to escape, but there is no mesh protection, so be weary of pow shots getting in. The jacket's adjustable powder skirt will keep snow out at the waist and pant-a-locks will keep it secured to your pants, which is a must for keeping under layers dry.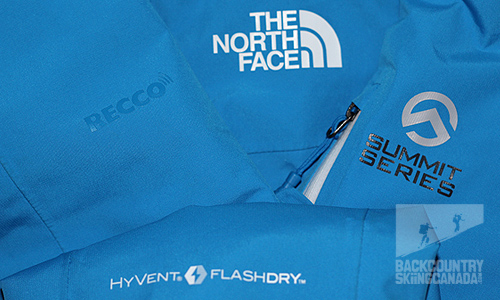 Jacket pockets are a necessity for all your mountain goodies. The ones on The North Face Kannon FlashDry Insulated Jacket are equipped with waterproof zippers to keep contents dry, and stylish tabs that are easily grabbed by the thickest of mitts. The hand warmer pockets do just that and a bicep utility pocket is equipped with a detachable goggle cloth. An open inside pocket provides enough room to stash your goggles while the interior "media security" pocket is perfect for your phone or music player. A small opening, large enough for a headphone cord ensures your electronics are protected and a guiding tab will keep headphones around the neck area for easy access to your ski music.
As we all know, safety comes first in the mountains. The North Face Kannon FlashDry Insulated Jacket comes equipped with a snow safety checklist on the inner liner as a reminder to pack your map/compass, food and water, probe, shovel, waterproof matches, a transceiver, a multi-tool, head lamp, extra layers, the buddy system and an emergency warming kit. The North Face Kannon Jacket has an adjustable hood that is large enough to accommodate any helmet size and allow for full neck rotation without any pulling, which is great for keeping your eyes on your buddies while storm skiing. Although it is no substitute for a transceiver, it has a Recco avalanche rescue reflector built into it. These features will help to keep you safe so that The North Face can live up to their lifetime warranty.
Other great features include a fleece lined neck for maximum comfort in the collar, a stylish beak on the hood and adjustable wrist straps to keep sleeves tight around your mitts. The cut of the jacket leaves a little extra in the back for roominess and style for a great overall look to the jacket.
The FlashDry technology, designed to speed dry time, benefits from exposure to a warm dry place. Meaning that after a day of ski touring the lodge's basement lockers isn't a great home for this jacket. However a 20 minute lunch in Coal Oil Johnny's at Whitewater Ski Resort is long enough to dry those problem areas such as the wrists and lower back, which seem to be the first areas to soak in moisture.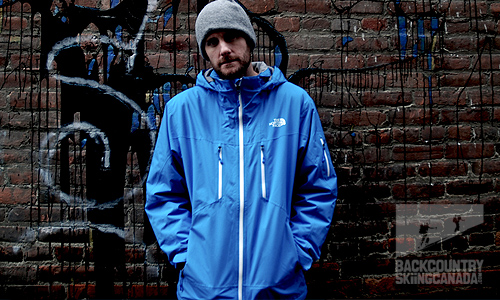 Features:
Hyvent Technology
FlashDry Technology
Waterproof Zippers
Recco System
Pant-a-locks
Safety Checklist
Media Security Pocket to keep your tunes safe.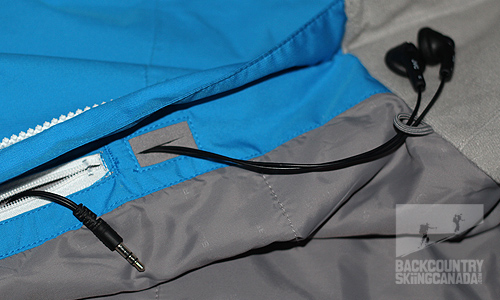 Powder Skirt for those deep days.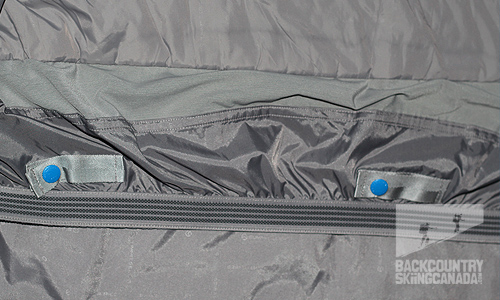 Detachable Goggle Wipe, nice!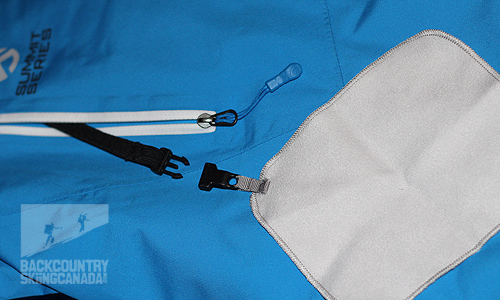 Helmet Compatible Hood with adjustability.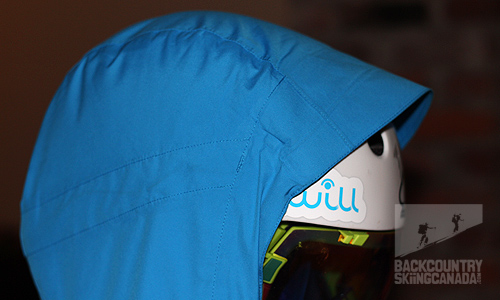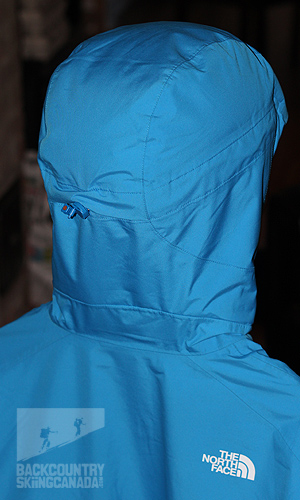 Fleece neck warmer and pit zips round things out.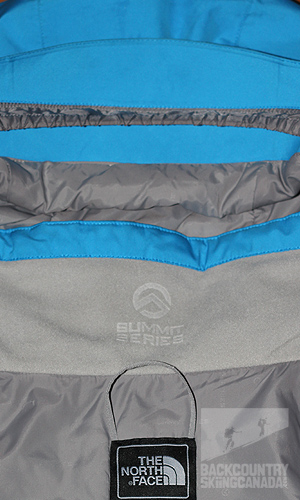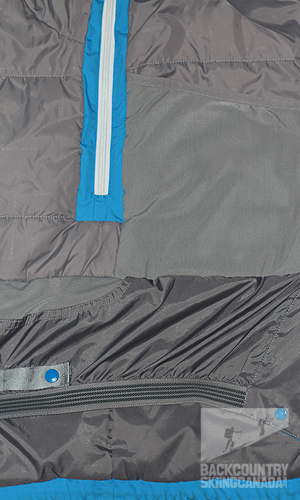 Verdict:
The North Face didn't exactly reinvent the wheel with this jacket, but they did introduce some new fabric technology and jacket systems that make it one of their best products, namely the Hyvent and FlashDry fabric. Although this jacket may be a little warm for touring, the Hyvent and FlashDry fabric help's with body temperature regulation. Perfect for resort skiing. Unfortunately this jacket is only available in two colours; Athens Blue & Oriole Orange, but that won't stop you from being one of the most stylish and comfortable people in the mountains. Some missing features include snow guards around the wrists, but the adjustable cuffs and a good pair of gloves should solve that, and the side vents are not equipped with and mesh lining to prevent invasion of foreign materials (ie snow). This may allow for a quick cool down, but under layers may get wet.
The North Face still remains a leader in their craft, and this jacket certainly has a place in your arsenal for mountain attack. Consider The North Face Kannon Insulated Jacket when touring in lower than average temperatures or for a few laps inbounds.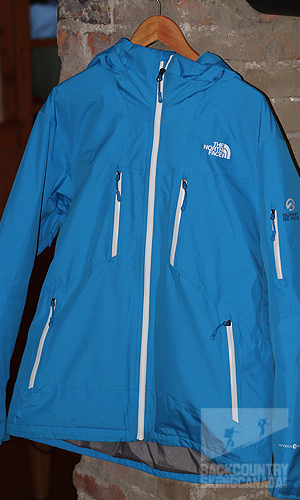 SPECS:
Price: $430.00 CAD
Colors: Athens Blue & Oriole Orange
Weight: 895 g / 31.57 oz
Sizes: M, L, XL
PROS:
Lightweight, multipurpose, warm and stylish.
CONS:
The Recco system recommends "two reflectors per person for optimal system performance", however the jacket only seems to be equipped with one, located on the upper right shoulder. Perhaps this is to entice consumers to purchase The North Face ski pants with a Recco system to complete the recommendations.
Rating: 8/10
Fit / Mobility 2/2
Packability 2/2
Waterproof / Breathable 1.5/2
Features 1/2
Quality / Price 1.5/2

This is only our opinion. Do you disagree? Did we miss something? Are we totally out to lunch? Join the discussion in the forums here, and let us know what you think. People like/dislike gear for different reasons so chime in and we'll get a well-rounded evaluation.
Back to the rest of the reviews.
---