The North Face Alpine Project Jacket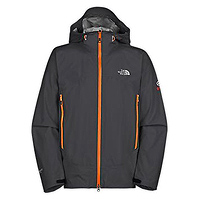 "Breathe!" my belayer yells up at me. I'm climbing a 5.12 sport route that's so overhung the rain can't reach me…until I get to the top out. Despite his reminders, I'm holding my breath and straining over the roof on soaked rock. I may not be breathing, but my jacket certainly is. I'm wearing the Alpine Project shell, part of The North Face's Summit Series Collection, which is made from the new, three-layer GORE-TEX Active Shell fabric. The company claims it's one of the most technical membranes they offer and I can certainly attest to its breathability: despite the humidity and the fact I'm nervous as Hell on this climb, I'm dry. There are some other attributes of the Alpine Project that I'm enjoying, but there are a few things I'd change as well. It's definitely the lightest climbing jacket I've ever worn at only 352 grams. The GORE-TEX fabric feels good against the skin (soft without being rubbery or clammy) and there are extra venting options including mesh-lined pockets and pit-zips. I have a six-foot ape index and the sleeves are long enough, even when my arms are fully extended above my head, but the jacket feels a bit bulky around the middle. I have a 32-inch waist and over the course of the climb I noticed the jacket rode up and bulked out above my harness giving me a virtual beer belly. This would be rectified if I were wearing extra layers but with only a T-shirt underneath, the jacket felt a bit bulky. And, at $350, it's also the most expensive minimalist shell I've owned.
Features:
Touch Point System embedded cord lock in hem
Brushed chin guard lining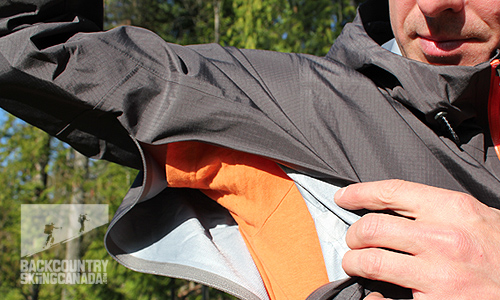 3-layer, GORE-TEX® Active Shell nylon.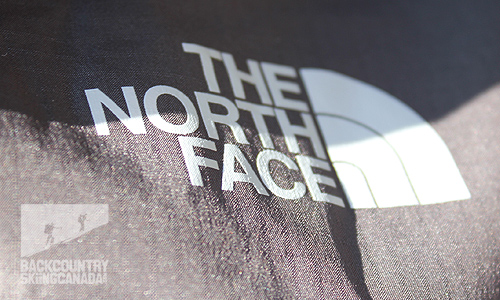 Helmet-compatible hood with hidden cord locks and laminated hood brim.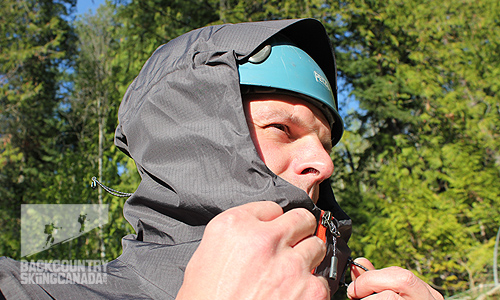 Polyurethane, two-way center front zip.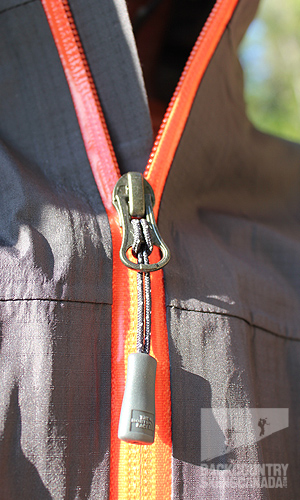 Large, mesh alpine pockets that allow for more air flow when open.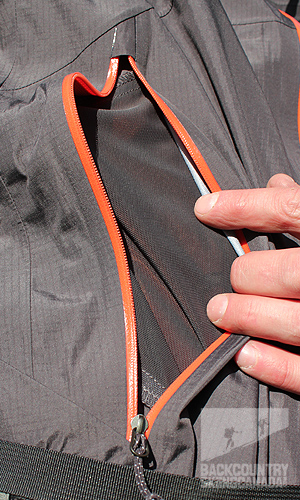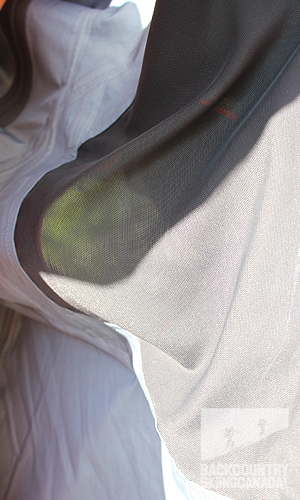 Reinforced welded seams.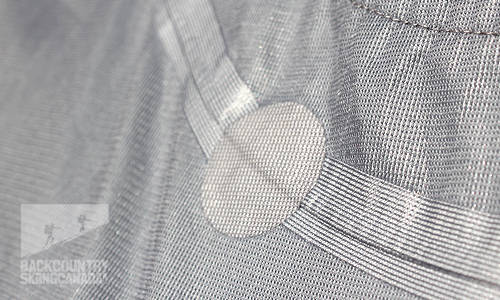 Non-abrasive, molded cuffs with Velcro fasteners.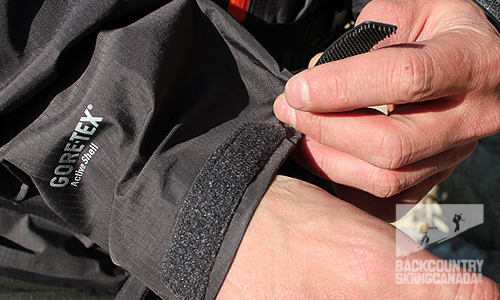 Verdict:
The Alpine Project jacket is the lightest shell I've ever worn. At only 352 grams, it weighs less than the large sandwich I normally bring along on my adventures and so it's become a fixture in my pack. Whether I'm going out for a day of ski touring, cragging, or climbing in the alpine, I know this waterproof and windproof jacket will deliver without weighing me down. As with any ultralight garment, there aren't a lot of bells and whistles but I can't say enough good things about the GORE-TEX Active Shell membrane. I've owned other GORE-TEX items in the past and they always seemed either stiff or clammy against the skin – but the Active Shell fabric is actually soft and comfortable. Other features I like include the deep hood that fits my skiing helmet and my climbing helmet; the draw string enclosures in the hood and hem that are easy to use, even with gloves on; the soft fabric inside the flap that rests against your chin; and the large, alpine-style pockets that don't interfere with my harness. By far the best feature of this jacket, though, is its breathability. Even when climbing on a humid day in the rain I didn't feel damp under the Alpine Project. The Active Shell membrane is superior and the additional venting options include large pit zips and mesh-backed pockets, which provide more air flow when opened. These are the only pockets on the jacket, however, so if you're carrying something important in them, you're forced to keep them shut. Also, as mentioned above, with only a T-shirt on underneath I felt like the jacket had a bit too much fabric around the middle. It's a small thing but given this is one of the most minimalist shells The North Face offers, it could have been streamlined even further by removing an inch or two from the diameter of the waist.

Specs:
Price: $350US
Size: XS to XXL
Colour: Monarch Orange, Black
Weight: 510 grams / 18oz
PROS:
Breathable and comfortable.
Alpine-style pockets that are high enough they don't interfere with your harness and that have mesh backings to allow for more air flow.
A deep hood that's big enough for a helmet but still cinches tightly around your face.
CONS:
No internal pockets.
It's one of the more expensive minimalist shells on the market at $350.
I have a 6-foot, 165-pound frame with a 32-inch waist and there seemed to be a few inches of excess fabric around the middle of the jacket.
Rating: 8/10
Fit / Mobility 1.5/2
Packability 2/2
Waterproof / Breathable 2/2
Features 1/2
Quality / Price 1.5/2

This is only our opinion. Do you disagree? Did we miss something? Are we totally out to lunch? Join the discussion in the forums here, and let us know what you think. People like/dislike gear for different reasons so chime in and we'll get a well-rounded evaluation.
Back to the rest of the reviews.
---