Suunto Core 75th Anniversary edition altimeter watch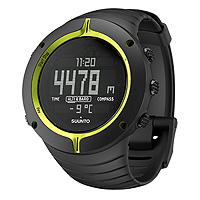 This spring Suunto commemorated their 75th anniversary by releasing the Suunto Core 75th Anniversary Edition, which they tout as the "all-in-one outdoor sports tool for the vertically inclined". Way back in 1936, Tuomas Vohlonen, an avid outdoors man of the day, gave Suunto its start by inventing a method to mass produce liquid filled compasses. Fast forward 62 years to1998 and Suunto introduced the Suunto Vector, an immediate success in the outdoor community, which now looks rather chunky compared to todays offerings. Since the Vector, Suunto has created a large collection of technical watches culminating in the Suunto Core 75th Anniversary edition, the focus of our review today.
The Suunto Core model is available in a staggering 14 versions with almost as many colours to choose from. The Core 75th Edition model offers all the features that a die-hard backcountry skier has come to rely on: time, altimeter, barometer, and compass. These are the standard base functions and the Suunto Core has many more secondary features to offer with the added ability to customize each screen with the simple push of the 'view' button. You no longer have to delve into the sub-menus to customize what information you want to see. This allows each user to customize their Core to show the secondary features that are important to them whether they are a runner, diver, hiker, climber or skier.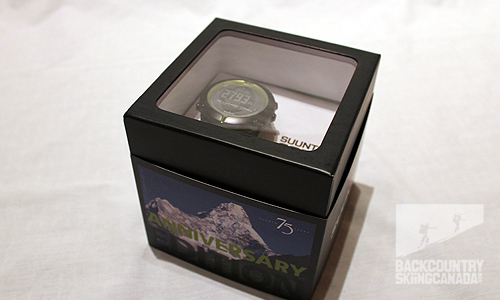 Design:
No mater how good the features are, if the design is not striking, people will just not pay attention. Lucky for the Suunto Core it is not only functional but also simple in design and striking in appearance. The Suunto Core 75th Anniversary edition is sleek and elegant thanks to the beautiful anodized green bezel design, but these are mere cosmetics, the real design appeal comes in the industrial design - that is to say the form of the Suunto Core.
The Core's body is subtly rounded on the back to limit contact with your skin and allow airflow which you will appreciate in the off season while slogging up a mountain in 30 degree Celsius. Similarly, the Core's band is concave to reduce skin contact and thanks to the generously wide clasp notches it allows more air to flow through the band to reduce skin perspiration. The band keeper (the bit that keeps the extra watch strap from flailing around) has a protrusion that fits the watch band adjustment notches perfectly so the band keeper will not move or slide around in use. This is a relatively simple feature but use it once and love it forever. The buttons on the Core are textured and large to allow for easy use with gloves on, they are also pretty sensitive so you don't need to apply Herculean force to engage them. And finally the watch face itself, it's large which allows for extra large numbers to be displayed—just what backcountry use demands. The electro-luminescent display is easy to read in high light applications and come nightfall the backlit data is a snap to see. It's easy to see that extensive thought was placed into the design and that this is not just another pretty (watch) face.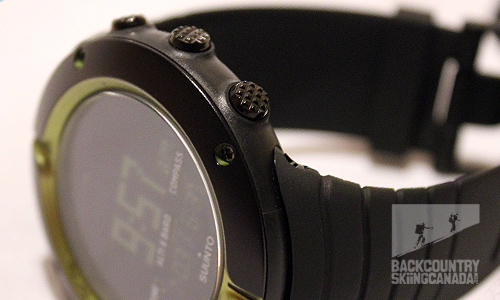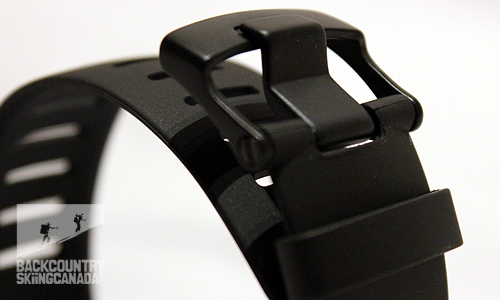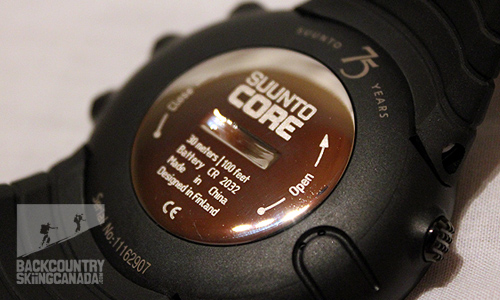 Features:
Two important features to mention from the start are the fact that the Core's user interface comes in English, German, French and Spanish and the battery and band are user-replaceable. Ok, now onto all the other techno wizardry:
Compass:
The Suunto Core's compass worked very well in our testing and setting the declination and calibration is guided so there is no need to haul out the user manual. A new feature added since my days with my Suunto Observer is the very cool bearing tracking feature. This features allows you to instantly set a bearing (by pushing in the 'start/stop' button while on the compass) and then to easily follow this new bearing the Suunto Core will direct you either left or right to ensure you stay on target.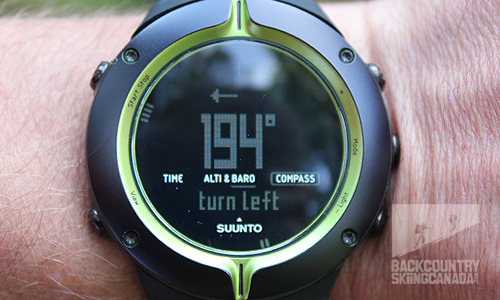 Altimeter:
An altimeter is not only a good safety device to have while ski touring it is also an incredible morale booster. Who wouldn't want to know that they are 1750' up a skin track with only 700' to go? The Suunto Core's altimeter displays current elevation, and when you invoke the log feature you can capture the elevation ascent and descent for analysis at a later time.
The recording intervals of the log can be set to 1s, 5s, 30s, 60s. The 'real-time vertical cumulative value feature' works without having to start a new log but allows you to set a starting elevation point and gives you instant feedback about your current elevation relative to the start point (very nice!).
You can set the Suunto Core to automatically switch from altimeter to barometer depending on your activity and thus show the most relevant information for each situation. If you live in a flat town you can track the barometirc pressure from day-to-day and once you gain 5 meters of altitude within 3 min the Suunto Core will automatically switch into altimeter mode for you and conversely when the altimeter does not change over a 12 minute time span it will switch back to barometer.
The Suunto Core's altimeter has a range of -500m to 9000m / -1600' to 29500' with a resolution of 1m and a depth meter's range of 0 to 10m / 0 to 32.8' with a resolution of .1m.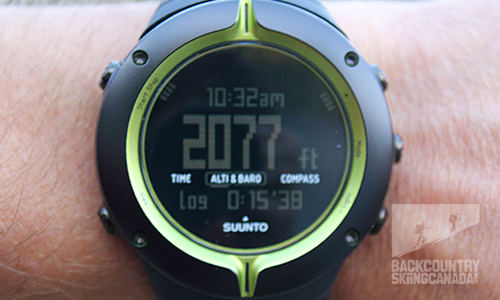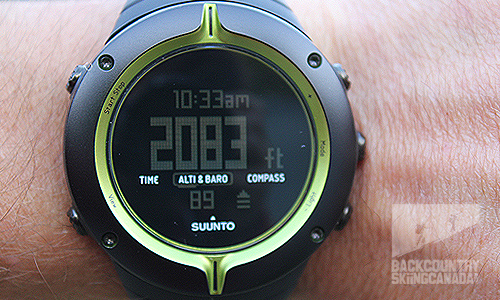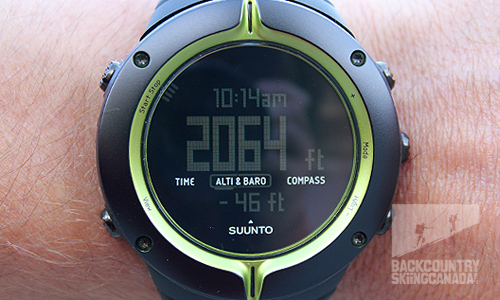 Barometer:
The Suunto Core's barometer has a built-in weather trend indicator and automatic storm alarm, two ingenious features for the weather geek in us all. The weather trend indicator has a seven day weather memory and shows you a graphical representation of what is occurring with the barometric pressure as well as a graphical arrow indicator to show you barometric change within the last 3-6 hours. Based on this information you can determine fairly accurately if it is going to continue to puke POW or clear up for some blue bird skiing. The barometer range is 8,9 -32,4 inHg/300-1100 mbar and the barometer resolution is 0,05 inHg/1 mbar.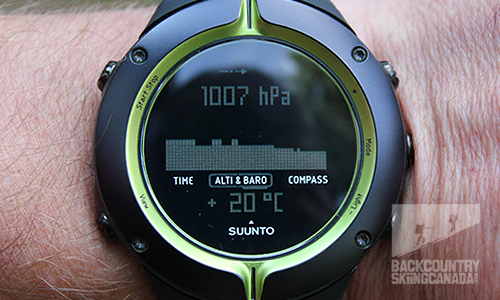 Digital Thermometer:
The Suunto Core and most Suunto watches incorporate a digital thermometer which is a great feature to assess the ambient air temperature while on a ski tour. You do however need to remove the Suunto Core for this feature to work otherwise you will think it is always a balmy 22 Celsius, as this simply measures your body temperature. I regularly use this feature at base camp to determine the overnight low or on a lunch stop to see the mid day temps. The temperature range is -20C +60C / -5F + 140F with a temperature resolution of 1degree Celsius / Fahrenheit.
Time:
With all these features the Suunto Core 75th Anniversary Edition watch also tells the time - naturally. You can view the time in 12 or 24 hour modes as well as display sunrise/sunset times for your geographical location, start and stop the stop watch, view the countdown timer, date, seconds or display a dual time when travelling in a different time zone. There is also an alarm with a very cool snooze feature should that 'dawn patrol' not sound so good at 4:00am.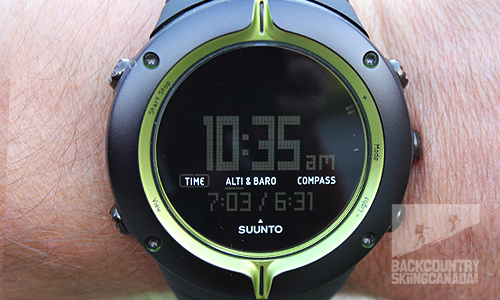 Verdict:
I would never go backcountry skiing without an altimeter of some sort, and since you also always need to know the time you may as well invest in a watch that can also give you additional information vital to your day. I also consider an altimeter as an essential piece of guidance equipment as I would a compass, so the Suunto Core is a nice functional device that offers everything you need when backcountry skiing or hiking in the off season.
I am no weather geek but I do rely on base camp barometric readings when backcountry skiing and find the weather trend indicator and an easy way to be a relatively accurate clairvoyant. I do however find the auto altimeter/barometer switch feature great in theory but living in the mountains I gain 5 meters of elevation just climbing the stairs to my house. I would rather be in charge of which measure was most valuable to me at that particular time, having said that those living in Colorado or Calgary could use this function to it's potential. The storm warning function is also high on my list of cool features for this watch.
Having the sunrise/sunset time for over 400 locations worldwide is an incredibly useful tool when on a single- or multi-day ski tour. It's an instant reminder of when to start heading back to the trailhead or when you need to start looking for a safe camp site for the night. It also gives guidance on exactly when your 'dawn patrol' ought to start the next morning - that is if you don't value the snooze alarm more than skiing fresh untracked POW as the sun rises.
SPECS:
Price: $350 CAN
Weight: 63g
Colours: Sahara Yellow, Light Green, Lava Red, Glacier Grey, Black Yellow, Alpine and Everest edition. (14 Core models in total)
PROS:
The ability to customize each screen to show secondary information is a huge plus. An intuitive user interface allows access to many functions easily and the learning curve is flatter than most avalanche terrain.
CONS:
It would be nice to have full customization over the main screen of the Core, ie. be able to show elevation gain, total ascent or total descent as a secondary feature on the time screen
(Have a read of our review of the Suunto Ambit GPS watch over here. Similar to the Suunto Core but it uses a rechargable Lithium Ion battery to power all the added features like heart rate monitor and GPS. Hook it up to your computer via USB and upload all of your data to the Suunto movescount.com web site or use a solar charger like the Suntrica Solar Charger.)
Rating: 10/10
Ease of use 2/2
Features 2/2
Quality 2/2
Size / Weight 2/2
Price 2/2

This is only our opinion. Do you disagree? Did we miss something? Are we totally out to lunch? Join the discussion in the forums here, and let us know what you think. People like/dislike gear for different reasons so chime in and we'll get a well-rounded evaluation. Check back mid-season to see how our review stands up to our in-the-field testing.
Back to the rest of the reviews.
---