SteriPEN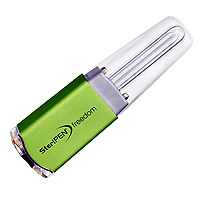 When I got my first SteriPEN four years ago I was so excited I almost gave away my old-school, pump filter system. Never again would I have to lug the ungainly pump with all its tubes and parts into the backcountry, I thought. Sadly, I was mistaken. I owned the SteriPEN Classic and on my first multi-day foray forgot to pack batteries. (Thankfully I had my emergency iodine tablets.) On the next trip I realized I hadn't read the instructions well enough to discern what the intermittent flashing red LED light meant. Finally I perfected its use only to have it break (the UV lamp stopped coming on) soon after it's one-year warranty expired. I went back to lugging around my pump until last month when I was given the SteriPEN Freedom to review. And I'm happy to say they've made a lot of improvements over the past few years. Firstly, the Freedom comes with a 3-year warranty. Secondly, it's powered by a sealed lithium polymer battery that can be recharged from an AC Adapter, USB port or solar charger. (No more forgotten batteries.) Thirdly, it's so intuitive even I remember how to use it: immerse in 0.5 litres of water until the green LED light turns solid. Easy.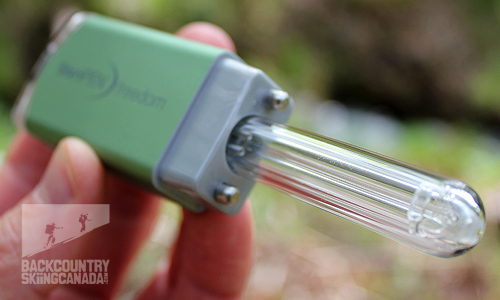 Features:
- UV lamp encased in a durable quartz sleeve
- LED Flashlight
- USB charger cable
- AC adapter
- Neoprene carry case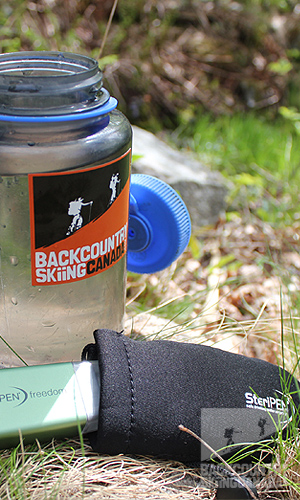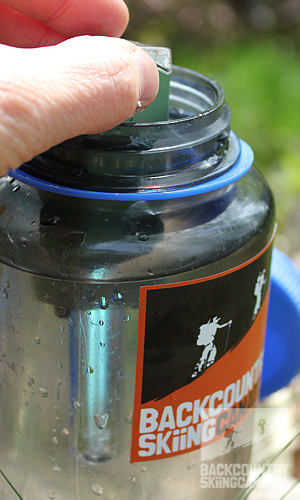 Red light indicates water is not ready yet.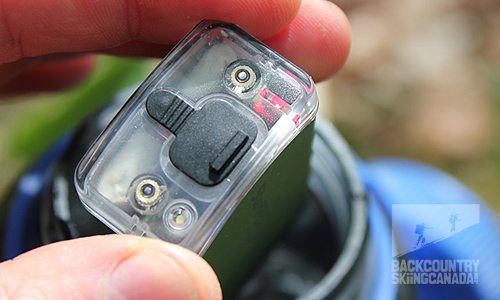 Green light mean "go" - your water is ready to enjoy.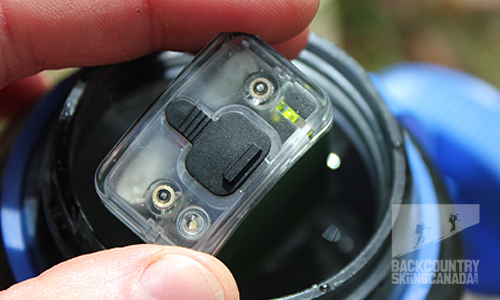 Recharge power via micro USB connection.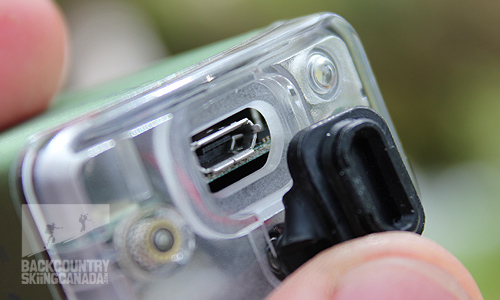 Rotate 3 times for flashlight.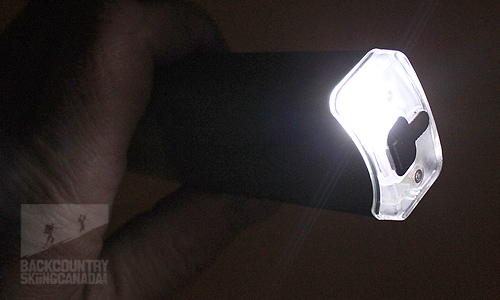 Verdict:
The company claims the SteriPEN kills 99.9% of bacteria, viruses and protozoa such as giardia and cryptosporidium. I have no way of verifying this other than to say I've never been sick after using one. What I can verify is that the SteriPEN Freedom is intuitive to use. Just immerse it in a glass or the mouth of a bottle full of 0.5 litres of water (don't use it with juice or soda) until the sensors touch liquid. The UV light will automatically come on and then you gently stir until the green LED light stops blinking and turns solid. For a full 1.0 litre of water, do this twice. (Note: you can't use the SteriPEN with small-mouth water bottles because the openings aren't wide enough to allow you to immerse it. You need an opening of at least 3.8 cm.) The SteriPEN Freedom is also tiny! There's no excuse not to take it anywhere because it weighs less than the change in your pocket. Mostly I've used the pen for weekend trips into the backcountry and the charge has held up no problem. (It would be nice if there were a "battery life" meter on it though.) There's also a flashlight on the SteriPEN that's activated when you rotate it laterally three times back and forth but other than testing it for this review, I've never actually used it. The one downside of all SteriPENs in general is they don't remove particulate. This isn't a problem if you're filling your bottle from a clear, running stream or a tap in a third-world country, but what if you only have a muddy bog or puddle at your disposal? In my opinion, the SteriPEN is perfect for overseas trips to areas with dodgy water or backcountry getaways to places with clear-running streams or lakes. This is not the device you'll want for that 1-month sojourn in the jungles of Borneo.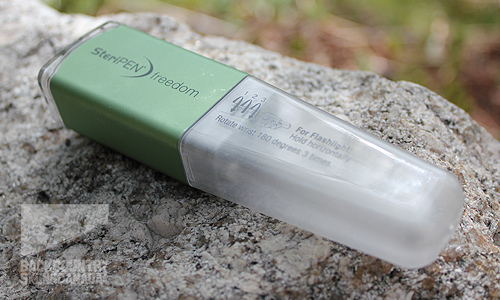 SPECS:
Price: $79.95 CAN
Weight: 74g / 2.6 oz
Size: 12cm x 3.5cm x 2cm / 4.7" x 1/37" x .78"
UV Lamp Life: 8,000 0.5L treatments
Speed: Purifies 0.5L in 48 seconds
PROS:
- It fits in your pocket and, at 74g, it can go anywhere
- Intuitive and effortless
- Rechargeable battery
- Kills 99.9% of bacteria, viruses and protozoa such as giardia and cryptosporidium
- Company claims you can get 40 usages off a single charge
- 3-year warranty
CONS:
Doesn't remove particulate
No battery life meter
Can only be used with glasses or water bottles with wider (3.8 cm) openings

This is only our opinion. Do you disagree? Did we miss something? Are we totally out to lunch? Join the discussion in the forums here, and let us know what you think. People like/dislike gear for different reasons so chime in and we'll get a well-rounded evaluation.
Back to the rest of the reviews.
---