Soleus GPS 3.0 Watch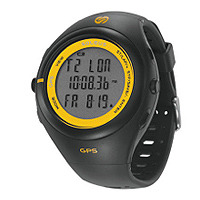 The Soleus GPS 3.0 is a great watch for those who are serious about running, and demand little else. The features reflect the watch's overall goal to track progress and performance, as it includes pace, 5 interval timers, heart rate monitor, laps, and calories burned. While it is designed specifically for running, it could be used for biking, hiking, walking or other aerobic land-based activities. The watch itself is only water resistant, so triathletes would be better advised to find an alternative. Fellow backcountry skiers, hikers, and trail runners will likely sympathize with my disappointment at the lack of an altimeter, as accurate elevation levels are not only useful, but also a safety consideration.
For runners searching for a training companion, the SoleusGPS 3.0 may indeed be the answer. User specifications can be entered into the watch, including gender, age, weight, and height to provide tailored information output. I was rather fascinated by how many statistics could be derived from one run, from total distance to time per 'lap'. By selecting the pre-set lap distance that best reflects one's running program, it is easy to single out specific areas for improvement. For example, a short distance runner can set the lap distance to 1km and the watch will record how long it took for the user to run each kilometer. The data will show at what point the athlete begins to tire and slow down, or when a second wind kicks in.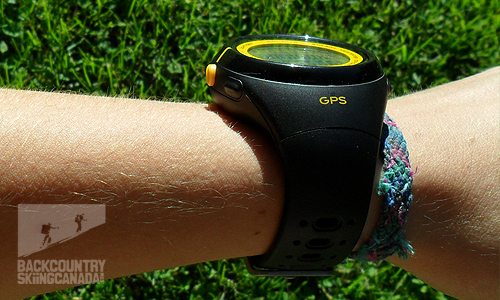 The Soleus GPS 3.0 records the average and the maximum of both pace (time/km) and speed (km/h) for each run. In addition, the heart rate monitor (HRM) offers insight into how much exertion was required to complete a route. The HRM setting gives immediate readings during the run, and records the average beats per minute at the end. The HRM 'in-zone' feature tracks the time spent in a specific BPM range, usually used to see how long the activity was done at high intensity, such as climbing a steep incline. Three different ranges can be entered for quick selection or interchangeability of the appropriate intensity.
The software download included is very rudimentary, and the run data viewable on the watch itself actually provides more information. There is a built in link to the Strava app, which allows one to share and upload activities online, but Soleus is not one of their GPS compatible brands. Practically, this means that you might as well manually enter your data from anywhere, with or without the Soleus GPS 3.0.
In regards to fit, the strap is comfortable with a hole in the strap loop to prevent extra strap from hanging down. However, the watch itself is quite large. Granted I have small wrists, but for a watch that strives to be unisex it would definitely be a concern for female consumers. I had many comments on the size, and it is bigger than what I would choose for every day wear, but it weighs in at a mere 62.4 grams which is very light for a GPS and HRM combo time piece. The aesthetics are sharp, and the hard plastic case appears to be tough enough to withstand heavy use. The HRM chest strap is adjustable and elastic, but be warned that its' maximum size would not be comfortable for anyone with a large midriff since the band could restrict diaphragm movement. While the layout isn't especially intuitive, the online manual is thorough, and I found it simple to use once I knew how to access the various menus and settings.
Run Data - Time Start + Finish, Distance then laps.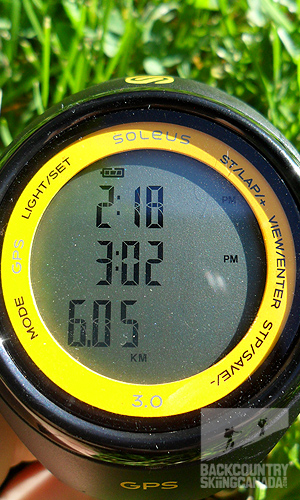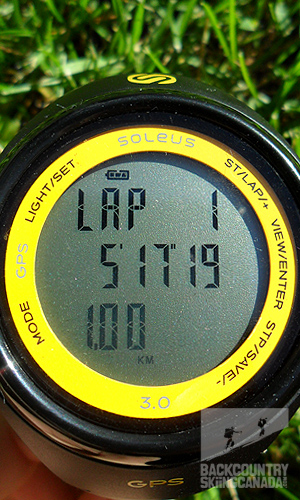 Run Data - Chronometer, Distance, Calories Burned and then Chronometer, BPM, Time 'in-zone'.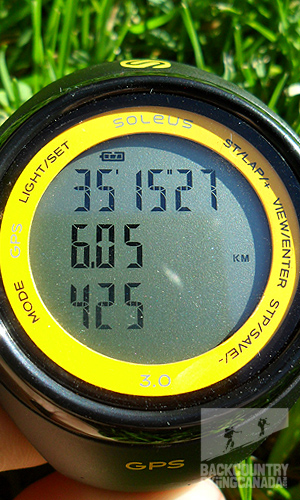 Run Data - Chronometer, Average Speed, Max Speed and then Chronometer, Average Pace, Max Pace.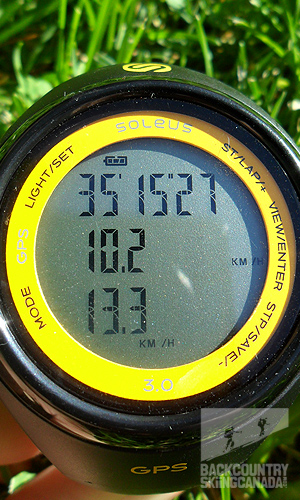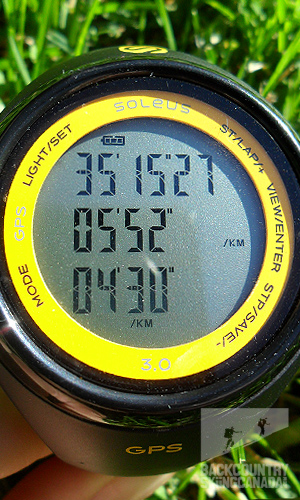 Run and heart rate monitor mode.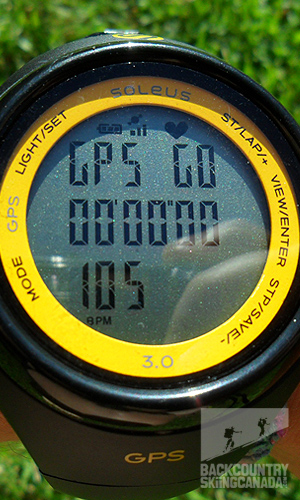 Features:
- GPS
- Indoor mode (GPS off)
- Heart rate monitor and chest strap
- Distance
- 5 interval timers
- Laps ( .4, 1, 2, 3, 4, or 5 km)
- Data storage up to 100 laps
- Pace average and maximum
- Calories burned
- Two time/day/date
- Pre-set city codes for each time zone or manual entry
- 5 alarms
- Rechargeable lithium battery
- 30m Water resistant
- Units in metric or empirical
- EL Backlight
- Night mode
- Time started and finished
- Record of average BPM (beats per minute)
- Record of time spent 'in-zone' (specified BPM range)
- All recorded data can be uploaded
- Start/ Stop allows for pauses, such as stop lights
- USB data upload/ charging cable
- 16 hours of memory
Breathable band.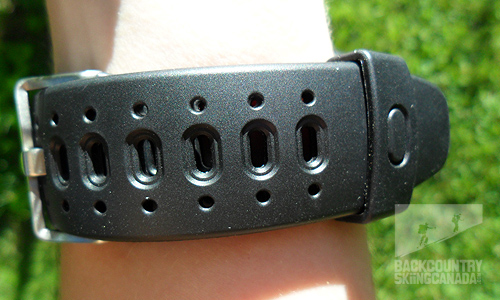 Back view shows the recharging connection point.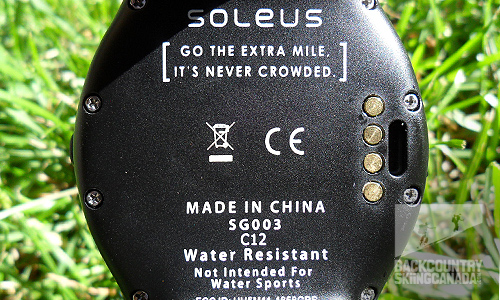 Included heart rate monitor is a nice feature.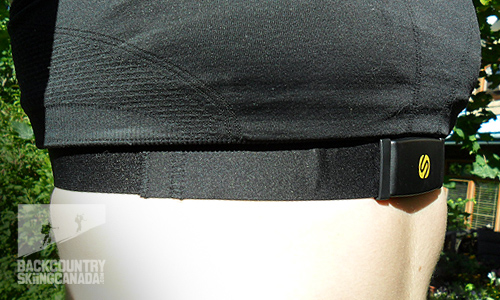 Verdict:
Inspired as a minimalist design that includes only the necessities to avoid added complication, the Soleus GPS 3.0 achieves what it set out to accomplish. The cost is very competitive with other brands, and offers the best features to price ratio that I found on other websites such as MEC and The Running Room. As a running specific watch it excels, and as an all-round dry land training device it is at least on par with the competition, however for the backcountry skier it is missing the crucial altimeter and barometer functionality.
SPECS:
Price: $199 US
Weight: 62.4 g / 2.2 oz
Dimensions: 49 x 49 x 18mm (h x w x d)
Strap Width: 22 mm
Colour: Black with yellow accents
PROS:
- Constant connection to GPS even in heavily forested areas
- All features are actively updated for current information during runs
- Chronograph accurate to 1/100th of a second
- Lightweight
- Inexpensive
CONS:
- Software currently only compatible with PCs
- No altimeter, barometer, or temperature (essentials for backcountry skiing)
- Can only be recharged with the USB cable
Rating: 7.5/10
Ease of use 2/2
Features 1/2
Quality 1/2
Size / Weight 1.5/2
Price 2/2

Join the discussion in the forums here, and let us know what you think. People like/dislike gear for different reasons so chime in and we'll get a well-rounded evaluation. Check back mid-season to see how our review stands up to our in-the-field testing.
Back to the rest of the reviews.
---