Smartwool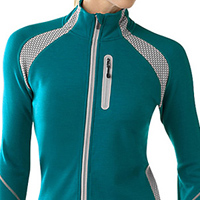 Smartwool offers some essential items for backcountry skiing including socks, beanies, underwear, base-layers and mid-layers. So what set's Smartwool apart from the plethora of other manufacturers offering performance clothing and accessories? Let's start by asking: synthetic or wool?
I am a little biased – I spent my childhood on a sheep farm in rural Australia not far from the 'Big Merino', and on the farm we raised merino sheep. Though synthetics have their place in my closet, for me wool is the natural, authentic and sustainable choice. When I can, I choose wool. Good quality wool is softer and warmer. I can wear it for days in a row on a cabin trip and it won't stink. It is a renewable resource and I am supporting farmers like my dad. Skiers beware though, there are varying qualities and for clothing that you want to have next to your skin, you will want to pay the extra for Merino wool.
Smartwool sources Zque Merino, an accreditation which ensures that the merino wool is not only of the highest quality but was produced using humane animal practices, sustainable land management and fair conditions for farmers.
Wool is predominately made up of the protein Keratin, the same stuff in our own skin and hair. Merino wool is the finest wool available which is why it is so soft and not itchy - it won't irritate. Merino wool's ingenious natural construction gives it the following properties:
- Temperature regulating - keeps you warm when it's cold and cool when it's warm.
- Water repellant due to the protein Keratin's own hydrophobic tendencies
- Low odour - due to the fact that it wick's moisture, keeping drier and less hospitable for odour causing bacteria.
- Natural dirt repellant due to the scales and crimps of the fibres as well as merino wools natural anti-static properties.
Smartwool maximizes these natural qualities of wool with specialized knitting techniques, articulated fit and also with zonal construction. That is, they put more wool in areas where the body chills and less where the body accumulates heat. They also use proprietary pre-treated Merino wool which smooths the woollen fibres so that their garments are definitely itch-free and, most importantly, they won't shrink when you wash them in the washing machine. To be safe, I would follow the care directions which usually opt for a gentle, cool wash. Like my mum always says, "If you take care of your wool it will last a lifetime".
Based in Steamboat, Colorado, Smartwool knows mountains conditions and designs their products accordingly. They have recently developed their own layering system called 'Layer Up' which offers technical Next-To-Skin (NTS) Base-layer and Thermal Mid-layer (TML) pieces specifically designed to work together to keep the skier drier, warmer and more comfortable. The idea is that similar fibres work well together as they behave the same way. For example, apparently merino wool deals with sweat in it's vapour state whereas synthetics wait until you're wet with sweat before they begin to wick moisture. So if you were to place a synthetic layer over a wool layer or vice versa the wool will not work as efficiently. Makes sense. Smartwool's NTS and TML pieces are also cut to work great on their own but even better in tandem where the mid-layer adds warmth but continues the breathing process set-up by the base-layer. The other advantage is that zippers and seams don't stack up onto each other and fabric weights are optimized, reducing bulk.
Following are the Smartwool pieces we looked at:
Socks:
Socks are a review on their own but for backcountry skiing we can keep it simple. Smartwool's light and ultra-light socks work best on the uptrack - they wick moisture and are light enough that your feet don't overheat. Worth noting are targeted cushioned areas. I actually purchased a pair last season to help cushion a hot spot on my lower shin and they worked. Smartwool socks have an articulated fit specific to either a male or female foot so they don't bunch when you lean forward in your boot. These are high tech socks designed specifically for skiing don't wear them around town or the house and they will last for seasons (speaking from experience).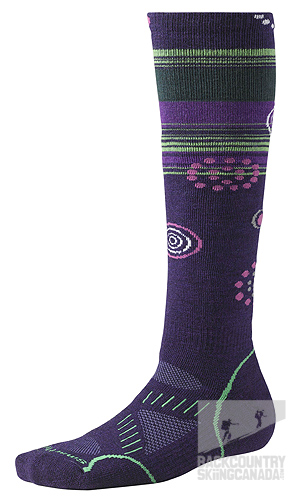 Women's Ski Light
Price: $21.95
Colours: A variety of colours
• 1 x 1 rib cuff
• Light cushion shin and foot
• SmartWool FIt System with arch and ankle support
• flat knit toe seam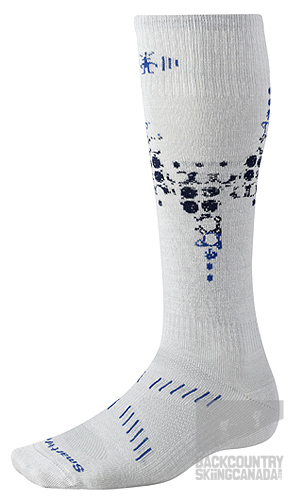 Men's PhD Ski Ultra Light
Price: $18.95
Colour: Silver and black
• 4-Degree Fit System for all day performance fit (this includes ankle band, upper instep band, lower instep band and arch band.
• WOW Technology in High Density Impact Zones to reduce shock & abrasion
• SmartWool inside for moisture
• temperature and odour control
• Strategic mesh zones for maximum ventilation.
Long Johns (or bottoms):
For backcountry skiing I prefer a light-weight long john as I heat up a lot on the way up. Smartwool's recently redesigned Lightweight bottoms are ideal, they will keep you warm, are not itchy and the weave and cut is specifically designed for performance in aerobic activity. The seams are strategically placed to avoid wear and to hug the body. If you're engines run a little cooler the mid-weight might be a better alternative – I will use this when it is frigid cold or if I know I will be standing around. The mid-weight feels a little softer and the womens comes in a more exciting stripe option.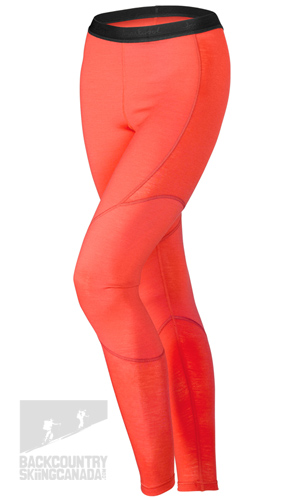 Men's and Women's Lightweight Bottom 
Price: $75.00
Sizes: S-XL (XXL available in mens)
Colours: W - Grape, Teal, Black, Sunrise, M - Royal, Black
• Form Fit - Natural Rise
• Jersey and rib knit; UPF 35
• Clean finish crotch gusset
• Coats Eloflex® thread at bottom hem openings for increased durability
• Smooth embossed logo elastic waistband;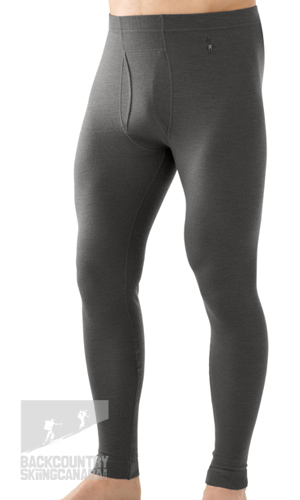 Men's and Women's Midweight Bottom
Price: $115
Sizes: S-XL (XXL available in mens)
Colours: W - Grape, Teal, Black, Sunrise, M - Graphite, Navy, Black
• Form Fit - Natural Rise
• Jacquard knit; UPF 50+
• Self fabric covered elastic waistband adds comfort
• Flatlock seam construction eliminates chafing
Long Sleeve Tops:
The following pieces utilize Smartwool's 'Layer Up' system. The Women's Lightweight Asymmetrical zip is a particularly nice piece for it's flattering athletic fit and extra detailing such as seamless side-waste and shoulders reducing bulk where your backpack sits. Likewise, the Mens Mid-weight Hoodie is an articulated fit with performance in-mind, ideal for cold temps, the hood provides the option of additional protection. The neck zips on both of these items are great for adjusting temperature. The TML Light Full Zip is a mid-layer designed to enhance the performance of your Smartwool base-layer particularly the Lightweight Asymmetrical Zip. It's use of highly breathable lightweight stretch fabric for venting reduce bulk and wick moisture efficiently. I found this piece really comfortable but still a little too warm for late season spring ski touring. I am looking forward to putting it to the test in cooler temps this winter.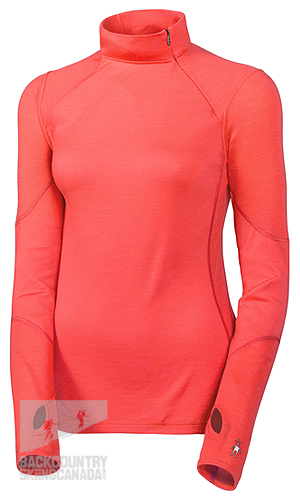 Women's Lightweight Asymmetrical Zip
Price: $115
Sizes: XS-XL
Colours: Grape, Teal, Black, Sunrise
100% Merino Wool
• Form Fit
• Jersey and rib knit; UPF 35
• Concealed 8" (20cm) zip at left raglan seam line with semi-locking slider
• Sculpted side panels eliminate true side seams for reduced chafing and body enhancing fit; Contoured sleeve cuff with engineered thumbhole and drop tail bottom hem for increased coverage
• Contrast color stitching on interior flatlock seams; Heat transfer logo on left sleeve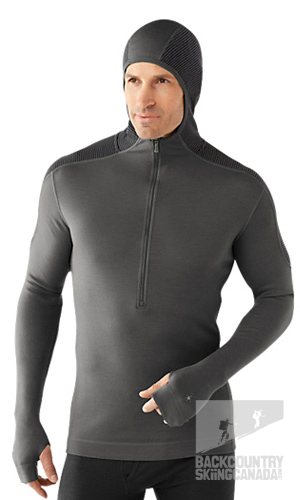 Men's Midweight Hoody
Price: $110.00
Size: S-XL
Colours: W - Natural Heather, Grape, Black, M - Dark Lime, Royal, Graphite, Canyon
100% Merino Wool
• Interlock knit; UPF 50+
• 15" (38.5cm) centre front zipper with logo semi-locking slider
• Articulated three-piece hood for enhanced fit; Shoulder panels eliminate top shoulder seams
• Engineered thumbholes; Flatlock seam construction eliminates chafing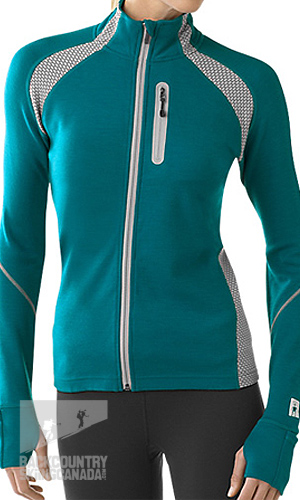 Women's TML Light Full-Zip
Price: $150.00
Size: S-XL
Colours: W- Natural Black, Teal, Sunrise, M - Dark Lime, Royal, Black, Canyon
The Women's TML Light Full-Zip goes over your SmartWool base layer and keeps moisture moving away from your skin, while trapping air in its fibres, giving you warmth without bulk. Features thumbholes with flip mitts for extra coverage.
97% Merino Wool, 3% Elastane
• Semi-Form Fit
• Centre front zipper with draft flap and chin guard
• Secure zip chest pocket with Durawelt® finish
• Engineered thumbholes with integrated flip mitt for increased coverage
• Flatlock seams and heat transfer logo at left cuff
Toques or beanies:
Smartwool have a great selection of toques (beanies). The cuffed beanie is a lightweight hat designed to insulate and move moisture so is a great layer for the uptrack on a cold day. We also tried out the Meadow Mountain hat which worked well for the down and up.
Cuffed Beanie
Price: $25.00
Colours: 8 colours
• 100% Merino wool
• Double layer interlock knit construction
• Roll cuff earband for adjustability and added warmth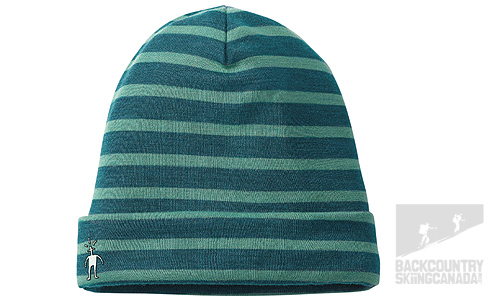 Women's Meadow Mountain Beanie
Price: $35
Colours: Claret, Teal, Black
• 100% Merino wool. Made in Canada.
• Single layer construction with interior headband liner
• Allover flower tubular jacquard pattern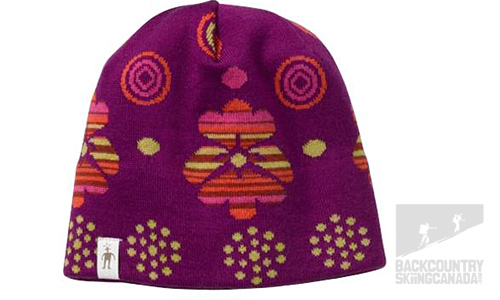 Verdict:
Smartwool have done their homework. They source the finest quality Merino wool available - Zque Merino. They have developed knitting techniques and design approaches that result in efficient and technical pieces ideal for both climbing up and skiing down. Stand out pieces for me are the socks, the lightweight asymmetrical zip for women and the lightweight bottoms. Anything heavier than this is too hot for me on the uptrack. If I was cabin or tent-bound for a day or on something like an AST2 course where I'd be standing around then the midweight pieces would be ideal. In comparison to synthetic pieces the Smartwool may seem pricey but you do get what you pay for. With Smartwool you get the full meal deal, your dollars support a renewable natural resource—wool—which has anti-microbal, temperature regulating and moisture wicking properties that science hasn't been able to completely mimic as yet. Most of all anything I tried out was super comfortable. Like anything worthwhile, it may take a little maintenance and care.
PROS:
Exceptional quality and detailing. A lot of thought and consideration has been invested in designing well-articulated and efficient clothing and accessories. The best quality merino wool has been sourced optimizing, sustainability, fair-trade and quality
CONS:
Wool is not as hard-wearing as some synthetics so you will need to take a little extra care.
Rating: 9/10
Fit/Comfort        1.5/2
Durability           2/2
Warmth              2/2
Features             2/2
Quality / Price    1.5/2

This is only our opinion. Do you disagree? Did we miss something? Are we totally out to lunch? Join the discussion in the forums here, and let us know what you think. People like/dislike gear for different reasons so chime in and we'll get a well-rounded evaluation. Check back mid-season to see how our review stands up to our in-the-field testing.
Back to the rest of the reviews.
---