Sherpa Adventure Gear Baans Tech Quarter-Zip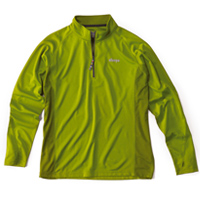 The most crucial layer for ski touring in my opinion is the base layer. Its sole purpose is to move sweat away from your body and keep you dry, thus keeping you warm. When your temperature rises due to aerobic activity, you are going to sweat and being wet in the outdoors any time of year can be dangerous, especially during winter and in the middle of no where. Thankfully there have been huge gains in wicking fabrics over the years from marino wool to embedded coconut fibres. The Sherpa Adventure Gear Baans Tech Quarter-Zip is no slouch either as it uses embedded bamboo charcoal to quickly absorb and disperse sweat. It's also Eco-friendly. Bamboo is a highly renewable, quick-growing natural resource and in case you needed another reason to be impressed, it is also deodorizing. Yup, it naturally resists the microbial growth that can cause odours, so it's technically antimicrobial, and anti-fungal. The Baans Tech Quarter-Zip is also relatively light weight so it's naturally cool and the 1/4 zip provides ventilation on warmer days.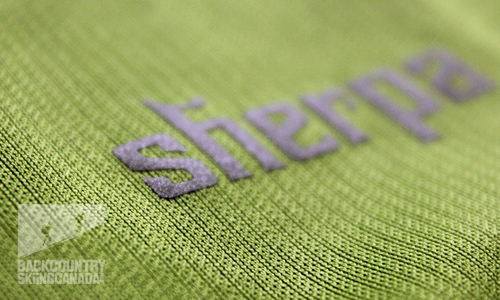 Fabric:
75% polyester / 25% bamboo charcoal polyester
Bamboo is a highly renewable, quick growing natural resource and provides great moisture absorption and ventilation for comfort on hot days.
Features:
Quarter-Zip on the neck to help you cool off as the day gets warm
Contrasting side panels and under arms that show the fabric's reverse side
Thumb-holes keep sleeves in place and add warmth
Flat locked seams are comfortable against the skin
Neck seams are reinforced with tape binding for increased durability
lifetime warranty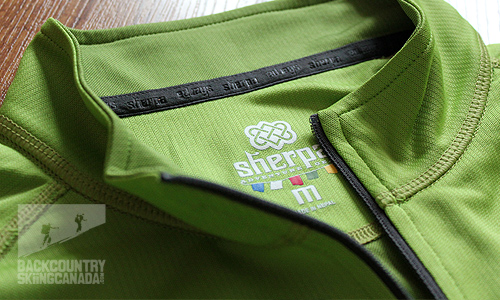 Prayer flags on the zipper are a nice touch.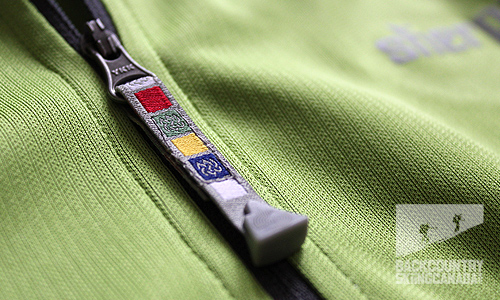 Flat locked seams are everywhere.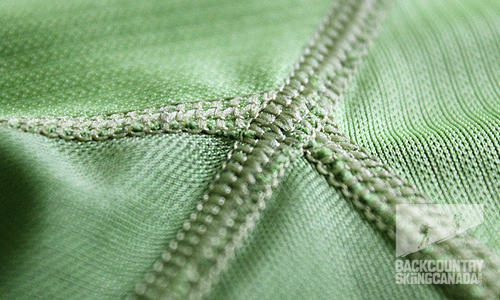 Unique seam location and pattern.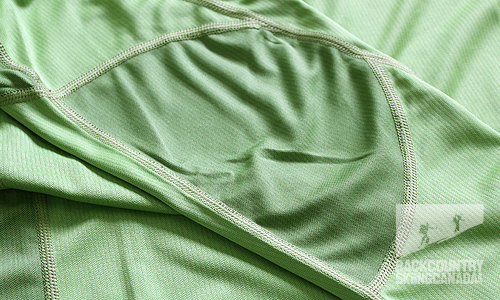 Two-tone fabric detail gives nice contrast to the Baans Tech Quarter-Zip.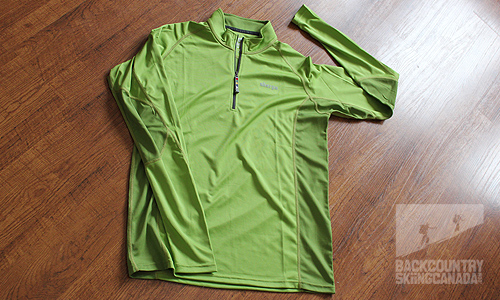 Thumb-holes keep sleeves in place and add warmth.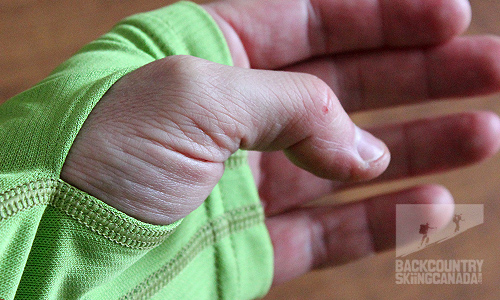 Verdict:
A quarter-Zip is a must for a touring base layer. In my experience all it takes is a quick roll-up of the sleeves and an opening of the neck zip and presto! You immediately feel better. I am so adamant about a neck zip that I won't ski tour in a base layer without one. The 25% bamboo charcoal which is embedded in the polyester is also a great idea given its renewable properties, but does it really work? I can not honestly say that this shirt keeps me drier or cooler than other base layers with merino wool or coconut fibres, but I can say that the anti-microbial properties are a success. You can put in a big day in the backcountry or bring this along as your sole base layer on a multi-day ski tour and be confident that your hut mates will not turn up their noses at you (literally).
For the full scoop on Sherpa Adventure Gear have a read of the story behind the company and if you are interested in other Sherpa Adventure Gear product reviews have a read about the Sherpa Adventure Gear Varun Jacket and the Sherpa Adventure Gear Mukti Pullover.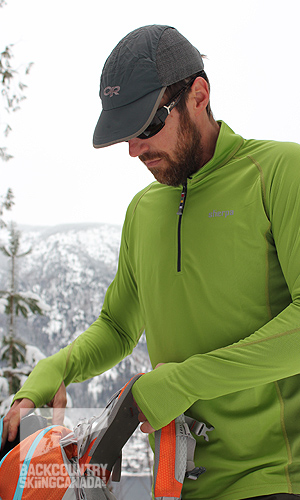 For a behind the scenes look at product development at Sherpa Adventure Gear watch the following video tour with the president of the company: