RockyMounts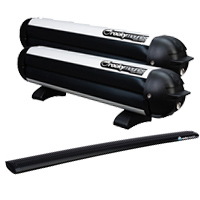 I first saw RockyMounts popping up at least ten years ago, back east. Their simple, fork-down bike racks were colourful and had a simple, functional design. The founder of RockyMounts, like many of us, made the move from east to west in order to be closer to nature (mountains, water, etc). Their line has expanded significantly and now includes bike, ski and cargo racks. As they say on the website: "you're in good company with us if your bike costs more than your car, your skis are your significant other, or you own more climbing and camping gear than you do furniture." This rings true for me, for sure. Some people here in Nelson, BC can't even afford racks. They built wooden structures off the backs of their trucks to support bikes. There's even this one beater van that appears when the snow flies. It has a coffin shaped skibox affixed to the back that says "shred or die" on it.
We've had a chance to check out some other rack providers over the last few years. If you'd like to read up on what we think of some offerings from Thule, Rhino Rack and Yakima, click on over here. We've had a number of items from RockyMounts which we'll talk about below. They are the Ouray Crossbars, Flagstaff Towers, the TieRod Bike Rack and the LiftOp ski carry.
These items have enabled us to carry virtually everything we use to recreate across a four-season cycle. This system fits on existing "raised factory side rail," racks. We had this kind of rack on our Toyota Rav 4 already and the RockyMounts rack system (Ouray Crossbars, Flagstaff Towers and ski and bike attachments) was easy to install; it took me about a half an hour.
We've got a whack of photos here, mostly because we wanted to share with you just how this system covers all the bases. It has been on the car for several months and has helped us transport skis, bikes, kayaks and a canoe—not all at once, don't worry. Let's let the pics guide our discussion a bit here. We'll start with the winter clime, and move backward:
Here's a close up of the backside of the Ouray Crossbars and LiftOp Ski Rack. Yes…we can validate that the LiftOp medium can accommodate four pairs of fat skis. All but the G3 are 120mm or wider underfoot. That's fat!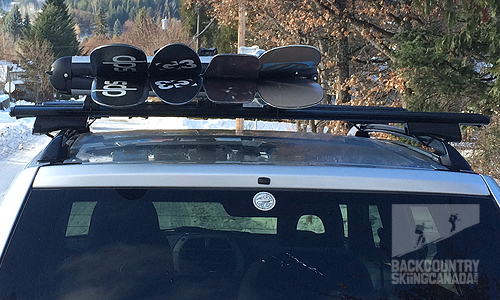 Here's a side view for ya. The LiftOps Ski Rack and Flagstaff Tower are lockable (as you may be able to see).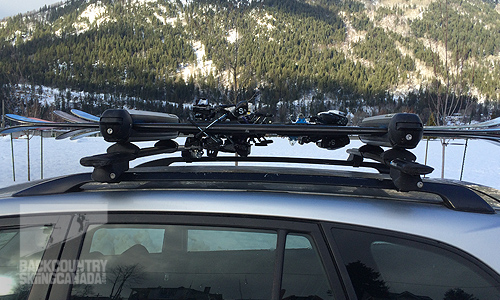 Look at the beefy rubber that cushions your beloved skis on the LiftOp Ski Rack. Though the LiftOp Ski Rack may be a little high profile, it is aerodynamic enough that it doesn't create much drag (or noise) on the highway.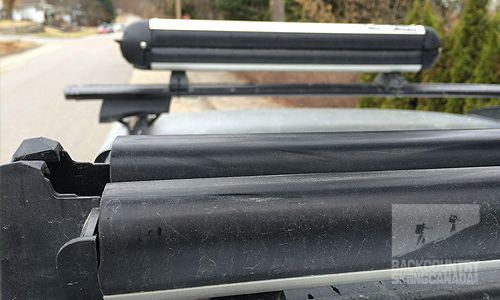 Front and back views of the LiftOp Ski Rack. Very easy to open and close. And super solid.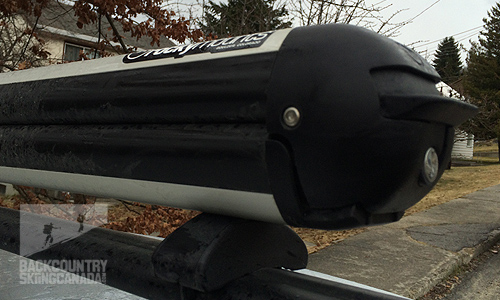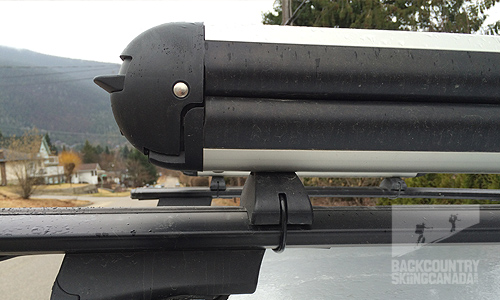 Below, you'll see the four fasteners from under the LiftOp. Allen-key tightened and designed to fit with the Ouray Crossbars like a glove.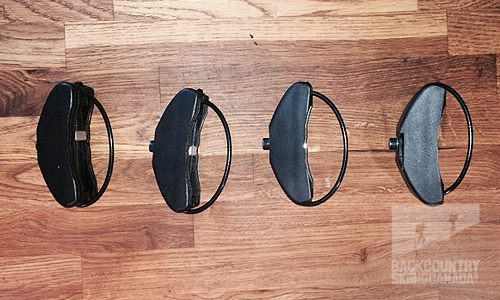 Back now, to the autumn and the TieRod top-of-the-car, bike rack. If you want to learn about how easy installation is, check out this video from RockyMounts. The TieRod is a forks-down system that works with disc and standard brake. It also works with an old "townie" and mountain bikes (as you can see here). The TieRod comes in eight different colours. Call me boring, but I went for black.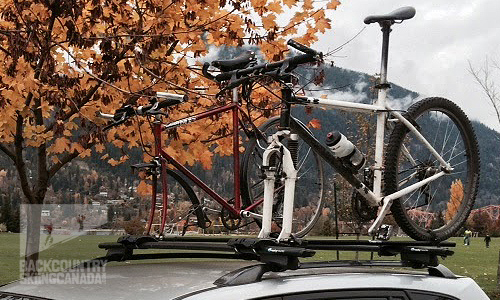 See a close-up of the fork engaged in the lockable quick-release. The quick release clicks into place so you know all is good. I had a Thule system before this and I like the TieRod way more. It's little things like the clamp-type fixture at the end of the quick release (at left in photo) that hold the fork in place. Too many times with my Thule system, I'd go over a bump or turn a sharp corner and my bike would fall over on top of the car. Not good.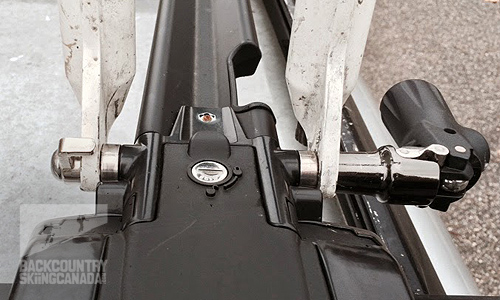 Close-up of TieRod guts highlighting the simple allen-key assisted installation. There are two robust rubber straps (reinforced with steel) that hold the front of the TieRod to the Ouray Crossbars.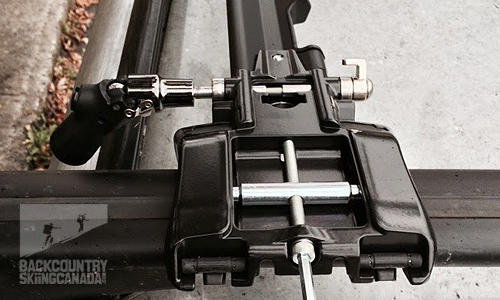 TieRod tail. A super-simple, cam-type system that works with most all tire widths (not sure about a fat bike….)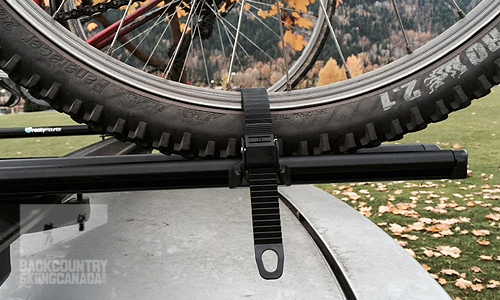 Summertime! It's little tough to see here but there are two 14' kayaks on top of our little Rav 4. We took these from downtown Vancouver to the Burrard Inlet for a couple-night trip up Indian Arm. With the help of some cinch straps from MEC, the two kayaks felt totally solid on top of the vehicle. Bomber.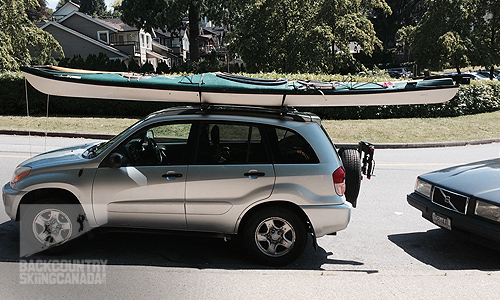 We also strapped a big 'ole canoe to the roof and went paddling on Slocan Lake, camping at the base of the Valhalla range. Same solid and stable feel as with the kayaks.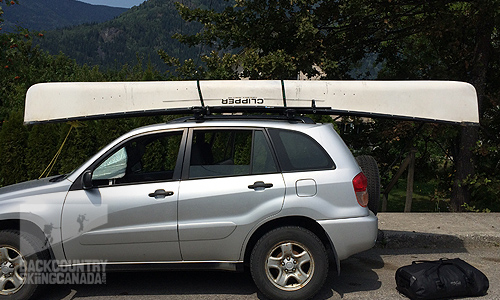 You could fit a bike on the rack with a canoe, or one kayak, if you so choose. Here you can see the aerodynamic profile of the Ouray crossbars and the Flagstaff Towers beneath. Half the battle with getting a canoe on top is having a proper strapping technique. Make sure you've got it dialled before setting off.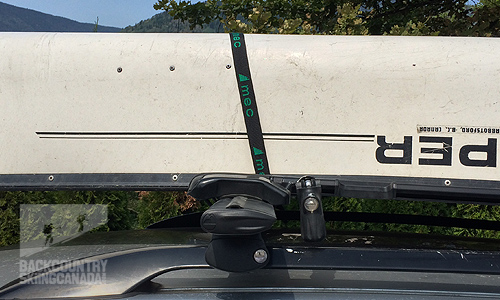 Features:
For specific features—too many to mention here—visit RockyMounts.com
Verdict:
From day one, RockyMounts have always positioned themselves as an economic, and stylish, alternative to the bigger players in the rack world. Thule makes good stuff, don't get me wrong, but their racks are freeekin' spendy. This system, with all the bells and whistles for transporting everything I'd ever need, would probably cost about 35-40% less than a similar system from one of the "majors." Frankly, I'd rather support a Boulder, Colo.-based business run by some bike-head dude than a company in Sweden that employs 3,000 people. But that's just me.
The RockyMounts system has held up to everything I've thrown at it—no problema. Almost four seasons worth of nearly every day use and I have zero complaints. Well built, nice design and developed by a company which has a "Guest Bartender Series" for charity advertised on their site. Count me in. 
SPECS:
Flagstaff Tower
Price: $233.94 USD
- Sold as a set of four
- Does not include locks
- Works only with Ouray Crossbars
- Rated at 165lbs or the rating of your side rail, whichever is lower
- Colour: Black only
Ouray Crossbars
Price: $194 USD
- Lengths: 44", 47", 50", 53", 60"
- Material: Made with thick-walled 6063 aluminum
- Colour: Anodized black only
LiftOps Ski Rack 
Price: $214 USD
- Tested medium size carries four pairs of phat skis or four boards
- 24" of horizontal cargo space
- 2.75" of vertical carrying capacity
- Colour: Silver
TieRod Bike Rack
Price: $194.94
- Fits ALL CROSSBARS
- Fits skinny road tires up to 2.7 inch mountain bike tires
- 45" tubular tray
- Colours: Black, Silver, Red, White, Yellow, Blue, Green, and Orange
PROS:
- Variety of colour offerings for many of the components
- Sleek, aerodynamic design
- Little-guy-that-could business model
- Excellent value
- Easy to install and swap out as the seasons unfold
CONS:
- The locks tend to be a little finicky
- The LiftOps rack has a bit of a clunky aesthetic
Rating: 9/10
Features:         2/2
Innovation:      1.5/2
Ease of use:     2/2
Durability:       2/2
Quality/Price: 1.5/2
This is only our opinion. Do you disagree? Did we miss something? Are we totally out to lunch? Join the discussion in the forums here, and let us know what you think. People like/dislike gear for different reasons so chime in and we'll get a well-rounded evaluation.
Back to the rest of the reviews.
---

---
Backcountry skiing is an inherently dangerous activity that requires experience and knowledge to travel safely. Any of the routes on this site may be dangerous depending on conditions. You are responsible for your own safety in the backcounty—the team behind backcountryskiingcanada.com disclaim any responsibility for any injury resulting from people travelling on routes described on this site.  To read our Terms of Use and get all the details, read HERE. 
---