Revo Guide Sunglasses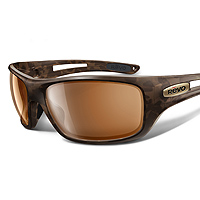 Goggles or sunglasses? It's meant to be partly cloudy with sunny periods today but there's also a chance of flurries. So which is it? I don't like to ski tour with both because you inevitably end up only using one of the two. Not that this is a huge weight issue but I would rather carry other gear with me and keep my pack light and efficient - that's just me.
The Revo Guide sunglasses has made the above choice a much easier one - leave the goggles at home unless it's going to puke all day. The Revo Guide glasses were technically designed for the 'active water enthusiast' (as Revo calls them) however the technical features make them ideal for backcountry skiing. Before we get to that, here's a little backgrounder.
Revo Sunglasses began by applying coatings developed by NASA to protect satellite portholes from outer space radiation to sunglass lenses. Luxottica (the biggest manufacturing and distributor of sunglasses) is the licensed manufacturer of Revo Sunglasses. Luxottica Group's North America retail stores include LensCrafters, Sunglass Hut and chains in Asia-Pacific. Everyone remembers Revo (and Devo for that matter) from the 80's and 90's, well they have reappeared (no not Devo). Revo was more than a fashion statement then as they used hard core 'space age' technology in their products. Well, nothing has changed today except that the styling and technology has been totally updated.

Technology – and why they're built for backcountry skiing
Though the Revo Guide was designed first and foremost for water enthusiasts, I have found them to work equally well for anyone who spends a lot of time on the snow. The high contrast polarized lenses block glare and allow you to see more natural and balanced colours. The water lens technology filters out 100% of UVA/UVB/UVC & harmful blue light up to 400nm. The lenses feature Element Shed™ which is a hydrophobic/oleophobic and contains an anti-reflective lens coatings. The Bronze lens that we ordered provides the most contrast to the snow on cloudy overcast days while still giving adequate protection on sunny days.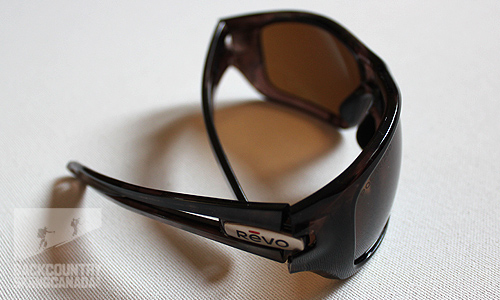 Keeping it green:
Revo utilizes two eco-conscious materials process they call 'Re-use' and 'Eco-use'. Revo 'Re-Use' is a frame material made from 100% recycled pre-consumer TR-90 nylon polymer resins that are said to offer the same quality and performance characteristics of un-recycled material frames. 'Eco-Use' is a little bit more revolutionary than simply using recycled material. This is a nylon frame material made from the seed of the castor bean plant instead of the commonly used petroleum-based nylons. This material is considered sustainable and more environmentally friendly and also exceptionally light and flexible. Bravo - Revo.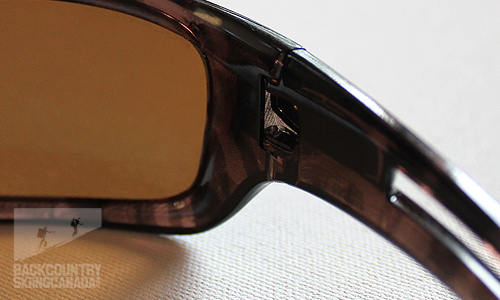 Design:
The Revo Guide glasses provide several design features that make them a functional winner while still being stylish enough to not make you look like your dad. The frame design wraps around your face to block ambient light without making you feel claustrophobic and provides maximum visibility and protection from snow squalls. There are integrated openings in stems which are supposed to allow for additional ventilation (will have to test this theory when the snow finally melts). If you prescribe to the less is more theory then this does cut down on weight and material use. The Revo Guide glasses also include a removable lens leash made from buoyant material which keeps them securely in place while ski touring so their is no worry about losing them on your next yard sale (or on your boat). The integration of the leash is one of the top features for me, unlike the clunky after market leashes you can purchase, these use a snapping system at the end of the glasses stems which ensures they will not come off and provides a seamless integration. Cannot say enough about this little feature.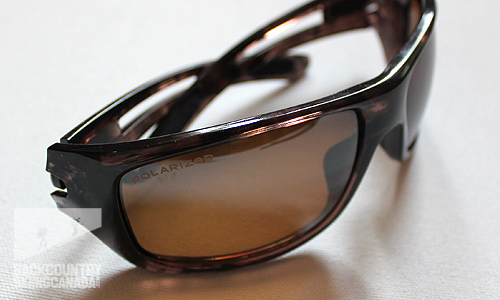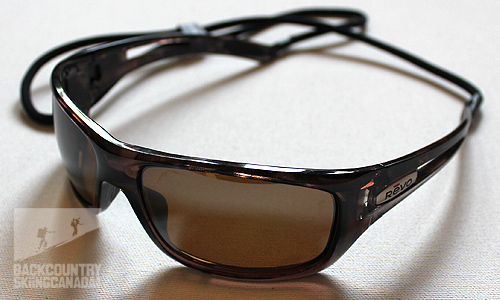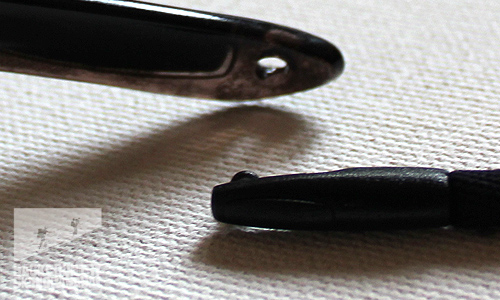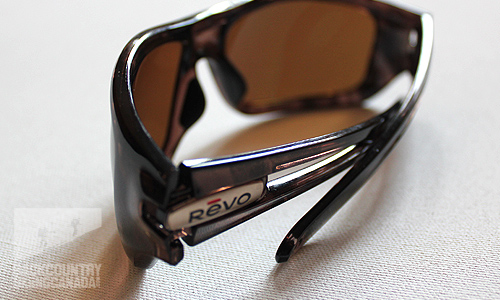 The Verdict:
The name Revo may still conjure up images of a quality product (if you are older than 25) and for good reason - they make a nice pair of shades. The optics of the lenses are top shelf and the overall design is functional and stylish - who said form follows function?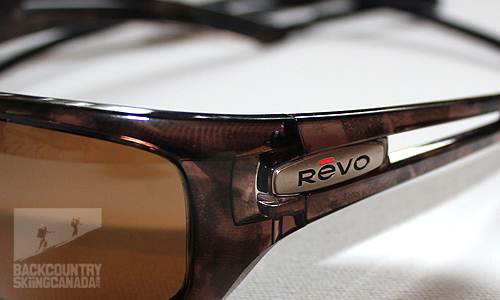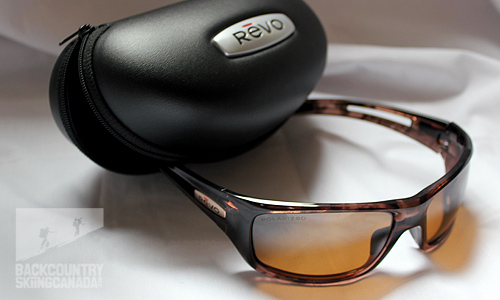 SPECS:
Price: $179 US (hard-shell protective case included)
Colour: Brown/Black pattern
Use: On the water, on the snow, day to day use
Available: May 2011
PROS:
Integrated leash system is brilliant, wrap around design keeps out glare, ambient light and snow.
CONS:
Lenses are not replaceable.
Rating: 9/10
Fit / Comfort 2/2
Vision 1.5/2
Features 1.5/2
Quality 2/2
Price 2/2

This is only our opinion. Do you disagree? Did we miss something? Are we totally out to lunch? Join the discussion in the forums here, and let us know what you think. People like/dislike gear for different reasons so chime in and we'll get a well-rounded evaluation.
Back to the rest of the reviews.
---
UPDATE APRIL 2013:
The Revo Guide Glasses live in my ski touring pack over the winter months. I have made them a permanent part of my kit and often don't bring my goggles along when I go backcountry skiing. Why bring goggles and sun glasses when the Revo Guide Glasses have enough coverage to keep the snow out of your eyes. They also have great optics for the low light and snow definition. My favourite part of them has to be the built in side arm venting and the built in leash. The leash is easy to wear with a toque as they are seamlessly integrated with the sunglass arms. Keep your eyes pealed to this review as Revo has just upgraded the Guide Glasses review and they now sport optional side panels to block out any side glare - think glacier travel and fishing.

Read the review of the new Revo Guide II Glasses here.
---