Rab Kinetic Jacket and Pants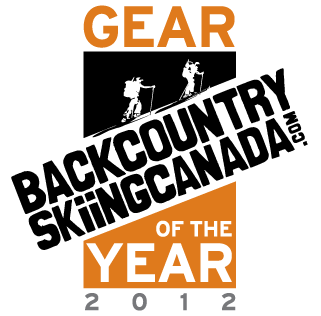 The Rab Kinetic Jacket and Pants have been chosen as our off-season "Gear of the Year" for 2012. This rain shell and pants combo are so light and compact that they win the prize for go-anywhere protection from the elements.
The Backcountry Skiing Canada Team.
---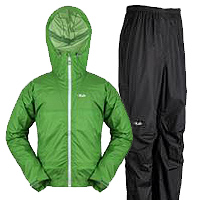 Rab is an outdoor clothing company founded in Sheffield, England. Their slogan is "For the most extreme conditions in the world." When I think of Northern England I don't generally think of the world's most extreme conditions, but I do think of rain. The Rab Kinetic Jacket and Pants are very lightweight 2.5 layer shells which I think might be quite appropriate for a Sheffieldesque climate.
I have been ogling well made, high-end shells and down jackets on visitors and friends from the other side of the Atlantic for quite a few years now. As Rab has been around for over three decades it's a relative newcomer to the North American market but they now have dealers from Iqaluit (in Nunavut) to San Diego California so anyone should be able to find their gear.
You may be able to find a Rab dealer in a town near you, but the point of this review is to help you decide if you want to pick up the new Kinetic Jacket and Pants while you're there. I had a great opportunity to test out Rab Kinetic Jacket and Pants during the rainiest June on record in the mountains of BC's West Kootenays which has appropriately been dubbed "Monsoon June".
Sooo light!:
As soon as you pick them up it is impossible to ignore how lightweight and thin the Kinetic Jacket and Pants are. The pants weigh in at 180g (size L) and the jacket at just 220g (size L) making this set amongst the lightest shells on the market. When packed into the pocket the jacket takes up less room then an apple, meaning that excuses are very limited as to why you can't pack this coat anywhere, just in case the weather turns wet.
Pertex Sheild+:
To make the Kinetic Jacket and pants so lightweight and packable Rab has used a new 2.5 layer technical fabric from Pertex called Shield+. Pertex Shield+ is a very soft technically advanced fabric fused with polyurethane film laminates. Pertex rates the water repellency (hydrostatic head) at 20,000mm and the breathability as "very good." My testing certainly supports these claims, I was very impressed with the breathability of the Kinetic Jacket and Pants. I was also comfortable wearing this jacket over just a t-shirt, as opposed to other 2.5 layer shells, which I found the inner layer to be very sticky on exposed skin.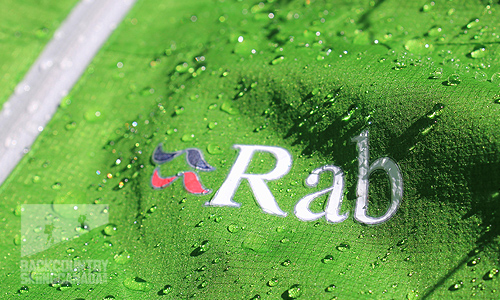 Durability:
The only downside I found in regards to the fabric of the Kinetic Jacket and Pants was that I was nervous about their durability while wearing them, they are so thin, that I feel that even brushing against something lightly will rip it wide open. To this point those fears are unfounded – a month of use rip free, but I have yet to do any serious bush bashing or scrambling.
Only the essentials:
The Rab Kinetic Jacket and pants are a long way from fully featured. Designed to be minimal, the jacket features only basic fit adjustments: Velcro cuffs and a single-pull waist draw cord. The pants are made with a slightly stretchier fabric than the jacket and feature knee length zips and an elastic waistband to achieve a low bulk feel and easy on an off with boots. The hood of the Kinetic Jacket is the only exception to the minimal featuring of this set up. The hood is very large (will likely accommodate a bike or a climbing helmet, if your head is not as big as mine), fully adjustable, has a well designed brim to keep the rain off your face and even has a strap so you can stow it out of the way in periods of high activity.
The Kinetic Jacket has few other "attention to detail" pieces that I would like to highlight. All of the logos and detailing are reflective. The pockets are made of mesh so they double as vents. The shoulders and elbows are articulated very well allowing for a smaller fit without compromising movement. The zippers are all high-end YKK zippers.
Plenty of hood adjustments.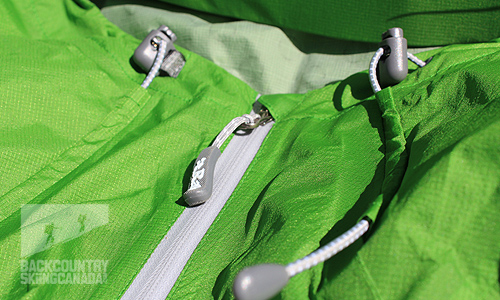 Hem adjustment.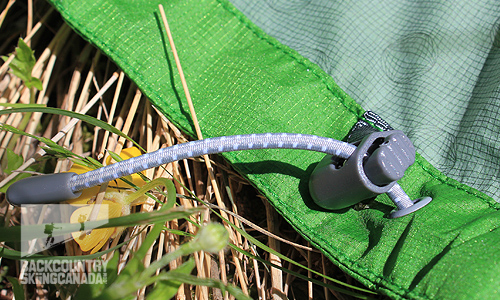 Pockets vent with plenty of mesh and seams are taped super tight.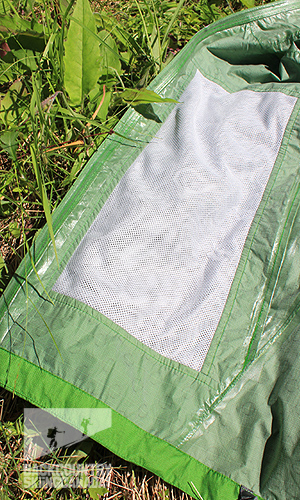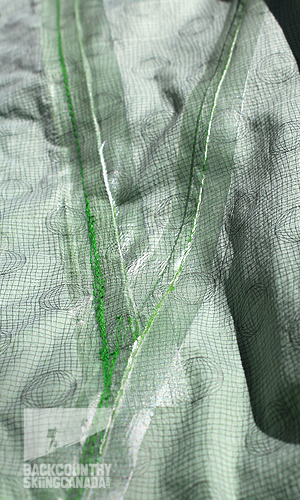 Mesh pockets and nice YKK zips.

Super small compression (sac not included).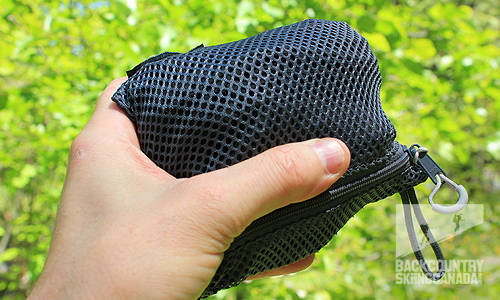 Adjustable gaiter and snap.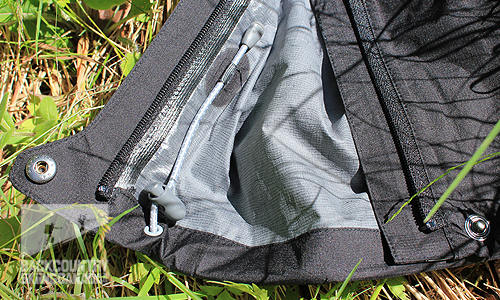 Waterproof zips.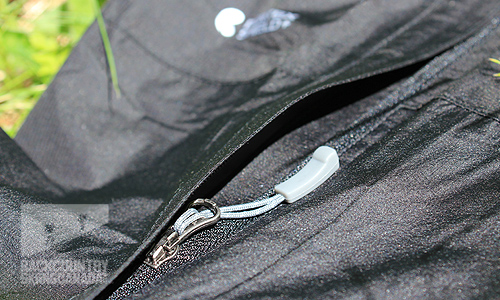 Pants stay up thanks to the hem adjustability.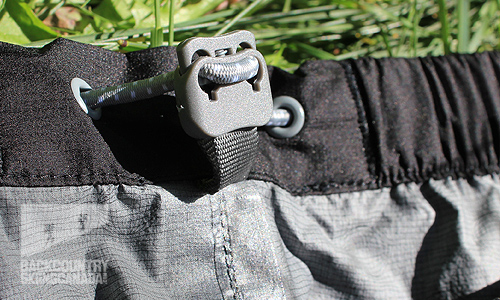 Verdict:
I love that the Kinetic Jacket and Pants. They are small and light enough to pack with me everywhere I go. I also love the fact that when they are unpacked they are comfortable and very breathable. As I mentioned above it has been a very rainy spring so I have worn this jacket a lot – many times when I was not expecting to. I have worn it to and from work, biking, hiking and camping and it has performed beyond my expectations for all of these. The only concern I have, that I cannot shake is that one of these days, I am going to push the lightweight Pertex fabric beyond its limits and this fabulous gear will rip. (My testing will continue and I will update this review if this happens)
SPECS:
Rab Kinetic Jacket
Price: $190
Sizes: S-XXL
Weight: 220g / 8oz (size Large)
Colours: Apple (pictured), Black, Breaker (blue)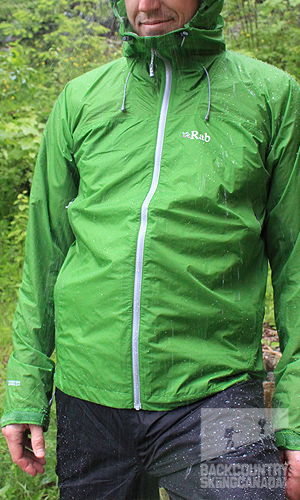 Rab Kinetic Pants
Price: $120
Sizes: S - XXL
Weight: 180g / 6oz (size L)
Colours: Black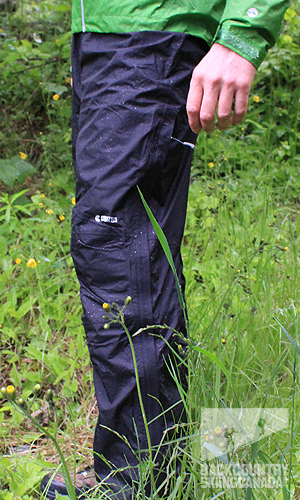 PROS:
Ultra-light, super-compact, waterproof and breathable.
CONS:
Fabric is so light and compact that it may be compromised by abrasions or bush whacking off trail.

This is only our opinion. Do you disagree? Did we miss something? Are we totally out to lunch? Join the discussion in the forums here, and let us know what you think. People like/dislike gear for different reasons so chime in and we'll get a well-rounded evaluation.
Back to the rest of the reviews.
---