PowerPot V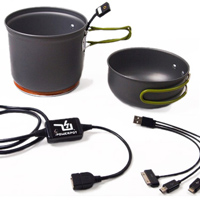 Founded in 2011, Power Practical was developed by two men, sitting around a campfire watching potential energy dissipate into the Utah sky. Using Thermo-electronics and their material-science engineering backgrounds, David Toledo and Paul Slusser destroyed a number of their parents cooking pots developing a product that harnesses temperature to create enough electricity to power any USB device. Since their first Kickstarter Campaign in 2012 the company has grown into 15 outdoorsy employees, half of which are former Eagle Scouts. They continue to develop their technology and have a number of products and accessories available on their website.
This product is very simple to use: simply add water to the PowerPot and apply to heat source. For best results use cold water, (keep adding snow or cold water for a longer charge) and apply direct heat to the bottom of the pot. Attach the charging cable and connector to the pot between the silicon handles. Both pot & lid/bowl/skillet handles and cords are flame resistant but the manual warns to exercise extreme caution when operating this product as "stoves using compressed gasses, open flames, hot surfaces and boiling water are all inherently dangerous". Within 10-30 seconds, enough power will generate to allow charging devices from the USB Port, located on the charging meter, which will denote current power output from 1-5 Watts. The included charging tips (Apple, Micro, Mini USB) should be compatible for most of your backcountry devices, from rechargeable headlamps to smartphones, cameras and music players. Use the provided lid/bowl/skillet to help water heat faster and cook food while charging your electronic devices. Be sure to never let the PowerPot run dry as it may permanently damage the product. Wash with soap and water and keep everything it the mesh bag for storage.
Charge your electronic devices via USB while boiling water and/or cooking food with the PowerPot V.

The PowerPot 5 is fairly compact and comes in a mesh carrying bag. Extra space inside for instant soup/coffee packets.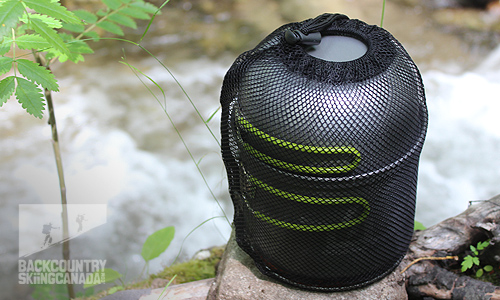 As the pot begins to heat the contents inside, your electronic device will begin to charge. Once the water is in full boil the electronic output won't be as strong. "Amp it up" by adding more cool water or snow.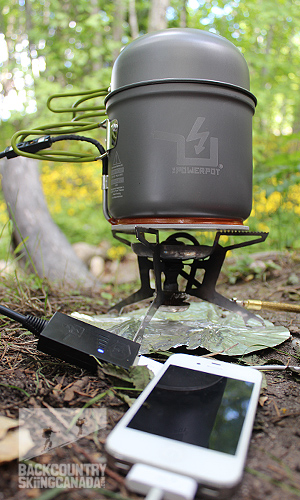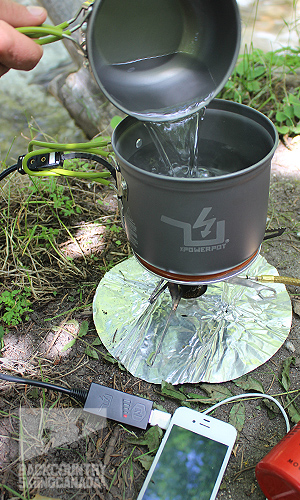 It is important to remember that whatever you put inside the PowerPot must be able to boil. Meaning you can cook noodles and broth-based soups but use the lid/bowl/skillet for cooking chili or eggs. The PowerPot can power electronic devices in the same amount of time as it will from your wall outlet at home, but recommends adding snow/cold water for best results. So if your typical smartphone takes a couple hours at home to charge, you might have to keep an eye on the pot to make sure it doesn't boil dry when charging. Also, it is important to leave liquid in the bottom of the pot when you are done, to allow thermoelectric molecules to cool properly. "Removing all water immediately after heating may cause temperature shock and malfunction".
The standard 1 Amp USB output will charge most devices with a USB attachment. I say most because larger devices (such as the iPad and other tablets) use more then 1 Amp and may take twice as long to charge with the PowerPot. As Power Practical continues to grow you may not only see their products in the backcountry, but in the home as well as they are working on applying their system to residential water heaters.
The Charging Meter will denote the amount of amps being generated from 1 to 5.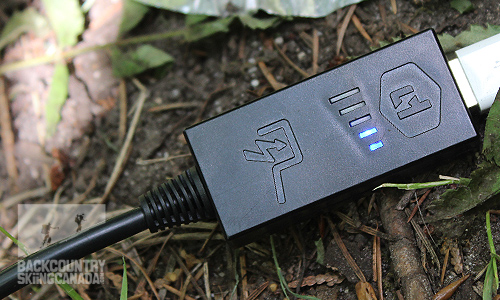 Features:
Charges any USB Device
Use over any Heat Source
Duel Utility (Power and Cooking)
Lightweight & Durable
USB Charging Cord with power meter & 3 Charging Tips (Apple, Micro, Mini USB)
Mesh Storage Bag
Lid/Bowl/Skillet
Flame Resistant Composite Charging Cable & Connector
Flame Resistant Silicon Handles
Hard Anodized Aluminum with Encapsulated Thermoelectric Modules
The bottom of the pot is hard anodized aluminum able to stand up to any heat generated by camp stoves. Inside the orange capsule is thermoelectric molecules, where heat is converted to electricity.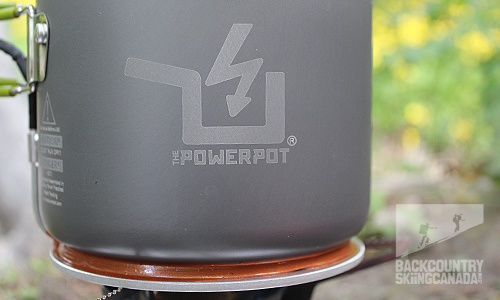 Never let the PowerPot V run dry as this may cause damage & only use water based liquids inside the pot itself.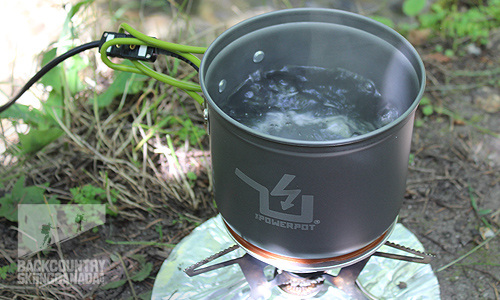 Verdict:
The PowerPot V is compact, durable and duel functional. Weather you want to cook or power electronic devices, this product does it both. It works best with direct heat to the base of the pot, so MSR & Jetboil camp stoves are choice in the backcountry as you would have to really monitor a campfire's flame. The PowerPot may cost a little more then heavier, solar powered devices, but you are getting a two-in-one product and can use it anytime, day or night, in any weather conducive to using a camp stove, not just sunny days.
The only down side of this innovative product is that you would need to boil enough liquid in order to sufficiently charge your electronic devices. This means additional fuel is required (and hence additional weight) should you have a larger requirement for electricity then you do for boiled water or food to eat.
I would recommend this portable generator to any outdoor enthusiast keen on their electronic devices and for any/all emergency kits. For a larger output look for the PowerPot X ($219 USD), a 10 Watt generator for charging larger devices & batteries.
The handles of both the powerpot, skillet/bowl and power cord are heat resistant. The handles are silicon coated for easy grip.

Price - $149.00 US
Weight – 396g / 14oz
Dimensions: 12x12cm / 4.5" x 4.5"
Output – USB 5 Watt / 5Volt, 1 Amp
Capacity – 1.4 L / 1 Qt
20 Minute Charge = 120 Minute Talk Time (with most smartphones)
PROS:
- Able to use in all weather conditions, day or night over many types of heat sources.
- Green Energy! Converts temperature into electricity without any moving parts.
- Duel utility - cooking/boiling water & charging electronic devices
- Power meter shows output (1-5 Watts)
- Handles and Cords are heat resistant with furnace wiring and high temperature silicone coating.
CONS:
- Damage may occur to the PowerPot if it is hot and does not contain water.
- Must cool before removing liquid.
- Must continually add cool water for better charge.
- Not dishwasher safe
- Too tedious to use over campfire
- Important to be careful using cords around heat source.
Rating: 7.5/10
Innovation 2/2
Function 1/2
Weight 1/2
Features 2/2
Quality/Price 1.5/2
---

---
Backcountry skiing is an inherently dangerous activity that requires experience and knowledge to travel safely. Any of the routes on this site may be dangerous depending on conditions. You are responsible for your own safety in the backcounty—the team behind backcountryskiingcanada.com disclaim any responsibility for any injury resulting from people travelling on routes described on this site. To read our Terms of Use and get all the details, read HERE.
---