Hey there. With the arrival of April, the Backcountry Skiing Canada Photo Comp has come to a close. We've received a whack of great entries over this season and, after a difficult selection process we've announced the 4 winners. Thanks very much to all of you who shared your stories — and thanks also to our sponsors for providing such amazing prizes.
If you have more photos, stories, vids, etc to share, let 'er rip. We're all still keen to revel in the great season which may (or may not) be winding down.
Keep a watch out here for details on next years 'new and improved' Comp - with a few new twists to keep it interesting.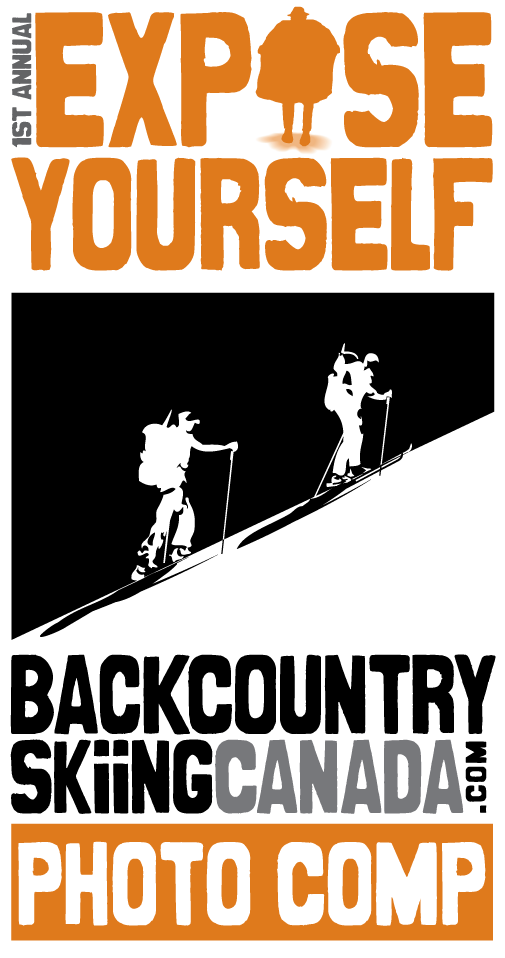 FIVE SIMPLE STEPS TO WIN.
Sign up to our forums.


Create a post with a photo/video and 100 word (min.) creative description - (jpeg 72 ppi 500 pixels max width, swf flash file)


Name the post: PHOTO COMP - "name of you post here"


Visit often to see what others are posting.


Repeat steps 2-4 often.
If you haven't signed up let's get started!
---

WINNER #1:

Cat skiing with lodging at Retallack for two.
Retallack is acknowledged to offer some of the best cat skiing anywhere. Mind-blowing terrain, super-fun staff, deee-luxe lodge and a pant load of snow. What's not to love?
Prize is valid any time during the 2011/2012 season (depending on availability).
---
WINNER #2: Black Diamond Justice Skis with Diamir Fritschi Freeride Plus touring bindings.
ROAM - your one-stop shop for elite backcountry gear. Speak to the staff, they're all hard core BC skiers.
---
WINNER #3: Whitewater Avi training weekend for two: 3-day Avalanche Skills Training Course, 1-day ski pass, Meal vouchers for the Fresh Tracks Cafe .
The good people at much-loved local mountain, Whitewater, are kicking in for this "all-in" prize focused on safety, learning and fun!
---
WINNER #4: Dakine Tactic backcountry touring pack
Valhalla Pure on Baker Street is the place to gear up for your outdoor adventure. Thanks for the stylish, yet functional, backcountry pack!
We at backcountryskiingcanada.com are pumped about the prizes for the comp. we've managed to muster from our partners and friends. In our second year now, we are holding the Expose Yourself comp to reward people for putting together the best posts for the backcountryskiingcanada.com forums. To get a taste of what you are up against, check this out.
We'll admit it…we know that the carrot-and-stick technique will motivate people to post and contribute good stories and stuff to our forums. The idea behind the site is to build a posse of people who tell their backcountry stories, and provide the kind of beta that'll inform people, and get them stoked, to have a fun and safer time ski touring the pow. You can post as many times as you want (we encourage it, in fact).
Know that by posting an entry, you agree to the terms of the competition below. The more times you post [AKA enter] the better your chances are of winning. Check back often to get the scoop on your competition and see who has entered lately, or follow us on facebook and/or twitter.
FOR WHAT WE ARE LOOKING.
Our team of judges will be looking at a few things in selecting the contest winners. True, we need to see more than just a good photo. We'll be looking for: storytelling ability, photo/videography, stoke, and quality of info. We need to see a minimum of 100 words, with a photo (jpeg 72 ppi 500 pixels max width) and or a video [swf flash file]. You must title your post: PHOTO COMP - "name of you post here" in order to be considered and you can post in any of the touring location forums. If you have an epic adventure you want to submit but are having trouble with the instructions on our site, let us know and we'll help you out as best we can. Or check out our help posts here.
HERE COME DA JUDGES.
Backcountry Skiing Canada - Andrew + Brad, owners/skiers
Summit Mountain Guides - guides in the know. Check them out.
Kari Medig Photography - The picture guy. Check him out.
OUR SPONSORS.

RULES AND REGS.
Follow them or you can't win!
Entrants must be 16 or older, and be registered members of the www.backcountryskiingcanada.com forums
No nudity (sorry, we're only kidding with the contest name)

Prizes have no cash value and are not transferrable

Entries must portray "safe" experiences in the backcountry or slackcountry - sorry no inbounds. We aren't interested in seeing anybody putting themselves, or others, in harm's way.

Submission must be made during the 2010/2011 season—April 1 closing date

Submitted material must be from this season too—no vintage vids thanks.

The www.backcountryskiingcanada.com team has the right to publish you name as a winner and use your photos/videos for promotional purposes online and in print

Entries must not violate any law, regulation, copyright, trademark, privacy and all persons in any photo/video have given their consent to the taker prior to being submitted in the competition.
The fine print:
By participating in the Contest and/or accepting a prize, a participant/winner agrees to defend, release and hold harmless the Sponsors and their parents, subsidiaries, affiliates, divisions, advertising and promotion agencies, and the foregoing companies' officers, directors, shareholders, employees, representatives, agents and all others associated with the development and execution of the Contest (collectively the "ReleasEes") from and against any actions, claims and/or liability for injury, loss or damage of any kind (including any violation or infringement of any proprietary or personal right of any individual or entity, and any personal injury, death and/or property damage) resulting in whole or in part, directly or indirectly, from participation in the Contest, and/or the use, acceptance or possession of a Contest prize, and/or participation in a Contest prize-related activity. By participating in the Contest and/or accepting a prize, a participant/winner consents to and gives the Sponsors the right in perpetuity to use a participant's/winner's name, address and Submitted Entry, to photograph/video a winner and a winner's property, and in perpetuity to use a winner's statements, quotes, picture, portrait, likeness, voice, video, biographical information, prize information, and winner-submitted photograph(s)/video/text (in whole or in part, as may be adapted, edited or modified, as solely determined by Sponsors) for advertising, trade, publicity and promotional purposes in any media now known or hereafter discovered, worldwide, including on the World Wide Web, without review, notification or approval, all without limitation or additional consideration, unless prohibited by law. In addition, a Submitted Entry shall be owned by the photographer and remain the property of the photographer, and submission of an entry shall constitute and be deemed to be the participant's irrevocable consent (on behalf of himself/herself and any photographer who shot any of the photographs submitted in the Contest) to allow the unlimited use of the Submitted Entry by the sponsors for an unlimited period of time without cost, for editorial and marketing purposes by the Sponsors, including but not limited to use in print, promotions and online as stated above.
Conditions: Participants agree that by participating in the Contest they release the Releasees from any liability in connection with: a) entries that are ineligible as a result of being lost, late, illegible, damaged, incomplete, stolen, postage due or misdirected; b) any typographical or other human or technical errors in the offer or administration of the Contest, including but not limited to errors in advertising, these official rules, the selection and announcement of a winner(s), or the distribution/awarding of a prize(s); c) any omission, interruption, deletion, defect, delay, misdirection, damage, line failure, injury, technical malfunctions or traffic congestion on the Internet/telephone network, or at any website, or any combination thereof. Sponsors reserve the right to modify these rules for clarification purposes without materially affecting the terms and conditions of the Contest. In the event that the Contest is infected by a computer virus/worm, or is not capable of running or being executed as planned as a result of but not limited to an error, omission, defect, delay, misdirection, tampering, unauthorized intervention, fraud, action of participants or technical failure or any other cause which in the sole opinion of Sponsors corrupts or affects the administration, security, fairness, integrity, or proper conduct of the Contest, Sponsors reserves the right in its sole discretion to disqualify any suspect entry or participant and to cancel, terminate, modify or suspend the Contest. In the event of such cancellation, termination, modification or suspension, notice thereof will be posted at the Contest website and winners will be determined solely by Sponsors (based on above judging criteria) from among all eligible non-suspect and/or non-disqualified entries. In such event, Releasees shall have no liability to any participant who is disqualified due to such an action. Failure to enforce any term of these official rules shall not constitute a waiver of that provision.