The Peak Performance Heli Loft Pants combines maximum warmth with minimum bulk. They have a streamlined look with an unrestricted cut. The 2 layer Gore-Tex Pro and ThermoCool lining allows the wearer to maintain a comfy microclimate inside while keeping the weather on the outside. There are several generous sized pockets (including a bellowed pocket on the leg and on the back), long vent zips and the built-in Recco reflector.
On paper it looks like Peak Performance have thought of all the details to keep you warm, dry and safe. This is the warmest pant in Peak's Heli line. Worn with the Peak Performance Heli Alpine Jacket you will certainly feel like you are in a 'bomber' mountain suit ready for full storm action. In the comfort of my home trying on the gear for the first time I noticed the freedom of movement was excellent, the bigger question is how does this suit perform in the mountain environment? Let's take a closer look.
The Heli Loft Pant comes in streamlined cut but is well designed to offer the skier excellent freedom of movement in a cosy fit.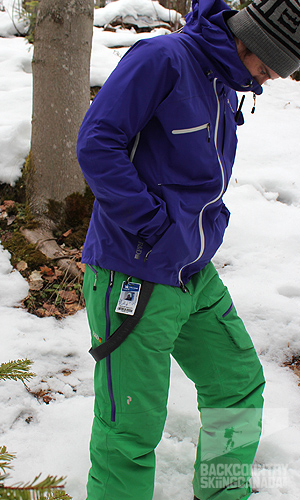 Short ventilation zips on the outside of the thigh.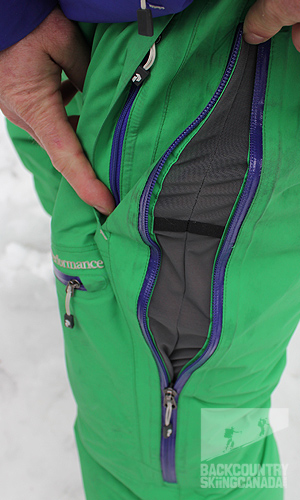 The waist of the pant comes with adjustable Velcro fasteners. There are also a series of belt loops.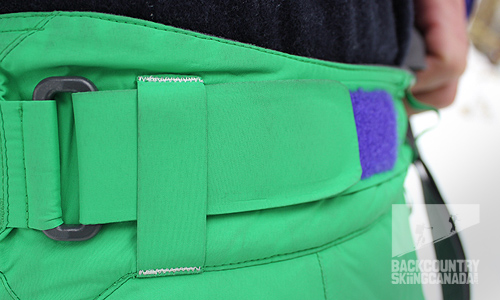 The adjustable suspenders offer maximum versatility for the skier to get the right fit and comfort.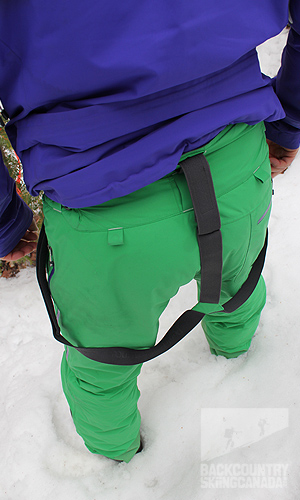 Gaiters reinforced with Schoeller Keprotec fabric for extra protection.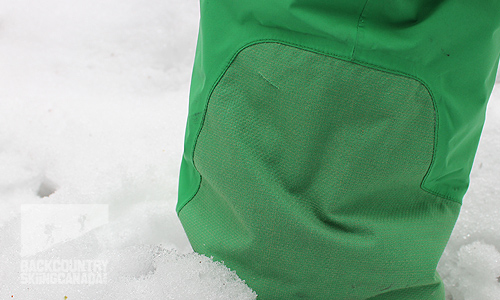 The snow skirt syncs nicely with any of the Peak Performance jackets with an easy to use snap on system for the full suit.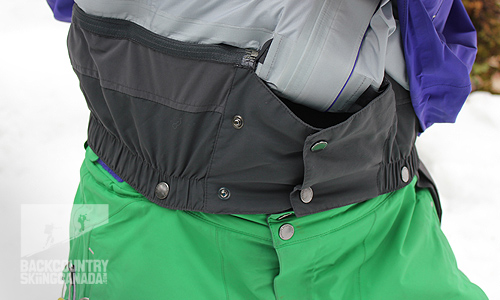 Features:
- Gore-Tex 2-layer shell fabric
- Advansa ThermoCool insulation liner
- Gaiters with Schoeller Keprotec fabric
- x2 thigh length ventilation zips
- Adjustable Velcro fasteners on the waist
- Articulated knees for freedom of movement
- 2 hand pockets, one bellowed leg pocket and one bellowed back pocket
- Adjustable Velcro suspenders
- Recco system
- Fully taped seams
Verdict:
I love that the Peak Performance clothing as it is bright and vibrant, offering a real Euro look. It is refreshing in a North American market of earth colours and this clothing is sure to add a bit of sparkle to your backcountry ski touring missions.
The Peak Performance Heli Loft Pants are designed to be worn with the Heli Alpine jacket, although be careful of your colour choice as you don't want to clash. The Peak Performance colour palette will have your friends reconsidering their worn out (boring) coloured North American apparel in no time.
As a pure backcountry ski touring pant, the insulated lining is not ideal. In mid-winter, on short hikes travelling very light (up to 2 hours on the up track) these pants worked fine with the vents fully open. With the warmer spring temperatures I have found these pants are just too hot for any substantial hiking.
In mid-winter the comfort of the Therm Cool insulation and protection of the 'bomber' Gore Tex constructed shell were ideal for tail guiding at a local cat skiing operation. Here the days are long and you spend your time in a variety of weather while driving around on snow mobiles to and from work. The Peak Performance Heli Loft Pants are also ideal if you are skiing the local resort and going on short sidecountry missions. I would not choose this pant to wear on any substantial ski touring trips or for use in the warmer spring time months of March and April.
In terms of the fit I am usually a size medium in clothing and the size large pants were a perfect fit on the leg but too large on the waist. The fit would be perfect if the waist had more adjustment as the velcro fasteners have limited adjustment and the suspenders are far too big. Beware of sizing on these pants as you want to get it right as without the suspenders I find that the pants keep slipping down when wearing a backpack.
The Heli Loft Pants look and feel great but they are not a perfect fit and are not recommended for any serious backcountry missions.
SPECS:
Price: $500 CAN
Colors: Iron cast, bright green, fuchsia, DK moraine lake
Material: Gore Tex 2 membrane and polyamide face fabric
Insulation: Advansa ThermoCool 60g body 100g seat, thighs and knees
Venting: thigh side zips
Gaiters: Schoeller Keprotec reinforced
Waist: adjustable Velcro fastener
Sizes: XS to XL
Fit: Standard
PROS:
- Look great and come in a variety of bright colours
- Comfortable and cosy streamlined fit
- Great design offers freedom of movement
- Bellowed pockets offer plenty of storage
- Fully adjustable waist and belt loop options
CONS:
- Too much room in the waist – the Velcro fastener adjustment system on the waist needs more range for a good fit.
- The Velcro suspenders are way to big for my size. I am 5ft 10 inches and the suspenders are far too long.
- The gaiters are not very tough and I have already ripped the fabric with my skis.
Rating: 7/10
Fit / Mobility 1/2
Packability 1/2
Waterproof / Breathable 2/2
Features 1.5/2
Quality / Price 1.5/2

This is only our opinion. Do you disagree? Did we miss something? Are we totally out to lunch? Join the discussion in the forums here, and let us know what you think. People like/dislike gear for different reasons so chime in and we'll get a well-rounded evaluation.
Back to the rest of the reviews.