Patagonia Nano Air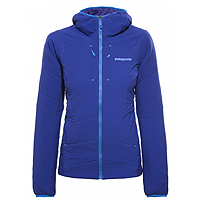 Described as warm, stretchy and breathable the Patagonia Nano-Air™ Hoody (available for both men and women) is a technical insulation layer may just have been dreamt up by a backcountry skier. Specifically designed for stop/start high exertion mountain activities, according to Patagonia you "Put it on leave it on." It seems hard to believe, particularly on the up track so let's take a closer a look at what's behind the Nano-Air.
Warm
The Nano-Air is filled with hydrophobic warm-when-wet and fast-drying FullRange Insulation which is a proprietary multi-denier synthetic fill insulation made from several different types of polyester fibres. The proprietary element is what gives it added stability against fibre migration over traditional synthetic insulation, and allows for great stretch and recovery. What's more, it's lightweight. A 60-gram insulation weight is used for versatility in a wider range of temperatures. Patagonia's signature quilting and patterning keeps the insulation in place as well as optimizing durability. The stretchy hood can be pulled on or off even when jacket is zipped, allowing for thermal adjustment on the go. The hood will accommodate low-profile helmets.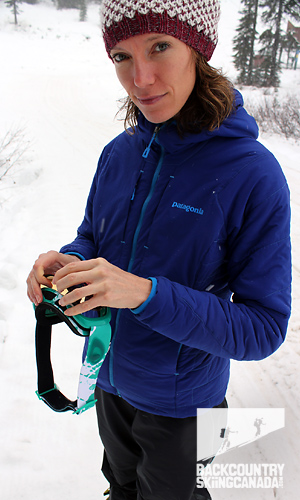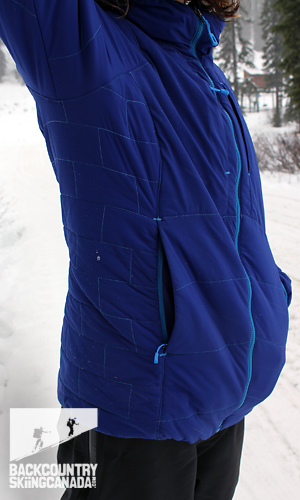 Stretchy
Both the 100% nylon ripstop shell and plain weave liner feature 4-way mechanical stretch. These sandwich the insulation which we have already mentioned allows for optimal stretch and recovery. This combo supports full range of movement. Hood and cuffs are finished with elasticized binding. An adjustable elasticized drawcord hem can seal the jacket from drafts while allowing for movement.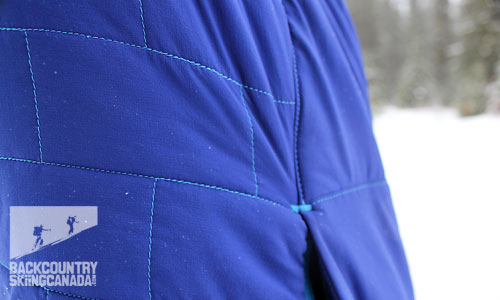 Breathable
When it comes to breathability Patagonia have innovated the market through their use of the FullRange™ Insulation which together with the liner and outer shell allows airflow up to 40 CFM (cubic feet per minute)— currently unprecedented for an insulation piece.
Additional Features
⁃ The outer layer is finished with DWR (durable water repellent) finish (this will wear off in time so it is advised to refinish periodically).
⁃ Centre-front zipper has wicking interior storm flap and zipper garage at chin for next-to-skin comfort.
⁃ Two hand warmer pockets and two chest pockets are zippered, welted and low-bulk to wear comfortably with a harness or pack.
Two hand warmer pockets for, well,... your hands.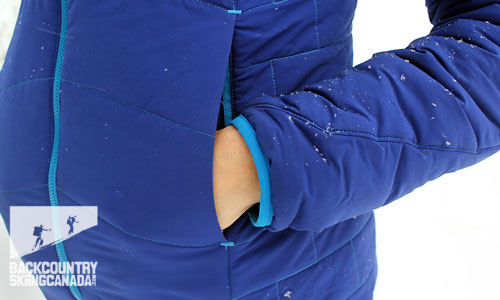 Two Napoleon style pockets for small items.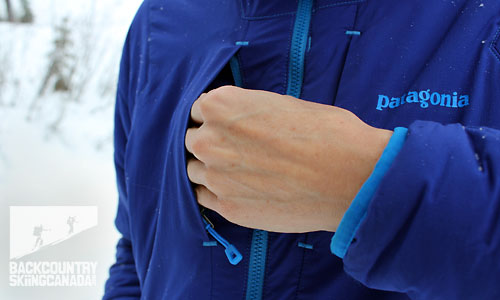 Zipper pull is glove friendly and the zipper garage keeps it off your neck or chin.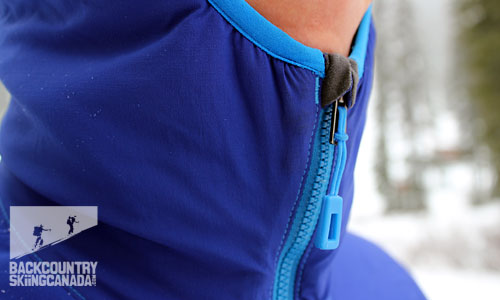 Stretch fitting hood keeps you warm even though it may look a little funny.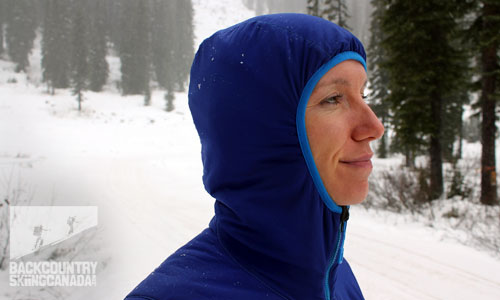 Micro hem adjustment with tie back so the cord does not get in your way.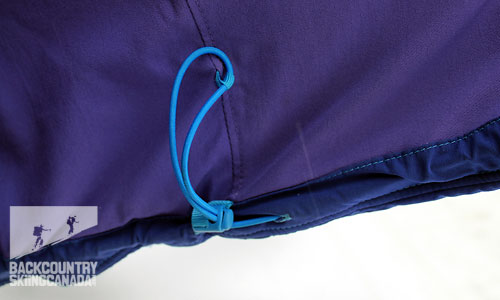 Integrity
When it comes to being an ecological responsibility Patagonia's brand promise is definitely worth a mention. In fact September 2013 they announced that their marketing goal to be limiting growth, that is, to make less than they have the previous years to better serve the environment. They actually encourage the consumer to ask themselves "Do I really need this jacket? Is my old jacket worn out?". Every year for 30 years, Patagonia has donated one per cent of its sales to grassroots environmental organizations. They also helped initiate the Sustainable Apparel Coalition, an organization of companies that produces more than a third of the clothing and footwear on the planet. There is no doubt that when it comes to corporate responsibility Patagonia appears to be leading the way.
Verdict
I can see why the Nano-Air was described by a climber as cool enough to climb in and warm enough to belay in, it is probably the most versatile mid-layer currently on the market. Incredibly soft to touch which coupled with the 4-way stretch makes it cosy comfortable. It works exceptionally well as a breathable outer layer in subzero temps. If you need to turn up the thermostat just top it with a hardshell, which will also cut the wind. Considering it's breathability the Nano-Air does offer some protection against a stiff breeze but if you are on a ridge, or there's a howler you will feel it cut through. I guess it can't offer such breathability as well as cut a gale.
I have been on the market for a decent insulating mid layer for some time now and I am over the moon that Patagonia came out with the Nano-Air. These days my thermostat is less tolerant of the cold so for me it's a keeper. Especially with the recent temps around -10 C and below. I expect it will be way to warm to tour in once March arrives. At that point I will likely continue to use it as an insulation layer for inbounds skiing and I expect to use it as an insulation piece through out the year in off season activities such as climbing. I found it ideal as an outer layer in the cooler fall temps this year.
What was I using before the Nano-Air? Ummm … well let's just say it was a lot less efficient. I stopped on the up track more frequently to layer and delayer. I used a combo of long sleeve merino base layers and dare I say a lightweight down jacket. Though I like to keep the down for emergency situations, for all else it seems redundant now. What does the Nano Air have over a light down jacket? Down has no breathability, very little stretch and if you get wet you will lose all insulation. It will have to be arctic temps for me to wear down on the uptrack again.
Though performance should trump all else, it's worth noting that it's a handsome piece and the fit is exceptional and feminine.

I detected one cosmetic flaw after a month or so of use which was pilling of the fabric around the hip area, which I expect will increase, something I am willing to overlook for all the jacket has to offer. Other than that it is a sizeable investment but then you get what you pay for.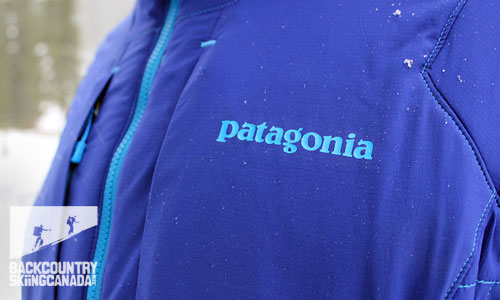 SPECS:
Price: $349 CAN
Weight: 351g / 12.4 oz
Colours: Black, Tailored Grey, Curacao, Turkish Red, Tobago Blue, Cobalt Blue
Sizes: XS - XL
Made in Vietnam
PROS:
- Highly insulating and also highly breathable
- Lightweight
- Quick drying
- Allows for ease of movement due to high stretch
- Comfortable and soft to touch
- Flattering cut
CONS:
- Fabric does pill in high wear areas, not sure how it will wear over a few seasons.
- Higher price tag
Rating: 9.5/10
Fit: 2/2
Packability: 1.5/2
Warmth: 2/2
Features: 2/2
Quality/Price: 2/2

This is only our opinion. Do you disagree? Did we miss something? Are we totally out to lunch? Join the discussion in the forums here, and let us know what you think. People like/dislike gear for different reasons so chime in and we'll get a well-rounded evaluation.
Back to the rest of the reviews.
---