Patagonia Womens Super Cell Jacket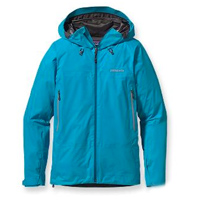 Yvon Chouinard, founder of Patagonia, got his start in the business world by selling homemade pitons out of the back of his car in the 1950s. Later realizing the environmental damage caused by pitons, Chouinard changed his focus to the less invasive aluminums chocks. Over the years as Chouinard shifted from making climbing equipment to outdoor clothes (creating Patagonia in 1972) he continued to demonstrate a desire to use environmentally friendly processes. Now in 2012, Patagonia is still known for their environmental practices as evidenced by their involvement with the Common Threads initiative, Our Common Water project, bluesign certification and 1% for the planet. In addition, Patagonia has a strict paper policy, which includes a preference to use paper with the highest percentage of post consumer recycled fibres possible and emphasizes that of the three "Rs" reduce is the most important. As they state on their website, Patagonia's policies and actions towards the environment are still a work in progress but it would appear that they are off to a good start.
This review will look at Patagonia's Super Cell Women's jacket. This jacket is new to the Patagonia line-up for spring 2012. It is touted to be a great emergency shell as it is their lightest Gore-tex jacket and, although it is designed specifically for alpine climbing, it can be used for biking, hiking, paddling, climbing, spring skiing or really any outdoor or around town adventure.
Features:
- Helmet compatible, 2 way adjustable hood
- Pit Zips
- Harness compatible pockets
- Watertight, low profile zippers
- Gusseted cuffs
Fit:
I was surprised to discover that I needed a small for the Super Cell. Since I am consistently a medium with Patagonia products this may be good to keep in mind, especially for those ordering this jacket online.
Once wearing the small, I found the jacket to be a great length; it comes just below my hips and, as such, kept my lower back dry even when I bent over or reached my arm up (in part due to the underarm gussets). Unfortunately, the jacket is a bit tight around my hips, which was a limiting factoring when choosing layers to wear underneath. It also means that the jacket bulges out in the stomach area, which did not create any problems practically, it was simply unpleasing aesthetically. For people with narrower hips, the bottom of the jacket is adjustable. At first I was worried that the adjustment loops would get caught on things, as they are relatively large; I then discovered, however, that there is a loop inside the jacket to hook the adjustment cord into to keep them out of the way. This defiantly felt like a case of "well, they thought of everything."
In contrast to the waist, this jacket has nice wide gusseted cuffs which will allow the sleeves to go over winter ski gloves should it be used for spring ski tours. For those wetter days, the cuffs can also be done up very tightly to keep outside water from running down your arm.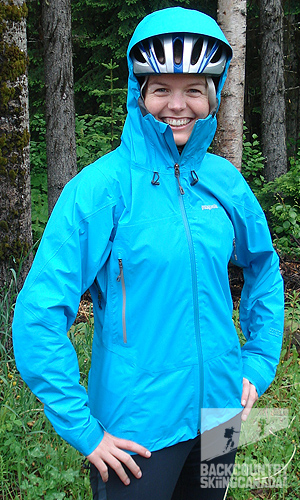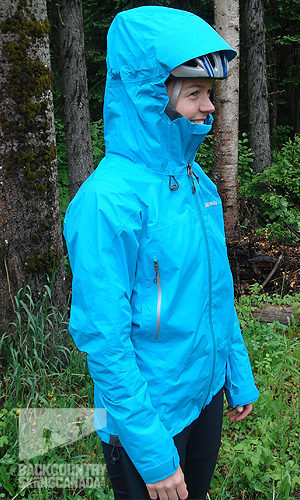 Pockets:
I was happy to find that the pockets on the Super Cell are chest pockets and, therefore, are harness and waist belt compatible. The pockets are on the smaller size, which I initially felt was a disadvantage but I found that it actually limited the weight I could put in them and, consequently, prevented the pockets from hanging down too low and interfering with the harness or waist belt. In addition, the pockets are on the outer side of the chest (closer to the armpits rather than to the main zipper) which I like as it means you can easily shove your hands into them to warm them up.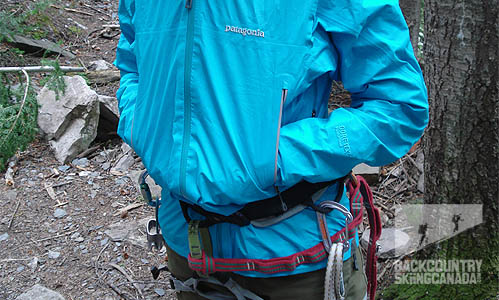 Hood:
This jacket has a great hood. It is large enough to easily fit over most helmets (we tried several climbing and bike helmets), however, it is also easily adjustable to bring it in if wearing it over a toque or bare head. Specifically, the hood is 2 way adjustable: you can tighten both the rim and the actual body of the hood. Unlike other jackets I own, I found the adjustment cords on the Super Cell very easy to access without having to open the main zipper or fold down the top part of the jacket. Patagonia has also used a Touch Point System, which makes adjusting the size of the hood super easy. As a bonus, the hood has a laminated brim to keep the water off of your face for those days when it is really raining hard.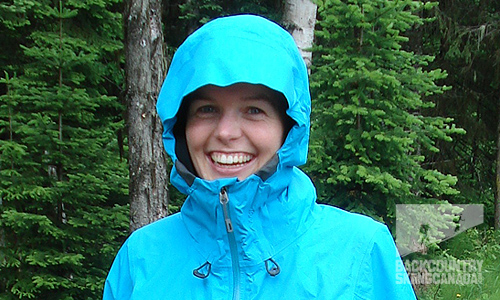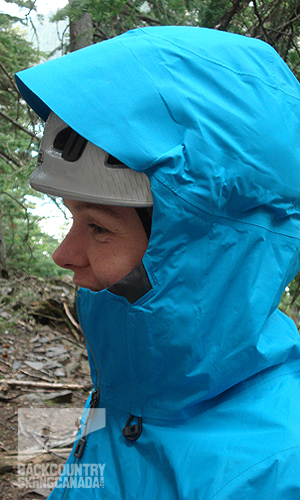 Zippers:
Both the main zipper and the pocket zippers are watertight. They are also Slim Zips and are laminated in place meaning they are very low profile. Overall, I have found the zippers to be very sleek and simple. Unfortunately, I have experienced that the main zipper frequently gets caught on the underlying flap, which is leading to premature wear and tear on the flap. As a result, I will be interested to see how this flap and the zipper withstand the test of time.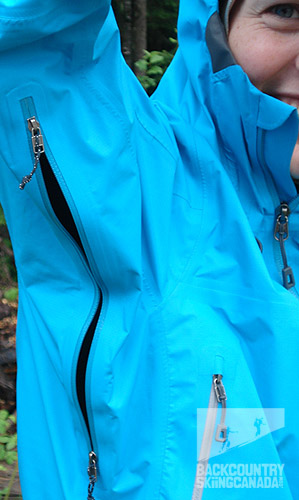 Weight and Waterproofing:
Weighting in at only 362 grams, the Super Cell is an incredibly light jacket. This means two things. First, it packs down super small so I am more likely to pack it as a "just in case" jacket and second, it feels great on and does not interfere with natural movements. Since it is so light, the Super Cell is not meant to remain waterproof during prolonged exposure to rain. I did find, however, that I remained dry for a surprising period of time in light to moderate rain. This could have been due, in part, to the breathability of the jacket compared to heavy models. Furthermore, because the jacket is Gore-Tex it should remain waterproof longer than other lightweight jackets and if not, well, you can take comfort in the fact that it comes with a lifetime guarantee.
Verdict:
This is a great jacket! It is so lightweight that I am happy to bring it with me wherever I go. The hood is easily adjustable and is helmet or bare head compatible. The zippers are low profile and watertight. The pockets are harness and waist belt compatible and are nicely placed to warm cold hands. Unfortunately, I found the bottom of the jacket to be too tight and the middle of the jacket to bulge out. It is, however, a great length, and overall looks fantastic. I have had really positive feedback about the colour of the jacket and have received compliments almost every time I've worn it. If you are looking for a lightweight packable waterproof jacket that can be worn in the mountains, at the crag, or in the city then this is the jacket for you!
SPECS:
Price: $249 US
Sizes: XS, S, M, L, XL
Colours: Fennel, Black, Curacao, Magenta
Weight: 362g / 12.8 oz
Fabrics: 2-layer nylon Gore-Tex Paclite shell, Microfleece lined neck
Zippers: Watertight, coated Slim Zips
PROS:
Very lightweight, very adjustable hood, gusseted underarms, made from Gore-tex, harness compatible pockets, made by company with strong environmental policies, great bright colours
CONS:
Sizing (medium is long and baggy while small is on tighter side around the hips), jacket bulges out in stomach area, pockets may be too small for stashing objects and warming hands simultaneously, not meant for prolonged weather or heavy rain
Rating: 8.5/10
Fit / Mobility 1/2
Packability 2/2
Waterproof / Breathable 1.5/2
Features 2/2
Quality / Price 2/2

This is only our opinion. Do you disagree? Did we miss something? Are we totally out to lunch? Join the discussion in the forums here, and let us know what you think. People like/dislike gear for different reasons so chime in and we'll get a well-rounded evaluation.
Back to the rest of the reviews.
---