Patagonia Ultralight Down Hoody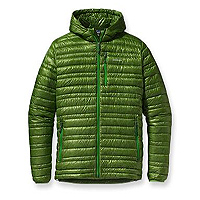 Are you a gram counter? That kind of skier who's constantly pushing the limit on how to reduce weight? Obsessed with each and every item in a pack and exactly what it weighs? Even if this is not you, we have all been on trips with those types who cut the handle off of their tooth brush to save on weight (even if it is just a few grams) - thats a gram counter.
Gram counters aside, hopefully you gave up fleece in the early 2000's and your full weight down jacket is relegated for those truly epic adventures or sub arctic climates. The most efficient (weight for warmth) insulation layer these days is a light weight down hoody jacket, and thats the reason they are so popular with backcountry skiers. The lightest one on the market today is the Patagonia Ultralight Down Hoody - a new product arriving in stores this fall.
The Patagonia Ultralight Down Hoody gets its gravity defying weight from the outer nylon fabric (which is the lightest available for down garments) and the highly compressible 800-fill goose down fill. This down is 60% of the weight of a traditional 650 and it is not only lighter but also more insulating. The rip stop nylon outer shell is half the weight of that used on most other down hoodies and it is also twice as strong. The sewn-through construction and tight channel pattern provide a slim silhouette which ensures good thermal efficiency when used under a shell or as a stand-alone layer. To keep the heat in there is an adjustable hood (great feature and a must on any down jacket, in my opinion) as well as a drawcord hem which also helps if you take a spill. To round things out the Patagonia Ultralight Down Hoody has a Deluge® DWR (durable water repellent) finish to shed snow and light rains.
Although the Patagonia Ultralight Down Hoody seems to have it all, the price tag on this piece may be a bit spendy for some. At $299 it is at the very high end of the price range but Patagonia has a reputation for quality and a bonus commitment to the environment. After all, Yvon Chouinard the founder of Patagonia was also co-creator of the very popular "1% for the planet " program. Need further reassurance that this is not just green-washing? Just have a glance on their web site at the multitude of environmental initiatives and programs that they are involved with - mind boggling.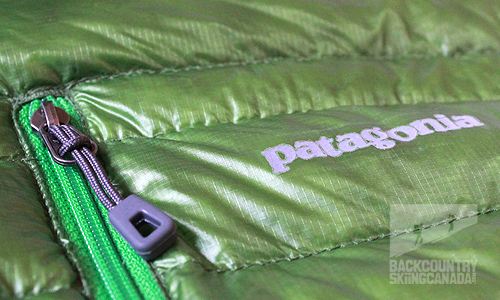 Features:
Shell and lining: 0.8 oz 10-denier 100% nylon ripstop is the lightest-weight fabric available for down garments, however it's still twice as strong.
Zipper: Main zipper has a 'zipper garage' to park the zipper out of the way.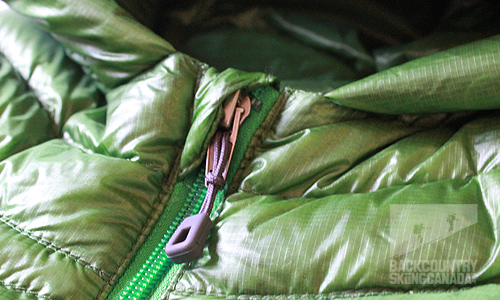 Cuffs: Detailed cuffs for longer wear.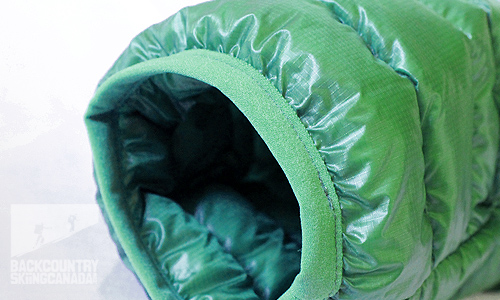 Deluge® DWR: This is Patagonia's proprietary durable water repellent fabric finish, which is touted to last substantially longer than standard DWR's.
Insulation: 800-fill-power premium European goose down yields tremendous warmth with low weight and low bulk.
Variegated channel construction: This controls the movement of insulation, allowing the use of less down, creating a lower profile and lower loft garment.
Hood: A low profile, adjustable hood seals out wind and seals in warmth.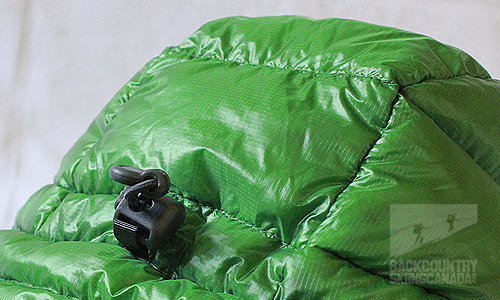 Pockets: Two handwarmers and one chest pocket.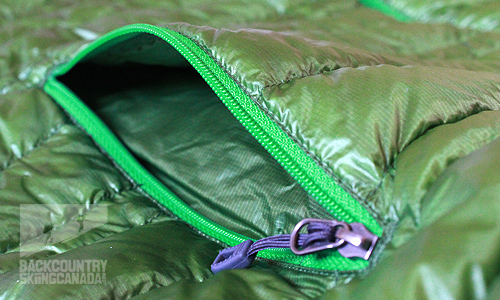 Drawcord hem: Seals in warm air and keeps out cold and spindrift.
Stuff sack: This included feature will keep your jacket like new – longer.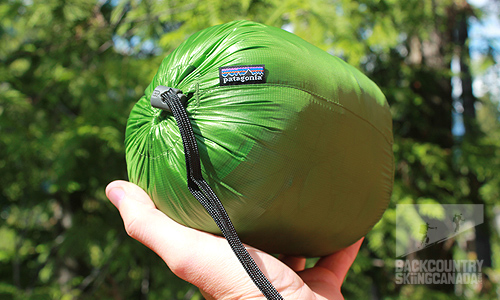 Verdict:
The Patagonia Ultralight Down Hoody does not compromise on insulation value and overall comfort in order to shave 60% off the weight. It is comparable to other down hoodies in every way except for when you store it away in your pack. Thanks to the included stuff sack (nice touch) it packs down to the size of approximately the size of a softball and weights almost nothing. This reduced size and weight is not a huge savings when you look at overall pack loads you are carrying but 180grams here and 180grams there adds up quick, so we'll take it. This is a product you can carry on every ski touring outing and not fuss if you don't seem to end up wearing it as you will hardly notice it in your pack and it is a good insurance policy on inclement weather moving in. This reduced pack size and weight does not come cheap though. The Patagonia Ultralight Down Hoody will cost you about an extra 100 bones but if you are a gram counter then this is value for your money.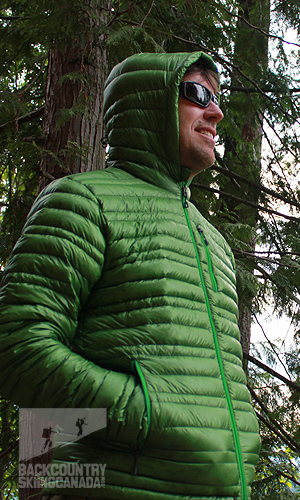 SPECS:
Cost: $299 US
Colour: Fennel, Deep Mango, Black
Size: XS, S, M, L, XL, XXL
Weight: 264g/ 9.3oz
PROS:
Almost half the weight of other 'light' down hoodies. Included water resistant stuff sack to protect your fragile investment.
CONS:
Outer shell is so thin you can actually see the down inside - not a biggy if you don't mind the subtle pattern. Top of the price range for a down hoody.
Rating: 9/10
Fit                    1/2
Packability        2/2
Warmth             1.5/2
Features            2/2
Quality / Price   1.5/2

This is only our opinion. Do you disagree? Did we miss something? Are we totally out to lunch? Join the discussion in the forums here, and let us know what you think. People like/dislike gear for different reasons so chime in and we'll get a well-rounded evaluation. Check back mid-season to see how our review stands up to our in-the-field testing.
Back to the rest of the reviews.
---