Back to the Outdoor Research Floodlight Jacket and how OR took a very unique approach to this age-old problem. Rather than use a chemical solution to waterproof their down, Outdoor Research applied a very innovative design solution; they decided to create a 100% waterproof and windproof exterior shell so that you always feel dry no matter what. The down insulation is sheltered from the elements and by default stays dry as the shell repels any and all moisture. There was only one hurdle in the way of this very simple-sounding solution: how do you create the baffles required to hold the down without using any stitching?
You see, most down jackets cannot be made truly waterproof due to the seams required to construct the baffles which hold the down in place. These seams provide breaks in the outer fabric which allows moisture to enter and wet out the down. OR's solution was to bond the outer waterproof Pertex fabric to the inner Nylon fabric without any sewing, and voila, you have a 100% waterproof jacket–no down treatment necessary. Top this with the traditional DWR (Durable Water Repellent) to prevent the fabric from ever wetting out and you have a solid defence against the elements.
With this process, you do give up a small amount of weight savings and compressibility with the Pertex Shield+ DS 2L fabric that Outdoor Research uses but I have compared them side by side and since we are talking down jackets here the increased weight and stuff-size is marginal. On the plus side, the Pertex Shield fabric is a 30 denier ripstop fabric with a clear laminate face which means it may as well be made out of Kevlar compared to traditional down jacket shell fabrics, this stuff is tough and durable–tree skiing tough.
Outdoor Research didn't stop at their single "ah-ha" moment with the Floodlight either; they went on to pack it with a long list of features to make it hands down (no pun intended) winner in my books. What are the best features aside from the 100% waterproof and windproof ratings? How about large hand warmer pockets with full fleece interiors that are harness and pack compatible? Not enough? What about a large exterior Napoleon pocket (which is where I store my Sil-tarp stuff sac to protect the Floodlight while in my pack) or two internal stash pockets big enough to store gloves and a toque or even a climbing skin in each one? Want more? How about a fully adjustable hood with wire brim to keep the weather out and an athletic fit so it's designed for alpine climbing and backcountry skiing? And finally, what about the great detail of an internal front zipper storm flap to prevent that ever-dreaded snag on the lining when zipping in.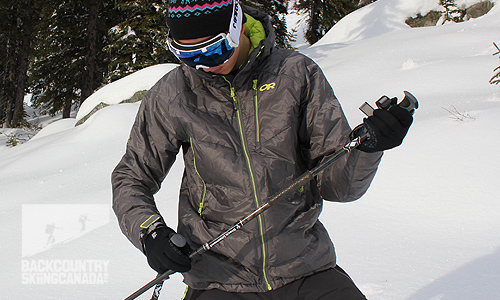 Features:
- 100% Waterproof
- 100% Windproof
- Two Internal Shove-It Pockets
- Zippered Napoleon Pocket
- Drawcord Hem
- Two Zippered Hand Pockets which are pack and harness compatible
- Internal Front-Zip Stormflap
- Fully Taped Seams
- Hook/Loop Cuff Closures
- Adjustable Wire-Brimmed Hood
Front zipper garage and hood adjustment.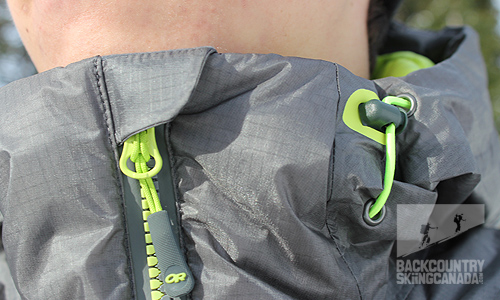 Velcro cuff adjustment with highlight colour.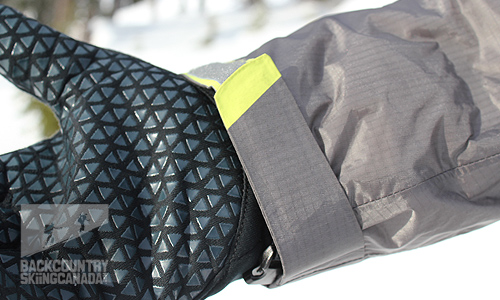 Hood adjustments front and back.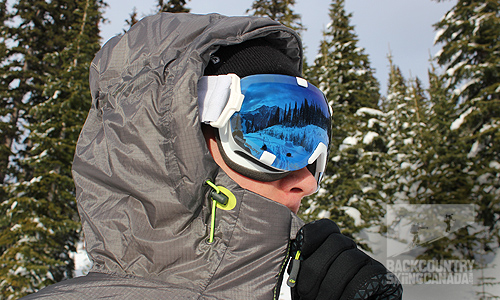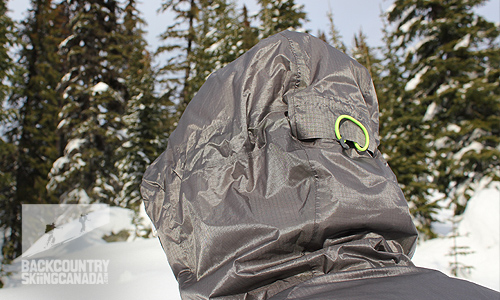 Two interior 'shove-it' pockets perfect for toque, gloves or even a climbing skin on each side.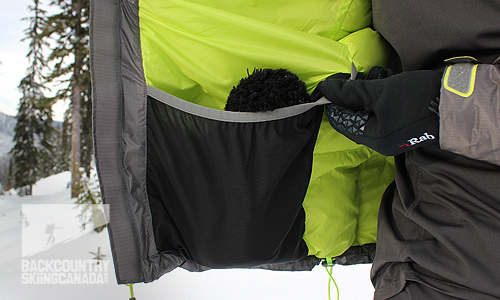 Double adjustable hem.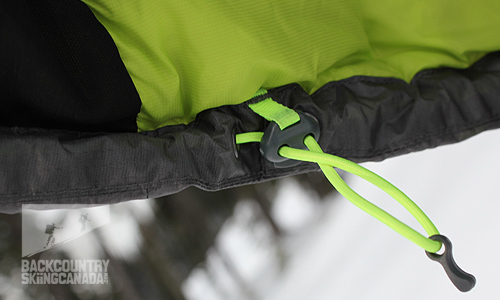 Fabric:
Outer: Pertex Shield+ DS 2L, 100% nylon, 30D ripstop with clear laminate face
Lining: 100% nylon, 20D ripstop
Insulation: 800+ Fill Down
Close up of the Pertex Shield+ Fabric and the Napoleon chest pocket zipper.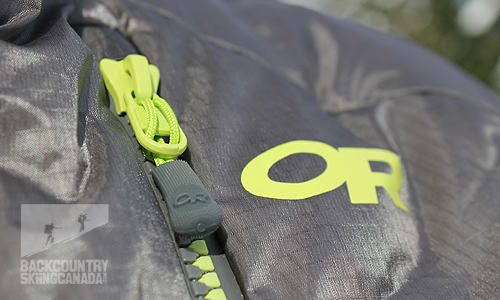 Verdict:
The Outdoor Research Floodlight Jacket is a reasonably priced 800 fill waterproof and windproof jacket that offers up some innovative features. With the most notable being the waterproof exterior that keeps the down dry without the use of any chemicals. If you are in the market for a new down jacket then you really should just go and try one on and let the product speak for itself–rather than take my word for it.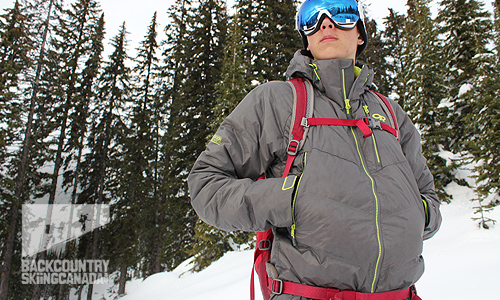 SPECS:
Price: $425 CAN
Weight: 600g / 1lb 3oz
Size: S, M, L, XL, XXL
Colour: Black/ Charcoal, Hydro/Abyss, Pewter/Lemongrass
Guarantee: Infinite
PROS:
- 100% waterproof and wind proof obviously
- The 100% Nylon lining fabric is incredibly comfortable even against bare skin
- Hand pockets are lined with fleece on BOTH sides, something I have been asking OR to incorporate for a few years now - thanks for listening OR!
- Pack and harness-friendly pockets
- Adjustable hood with mouldable wire brim
- Front zipper storm flap keeps the weather out and prevents sags on the lining material
- Pertex shell is bombproof, it stands up to abuse
CONS:
The only con I could find was that the OR Floodlight down jacket is noisy. The Pertext Shield+ fabric is almost as loud as a bag of Doritos … almost. Overall it's a small price to pay for such an incredibly well designed jacket.
Rating: 9.5/10
Fit 2/2
Packability 1.5/2
Warmth 2/2
Features 2/2
Quality / Price 2/2

This is only our opinion. Do you disagree? Did we miss something? Are we totally out to lunch? Join the discussion in the forums here, and let us know what you think. People like/dislike gear for different reasons so chime in and we'll get a well-rounded evaluation.
Back to the rest of the reviews.
---