OluKai Ohana Lace-Up Nubuck Shoes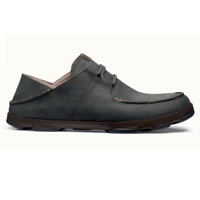 OluKai is a relatively new brand of footwear that builds on a Hawaiian heritage to inform its footwear design—as well as its marketing narrative. The company website has a section called Community which describes the various connections and involvements they have with Hawaii. In fact, the more than 450 guards of the Hawaiian Lifeguard Association wear OluKai footwear as they patrol "the rocky cliffs and rip-tide ravaged shores of the islands." These dudes, or watermen as they are called, put the various models through the ringer(s) before they ever make it to the placid shelves of MEC or REI. This is both a stroke of marketing genius in terms of endorsement for the brand, and a way to field test the bejesus out of their products.
Initiatives like the "Ohana Giveback Program" are other ways OluKai makes purchasers of their shoes feel like they are getting more that a snazzy new pair of kicks. They seem like a conscientious manufacturer and they generally give off a good vibe. I'd say they are a little like Patagonia that way.
Their various models of shoes, sandals and boots are all distinctive and appear to be designed with comfort and functionality as a foundation. This, coupled with striking Hawaiian-inspired design and materials, makes for some remarkable footwear. There is a wide range of options—everything from "formal" flip-flops to beach-worthy adjustable styles, and a limited edition series that is super funky (check out the OluKai site). 
Let's hone in on the 'Ohana Lace-up Nubuck model we've been running for the last few months.
We have the Storm Grey/Dark Wood model. Like nubuck often does, these shoe's aesthetics have improved as the leather wears and natural accents come into play.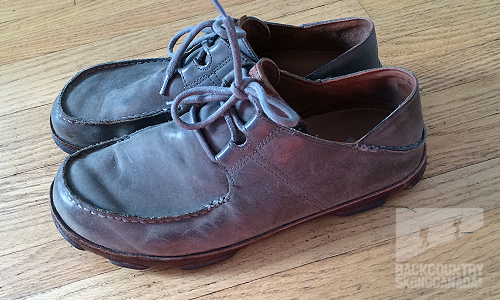 Nice moccasin stitching detail here and on the heel.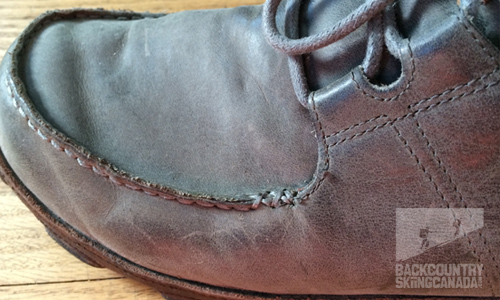 One of the special features of many of the OluKai shoes is something they call the Drop-in HeelTM. See how the heel section folds down so you can slip right into your shoes if you so choose?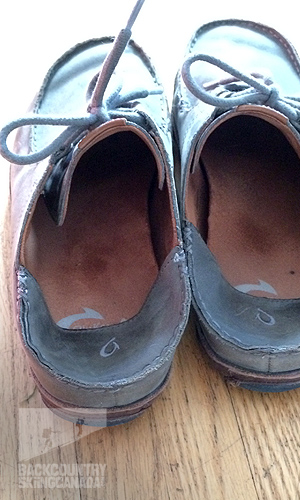 The two snaps below highlight another nifty feature: removable footbeds. Though this feature is common in athletic shoes, it's less common in shoes like this. The double-bonus is that these footbeds can even be chucked in the wash if they start to get stanky. Note the blue material on the flipside. This contributes to the springy athletic feel of the 'Ohanas.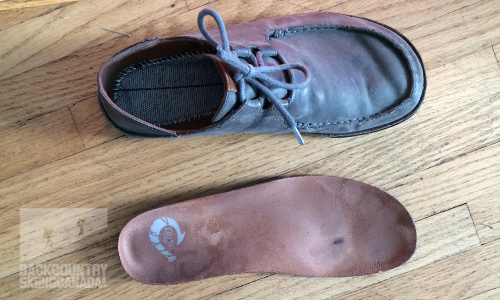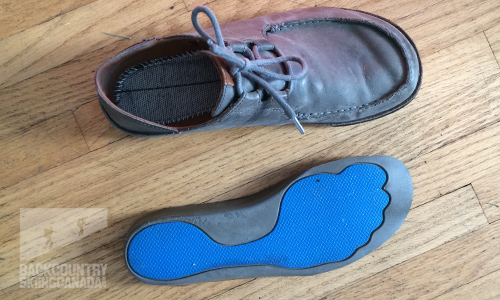 Here's a close up of the interior stitching. 'well made and built to last.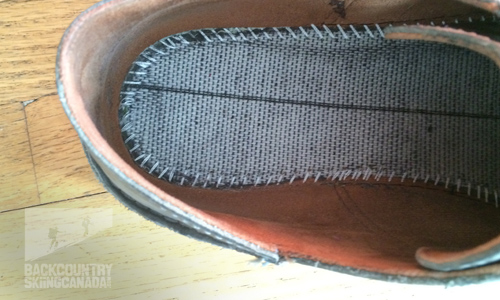 Here are all-weather, non-marking rubber outsoles with full-grain leather "foxing" which, I guess, refers to the non-black parts you can see below.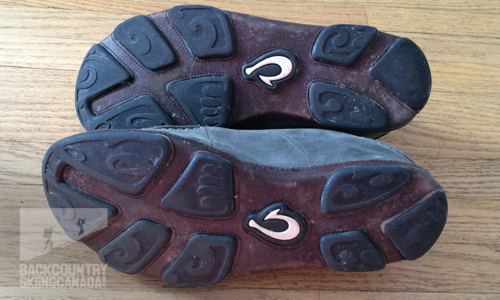 Shoes on feet. Tidy, distinctive, nice-looking footwear. Suitable for everything but weddings and funerals—depending.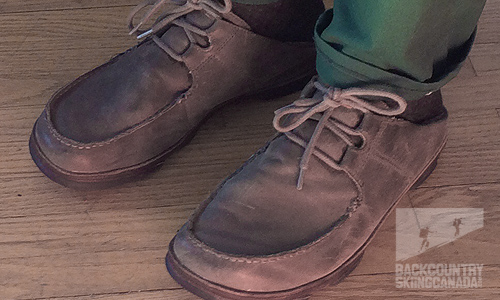 Verdict:
The 'Ohanas have made it into my fave shoe rotation. In the summer, I rarely wear shoes at all—but when I do, I've been wearing the OluKais. They are super comfy for my feet (thanks in part to the wide forefoot and anatomical footbeds). They are stylish and a little quirky/distinctive-looking which turns the occasional head and makes an impression. I also like the OluKai backstory and all the good work the company does. The fact that the footwear is field tested by extreme Hawaiian lifeguards doesn't hurt, either. 
SPECS:
Price: $130 US
Sizes: 7-15 with many ½ sizes.
Colour: Black Olive/Seal Brown, Black/Dark Shadow, Clay/Mustang, Dark Wood/Toffee, Henna/Toffee, Storm Grey/Dark Wood
PROS:
- Very comfortable
- Sharp looking
- Well made
- Conscientious company gives back
CONS:
- Soles can get hooked up on a bicycle pedal
- Grey color can stain—do not deep-fry food in these shoes
- Though Hawaii seems to be the source of inspiration, OluKai is based in SoCal
Rating: 8.5/10
Innovation         1.5/2
Function            1.5 /2
Aesthetics / Fit 1.5/2
Features            2 /2
Quality / Price   2/2

This is only our opinion. Do you disagree? Did we miss something? Are we totally out to lunch? Join the discussion in the forums here, and let us know what you think. People like/dislike gear for different reasons so chime in and we'll get a well-rounded evaluation.
Back to the rest of the reviews.
---