Mountain Hardwear Scrambler OutDry pack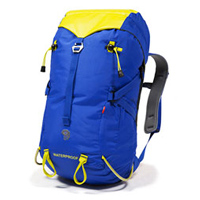 Richmond, California-based Mountain Hardwear has 28 backpacks in its line-up ranging from the 105-litre BMG to the 12-litre Fluid and for this review I was sent an updated version of its popular Scrambler 30. This pack has been around for years and has been a favourite amongst day hikers and rock climbers because of its light weight and minimalist design. Recently the Scrambler was upgraded with the addition of exterior pockets and the company's proprietary "Outdry" technology, which is a custom-shaped laminate added to the inside of the pack to form a "waterproof" membrane. It's also marketed as being more durable and lighter than traditional fabrics. I was excited to try out this pack, not just because of the "Outdry" technology, but because it was to be the first review I'd do of Mountain Hardwear equipment. (I've done reviews of its clothing before but not gear.) I've always had a lot of respect for the company – it was founded by former Sierra Designs employees in 1993 and their first sponsored athlete was Ed Viesturs, the first American to climb all fourteen 8,000-metre peaks in the world. If he was comfortable using Mountain Hardwear equipment at the top of Everest and K2 then presumably it should be good enough for me. The company was also the first to introduce windows in tent flies, welded technology in clothing and it pioneered Windstopper Fleece. With that in mind, I set out to learn whether an OutDry backpack is going to be a game-changer as well.
Features:
- Watertight construction main compartment and seam-taped top pocket
- Reinforced gear loops
- Easy access hydration sleeve
- Rope strap under top pocket
- Two deep side pockets for water bottles or other gear
- Side compression straps
- Two ice tool straps
- Hydration (or laptop) sleeve pocket
- Weighs only 740 grams (1lb 10oz)
The top pocket has reinforced taped seams and a layer of waterproof Hardwear tarp on the outside.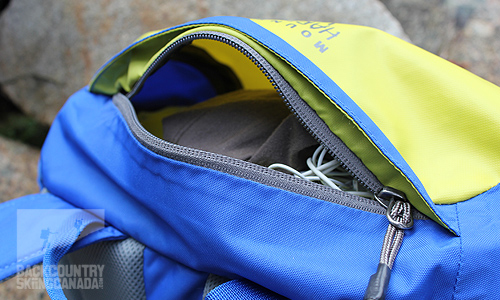 Metal closure loop will withstand any abuse but doesn't have a lock setting.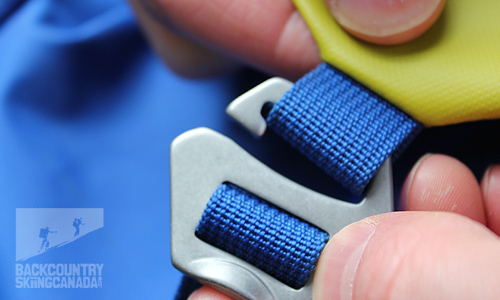 Easy-to-release pull tab closure on the main pocket.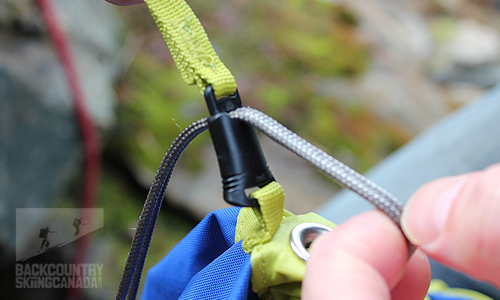 Two reinforced side gear loops.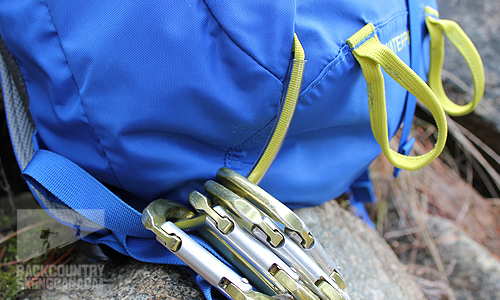 Two ice-tool straps.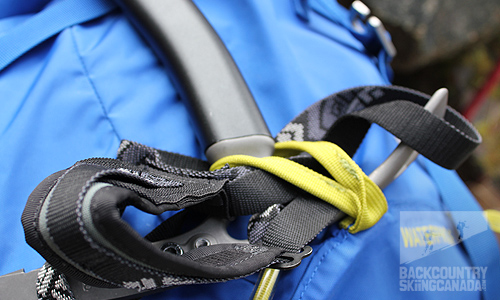 Under hood gear/rope cinch strap.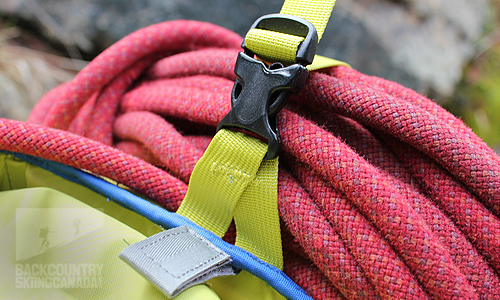 The Scrambler has Outdry laminate on the inside to ward off moisture. There isn't a lot of padding on the back or straps but there is an airflow strip along the spine.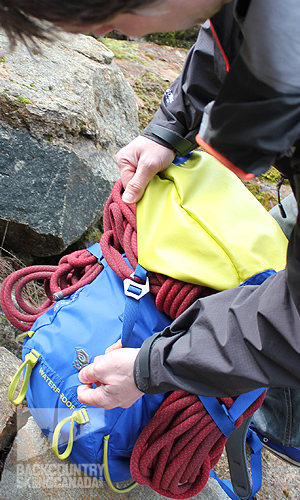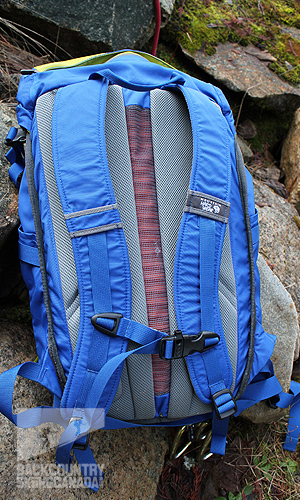 Verdict:
Evidently there are two kinds of "waterproof" in the world. There's the "waterproof" that describes scuba diving dry suits, Ziploc bags and the feathers on a duck's back. And then there's the "waterproof" that Mountain Hardwear uses when refering to its new Scrambler Outdry Pack. This latest incarnation of the company's popular 30-litre Scrambler backpack boasts an OutDry® "waterproofing" laminate membrane on the inside of the 400HD Nylon fabric, which offers a watertight main compartment and top pocket. Is it really "waterproof" however? Let's put it this way, do not slide your laptop into the bag and then submerge it underwater – you'll regret it. In actual fact, the Outdry Scrambler is extremely water resistant in that you won't have to worry about moisture seeping through the fabric. To prove this fact, I cinched up the bag, placed it in my bathtub, which was half-full of water, and then turned the shower on full and directed the spray at it for five minutes. Sure enough, the inside stayed dry. But because the top of the main pocket doesn't have a seal, this bag cannot be submerged. (Add some extra fabric at the top and a fold-over seal and then it would be truly waterproof!) That said, it'll definitely fend off a typhoon.
Aside from the Outdry membrane, Mountain Hardwear's Scrambler pack boasts other great features including two reinforced gear loops, two ice tool loops and cinch stays, an under-lid compression strap for lashing down a rope and two deep side pockets that swallow 0.5L bottles easily. The only issue I see with these two pockets is that they don't have any drain holes; so while the pack can withstand a deluge no problem, water has a tendency to seep into the side pockets and get trapped there (as evidenced when I directed the shower spray onto it). The top pocket has reinforced taped seams on the inside and on the outside there's a layer of burly Hardwear tarp to improve durability and ward off moisture. And the interior hydration pocket is roomy enough to hold a two-litre water bladder or a 15-inch laptop.
The Scrambler's waistbelt is stowable, which is handy for those times you want to use it as a haul bag, and the one hook used to close the main compartment is metal so it'll withstand any abuse you throw at it. (Although it can be tricky to use with gloves on.) In order to keep the pack as light as it is, the shoulder straps and back frame are rather rudimentary with only about a centimetre of padding on each. The frame does have a strip to allow for airflow along the spine, however, and, because it's so thin, the pack is super light (only 740 grams) and you can roll the whole thing up.
Overall I think the latest incarnation of Mountain Hardwear's Scrambler 30 backpack is excellent: it's burly but light, extremely water resistant (but not waterproof as the marketing might have you believe), and it has the right amount of features without overloading you with bells and whistles.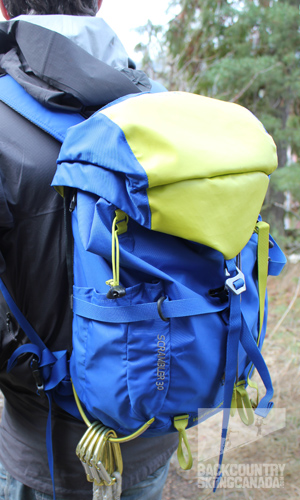 SPECS:
Price: $140 CAN
Colours: Black & Greenscape
Size: Regular 41 x 56cm / 16 x 22"
Weight: 740g / 1lb 10oz
Volume: 30L
Fabric: 400D HD Nylon & OutDry® waterproofing laminate
PROS:
Excellent durability and water resistance while remaining incredibly light. It also has just the right number of features.
CONS:
Despite the company's marketing, this backpack is not waterproof – you cannot fully submerge it. The shoulder straps are basic with only one centimeter's worth of padding.
Rating: 8/10
Comfort 1/2
Durability 2/2
Features 2/2
Innovation 1/2
Quality / Price 2/2

This is only our opinion. Do you disagree? Did we miss something? Are we totally out to lunch? Join the discussion in the forums here, and let us know what you think. People like/dislike gear for different reasons so chime in and we'll get a well-rounded evaluation.
Back to the rest of the reviews.
---