Mountain Equipment Eclipse Hooded Zip T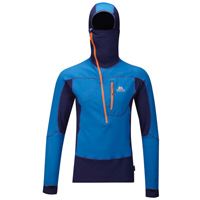 This season we will be reviewing three Mountain Equipment products: the Mountain Equipment Arclight jacket which is a hardshell that uses Polartec Neoshell fabric, the Mountain Equipment Bastion Jacket which is an insulating mid layer that uses Gore Windstopper fabric and Primaloft insulation and, of course, the Mountain Equipment Eclipse Hooded Zip T that we will discuss today.
For those of you north of the 49th parallel (aka the Canadian / US border) you may not have heard much noise about a company called 'Mountain Equipment' unless it has a "Co-op" at the end of this name. Rest assured these are not MEC (as we affectionately call it here in the great white north) products. Mountain Equipment is a British company who has been making 'brilliant' (as they say) soft and hard goods since its founding in 1961. As a brand Mountain Equipment has been part of more than 175 Everest summit bids and has been worn on expeditions to both poles. Needless to say Mountain Equipment has many years of experience and after having reviewed the three items mentioned above I'd have to say that they know what they are doing.

Mountain Equipment put serious 'from the ground up' thinking into the Eclipse Hooded Zip T and it shows in every detail. The number and quality of the features on the Eclipse set it apart from the majority of ski touring base layers and put it in a category all on its own. The most noticeable feature on the Eclipse is the zonal construction which consists of two weights of Pontetorto Technostretch fabric (which is manufactured in Italy). Under the arms, the sides of the hood, the cuffs, the front of the zip collar where your mouth goes and around the waist where your backpack hip belt sits are all made of the lighter fleece to allow for better heat transfer and to limit additional bulk. Everywhere else on the Eclipse you will find the thicker fleece which is smooth-faced but has a grid, brushed waffle-type pattern on the inside. This grid pattern traps pockets of warm air to provide insulation against your body. All of the fabric on the Eclipse is extremely stretchy allowing for a huge range of motion. The overall cut of the T is active while still being slim enough to keep the Eclipse close to your body. The secret sauce in the fabric department, however, is the Polygiene anti-microbial technology, which is basically a silver salt that is impregnated into the fabric to help reduce odour causing bacteria—always a good thing.
The interior baffle pattern on the Pontetorto Technostretch fleece is warm but still breaths incredibly well. The dark green area is a lighter material so it allows heat to escape in those key areas. The exterior of the fabric is smooth and flat lock seems avoin any pinches under packs.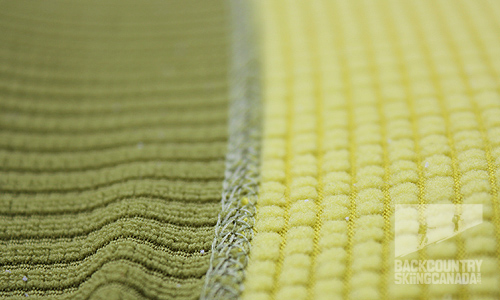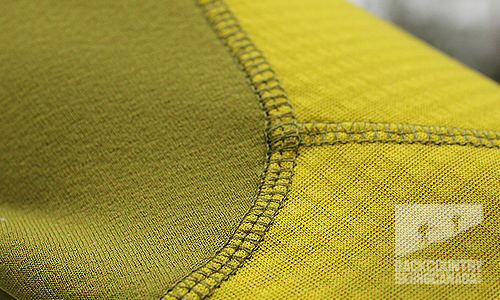 Features:
- Pontetorto Technostretch fleece for warmth and minimum bulk
- Lightweight Pontetorto Technostretch fleece panels in key areas
- Polygiene anti-microbial technology
- Lycra-bound hood with face protection and offset closure
- Flatlocked seams for next-to-skin comfort
- Seam-free hips for comfort with a harness or pack
- Napoleon chest pocket with mesh back for added ventilation.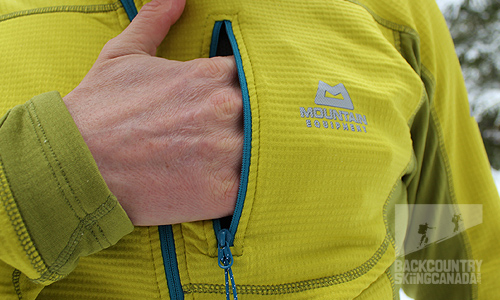 - Active cut with longer length and pre-shaped sleeves.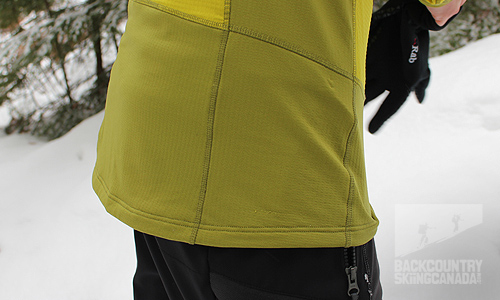 - Low-bulk cuffs with integrated thumb loops.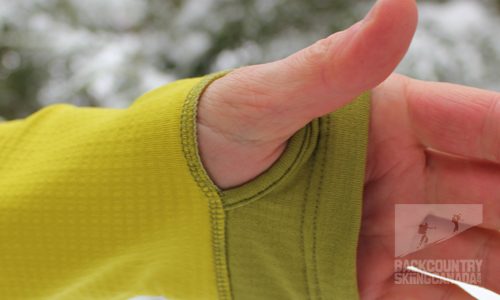 The high collar with hood has four unique ways to wear it. First is zipped up with no collar.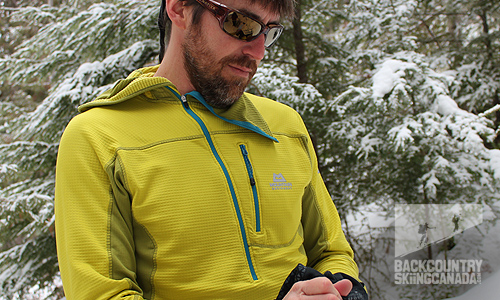 Second is zipped up to provide a collar for warmth around your neck.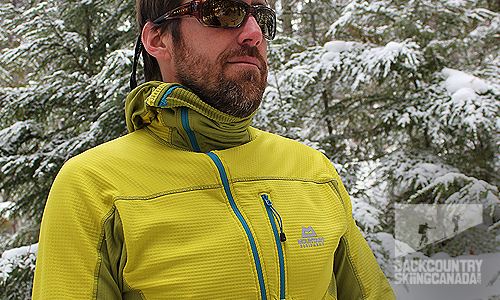 Third is the High collar pulled right up for increased warmth.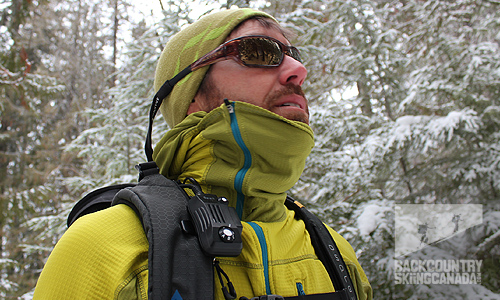 Lastly, there is the full on Ninja look with high collar and full hood.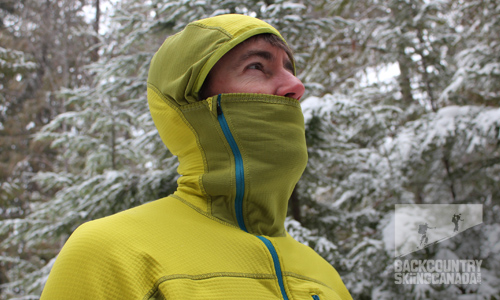 Verdict:
My favourite feature of the Mountain Equipment Eclipse Hooded Zip T has to be what I affectionately call the 'Ninja' hood. With this design, you can use just the hood or just the high collar which acts like a balaclava or you can put then both together and you are instantly a backcountry Nina warrior, except for the fact that the Eclipse Hooded Zip T is bright lime green of course. If you're not a fan of hoods or balaclavas it can feel a little bulky so you should look at trying the Mountain Equipment Eclipse Zip Tee (sans hood).
The weather over the past few weeks of testing has been breezy and cold, hovering in the -16 to -25°C range in the backcountry surrounding Whitewater Ski Resort. When it was below -15, I wore an additional layer under the Eclipse Hoody or simply kept my mid layer on the entire day. As things warmed up I was able to skin up with just the Eclipse Hoody on and it provided great breathability with some wind protection. The fleece grid on the inside of the fabric was super-soft and comfortable against bare skin and the extra length in the arms and at the waist ensured that the T stayed tucked. This was great as it avoided that potential cold spot at the mid drift as your hip belt tries to make the Eclipse defy gravity.
The tapered arms and hem on the Eclipse provided a nice cut that wasn't restrictive and the flat locked seams are virtually invisible and don't provide any pressure points under a ski touring pack. The zip on the chest is off-set so it isn't over your mouth when in full Ninja mode and the zip is extra long so dumping heat is a snap. I would not wear a base layer without a zip as they offer up so much flexibility with regards to temperature regulation.
Mountain Equipment did a bang up job on the Eclipse Hoody and it will be a staple in my ski touring kit from now on. If you live in the Great White North and want to get your own Mountain Equipment Eclipse Hooded Zip T (notice I did not say 'Co-op') then fear not, click the "buy Now" button below and you can order it online. If you live south of the 49th then you'll have many retail options.
SPECS:
Price: $150US
Sizes: S-XXL
Colours: Orange , Blue, Grey, Red, Lime Yellow
Weight: 335g / 11.8oz
PROS:
- Very comfortable and the best looking base layer around.
- Long torso and arms are great on cold days as they stay tucked into your pants and gloves respectively and keep the breeze out.
- Quality design and production right down to the zippers and their pulls.
- Anti-microbial technology helps limit the stink after multiple days of not washing the Eclipse Hoody - seven days and counting.
- The hood with built in balaclava will be your new best friend on cold ridge tops.
- Tapered arms and waist provide support and a nice snug fit.
CONS:
- Spendy at $150 for a base layer.
- The hood with built in balaclava may not be for everyone when it is not in use.
- The chest zip is hard to grasp with gloves on.
Rating: 9/10
Fit / Comfort 2/2
Warmth 2/2
Moisture Management 2/2
Features 1.5/2
Quality / Price 1.5/2

This is only our opinion. Do you disagree? Did we miss something? Are we totally out to lunch? Join the discussion in the forums here, and let us know what you think. People like/dislike gear for different reasons so chime in and we'll get a well-rounded evaluation.
Back to the rest of the reviews.
---