Mountain Hardwear Drystein Jacket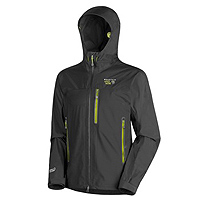 It took me a while to hypothesize where Mountain Hardware came up with such a name as 'Drystein' for this jacket. After spending some time getting to know this latest creation a little better it appears to me to be a play on the idea of Frankenstein. Not in the 'horrible-scary-monster' sense of the word, but rather in a 'mad-scientist, genius-creation' sense. The Mountain Hardwear Drystein Jacket is a light and compact waterproof hard-shell/soft-shell jacket ideally suited to backcountry skiing. It combines four fabrics (three externally and one internally) to bring to life the Drystein. Part hard-shell, part soft-shell this ain't no B- grade movie nightmare. (ok, enough of the Frankenstein metaphors). The Drystein Jacket utilizes Mountain Hardwear's new DRY.Q fabric and zonal construction to provide breathability and waterproofness where you need them most.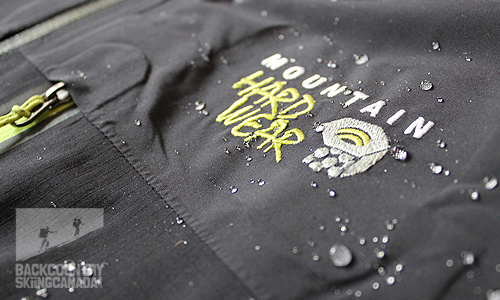 DRY.Q
Mountain Hardwear's latest innovation is a new waterproof breathable fabric that is being dubbed 'DRY.Q' and comes in three flavours Elite, Active and Core. The Drystein Jacket utilizes the 'DRY.Q Elite' fabric which is the most hardcore of the three variations. Traditional waterproof-breathable systems work by moving moisture out through the shell fabric. The trouble is, you have to get hot before they start working. That means waiting until you're clammy and damp before the breathability kicks in. With DRY.Q you don't have to build up condensation and moisture before it starts to breath. Mountain Hardwear claims that DRY.Q's air-permeable membrane allows air and not just moisture to pass outward through the fabric. That always-on air flow won't wait for you to get hot first and thus eliminates the sweat/freeze cycle.
Zonal Construction
Back in the day soft-shells were soft-shells and hard-shells were hard-shells and everyone wore both for their respective benefits. Times have changed and the latest innovation in waterproof, breathable jacket technology is 'zonal construction'. This combines multiple fabrics in a single jacket to give you the benefits of each with no downside. The Mountain Hardwear Drystein Jacket has a total of four zones as follows: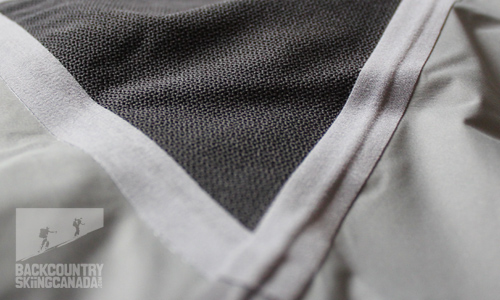 Front chest: DRY.Q waterproof/breathable rip stop fabric for durability.
Under arms: Highly breathable spandex blend fabric to vent air without the added weight/bulk of pit-zips
Remainder of jacket: DRY.Q waterproof/breathable fabric to breath and keep you dry.
Interior chest: Micro fleece plush adds insulation value where it is required.
Overall, the Mountain Hardwear Drystein Jacket's zonal construction is built to keep you extra warm and dry in the chest region, dry and venting heat/moisture under the arms, and waterproof/breathable everywhere else.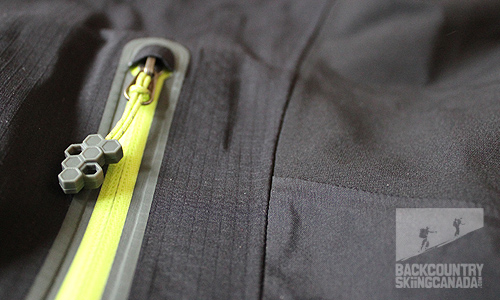 Features
Hood: The helmet compatible hood has dual adjustments and a semi rigid bill to keep the rain out of your face but the best feature is the ability to stow the hood away and create a high collar.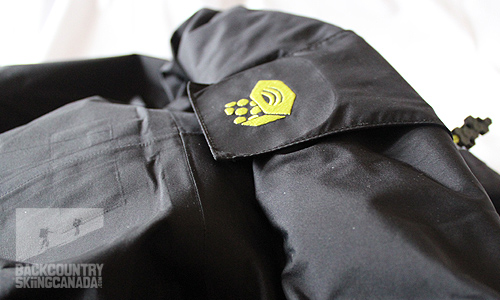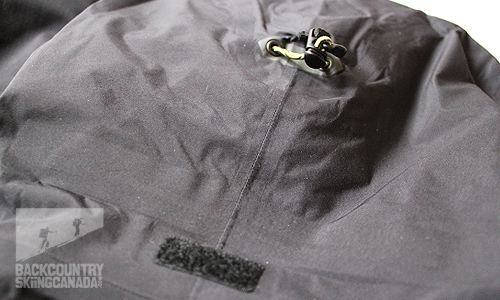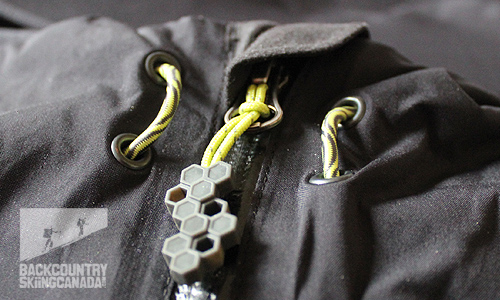 Exterior Pockets: Two massive external torso pockets with waterproof zippers and zipper garages are almost large enough to hold a climbing skin each. The napoleon chest pocket is a nice bonus from a functionality and aesthetic perspective however without a media port its use is more limited (though for ski touring I personally like my senses alert to the environment around me and not to an MP3 player.)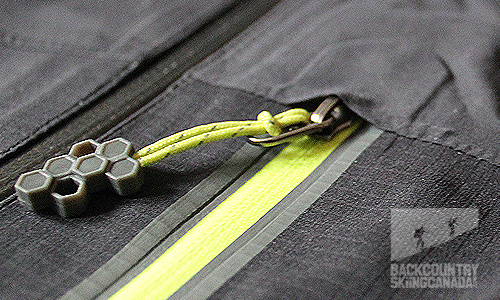 Interior Pocket: A single mesh zippered pocket is just large enough for valuable electronics or a small snack.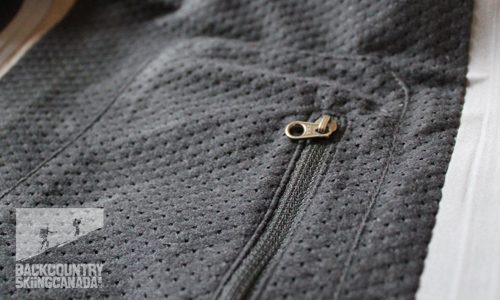 Cuff Adjustments: Hard wearing velcro cuff adjustments to keep the snow out and warmth in.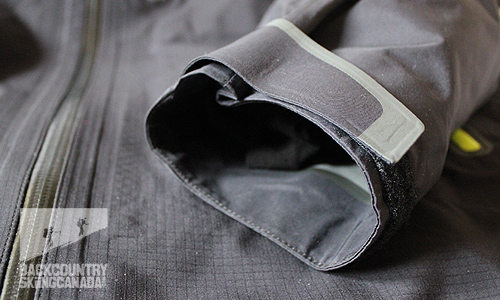 The Verdict
The Mountain Hardwear Drystein Jacket is a no non-sense jacket trimmed of many of the bells and whistles of other waterproof/breathable jackets on the market. This minimalistic approach is what makes it so light, compact and perfect for backcountry skiing. The active cut of the Drystein eliminates the need for a powder skirt saving on precious weight and bulk. Pit-zips are eliminated and a highly breathable spandex fabric is used instead saving additional weight.. The Drystein Jacket is very comfortable to wear but we will need more time on the skin track/ski down next winter in order to confidently confirm all of Mountain Hardwear's claims about DRY.Q fabric. We will be sure to update this review once we have the beta for you, so check back in fall 2011 for the final verdict.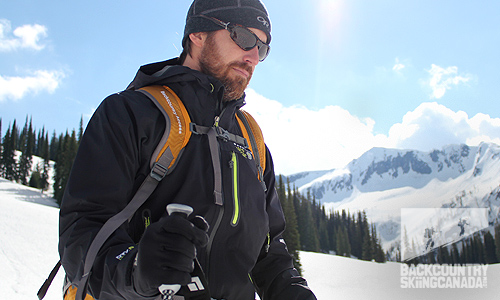 SPECS:
Price: $450 US
Colours: Blue, Black and Red.
Weight: 605 grams / 1lb 5 oz
Sizes: S, M, L, XL, XXL
Available: Fall 2011
PROS:
Zonal construction give you additional breathability and waterproofness where you need it most. Light, compact and uncomplicated. Ideal for backcountry skiing.
CONS:
Pockets can get in the way of pack hip belt and harness. No media port on the napoleon chest pocket.
Rating: 9/10
Fit / Mobility 2/2
Packability 2/2
Waterproof / Breathable 2/2
Features 1/2
Quality / Price 2/2

This is only our opinion. Do you disagree? Did we miss something? Are we totally out to lunch? Join the discussion in the forums here, and let us know what you think. People like/dislike gear for different reasons so chime in and we'll get a well-rounded evaluation. Check back mid-season to see how our review stands up to our in-the-field testing.
Back to the rest of the reviews.
---