Mountain Hardwear Alakazam Jacket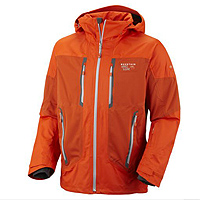 We were lucky enough to pick up this season's Mountain Hardwear Alakazam jacket at the end of last season—so we have the scoop. We took it out touring, we took it out for a couple days on the hill, wore it around town, etc. Check out the video of Mountain Hardwear guy, Greg Sweeny, walking us through the features and benefits of the Alakazam. We know he likes it. To hear what we think, forge on!
Mountain Hardwear gear fits into the "fully featured" bucket. By that, I mean there tend to be a lot of features, bells and whistles. (Take a look at our review of a pair of Mountain Hardwear Typhon Gloves as an example). Some people like the fully featured approach—with a lot "going on"—others prefer the minimalist approach of a jacket like the Arc'teryx Beta FL jacket. I fall into the second category but admit that it is entirely subjective. The jacket did seem to perform well in the conditions we were in; but, when you try a lot of jackets out, you inevitably get a little picky and I have become a more-is-less kind of guy.
Mountain Hardwear has just begun using their own fabrics and the Alakazam is made from the company's proprietary Dry Q Elite fabric. The Dry Q Elite, unlike other similar fabrics on the market, apparently doesn't require humidity to trigger its breathability. It "starts working the instant you put it on." I didn't really notice it but this kind of performance can be subtle. To me, it didn't breathe any better or worse than Gore-Tex Active Shell for example.
The big feature of the Alakazam is its "Zonal construction" or "body mapping design" as some call it. Essentially it is the combination of hard and soft shell fabric in the optimal locations to provide better breathability and mobility. An example of this is the use of hard shell material on the shoulders, hood and arm cuffs where snow and moisture collect. Soft shell fabric is used under arms and wraps from the chest around to the back where you want additional breathability and flex. These soft shell panels allow for a bit of stretch for those long reaches while skinning up especially at the elbows. This all sounds ideal for backcountry enthusiasts however it all ads up to a 794g jacket that amounts to a lot when not in use. True you can remove the powder skirt to lighten the load but it needs more than that to be a true backcountry offering. Check out the Mountain hardwear Drystien jacket review for a lighter hardshell option.

Let's let the pics guide our further, top-to-bottom, discussion of the Alakazam.
The hood accommodates a helmeted or non-helmeted head. We like. Single handed draw cord off the back. We also like.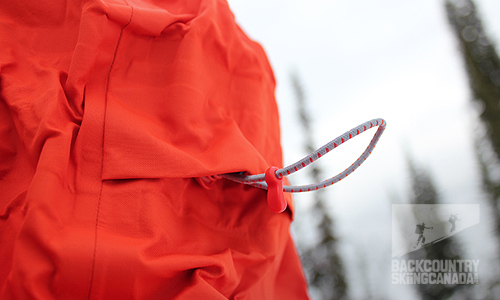 Collar design is pretty cool and melds into the hood in a creative, not-entirely separated way. (See photo of the bearded guy below) All the now-requisite fuzzy stuff on the inside collar (and to protect you from the zipper) is included. They call it micro-chamois.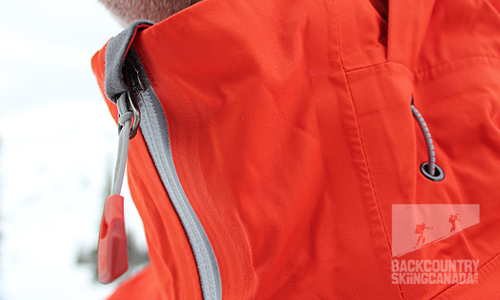 Here's a close-up of one of the pockets and zippers for you. Not super lightweight but robust and functional.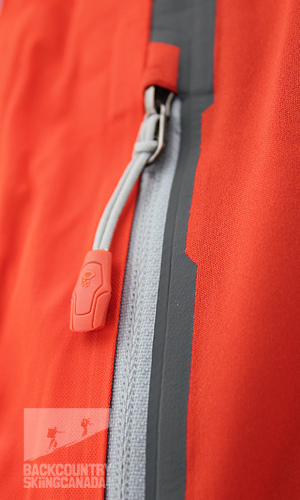 If any one asks who made your jacket, point to your chest.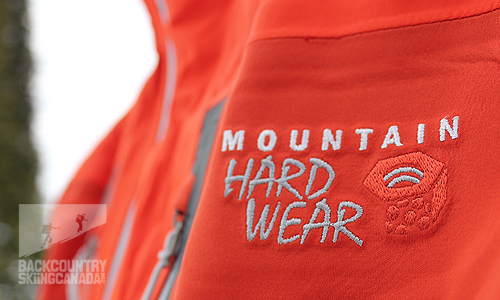 Here's two pictures that highlights the dizzying array of element in the jacket's interior. A big inside pocket and multiple fabrics come together.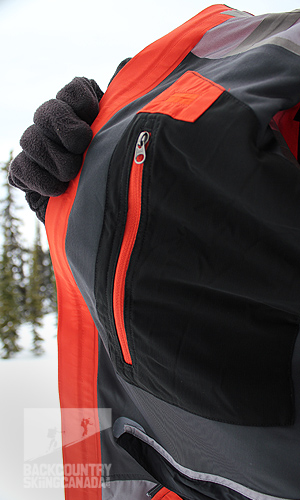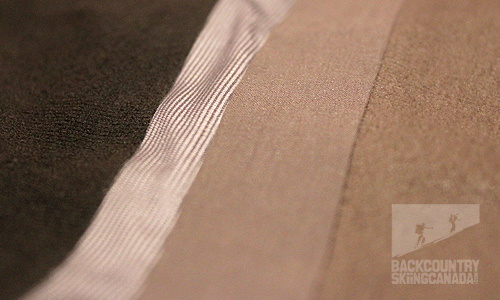 And more interior pockets.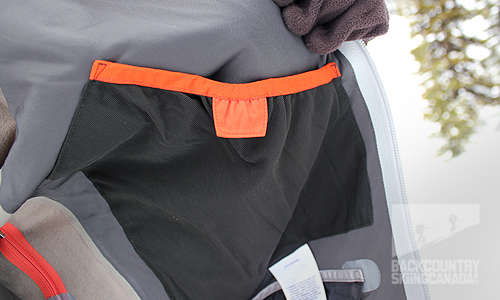 I guess they are tucked in here but the Alakazam does feature thumby sleeve things. If you like them, you'll be happy. It you don't, cut 'em out. Note the nifty little pocket for "important items" on the forearm. Handy.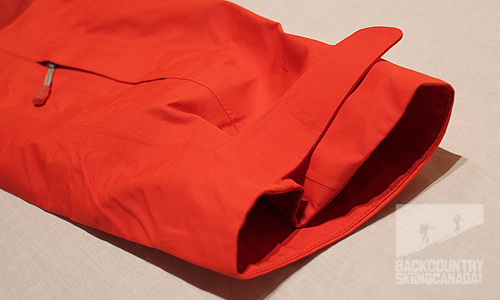 Zip-out powder skirt. Removing this can bring down the overall weight of the jacket.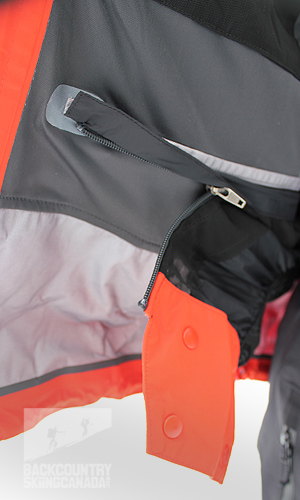 And of course pit zips.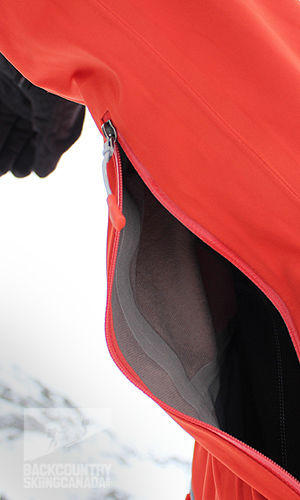 Here's the Alakazam in action. You can see how the lower pockets—though cozy—don't really work with a pack harness.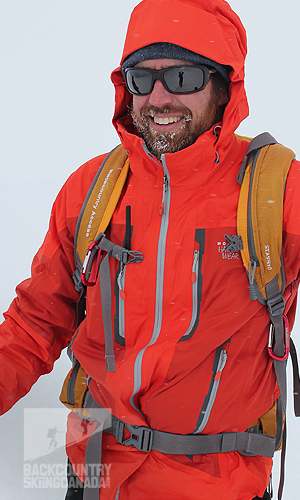 Features:
Fabric: New design and fabric offer waterproof protection with softshell side panels and elbows for increased mobility and comfort
Hood: Attached, adjustable, helmet compatible hood
Powder Skirt: Removable, adjustable, stretch powder skirt
Pit zips: For additional ventilation
Cuffs: Soft, "Butter Jersey" cuffs
Pockets: Zip handwarmer, chest pockets and interior pockets
Adjustments: One-handed hood and hem drawcords for quick adjustments
Chin: Micro-Chamois™-lined chin guard eliminates zipper chafe
Verdict:
I think many manufacturers are jumping onto the backcountry bandwagon. Though Mountain Hardwear makes some totally expedition worthy gear, I question what the intended use for this jacket might be. I would never skin up wearing the Alakazam on anything but the coldest days---I'm sure I'd overheat. I found it heavy and the combination of soft- and hard-shell fabrics, with all the zippers and pockets, makes me feel like I've got a lot of unevenly weighted stuff hanging off me (admittedly subjective comment…)
SPECS:
Price: $599.99CAN
Colours: Sea salt/steam, autumn/russet orange, sea level/deep water
Sizes: S,M, L, XL and XXL
Weight: 1 lb. 12 oz/794 g
Materials: Dry-Q Elite
PROS:
Good collar/hood interface, flashy colors and soft shell hard shell fabric combo
CONS:
A little heavy. Pack unfriendly pockets. Too "busy" for this reviewer's taste.
Rating: 7.5/10
Fit / Mobility 2/2
Packability 1/2
Waterproof / Breathable 1.5/2
Features 1.5/2
Quality / Price 1.5/2

This is only our opinion. Do you disagree? Did we miss something? Are we totally out to lunch? Join the discussion in the forums here, and let us know what you think. People like/dislike gear for different reasons so chime in and we'll get a well-rounded evaluation.
Back to the rest of the reviews.
---