The Lodge
Sitting at 7200' in the Kokanee Mountain Range, within BC's Southern Selkirks, Mount Carlyle Lodge fits somewhere in the mid-luxury range. There isn't any hot running water but there is a shower in the sauna shack. The bedrooms are to one side of the building and can accommodate a total of 10 souls (4-ish per room). Super comfy bedding is provided (duvets and such) and there is one in-house composting toilet so there's no need for midnight treks to the outhouse for a wiz.
The kitchen is fully equipped and it's up to you whether you want to hire a cook or make your own food. An ingenious system of indoor/outdoor cupboards allows for all the refrigeration of food and malted beverages you could imagine. We had a cook (merci DiDi) who whipped us up delicious meals every day. It was a real luxury not having to worry about meal planning but if you want to cut cost, cook for yourself. Have fun with it.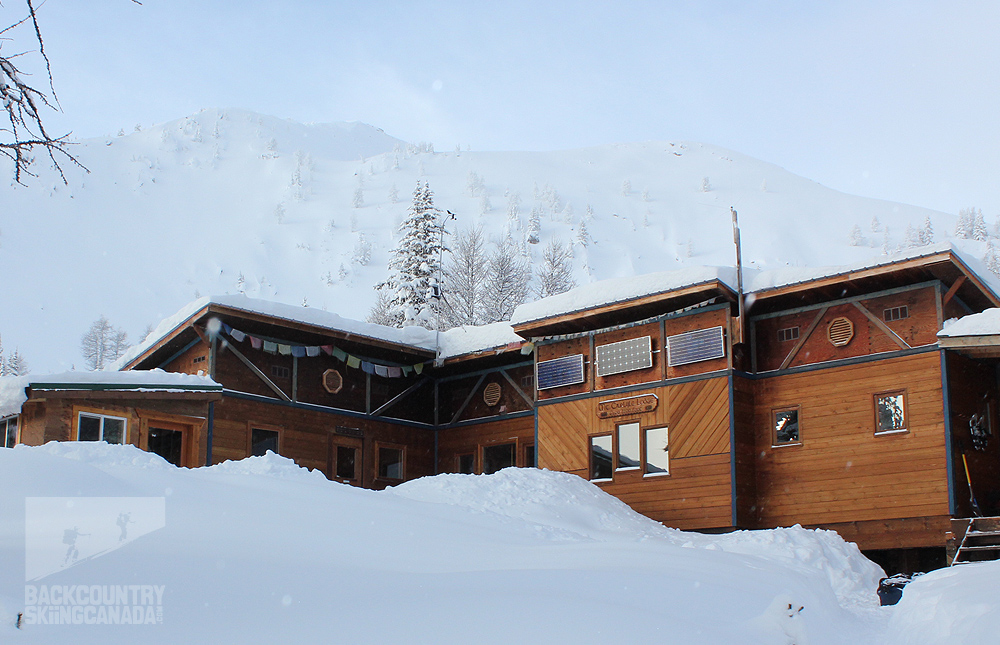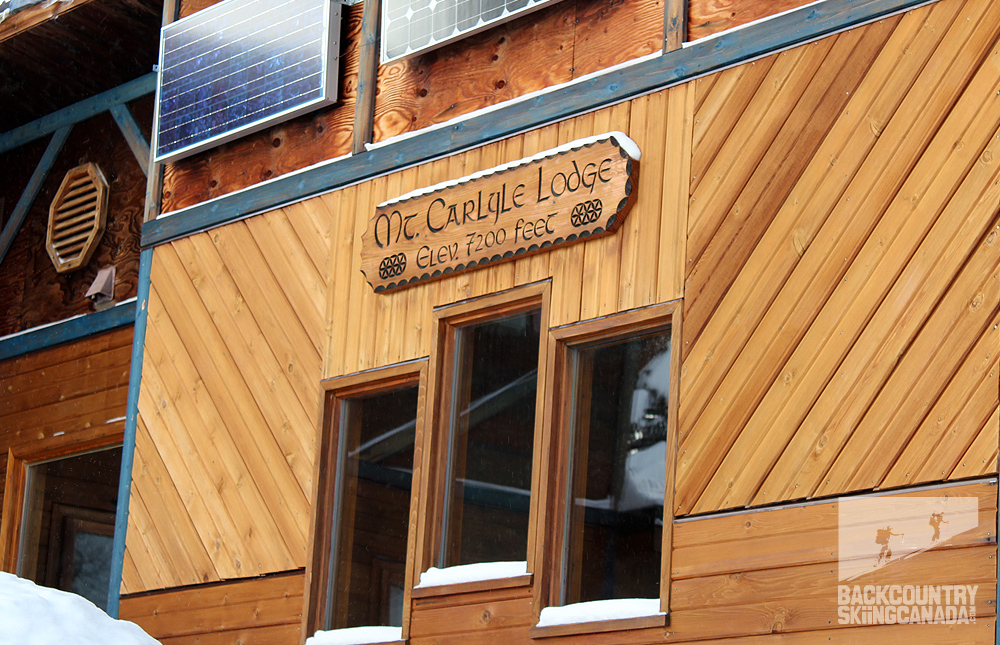 From the kitchen looking into the dining area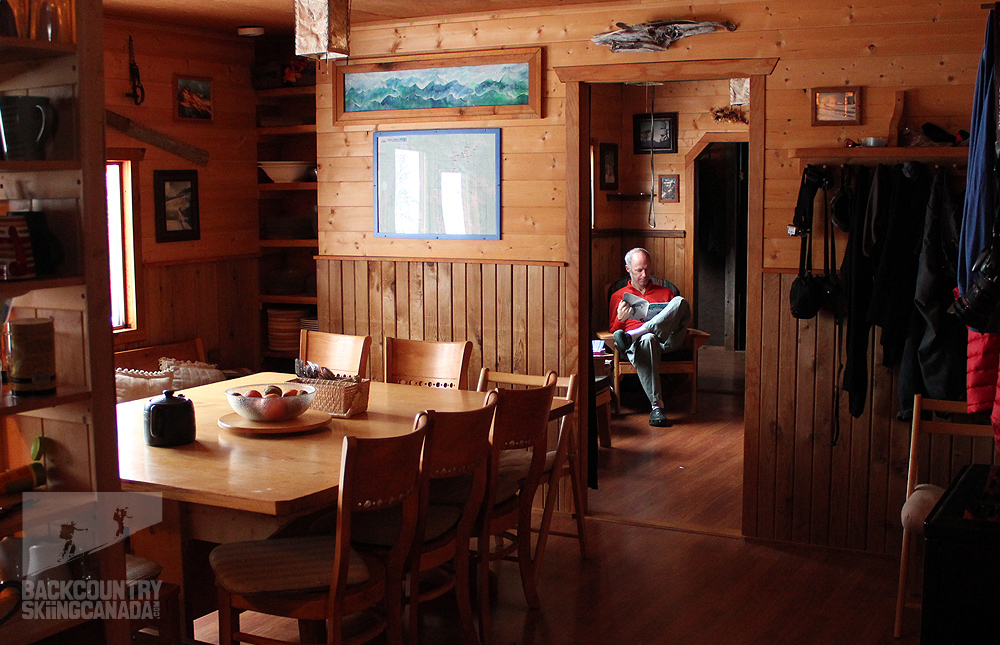 The chill and stretch space between the dining area and the bedrooms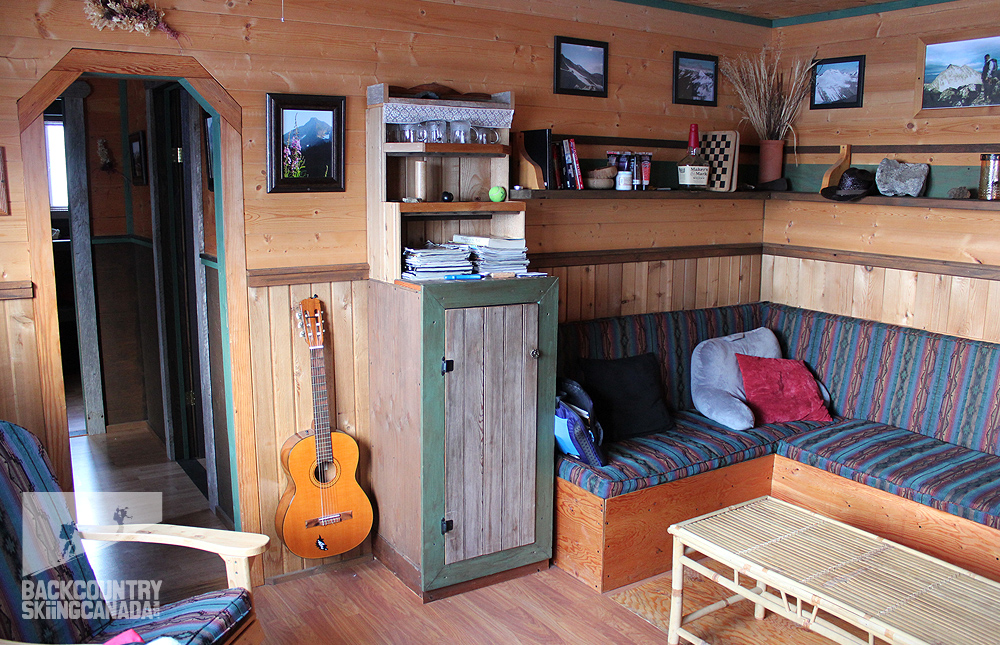 The heating comes from two stand-up gas stoves (that look like they could be wood-burning). The requisite rackage above and to the sides of these units made for easy drying of loads of wet gear. Key. Some people may pine for wood stoves but these units are low maintenance, tidy, and run on a thermostat. The woodstove lovers can walk to the sauna outbuilding which accommodates about five bodies at a time—we went in shifts. There's also a great little shower stall--bucket-fed with water from the woodstove--in the sauna space. It's amazing what one can do with a bucket, some 'biners, rope and and showerhead.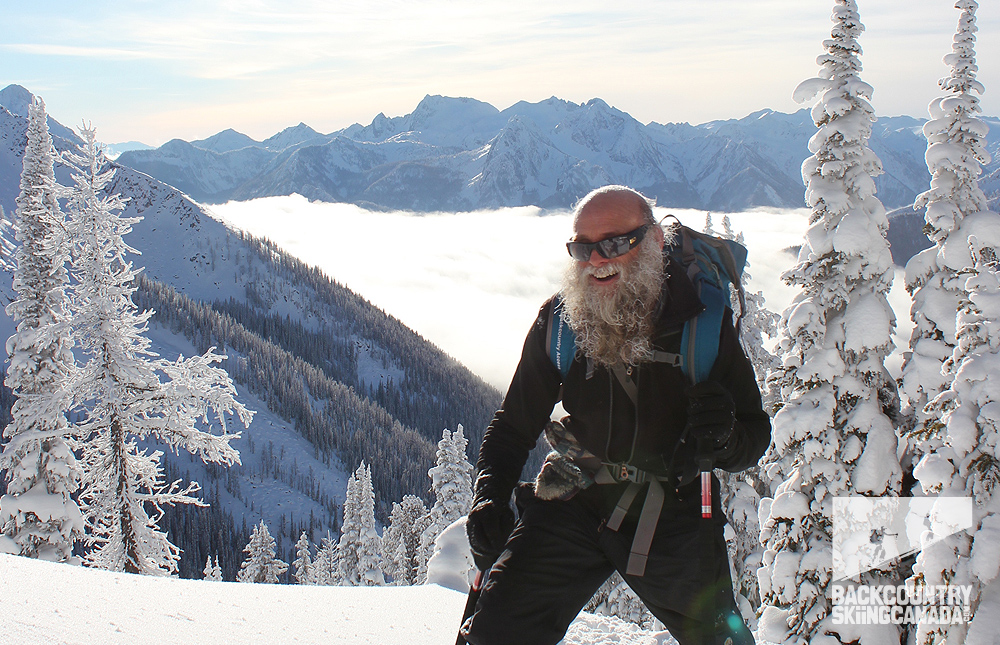 Da Bomb
You've been to a party before, haven't you? Doesn't the quality of the time you have depend, at-least-in-part, on the host? This is the case with Mount Carlyle Lodge. Brian The Bald Bomber Cross, as the new owner, is like the host of the party. His mellow, unassuming demeanour influences the vibe at the hut, in a good way. The Bomber is a Kootenay celebrity and you can see his mug (or his beard, which almost entirely covers his mug) in ski mags and promotional posters. If you are flying Northwest Airlines (if it still exists) look for the Bomber in their in-flight mag as well.
I had a chat with Brian while we were at the lodge and, though he admitted to being a little distracted with 60cms of fresh pow, he shared a bit of his history with me. He started out as a ski bum at Red Mountain back in 1976, and, after stints as a prospector and as a custodian up at the Kokanee Glacier Cabin, Brain moved on to the Valhalla Mountain Lodge where he eventually became part owner. He took over the reigns of Carlyle in the fall of 2010 and, this past winter, Brain split his time between Valhalla and Carlyle. Lucky man.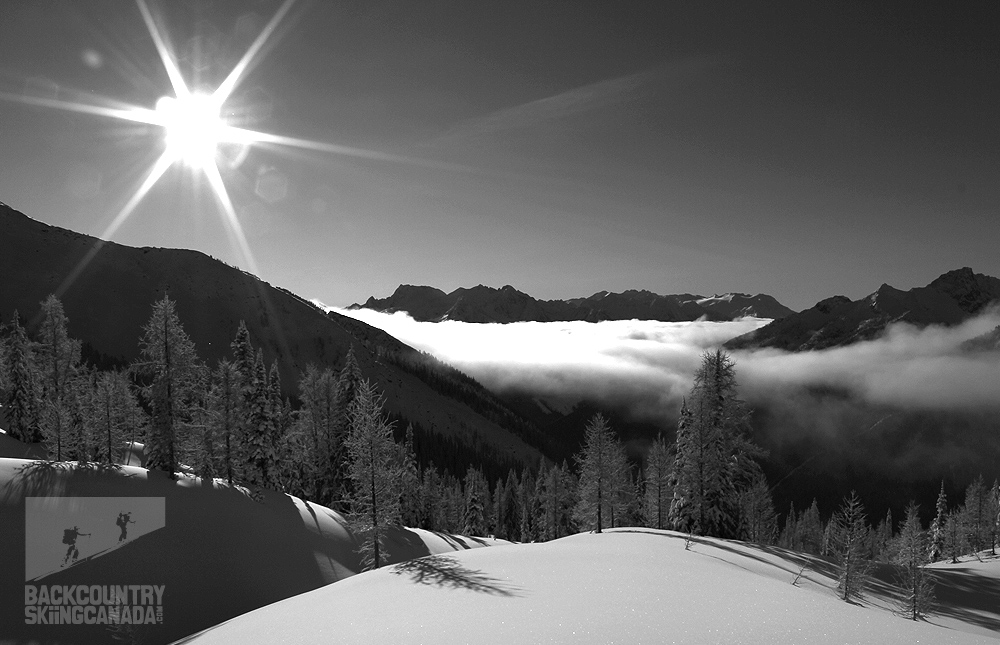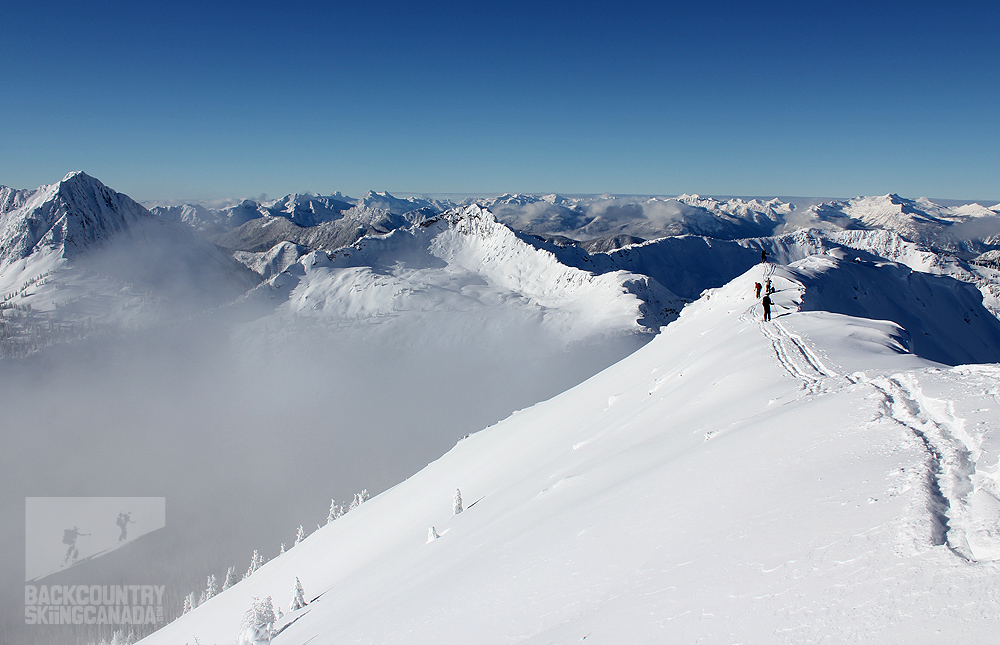 The Skiing
Wow. There sure was a lot of snow to be had. We started the week with a couple bluebird days and the whole group headed into the alpine. As you can see from the photos here (and in the video below the review) there's a lot of terrain for all different levels of skier. Chutes, open bowls, and pillow lines above, nicely spaced old-growth trees below and on either side of the lodge. By mid-week, the pow had piled up so much that we decided to stay out of the alpine and spent most of our time in the trees below, and at the same elevation, as the lodge. One advantage of Carlyle is that there's a big variety of skiable terrain within a ½ hour skin of the cabin. There are options in any direction depending on energy and skill levels, avi conditions and weather. I'll let the pictures do the talking. As you can see, the skiing was tremendous.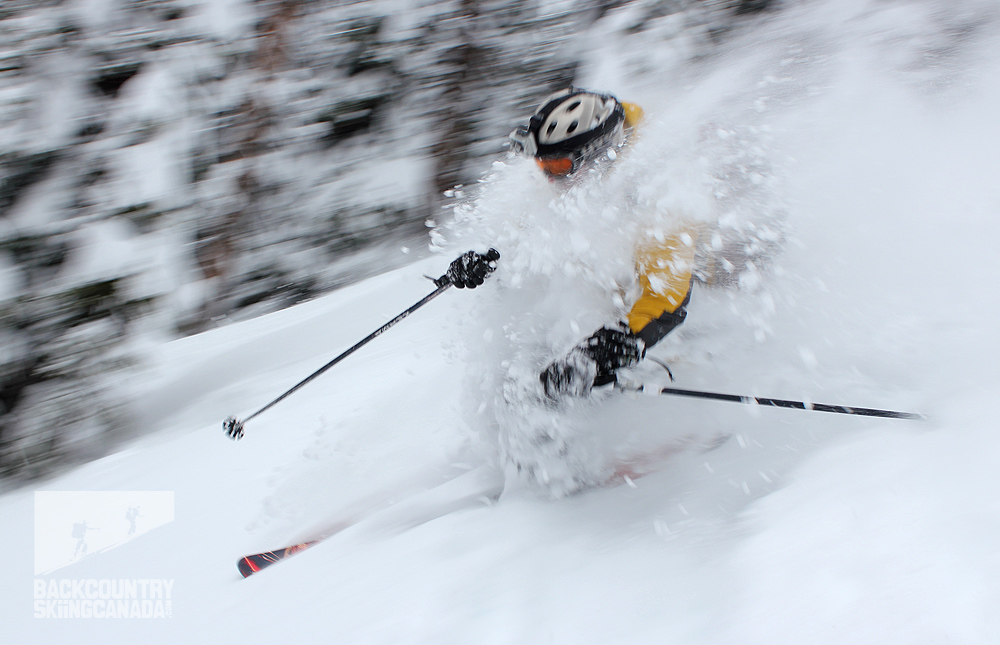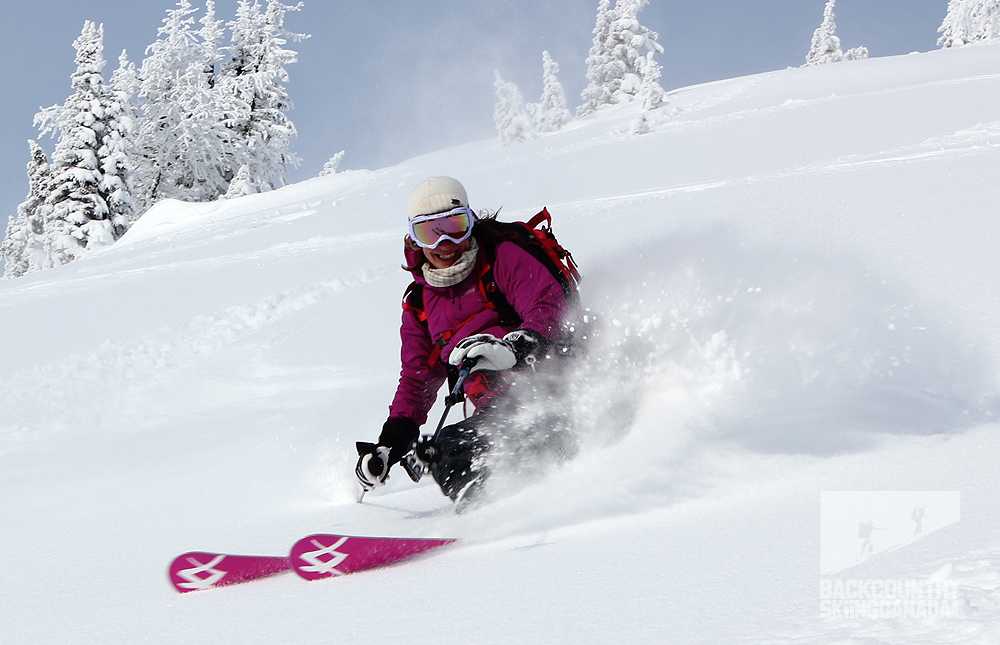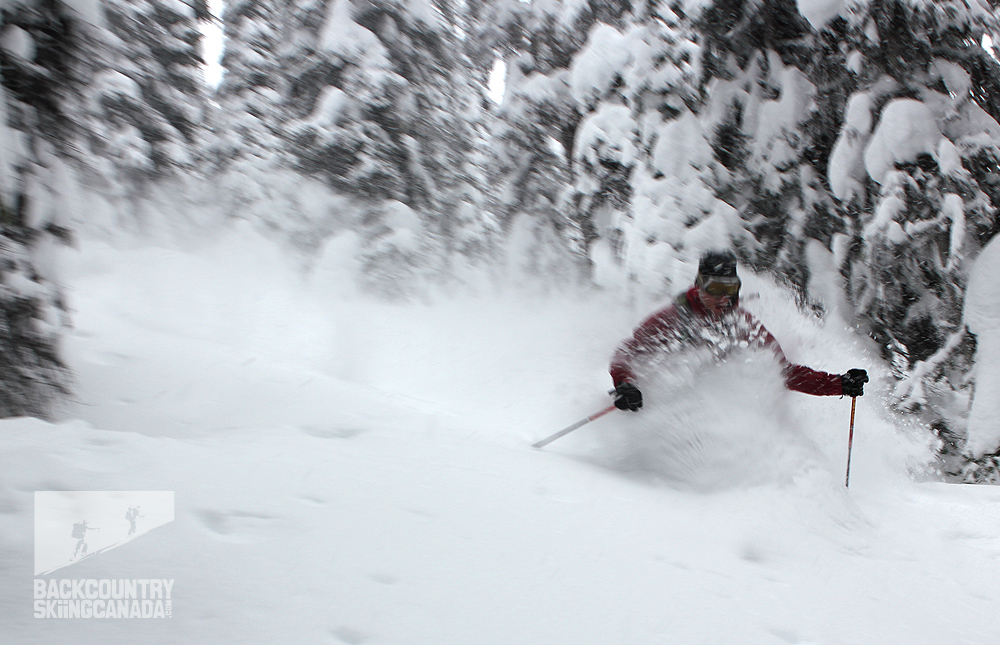 Who's it for?
Carlyle isn't for people who require a lot of luxury. The lodge has everything you need to be comfortable—but it's not excessive. This is a good thing. It may work best for people who do their own cooking and route finding, though chef and guide packages are available. If you don't like skiing, snow boarding, or playing in the snow, the lodge might not keep you entertained. Stay home. To sum up my impressions - I'd go back, no question.
SPECS:
Price: Self-guided, self catered weeks are $1,150 CDN, self guided, catered are $1750, guided and catered are $2,450, guided and self catered $1750 - book ahead early, places like this fill up fast
Location: Southern Selkirks North of Kokanee Glacier Park, Heli staging from just outside Kaslo, British Columbia (about an hour from Nelson)
Amenities: Guided and catered options are available, please contact Brian, or whoever picks up the phone, for details at: 888-564-8747
Rating: 9/10
Comfort 2/2
Accessibility 1.5/2
Terrain 2/2
Amenities 1.5/2
Quality/Price 2/2
PROS:
A variety of excellent terrain and lots of Kootenay blower – good in stable and sketchy avalanche conditions. Cozy lodge with everything one needs to stay comfortable and happy for a week (inlcuding indoor composting toilet). Multiple spaces in the lodge for solo time and competitive weekly rate.
CONS:
Perhaps not as ritzy as some people might like (sorry, I actually look at this as a pro).
This is only our opinion. Do you disagree? Did we miss something? Are we totally out to lunch? Join the discussion in the forums here, and let us know what you think. People like/dislike lodes for different reasons so chime in and we'll get a well-rounded evaluation.
Back to the rest of the reviews.
---
Some additional photos below for your enjoyment.