The Mile High Mountaineering PowderKeg 32 backcountry skiing pack has a clean exterior thanks to its multi-purpose and sometimes hidden features. What do I mean by this? The side compression straps act as the A-Frame ski carry while also providing vertical and diagonal ski carry options. That's right - four ski carry options and two for the snowboarders out there. The VersaHaul lower blue strap that provides a ski and snowboard carry system also doubles as two ice axe loops. The ice axe shaft retention system is hidden since you won't use it 99% of the time, as is the VersaHaul strap - it gets tucked away in a small lower pocket as it is not needed in everyday use either. The M-Flex Access aluminum wire perimeter frame ensures that the Mile High Mountaineering PowderKeg 32 can carry the load comfortably and not lose it's shape under the stress of your skis or snowboard. When you combine the M-Flex Access frame system with innovative VariCant dual-pivoting hip belt, comfort is guaranteed because the hip belt will flex and pivot to accommodate body motion. You bend and move and it goes with you.
Front and Back glamour shots.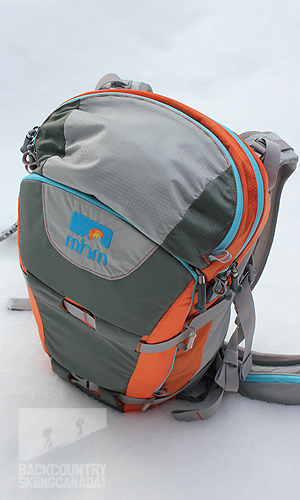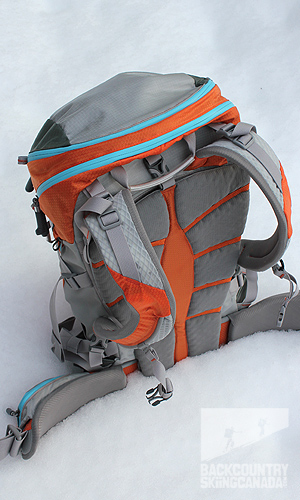 Ski carry option number one of five, the vertical.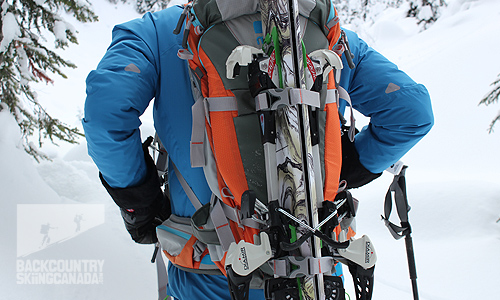 The A-frame and diagonal ski carry options.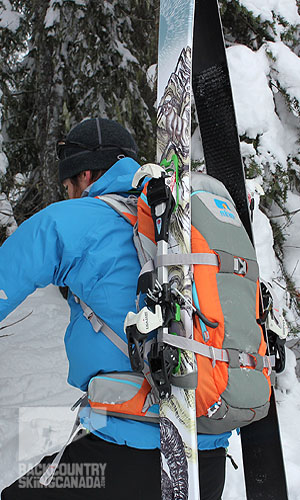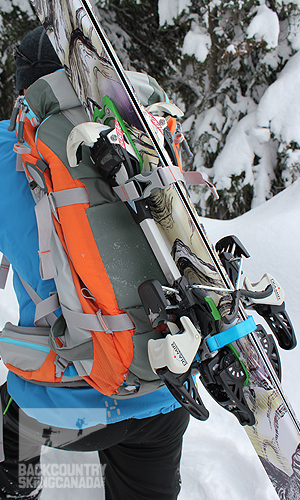 Layout:
Traditional packs use a top load design with one or two webbing straps to fasten the top lid pocket to the pack and allow somewhat laborious access to your stuff. You will occasionally find a pack that offers side or back panel access but I have found the majority provide limited access via this far superior method. The Mile High Mountaineering PowderKeg 32 pack is a new breed of back pack design; the top straps are gone and the back panel is the primary method to access your goodies. It offers more organization with easier and quicker access time overall. The reverse tear-drop shape (think big at the top and smaller at the bottom) lends itself to a more ergonomic fit and allows better freedom of movement when climbing and skiing. With less bulk at the hips, your arms can swing beyond your torso unimpeded - a key requirement in a backcountry skiing specific pack.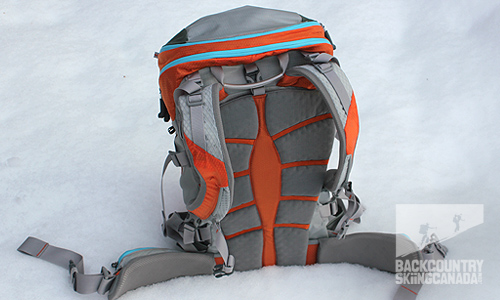 Fabrics:
Durability adds weight to any pack but when you are carrying sharp metal objects such as poles, probes, shovels, skis and snowboards it is essential that the fabric stands up to the frequent abuse. The front and side panels on the Mile High Mountaineering PowderKeg 32 pack use a tough and rubbery EPO (Environment Pollution Omitting) fabric and all the fabrics are coated with polyurethane and DWR (Durable water repellent) for added strength and water shedding capabilities.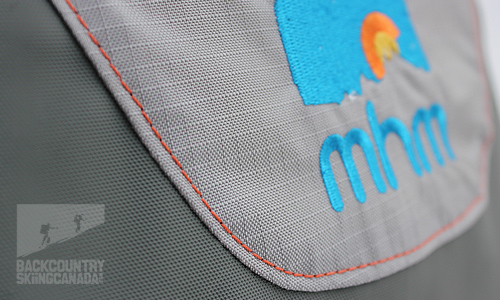 Pockets:
In addition to the main compartment of the Mile High Mountaineering PowderKeg 32 pack there is a dedicated avi gear pocket on the front for probe, saw and shovel, a top pocket for quick access items, an internal fleece lined goggle/sun glasses pocket, two hip belt pockets for snacks and an internal dry pocket for items that have to stay dry.
There is an extensive feature list below but a few of the "must haves" are the fleece lined goggle case, separate avi gear compartment, back panel access, true dry locker, hydration compatibility, multi ski and board carry options, hip belt pockets, big burly zipper pull tabs and an innovation that could one day come in handy: quick release shoulder straps.
Top pocket for those eay to grab items.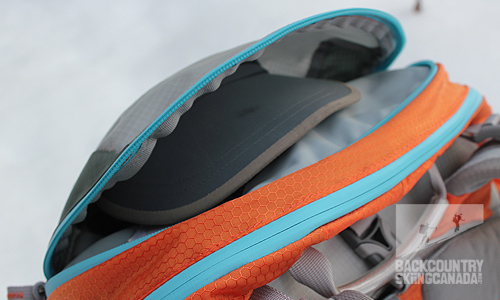 Top access to the main pack compartment.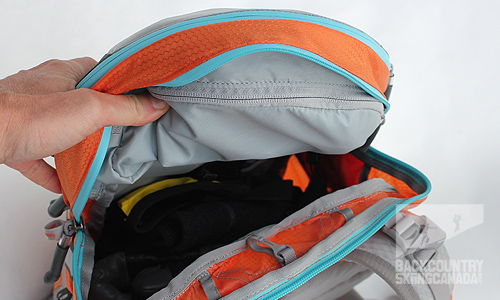 Interior fleece lined goggle/sunglasses pocket.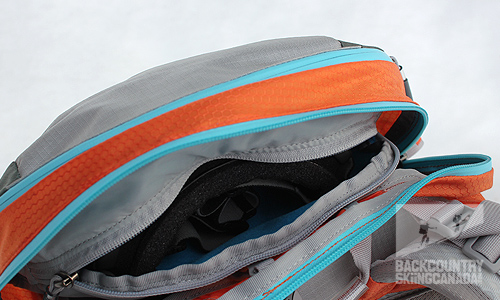 Front avi gear pocket which holds your shovel and probe for easy access.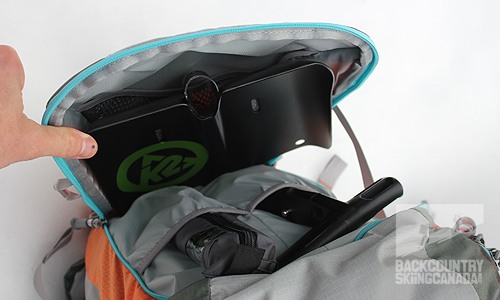 The Hip belt pockets, one on each side.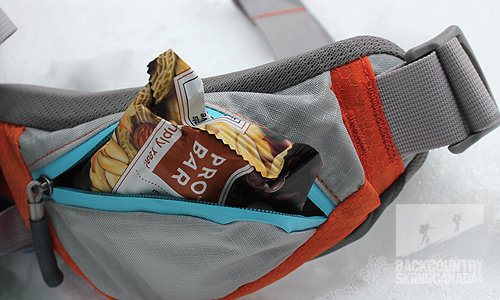 Back panel access is the preferred method of accessing your stuff.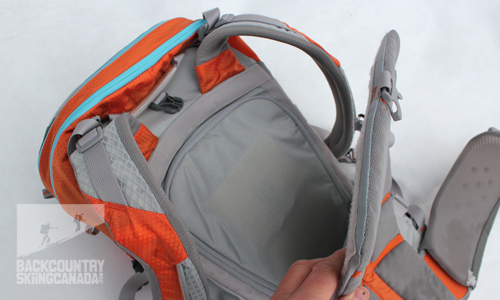 After the clip and velcro there is still the zipper to get in the back panel.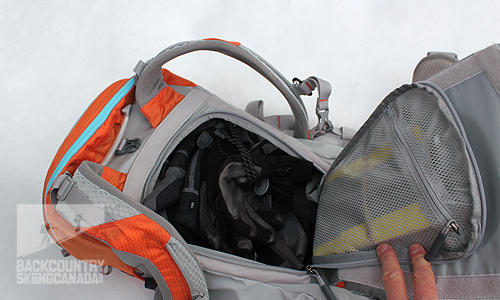 Features:
- M-Flex™ Access suspension system
- VariCant™ dual-pivoting/adjustable hip belt
- VersaHaul™ snowboard & ski carry system (four ways to carry your skis)
- EPO reinforced front and side-panels
- Soft-lined goggle pocket
- Quick-release shoulder straps
- Perforated foam back panel, shoulder straps and hip belt
- Back panel access
- Large organized shovel & snow tools pocket
- Deployable ice axe straps
- 10 pockets + main compartment
- 4 poly-tube gear loops
VersaHaul ski and board carrier hidden away until required.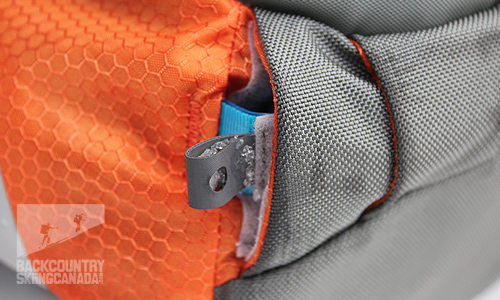 The hidden ice axe strap, there when you need it, gone when you don't.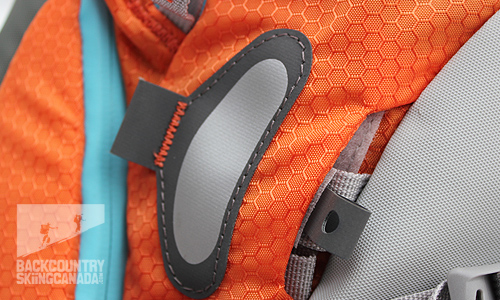 Large plasticized zip pull tabs perfect for using with gloves on.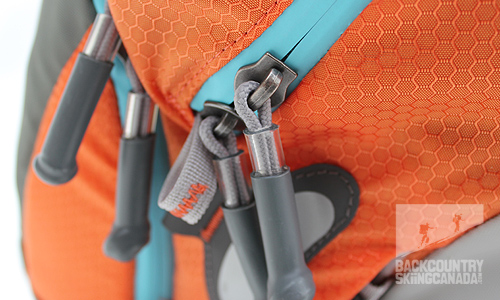 Adjustable hip belt with the adjustability going the correct way.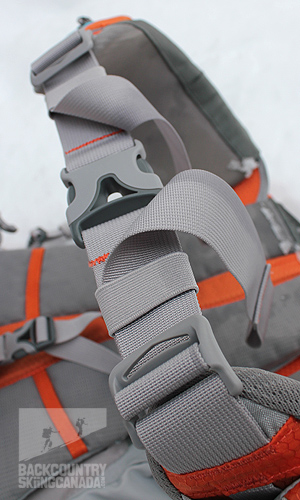 Verdict:
With a plethora of backcountry ski outings under its hip belt (pun intended) the Mile High Mountaineering PowderKeg 32 pack has not disappointed. On the contrary, it has exceeded my expectations. The aesthetics, design, colour scheme and reverse tear drop shape are contemporary and beautiful. The lack of excessive straps is welcome as they only really worked in the 80's for Scott Schmidt. Less is more these days and obtaining a superior form without sacrificing function is the goal. The sleek and simple design is enhanced by hiding non-essential features when not in use, and double duty functionality such as the compression and ski carry straps only add to this. Durable fabrics and large plasticized pull tabs on the water proof zippers add to the burly nature, and virtually eliminate any snow sticking to the pack and wetting it out by days end. The fit is spot on with articulated shoulder straps that conform to your shape along with a reverse pull hip belt that works with minimal effort. Given that the Mile High Mountaineering PowderKeg offers up only 32 litres of capacity (which is on the lower end of my preferred size) it sure packs a lot of gear: goggles, note book, hat, radio, skins, shovel, probe, lunch, snacks, extra gloves, shell pants, down jacket, hard shell, bag of tricks (safety gear) and a full sized digital SLR camera.
I have gushed a fair amount here about the benefits of the Mile High Mountaineering PowderKeg 32 pack but there is some room for improvement as well. These are all minor points overall but worth considering for Mile High Mountaineering's future evolutions of the product. The fleece lined goggle / sun glass compartment is a nice feature but if it was slightly more rigid it would offer some protection for the goggles from being crushed as this does happen. The top access zip has limited access to the interior when the top pocket and goggle pocket are fully loaded - not a huge deal as I find the back panel access gets 100% of my use. Other pockets could be larger as well, namely the hip belt pockets, as they do not fit a point and shoot camera easily and are ideal only for snacks of the smaller nature. The avi pocket is also trim and does not fit with my BCA shovel handle or a larger companion shovel blade. Luckily I now carry a smaller version. The back access panel, while large and ideal, has a three step process to gain entry to the interior: 1. Un-clip the back panel padding flap at the top, 2. Open the Velcro back panel padding flap, 3. Unzip the back panel. This could be streamlined with a single zippered entry as the velcro tends to not align perfect and also collects snow on deep powder days. Another nice addition would be a fabric hinge at the base of the back panel padding flap so it stays open on it's own and doesn't require two hands - one to hold it open and one to find what you are looking for. Finally, while the weather proof zippers are great at keeping the moisture out they are not the easiest to open and close around curved surfaces, specifically the hip belt pockets.
Final Word
If you are looking for a backcountry skiing specific pack you should consider the Mile High Mountaineering PowderKeg 32, as I can honestly say it is the most comfortable and overall the best ski touring pack I have ever worn - by a long shot!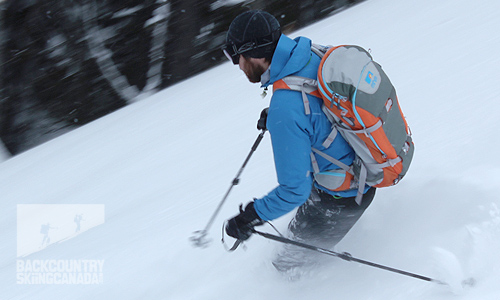 SPECS:
Price: $199 US
Volume: 32 liters / 1952 cu in
Weight: 1.6 kg / 3lb 80z
Number of stays: 1 wire perimeter frame
Main Pack fabric: 315 denier ripstop Invista CORDURA® Plus, Nylon 6.6, 80g PU/DWR.
Bottom Fabric: 840 denier Invista CORDURA® HD, Nylon 6.6, 80g PU/DWR.
POP Color Fabric: 210 denier HT honeycomb Kolon, Nylon 6.6, 80g PU/DWR.
PROS:
A true (zippered) dry locker built into the back panel, and incredible fit and comfort thanks to the VariCant hip belt design. Reverse tear drop shape allows for increased arm movement and still accommodates far more gear than you would think given the compact size. Bomber materials used for everything from the ski carry straps and waterproof zips to the EPO reinforced front and side panels.
CONS:
Zippers are tough to open and close, avi gear pocket could be larger to accommodate a larger shovel handle and blade. Top access is limited because of the goggle compartment and overall layout (but why go through the top when the back panel flips open!) Back panel velcro and zipper is redundant and could be reduced to just a zipper function.
Rating: 9/10
Comfort / Fit 2/2
Features 1.5/2
Durability 2/2
Function 1.5/2
Quality / Price 2/2
This is only our opinion. Do you disagree? Did we miss something? Are we totally out to lunch? Join the discussion in the forums here, and let us know what you think. People like/dislike gear for different reasons so chime in and we'll get a well-rounded evaluation.
---

---
Backcountry skiing is an inherently dangerous activity that requires experience and knowledge to travel safely. Any of the routes on this site may be dangerous depending on conditions. You are responsible for your own safety in the backcounty—the team behind backcountryskiingcanada.com disclaim any responsibility for any injury resulting from people travelling on routes described on this site. To read our Terms of Use and get all the details, read HERE.
---