Marker Ampire Helmet & Projector Goggles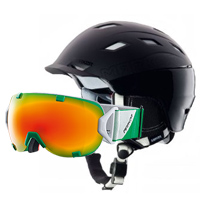 Well known for their wide array of well-designed alpine and alpine touring bindings, Marker has introduced a new line of protective snow equipment for the 2013/14 season. Bringing many years of design experience to the table, Marker has revealed 5 helmets and 5 goggle models for this season.
It is evident a lot of effort has been put into designing these products, and the sheer volume of features and technology packed into them is staggering.
Lets look at the Marker Ampire Helmet first and cover its features then we will dive into the Marker Projector Goggles and see what they have to offer up.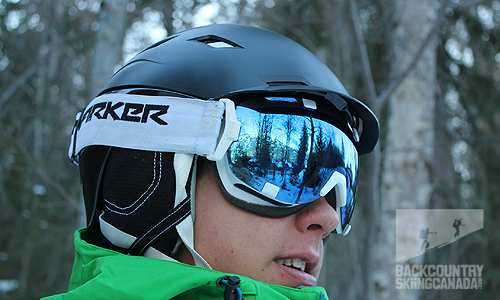 Marker Ampire Helmet:
The Marker Ampire Helmet is a freeride/all-mountain helmet, designed to inspire confidence and help you lay down tracks whatever the conditions.
The Marker Ampire helmet utilizes a unique hybrid shell construction. This construction combines the weight and comfort advantages of in-mold polycarbonate with the robustness of an ABS hard shell.
The top portion of the helmet (see picture below) is made of an extra durable ABS material that excels at distributing pressure across the surface. It is very durable, and will protect your noggin in the event of a fall.
The lower portion of the helmet is made of a lightweight in-mold polycarbonate that wraps around the head to provide maximum protection. It is much lighter than the ABS, and not quite as durable, but this durability is not needed in this area.
The shrewd use of material results in a very safe, highly durable helmet with a low total weight.
Lets do a 360° look shall we?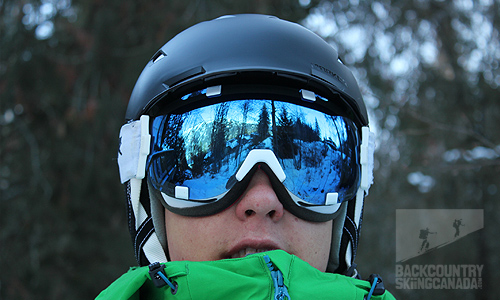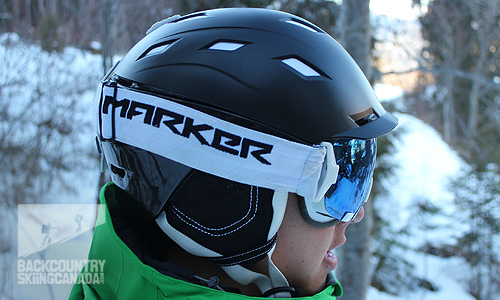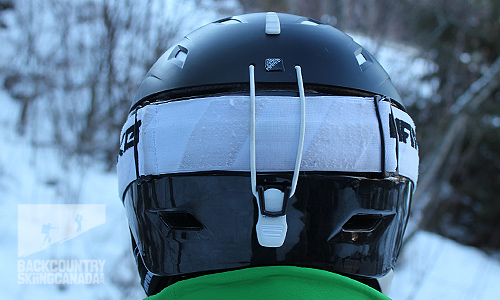 Fiddling around in sub-zero temperatures with a small buckle while wearing ski gloves is nobody's idea of fun. The smart folks at Marker have realized this, and have come up with an innovative solution. The Fidlock OG (one glove) Snap is a magnetic closure that replaces the typical buckle on the chinstrap.
The closure clicks into place with ease, yet remains securely in place in the event of a crash. It is designed to be operated with one ski glove clad hand, and to prevent pinching the skin.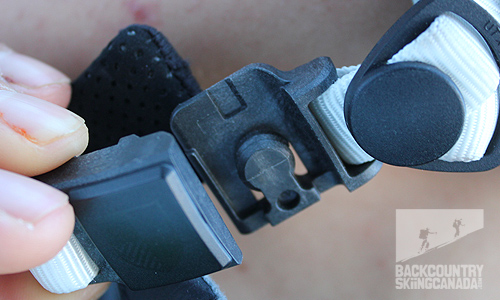 There are several other notable features in the Ampire:
- 2 Position Climate System: This system of vents atop the helmet are easy to operate, even on the go, and can be opened or closed to suit your personal warmth preferences.
- RTS (Rotate To Size): Using a dead-simple adjustment dial the helmet's fit can be tweaked to provide a perfect fit. This provides a comfortable and safe fit.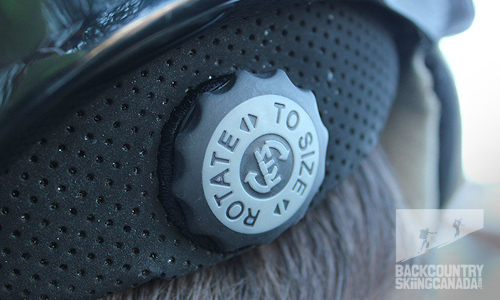 - Removable, audio ready ear pads: The ear pads are audio compatible, and are designed to work accommodate earbuds. They are also hand-washable in lukewarm water. Not a bad idea after a long sweaty winter of riding!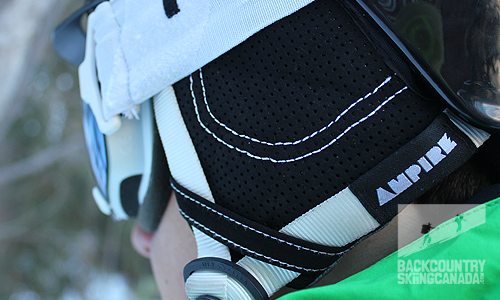 A final photo of the interior.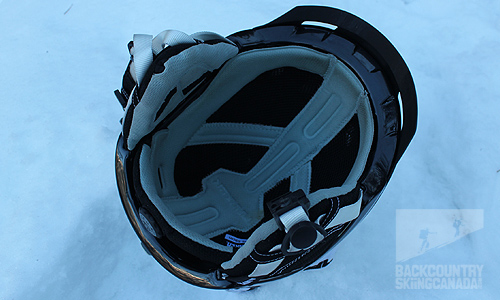 ---
Marker Projector Goggles:
The Marker Projector goggles are a minimalist goggle designed to give you a broad field of vision with crystal clear optics.
Marker's Projector goggles feature a 45mm wide strap with silicon grip, hydrophobic lens and integrate optimally with Marker helmets for superior airflow. The Projector goggles reviewed have a polarized Blue HD Mirror lens designed for extremely bright and sunny conditions.
Protective case is included.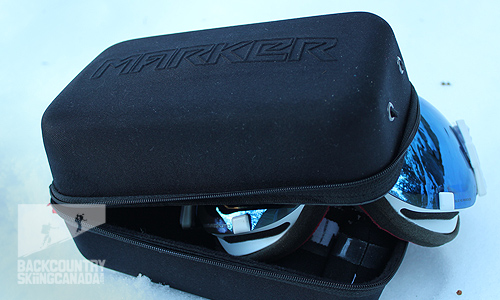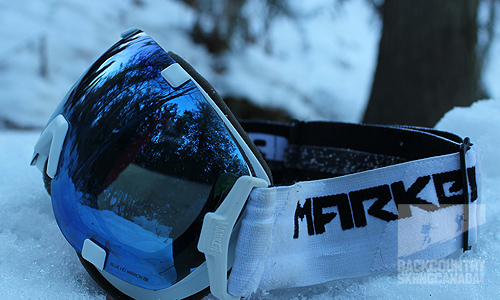 The Projector uses Dual Bionomic spherical lens technology. In order to provide the clearest and most accurate view, the lens is shaped to the curvature of the human eye. Two lenses are then fused together.
The exterior lens is constructed from TAC (Tri Acetate Cellulose) which is extremely light, clear and scratch resistant. This lens offers 100% UV A/B/C protection up to 400nm.
The inner lens is made of acetyl cellulose and is compression molded against the spherical outer. This ensures that the shapes are congruent for 100% undistorted vision. An anti-fog coating is embedded into this lens.
This interior lens also acts as a thermal blocker, creating a barrier between the interior and exterior lens. This helps eliminate drastic differences in temperature, and thus fogging.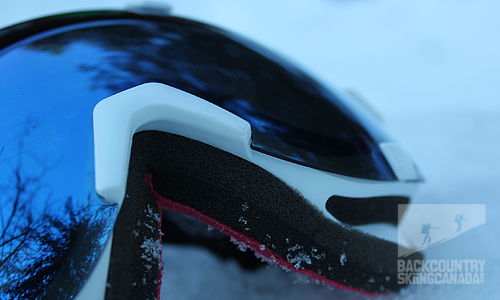 Other technology packed into the Marker Projector goggles is the NMT (Nictitating Membrane Technology). In order to provide optimum clarity, Marker has developed this coating and applied it to all Marker goggles (except the 4:3 model) to prevent water, grease and dust from sticking to the lens.
Comfortable padding on the inside against your skin.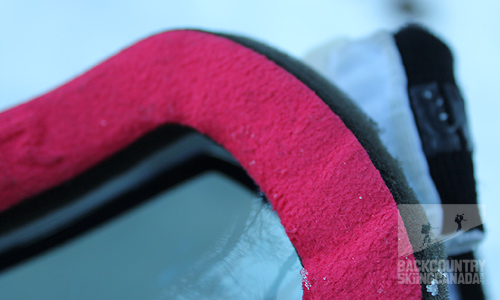 Features:
Marker Ampire Helmet
- Rotate To Size (RTS) Fit System
- Hybrid Shell Construction
- 2 Position Climate Control
- Xdry Performance Lining
- Removable Earpads
- Fidlock OG Snap
- Edge Protection
- Goggle Safety Lock
Marker Projector Goggles
- Nictitating Membrane Technology (NMT) Optics
- Dual Bionomic Spherical Lenses
- MarkerAIR Vent System
- Superfit Frame Design
- Xdry Triple Layer Face Foam
- 45mm strap with silicon anti-slip coating
Verdict:
So how, you may be asking yourself, do all these technological features stack up in the real world? Do the puzzling acronyms and fancy lingo translate to measurable benefits when skiing?
For the most part, yes.
Marker Ampire Helmet
The helmet's exterior is very rugged, and has stood its ground against tree branches, ice and the odd metal edge. Scratches are barely visible, and there has been absolutely no sacrifice to performance. The helmet feels light, but is definitely noticeable when worn. This is due in large part to the size of the helmet; it comes very far down the back of the head, and wraps around to the side. This is excellent for protection from side and back impacts, but makes for a heavier and bulkier helmet.
This was especially noticeable when trying to attach the helmet to a backpack for touring. The extra protection increases the helmet's volume significantly, and takes up a lot of real estate in a backpack.
The Fidlock OG Snap is an excellent idea with a strong execution. The clasp snaps together with ease and a satisfying click. While it can be attached with one hand as advertised, it is still a two handed procedure when wearing thicker ski gloves. The snap is extremely convenient and surprisingly robust. It is evident that it would not be possible for the clasp to come apart in the event of a crash. Great innovation by Marker.
The 2 Position climate system is executed well, although the vents are not large enough for a difference to be noticed except on the coldest of days. The RTS fit system is excellent, and I often found myself cranking the dial up before hitting a big feature or loosening it off on the chair lift for more airflow.
Marker Projector Goggles
The Marker Projector goggles worked exceptionally well in conjunction with the Marker Ampire helmet, but otherwise were average.
The helmet-goggle interface was exceptional. In conjunction with the Ampire helmet, the goggle's complex air channeling system ensured fogging rarely, if ever occurred. A tight seal between the goggles and helmet left little room for unwanted cold air, or snow to penetrate.
When worn without the Ampire helmet, the goggles were prone to fogging when a steady flow of air was not passing over them. Hiking or skinning, riding on the chairlift, and other stationary activities proved difficult for the Projector's to handle. Fog and moisture was not quick to dissipate, although it could be wiped off the inside of the goggle with relative ease. Wiping the moisture away did not affect the anti-fog coating.
The exterior lens was resistant to scratching, but nothing exceptional.
The Blue HD Mirror lens reviewed was excellent in bright, sunny conditions, but struggled significantly in flat light and overcast skies. Refer to Marker's website for an interactive comparison of different lenses.
SPECS:
Marker Ampire Helmet
Price: $140 CAD
Sizes: Small (51-55cm) , Medium (55-59cm), Large (59-63cm) & Youth (51-56cm)
Colours: All White, All Black, Ultramarine/Aqua, Dark/Light Green
Marker Projector Goggles
Price: $100 CAD
Colours: White/Green, White/Blue, Black/Surround, Black/Black Light, Alpha Green/Red, Tribe Petrol/Surround
Blue HD Mirror – Volatile Light Emission (VLT): 12%
PROS:
Rear and side impact protection is confidence inspiring and essential if you are hitting larger features. The helmet-goggle integration is exceptional, and fogging was a very rare occurrence. These two products are designed to work together.
The polarized Blue HD Mirror lens was excellent on sunny days. It cut glare and made it easy to analyze what would otherwise be blinding terrain.
CONS:
The points where the strap attaches to the lens do not look strong. While nothing has broken, the attachments look flimsy and do not inspire confidence. The large helmet volume makes it difficult to carry along in a pack, a growing concern for mountain guides required to bring a helmet. Also, the lenses are not replacable so once they are scratched it's game over.
Due to the visor and angle of the helmet, when the goggles are placed on top of the helmet, they sit there very precariously. Several times the goggles popped off, and the strap placement had to be adjusted to an awkward position for them to stay put.
Rating: 8.5/10
Comfort / Fit 2/2
Features 1.5/2
Function 1.5/2
Quality 1.5/2
Price 2/2

This is only our opinion. Do you disagree? Did we miss something? Are we totally out to lunch? Join the discussion in the forums here, and let us know what you think. People like/dislike gear for different reasons so chime in and we'll get a well-rounded evaluation.
Back to the rest of the reviews.
---