Mammut Ransom Jacket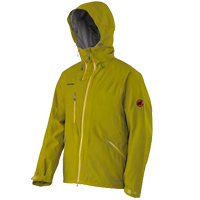 Perhaps it's that I am getting a little long in the tooth. Perhaps I don't always want to go fast and light. Whatever the case, the Mammut Ransom Jacket has found a happy place in my jacket quiver. I have always been a fan of Mammut apparel and this was the first jacket from them I have ever tested. Mammut is a Swiss company which began making ropes about 150 years ago. Like all things Swiss, Mammut doesn't seem to f_ck around with the things they make. From their simple beginnings in Switzerland, the company has grown significantly, now with most of its business coming from sales of clothing outside of Switzerland. The company also makes many other outdoor items—beacons, boots, 'biners, and more. Their distinctive mastodon logo (not to be confused with the really good southern US metal band) is, in my experience, a sign of quality and style.
To the jacket, shall we? The Mammut Ransom Jacket almost has too many bells and whistles for my liking—but not quite. It's no "fast and light" jacket as I mentioned above; rather, it's something to wear on colder days when you want to feel cozy and aren't spending a lot of time on the uptrack. It doesn't pack down into a small size so it doesn't really make sense to throw it in your pack as a back-up on a touring day. That's what down is for. I put this squarely in the lift-area-with-occasionally-forays-into-the- slackcountry bucket, and this is the kind of activity I, and thousands of others, enjoy.
All this is meaningless unless we take a look. Why don't we?
This is one of the jacket's coolest features by far. If you, like most folks these days, wear a helmet in and out of the backcountry, this will make your life easier—or at least less irritating. There's a central, main zipper which is a little off-centre, then there's a shorter zipper off the collar that enables you to adjust the size of your hood aperture with a simple zip. In the case of the jacket we tested, the shorter zipper reveals a contrasting blue underlayer. Sharp.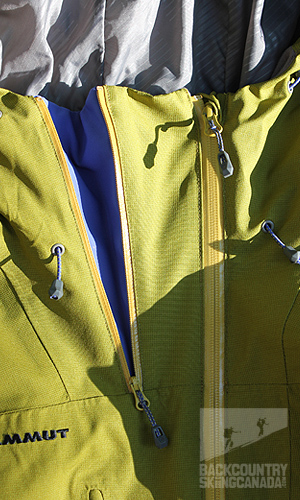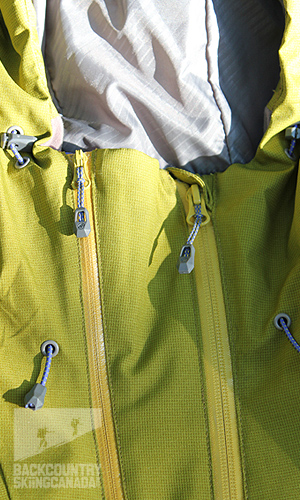 Yes. Thumbies/wrist gaiters. Whatever you want to call them, they are excellent on a powder day or a day that's cold and windy. The design accommodates an under- or over-the-sleeve glove program which is key. I do both depending on the gloves I'm wearing.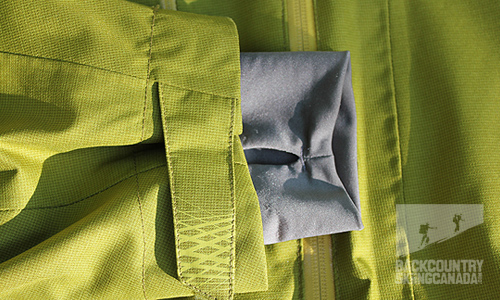 Here's the zip out powder skirt. If the jacket feels a little heavy to you, zip it out man! I leave mine in. Those little aloe-coloured tabs let you attach the Ransom to compatible Mammut pants. Kind of like a onesy effect - but for big people. If you want to remove the powder skirt, breathe easy; there's a drawcord around the bottom hem to keep out the elements.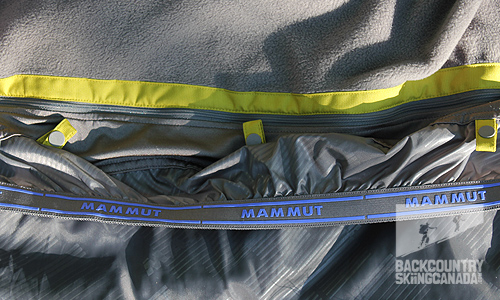 Mastodon! What's not to love about this large, proboscidean mammal species that roamed the planet 11,000 years ago. 'looks like that character in the Ice Age movies.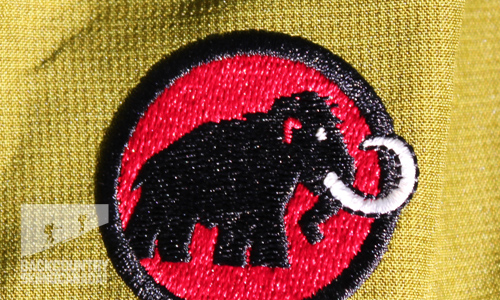 Drytech is a proprietary Mammut fabric that claims to protect wearers from virtually everything but kryptonite. My experience backs this up, though I wouldn't want to take the jacket out in any kind of sustained rainfall.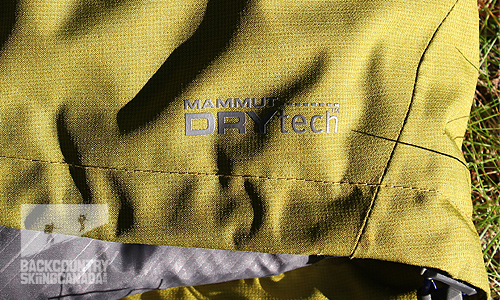 Here's the jacket splayed open. Note the fleece that makes it warm but not hot. There are doohickeys for an iPod/MP3 player and a goggle pocket which is also fleece lined (but I'd be scared to crush my goggles if put them in my pocket). In the goggle pocket, you'll find a chamois cloth to clean your goggles. Nice touch Mammut.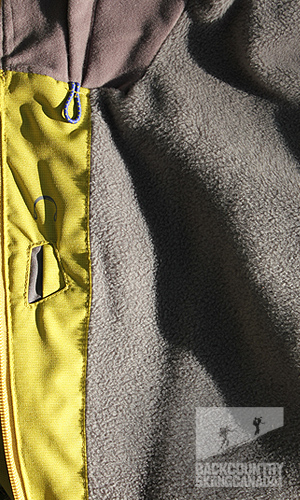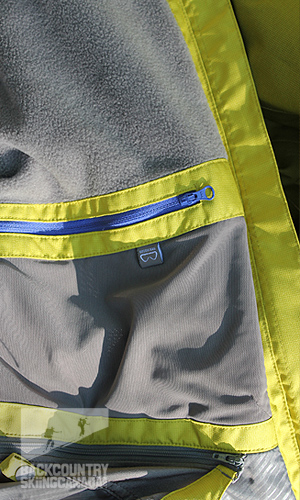 Here's a snap of the jacket highlighting the collar zip/helmet feature and a shot showing the whole thing on a body.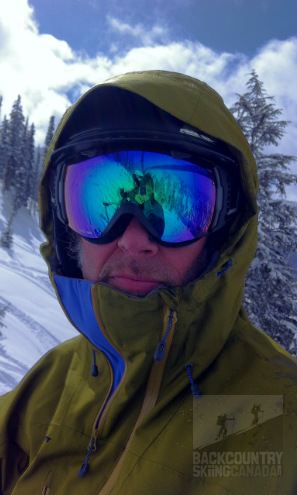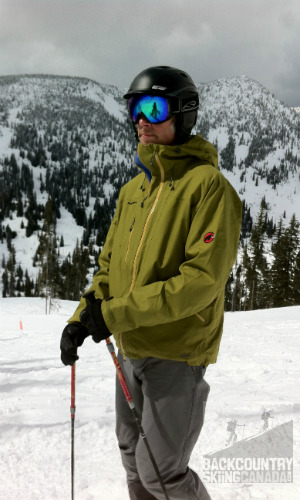 Features:
Regular Fit
Zippers: 2-way main zipper, second zip on the collar, pit zips with mesh to block the pow when open
Snow Skirt: Detachable, stretchable snow skirt.
Pockets: 1 wrist pocket for ski pass, 1 zip chest pocket, 2 zip hip pockets, 1 interior goggle pocket. Handy detachable keychain attachment in hip pocket
Material: DRYtech™ Premium 2-Layer laminated fabric
Insulation: Fleece
Waterproof Rating: 10000mm
Breathability: 10000g
Verdict:
While on the move, rather than standing around, I haven't worn jackets with any insulation for a while - 'don't know why. This may change. The Ransom eliminates the need for a mid layer on warmer days and, with a mid-layer, delivers high warmth when the mercury drops low. It's a comfortable, well fitting jacket perfect for mostly lift-services skiing and the occasional poke into the backcountry. 
SPECS:
Price: $300-ish US (look around)
Colours: Aloe (tested), cyan and black
Weight: 1.25kg / 2.75 lbs
PROS:
Style, warmth, quality, super-cool hood feature.
CONS:
Not a "one-quiver" backcountry jacket. An uninsulated shell and mid layer might offer more flexibility.
Rating: 8/10
Fit / Mobility                    2/2
Packability                       1/2
Waterproof / Breathable   1/2
Features                           2/2
Quality / Price                  2/2

This is only our opinion. Do you disagree? Did we miss something? Are we totally out to lunch? Join the discussion in the forums here, and let us know what you think. People like/dislike gear for different reasons so chime in and we'll get a well-rounded evaluation.
Back to the rest of the reviews.
---