Lorpen Socks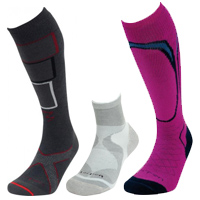 Lorpen make technical socks for just about any outdoor pursuit including skiing/winter-sports, hiking, trail running even hunting. Thankfully these days, a sock is not just a sock and manufacturers like Lorpen are serving up a wide variety of technically specific socks that will keep your feet drier (blister free) and comfortable.
Back in the 1980's a group of disappointed hikers began designing socks that would work for their treks in the Pyrenees, and so began Lorpen. According to Lorpen their designers today can be found out in the local mountains for the morning only to be back in the office designing socks in the afternoon. Once designed they ensure all of the socks are rigorously tested in the Pyrenees before they hit the stores.
Lorpen commits to sourcing the best yarns available combining both synthetic yarns (primaloft, lycra, polyester) with natural yarns (merino, tencel, modal) to optimize the qualities of each yarn and create a technically specific sock. Just how technical? Their Tri-Layer system and Life Fit approach should give you an idea.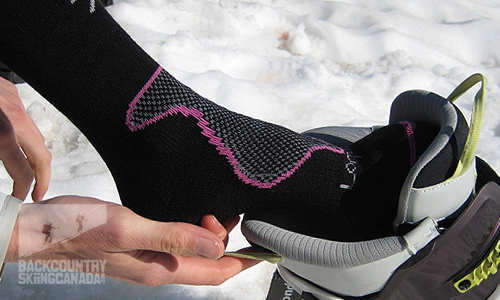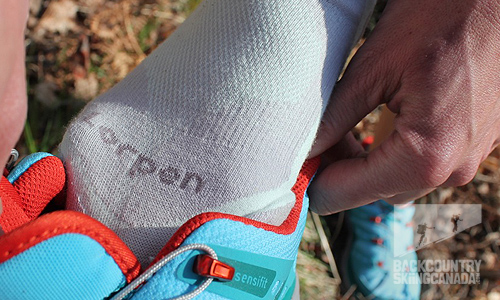 Tri-Layer system:
Lorpen's technical hybrid approach to sock construction uses the following methodology:
Layer 1 sits next to your skin and is a synthetic layer design to wick away moisture. Hydrophobic (moisture repellent) fibres move the moisture from your foot to Layer 2.
Layer 2 is a natural fibre, more absorbent layer designed to pull the moisture from Layer 1and disperse it—speeding up the evaporation process.
Layer 3 is highly durable (abrasion resistant) nylon, another synthetic layer designed to provide greater resistance in high wear areas.
Life Fit
Lorpen's Life Fit socks are designed to compliment the footwear they are in. Technical features include:
• Lycra® Plus to prevent slipping
• multi density knitting for better fit and cushioning
• a mesh instep to reduce bulk and increase breathability and wicking
• a flat knit toe seam to prevent bulk and rub
Lorpen also recognizes that men's and women's feet are different. In their women specific socks they include a narrower heel and forefoot to reduce bunching. The following socks utilise both the Tri-Layer and the Life Fit technologies:
Tri-Layer Ski Light
Construction: 38% Primaloft® Eco Polyester Yarn, 37% Merino, 15% Nylon, 10% EA. Lycra®
Price: $31.99 CAD
Colours: Black, Grey (Women's and Men's)
Sizes: S, M (Women's); M, L ,XL (Men's)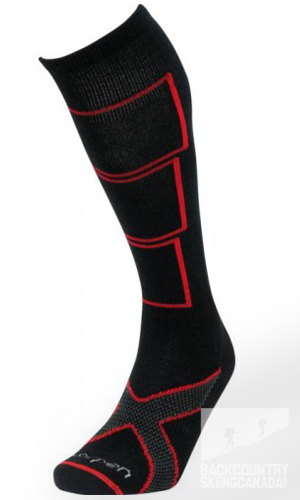 Tri-Layer Ski Medium Tri Layer Mid Weight Ski Sock
Construction: 50% Primaloft® Eco Polyester Yarn, 25% Merino, 15% Nylon, 10% EA. Lycra®
Price: $34.99 CAD
Colours: Black, White, Grey (Women's); Black, Charcoal (Men's)
Sizes: S, M (Women's); M, L ,XL (Men's)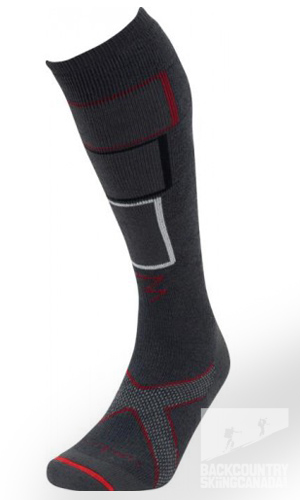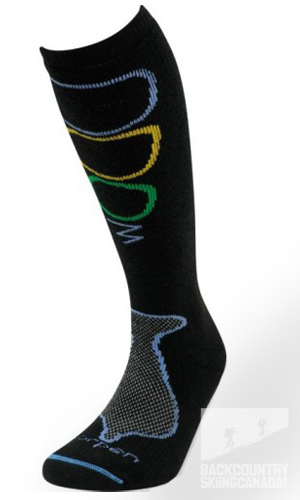 Tri-Layer Multisport Light
Construction: 36% Tencel®, 35% Coolmax®, 18% Nylon, 10% EA.Lycra®, 1% Modal®
Price: $12.99 CAD (Men's), $11.99 CAD (Women's)
Colours: Black, White, Light Blue (Women's); Black, White, Mid-Grey (Men's)
Sizes: S, M, L (Women's); M ,L ,XL (Men's)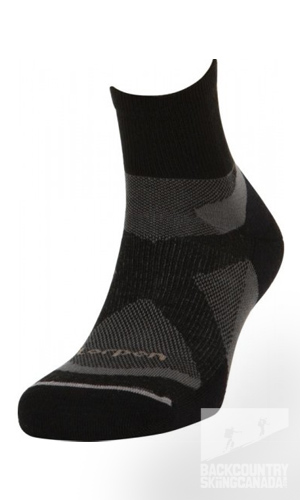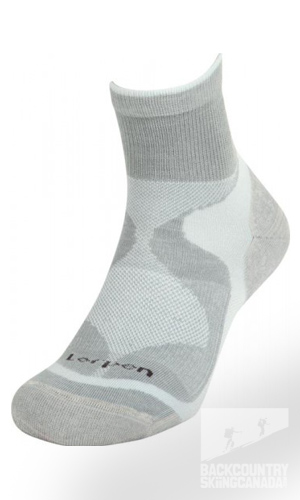 ---
Lorpen Classic:
Lorpon also does a classic series which are less techinical but are quintessential quality socks. We tried out the following ski sock in the classic collection:
Merino Ski Midweight
Construction: 75% Merino, 15% Nylon, 10% EA. Lycra®
Price: $31.99 CAD
Colours: Black, Grey, Pink (Women's); Red, Charcoal (Men's)
Sizes: S, M (Women's); M, L, XL (Men's)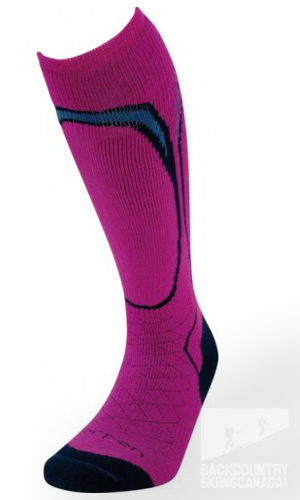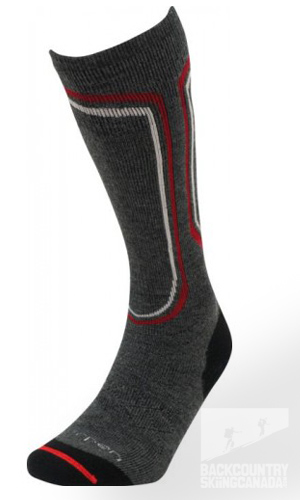 ---
Verdict:
Socks are the kind of thing some don't notice unless they are bunching, contributing to blisters, hard on the nose or full of holes. Lorpen's technical socks are something you will notice when you put them on but you won't notice when you're downhill skiing or on a summer trail because they are really comfortable, articulated and feel really supportive. The Tri-Layer multi sport in particular is a winner, in fact I would be happy if every sock in my draw (other than ski socks) were this sock. So if this review were based on that sock alone Lorpen would get full marks. At around $12-13 they are a great price too.
As this is a backcountry skiing site I do need to look at the ski socks through a backcountry ski lens. Unfortunately the ski socks for me weren't an optimal solution for backcountry skiing. Let's keep in mind that these socks are designed for downhill skiing and not for the amount of movement you would get when on the up track. Let's also qualify this by adding that for touring I prefer a lightweight and comfortable (softer) sock - not too bulky. On top of that, I did not try these socks in the depths of winter where I suspect they would perform well at keeping your toes toasty and dry, particularly with the primaloft/merino combo. I tested the Tri-Layer Ski Light on a 5000 ft hike/ski off one of our local peaks this spring. It was a warm day. I found the socks wicked well. Only problem for me is that the fibres are not that soft and the knit is on the larger size so at the end of the climb the skin on my heels felt irritated (no blisters). This is not something I have experienced with other merino wool ski socks. I am keen to try these socks in winter for downhill skiing since the fit is spot on, there will be no movement in the boot and I expect the primaloft will keep my feet super warm. (Will try to update this winter). I also expect the Tri-Layer socks to last a lot longer than the average pure merino sock as synthetic is much more durable and they feel more durable.
For something softer the Classic merino ski sock does the trick. It also feels softer after the first wash. The only problem I found with these were the loose threads on the inside. This is the one thing I would change on Lorpen's medium weight socks, I am no expert on sock manufacturing techniques so this may be a difficult thing to avoid but we found loose threads on the inside of the sock could catch your toes and seemed a little on the messy side.
PROS:
Tri-Layer Multisport Light sock is an absolute winner it's lightweight, super comfortable and a great price. Tri-Layer technology definitely helps keep your feet dry. Worth the investment. Ski socks perform well for downhill skiing.
CONS:
Ski socks not as well adapted to touring. On ski socks the primaloft can feel a bit rough on the skin if there is a lot of movement (i.e. on the uptrack). Lot's of loose threads inside of the heavier weight sock designs are on the messy side and can get caught on your toes as you put the sock on.
Rating: 7/10
Fit/Comfort 1/2
Durability 1.5/2
Warmth 2/2
Features 1.5/2
Quality / Price 1/2

This is only our opinion. Do you disagree? Did we miss something? Are we totally out to lunch? Join the discussion in the forums here, and let us know what you think. People like/dislike gear for different reasons so chime in and we'll get a well-rounded evaluation.
Back to the rest of the reviews.
---