Lole Clothing for Women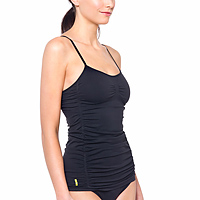 This summer (2014) we were introduced to the Lolë brand of women's activewear and lifestyle clothing. Lolë's range include yoga/Pilates wear, urban clothing, swimwear and a full range of practical yet stylish seasonal clothing and accessories. The Lolë philosophy, which focuses on well-being and balanced lifestyle, spoke to us here at Backcountry Skiing Canada not to mention the fact that they are Canadian born themselves. In fact, Lolë is still entirely designed in its hometown of Montreal, Quebec and is available around the world.
Lolë cites four main sources of inspiration:
1. Canadian roots which can be summed up in the saying "there is no bad weather only bad clothing". Of course with headquarters in cosmopolitan culture capital Montreal there is no shortage of eclectic urban insight.
2. Nature. In particular the great urban parks such as Lafontaine Park in Montreal, Central Park in New York, Stanley Park in Vancouver and Park Guell in Barcelona.
3. Extraordinary women who embody a feminine, vital, active and nature-loving approach to life.
4. And the glow of a women in true harmony – lighting up her life, your life, the environment and the world. Now how often do you see that on the uptrack? Kidding of course, there are extraordinary women gracing the trails all over.
In design and production Lolë focus on versatility, functionality, feminine style and comfort all the whole keeping in mind their responsibility to nature and the environment by sourcing recycled and organic materials where possible.
Here are a few items w took a look at:
---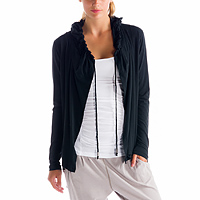 Vital Cardigan
Price: $100 CAD
Colours: Warm Grey, Black, Red Sea Anatolia, White Anatolia
Sizes: XS-XL
More of a wrap than a cardigan, is has a feminine and classy design. There is a hood with a braid cord that can be cinched to give a more ruffled look. A fourway stretch blend of organic cotton, TencelTM and elastane feels baby soft on the skin and moves with your bod.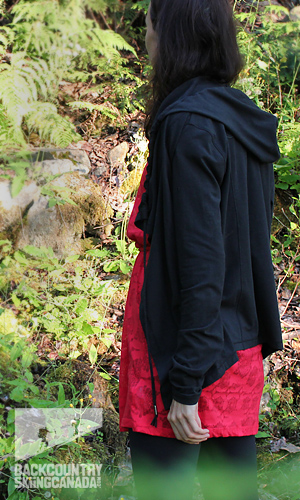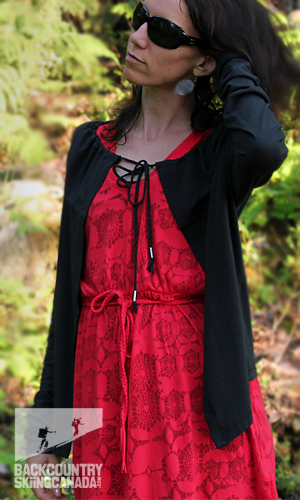 ---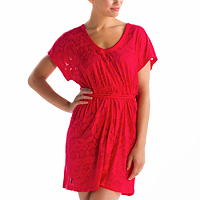 Rumba 2 Dress
Price: $70 CAD
Colours: Sanaa Solidate Blue, Sanaa Black, Sanaa Pomeganate, Sanaa Island, Sanaa Red Sea, Sanaa Vanilla
Sizes: XS-XL
Summer v-neck dress with drop shoulders, elastic waist and braided belt. It's the fabric that makes this dress, a lightweight blend of cotton and polyester with a semi transparent floral design perfect over a swimsuit, yoga outfit or cami and leggings.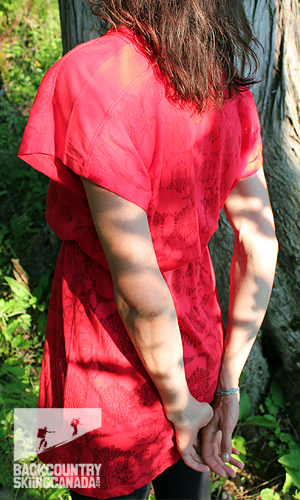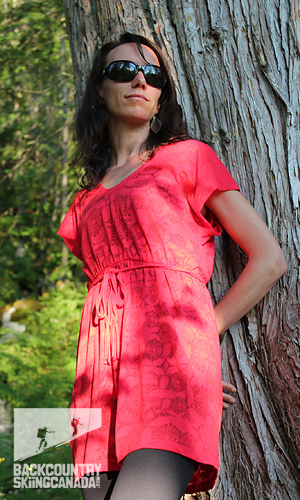 ---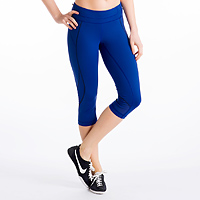 Run Capri
Price: $80 CAD
Colours: Solidate Blue, Storm, Black Azteck, Red Sea Azteck, White
Sizes: XXS-XL
High performance capris with a sexy shaped cut that elegantly splices and wraps a power mesh from your hamstrings to your knees for enhanced breathability. They feel good on the skin and move with ease thanks flat seams a gusseted crotch and Lolë's supportive 2nd Skin Mid, a fourway stretch blend of nylon and elastine.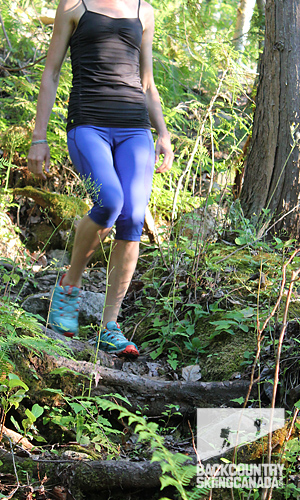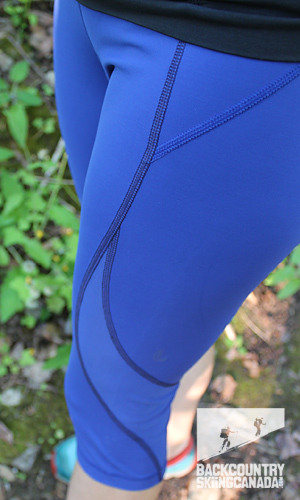 A Zip pocket at back of waistband tops them off.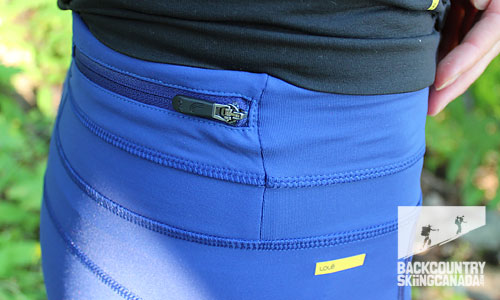 ---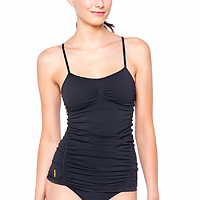 Delicate Tank Top
Price: $60 CAD
Colours: Storm, Black, Blossom Pink, White
Sizes: S/M, L/XL
This is a tank that was obviously designed by women for women. The long, feminine and supportive fit is highly flattering and elegant. It's completely seamless with articulation and a low-support integrated bra and adjustable straps. Made using a moisture wicking blend of Meryl® nylon, nylon and elastane. Works as active wear or casual wear.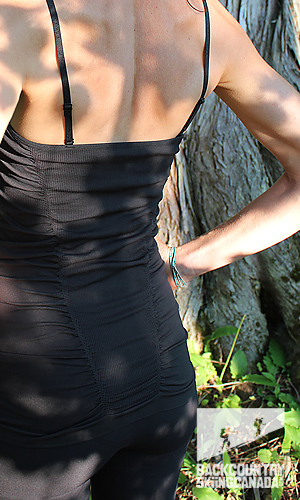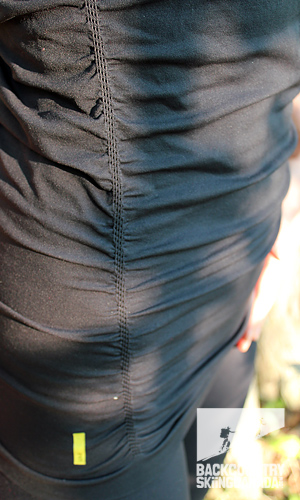 ---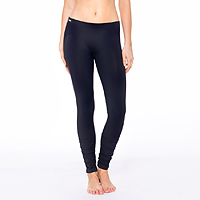 Cutest Leggings
Price: $70 CAD
Colours: Storm, Black
Sizes: S/M, L/XL
Admire the detail on these leggings in your next downward dog move. Gathers at the ankles add a feminine sensibility and slimming compression is at the waist for enhanced support. These completely seamless leggings are made using a moisture wicking blend of Meryl® nylon, nylon and elastane. Work well as active wear or casual wear.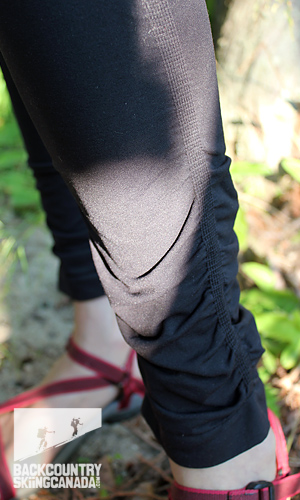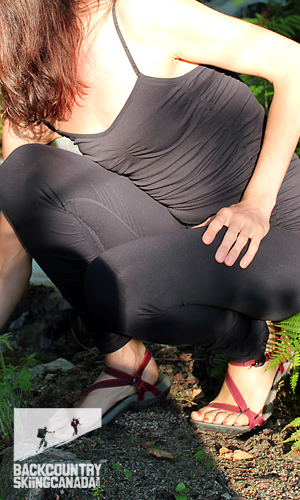 ---
Verdict
My foray with a few pieces of Lolë apparel has left me wanting more. The quality, fit and design details in each piece demonstrate that they have more than done their research into how to make clothes for women that are truly versatile, practical, elegant and sexy. Let's be honest, sexy is important, not really for anyone else's sake but our own. I am over keeping up with the boys, I want clothes that will support me to feel like the women that I am. Lolë does that. They even had pale pink hiking pants in their line-up, bravo!
My hands down favourite duo where the Delicate Tank and the Cutest Leggings part of Lolë's Poetry in Motion series. Both are highly functional, supportive, flattering and sexy. Would be nice to see Lolë extend their size range in these. The Run Capri is a close second. The detail and fit on these is spot on. I actually see myself wearing these as a base layer for some spring ski touring.
PROS:
Cutest Leggings – Most flattering leggings in my closet, fully seamless and supportive.
Delicate Tank – Feminine all over, built in low support bra, seamless design that is well articulated.
Run Capri - great venting and articulation. Supportive and flattering fit. Zip pocket a bonus.
Vital Cardigan - feels super soft, a convenient summer wrap.
Rumba 2 Dress - great colours, easy, flattering fit.
CONS:
Cutest Leggings – My waist is on the small side and the S/M started to feel a tad loose after a number of wears
Rumba 2 Dress - the braided belt doesn't always jive with the elasticine waist.
Rating:  9/10
Innovation       1.5/2
Function          2/2
Aesthetics        2/2
Features          1.5/2
Quality/Price    2/2

Are we totally out to lunch? Join the discussion in the forums here, and let us know what you think. People like/dislike gear for different reasons so chime in and we'll get a well-rounded evaluation.
Back to the rest of the reviews.
---
---
Backcountry skiing is an inherently dangerous activity that requires experience and knowledge to travel safely. Any of the routes on this site may be dangerous depending on conditions. You are responsible for your own safety in the backcounty—the team behind backcountryskiingcanada.com disclaim any responsibility for any injury resulting from people travelling on routes described on this site.  To read our Terms of Use and get all the details, read HERE. 
---