Klymit O Zone Sleeping Pad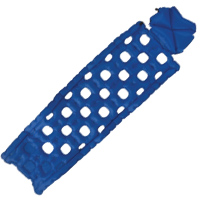 Klymit first appeared on my gear radar two years ago with the Klymit Inertia X Frame and Cush Seat Pillow which we promptly reviewed. Klymit has expanded its offerings since then to include a wide array of innovatively designed sleeping mats for those looking to save a little weight on the trail. The "O Zone" is the newest mat from Klymit and adheres to their mantra of combining light weight design, comfort and packability into a fairly priced sleeping mat.
To achieve their light weight design, Klymit uses body mapping to strip away anything that is not needed. Specifically, cushioning under your head, shoulders, hips and feet are crucial, elsewhere the curvature of your body prevents it from coming in contact with the mat. In these locations Klymit integrates what it calls "loft pockets". More than just holes in your sleeping pad, loft pockets are designed to allow your sleeping bag to loft into these spaces rather than being crushed between the weight of your body and the mat. This results in your sleeping bag insulation actually retaining its loft and insulating you from the ground up. Although the Klymit O Zone is 100 grams heavier and 1cm wider than the packed down Inertia X Frame it also offers up exponentially more comfort.
Besides the loft pockets, the big feature of the Klymit O Zone is the integrated pillow. This is one of those 'ah- ha' moments; once you use it you wonder why someone didn't think of this sooner. This integrated pillow ensures that you get a comfortable night's sleep without your pillow falling on the ground and you waking up with a killer krink in your neck. The integrated pillow is four inches tall so it provides a natural head height well above your body while resting. The design of the Klymit O Zone pillow is the same as the Klymit X Pillow which we describe a little further along in this review.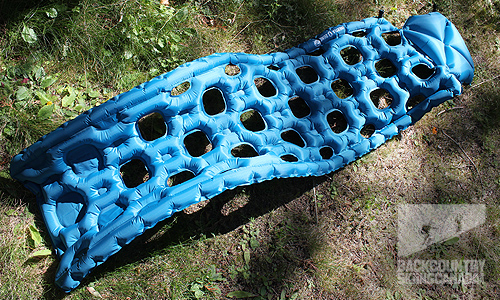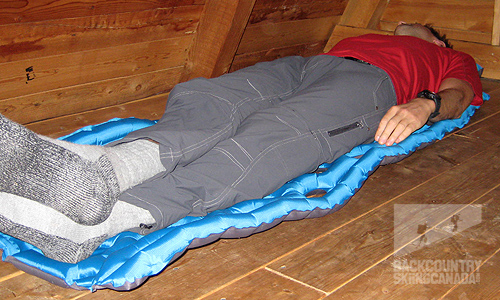 Close-up of the loft pockets.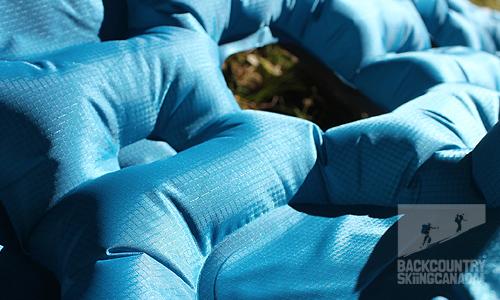 Natural curve to the O Zone furthers its ability to provide comfort.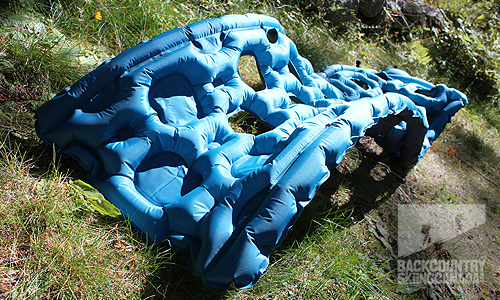 Built in pillow is pure genius.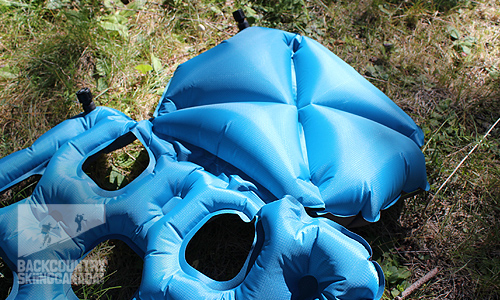 The inflation valves, while not overly sleek do the job.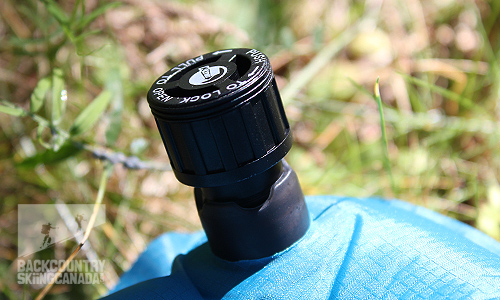 Klymit Pillow X:
The self centering pillow (keep reading for an explanation of this) found on the Klymit O-Zone is also available without the attached sleeping mat, in which case it is called the Klymit Pillow X. For those of you seeking a super compact and comfortable camp pillow weighing in at just 53.3 grams and stuffing down to 8.9cm x 3.2cm the wait is over. The innovative "X" design forms four quadrants in the pillow (hence the name) which cradles your head in the middle of the pillow. This reduces the likelihood that your head will roll off or that the pillow will make a hasty get away in the middle of the night. While the 30 denier fabric is more than tough I found that it could have been a little softer and more flexible especially for us side sleepers. The Pillow X compacts down to the size of a small bagel and takes up almost no space in your pack so including it on any backcountry trip is a 'no-brainer'.
See the 'X'? Now feel the comfort of the 'X'!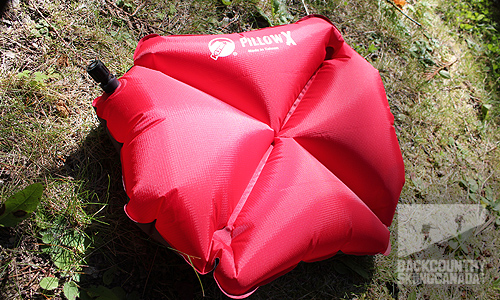 Super sturdy 30 Denier fabric.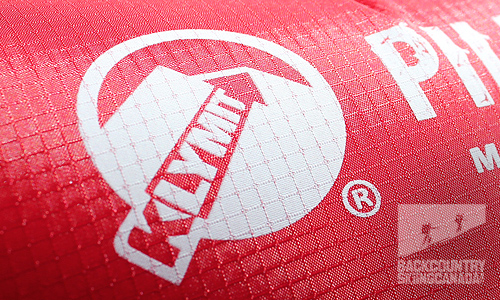 The built in X Pillow on the O Zone can be doubled over to give side sleepers supreme comfort.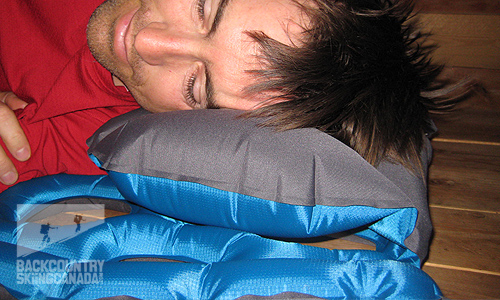 Verdict:
When you consider the Klymit O Zone's weight to comfort ratio it's a slam dunk-home run when compared to traditional sleeping pads. The built in loft pockets provide a pseudo back rub while you're reclined and make sleeping far more comfortable than the traditional tube design of most sleeping pads. At just one inch of thickness it's impressive the amount of comfort that can be squeezed out of the O Zone. The built in four inch high X pillow further enhanced this reviewer's slumber… and I'm a side sleeper. After a quick 5 breaths the O Zone is ready to rock and if you find you roll a little in your sleep, not to worry there is plenty of mat to keep you off the ground (at almost two feet wide).
The O Zone's valve design is not the slickest I have seen and I found that they stick out too far. Since they never interfered with my sleep in any way this is not a major design flaw but could be improved upon nonetheless. With a valve on the mat and one for the pillow you can control the stiffness for each separately, which can improve comfort. Having said that, I would, however, be happier with a single valve located closer to the foot of the mat and out of my face area.
Klymit claims that the O Zone's temperature rating is the same as the sleeping bag you choose to use (given how the loft pockets work). While the O Zone will keep you warm while laying on cold ground it's by no means a winter rated sleeping mat in my opinion. The comfort rating comes in at -12°C to 32°C (according to Klymit) however I would be sure and experiment with the O Zone prior to spending a cold night out.
Overall, innovation is evident all over the Klymit O Zone and the price is right at under a 'C-note'. If you are looking for a new comfy and compact sleeping mat be sure to give the Klymit O Zone a try.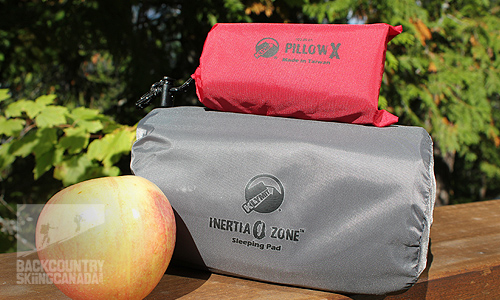 SPECS:
Klymit PillowX
Price: $29.95 US
Weight: 55.3g / 1.95oz
Inflation: 1-2 Breaths
Fabric: 30D Polyester Top / 75D Polyester Bottom
Warranty: Limited Lifetime
Colour: Red
Klymit O Zone
Price: $99.95 US
Weight: 354g /12.2oz
Dimensions: 183cm x 54.6cm x 4.4cm / 72" x 21.5" x 1.75"
Packed Size: 8.9cm x 15.2cm / 3.5" x 6"
Includes: Stuff Sack, Patch Kit
Fabric: 30D Polyester Top / 75D Polyester Bottom
Inflation: 4-7 Breaths
Colour: Blue
Warranty: Limited Lifetime
PROS:
- Integration of a pillow is genius as it can no longer wander away during the night.
- You can flip the pillow on top of the mat to get extra pillow height for side sleepers.
- Incredibly comfortable even for side sleepers.
- When you compare the comfort to weight ratio to a regular mat the O-Zone is hands down the winner.
-Inflates in only 4-7 breaths
CONS:
- Valves protrude quite a bit, not a huge problem but not a sleek design either.
- If you prefer the additional height of the pillow on top of the map for side sleeping then your body is forced down the mat more and your feet hang off. A long version would be a good option to solve this.
- Not a mat for colder temperatures
Rating: 8.5/10
Warmth 1/2
Packed size 2/2
Ease of use 1.5/2
Weight 2/2
Quality / Price 2/2

This is only our opinion. Do you disagree? Did we miss something? Are we totally out to lunch? Join the discussion in the forums here, and let us know what you think. People like/dislike gear for different reasons so chime in and we'll get a well-rounded evaluation.
Back to the rest of the reviews.
---