Julbo Meteor Goggle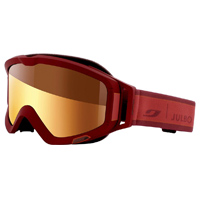 Founded in France in 1888, Julbo has been a long-time leader in optical equipment for athletes, explorers and every-day backcountry enthusiasts. Now available with sunglass prescriptions, Julbo is emerging into ski and snowboard goggles with 20 different frames, and 6 different photochromic lenses with various coatings tailored to your environment. It's plain to see that after 120 years, Julbo knows their lens technology for the mountain environment, offering 100% UV ray protection, style and comfort. What follows is a review of the Julbo Meteor Goggle with the Camel lens. Note that Julbo Meteor Goggles are also available in an 'over the glasses' (or OTG) model when prescription lenses or contacts aren't an option.
The polarized, brown-tinted Camel lenses are photochromic, meaning they adjust when light intensity varies, say on a partially cloudy day when sunny breaks are present or when riding from shady north-facing aspects into the sun. The photochromic adjustment may take up to 30 seconds and, labels on the product warn they are not to be used for driving--probably for just this reason. Another photochromic advantage is the ability to use these goggles at night, whether night skiing at a resort or head lamping through a snowstorm, Julbo's NTS technology ensures the lens will adjust regardless of temperature. The anti-fog coating and vents above and below the eyes help reduce the likelihood of fogging up when you're really pushing it; but, like all goggles, try and keep them from getting soaked in the snow.
All photochromic lenses are designed to reduce the need for multiple lenses and/or frames. Having a slightly higher sensitivity to bright light, I still prefer my sunglasses or sunny-day specific lenses for bluebird days rather than the Meteors. That being said, I find the Camel lenses perfect for night skiing with a headlamp or a full moon above. Available with many of their goggles, Julbo also offers a cool little gadget called the Clipomasq. The Clipomasq "seats" your prescription lenses within the goggles and enables people who wear glasses to see with corrected vision.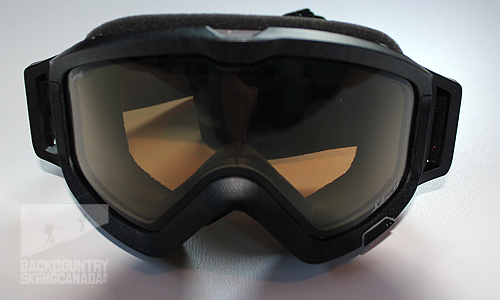 The Camel lenses are also polarized. If you know this treatment, you'll know whether you like it or not. Polarized lenses make colours pop (especially greens) and they are excellent on the water. For some reason, they make electronics hard to read—something about the screens. If you need to look at your phone, plan on popping off your goggles. No biggie.
A large gap between the goggles and helmet can ruin a ski day in a hurry (this is called "gorby" gap in some circles). Julbo's Meteor frames fit very well with most helmets, eliminating this gap and the potential for snow to get stuck in-between.

Cool thing with Julbo: if your lenses become scratched and you want them replaced, they'll send you both frames and lenses for the cost of just the lens. This is around 50% off the retail price.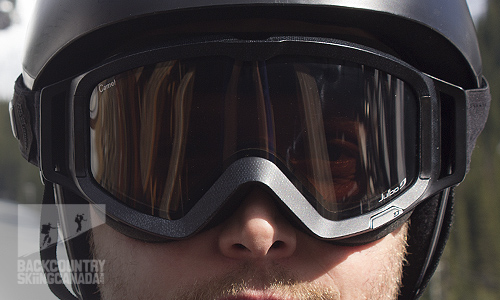 The sleek look of the goggles includes a subtle embroidery logo and smooth goggle to strap transition, guaranteed to increase your cool factor in the mountains.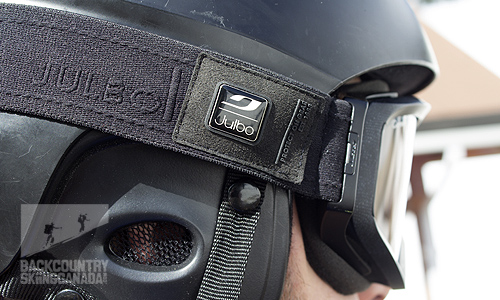 The Camel lenses are tinted light-brown and are very agreeable to ski with. They only take 22 seconds to adjust if the sun pokes out from behind a cloud (then ducks behind again). It's magic.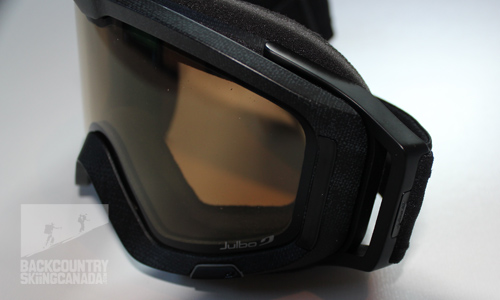 The two-point adjustment strap will allow these goggles to fit over any helmet size, or if you prefer, small enough for just your head and toque.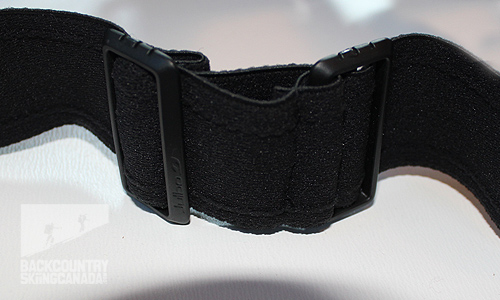 Beneath the goggle strap is a grip strip that will prevent the strap from sliding around on your helmet.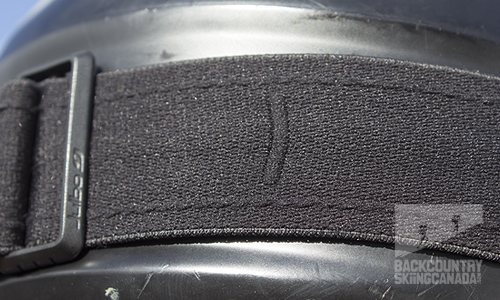 Julbo goggles use duel foam on these, and many other goggles, for maximum comfort. They will accommodate the contours on any face.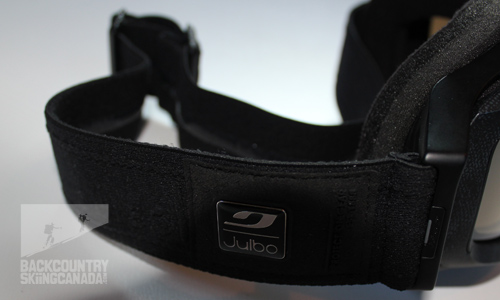 The Meteor frames come in five different colours. The black frames we tested feature the Julbo logo in black, a stylish, understated design. One's field of vision has little restriction with the good-sized frame, and the bordering foam sits comfortably on your face, regardless of your shape and size. There are two adjustment points for the strap to make it fit over any helmet—or without one.
These full black Julbo Meteor goggles with Camel lens go for $200 (USD). Save yourself $20 and grab the white goggles with zebra lens if you're mostly skiing sunnier days. Prescription lenses may be available if your personal prescription aligns with the Julbo lens you are most interested in. This might save you an additional $10 and give you options in a wider range of goggles, including smaller (non over the glasses) frames.
Features:
- Dual size adjustments
- Helmet gripping under strap
- Easy lens changeout system
- Photochromic Lens
- Anti-fog coating
- Venting system above and below eyes
- Polarized, brown tint to accentuate relief
- 15mm extension allows better fit on different shaped helmets
- Dual foam for maximum comfort
- Goggle bag included
Verdict:
Julbo offers a wide variety of performance and mountaineering sunglasses and goggles for skiing/snowboarding as well as sunglasses for kids and babies. They have been developing specialized optic equipment for nearly 130 years and have trustworthy technologies for UV protection and overall performance. A photochromic lens could help you stay light when traveling with only one goggle needed. Their lens cases are relatively inexpensive and could be a good option to protect your investment. The overall style and durability will keep you looking great for seasons to come. I would recommend this product depending on the user's need to wear prescription glasses underneath, that may depend on the size of their glasses. Customer service is highly valued by Julbo as my inquiring emails were answered within a few days. A final point to note; if your lenses become scratched and outlive the frames, you are able to purchase a completely new goggle with frames for 50% the retail price.
SPECS:
Price: $210 US
Weight: 10 oz / 272 g
Frame & Strap Colour: White or Black
Lens Colour: light brown, non reflective.
Size: Large, Unisex
Materials: Silicone Strap, Polyurethane Frame.
Protection rating: 2 – 4 (4 being the highest of any Julbo goggle)
PROS:
- Photochromic lenses, one lens for dark & light days.
- Comfortable.
- Easy to change lenses.
- Excellent customer service.
CONS:
- Unable to buy individual lenses online.
- Frames only come with one lens.
- Prescription lenses not available for ski/snowboard goggles.
- Polarized lenses are not for everyone (but we love 'em)
Rating: 8.5/10
Comfort / Fit 2/2
Features 1.5/2
Function 2/2
Quality 1.5/2
Price 1.5/2

This is only our opinion. Do you disagree? Did we miss something? Are we totally out to lunch? Join the discussion in the forums here, and let us know what you think. People like/dislike gear for different reasons so chime in and we'll get a well-rounded evaluation.
Back to the rest of the reviews.
---