Ice Creek Lodge with Urd Peak aglow in the background.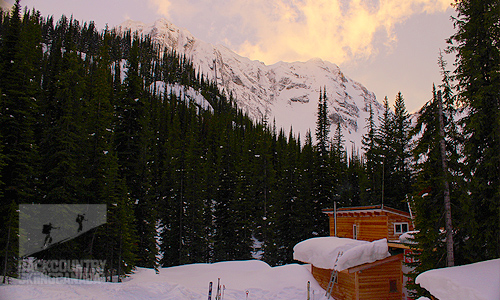 Guide shack. Not too far, not to close.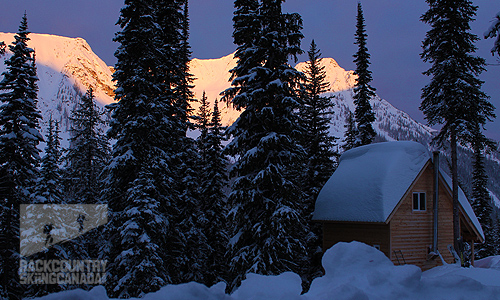 Features:
Russ, and the other folks who put the lodge together, have built in a couple key features. The water comes from a magical spring, referred to as the Urd Well, just below the lodge. This spring-fed well, coupled with the proximity of mind-blowing terrain, was one of the key factors in deciding on the lodge's location. Humans needs water to survive—especially when backcountry skiing. The water program entails the daily filling up of big jugs (!) which have to be brought up to the lodge's second floor. Here, a gravity-fed system ensures that water goes to the right places (like the kitchen and the wash-up/tooth brushing sink by the door).
There's a generator that runs by the guide shack which provides enough power for all the light and ghetto blasters you'd ever need. The lights go out at 10:00 every night though. Probably a good idea for many reasons. There is Internet access at Ice as well. I have to admit I have mixed feelings about this because it really changes the dynamic in the lodge after dinner. Sure we all want to keep in touch with our loved ones, but, for me anyway, a big part of being away at a lodge is being away. A pox on emails. If you feel the same way as a group, make arrangements or perhaps only allow access once every couple of days. This is a personal preference—I appreciate that some people are very happy to have the Internet on tap. Even with the 'net, we did manage to play cards and overserve ourselves often. Not having time online might have allowed for more conversation, Parcheesi and pea knuckle. Who knows.
The kitchen is fully decked out and would accommodate a self catered option without a problem. Having Lisa cook for us was like a dream. She's was easily the best cook I've had at any lodge. If you are going to book a cook, ask for Lisa.
The dinning room from the kitchen.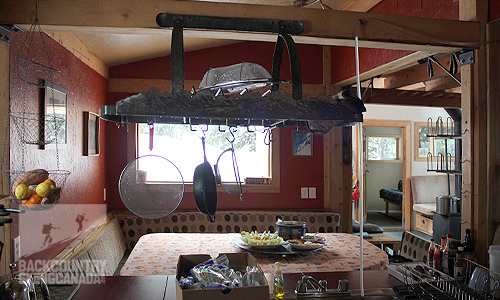 Wood heat with serious drying rack action.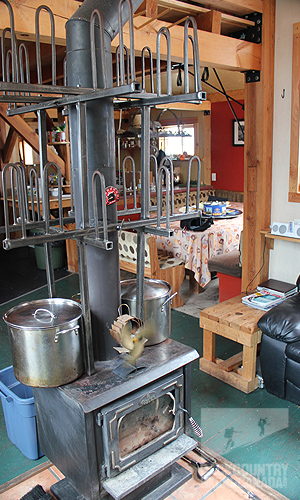 The White Stuff.
Comfort is key but what made our week at Ice spectacular was the terrain and snow. Ice is known to be one of the premier lodges in the BC Interior, largely because of all the exceptional terrain just a short skin away. Also, the lack of benches means it's SFD, baby (watch the video for a clue on this).
Our week began with a need for snow and, our guide for 2 days, Joel "Big Country" McBurney, brought us to some of the many zones within an hour or two skin from the lodge. I don't remember all the names of what we skied but the highlight of the first couple days were the laps we did on Grannies which took us to valley bottom. Joel is a great guy and a total machine on the uptrack. Ski with him if you can. Tail guide for the trip was Roger Yim—also a super cool guy who knew his stuff and put us all at ease.
Joel McB taking us for a walk in the park across Demers Lake.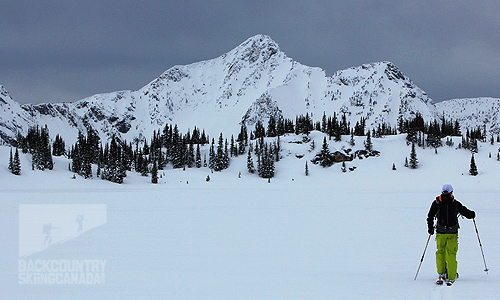 Granny's many turns.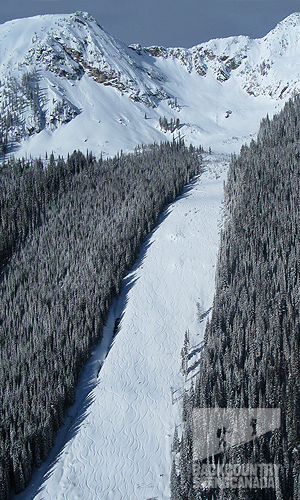 On day three owner/guide Russell Hulbert swapped out with Joel. It only happened this way because one of our crew had to fly out mid week. If you book a week with one guide, he or she will be with you the whole week. We were lucky because we got to ski with two guides, and got to know them both a bit. The snow came with Russell, or thereabouts. At first, Russ sounds a little like the Brad Pitt character in Guy Ritchie's Snatch. Pretty much unintelligible, but you know you want to understand what he is saying. Terms for snowpack, pits, bad guest behaviour and more roll off his tongue with ease. After about a ½ day, everything he says starts to make a lot of sense.
Over the 7 nights we were at Ice, we got a total of around 60 cms of pow—plenty to work with. Like Joel, Russell knew the terrain intimately and was able to bring us to many different pleasure zones. In my experience, a sign of a good guide is someone who pushes clients just enough that they feel like rock stars without feeling too much peril or danger. Russ accomplished this. He brought us down couloirs and steeps that I never would have ventured into without him.
Dropping into Mini Golf.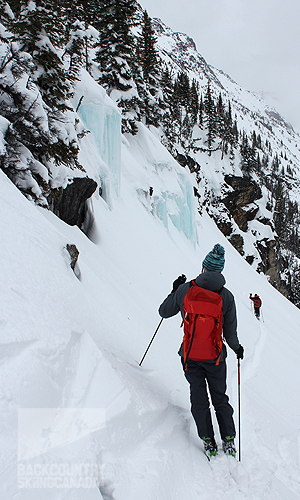 Heading into Urd Bowl. Russ with a no-board.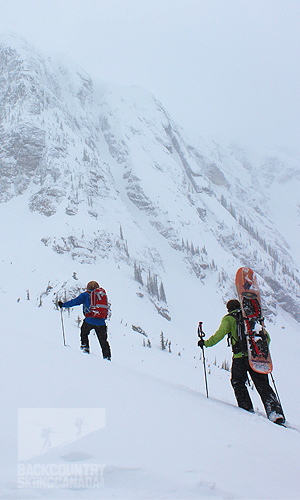 Pow at Ice. Alfred and Wilbur.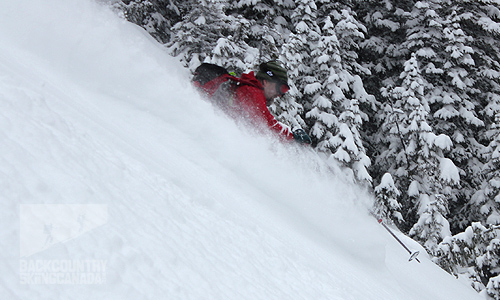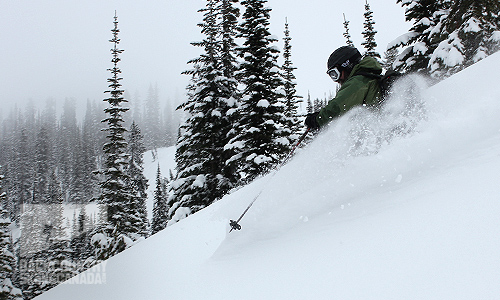 Skinning up to Fat Daddy Col.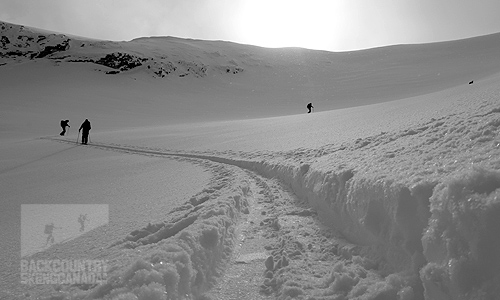 Devil's Range from Fat Daddy Col.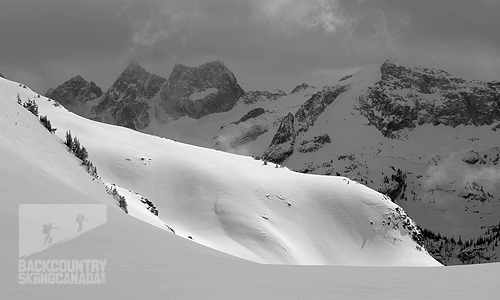 A highlight for the days with Russell was definitely Fuckin' A chute—a perfectly pitched shot enveloped by dramatic, hard-rock walls on either side. Highlights of the alpine, which we got into on days of good viz, were Bro Bowl, Fat Daddy Col and Turtle Head (that last name might be wrong). Over the week, we skied all kinds of terrain: chutes, steeps, alpine, trees, pillow lines and more. It's all there.
The Vibe.
There's a little special sauce at Ice, which boosts one's appreciation up a notch. It's a spiritual place where one feels a distinct connection and appreciation for the snow and for the mountains. It may be the Urd Wellspring below the hut, the frank acknowledgement of friends lost, or the motivation and herculean effort behind creating the whole Ice program. It's just special. Toss in its prime location at 1850m, just outside the western line of the Valhalla Provincial Park, and the high-quality mojo of owners, Russell and Courtney and their regular guide staff, like Joel. It becomes clear why many groups keep coming back for more, season after season.
SPECS:
Price: Guided and catered $2,250 / Guided, self-catered $1,650 (max 10 people). Lodge rental $10,250 (max 10 people)
Location: Staging area is in Burton on the Lower Arrow Lake, about 20 minutes south of Nakusp. Same staging as Valhalla Mountain Lodge.
Airports: The closest reliable are (note the absence of Castlegar) Spokane, WA – 400 km / Kelowna, BC 200 km / Cranbrook, BC – 300 km
Rating: 8.5/10
Comfort 1.5/2
Accessibility 1.5/2
Terrain 2/2
Amenities 1.5/2
Quality/Price 2/2
This is only our opinion. Do you disagree? Did we miss something? Are we totally out to lunch? Join the discussion in the forums here, and let us know what you think. People like/dislike lodges for different reasons so chime in and we'll get a well-rounded evaluation.
Back to the rest of the reviews.
---
A few more photos to get you going...