Ibex woolies base layers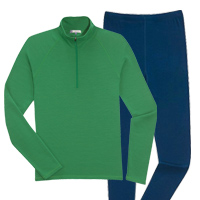 If you have yet to experience the feeling and performance of merino wool, get on it! Isn't it a little ironic that various merino wool companies are popping up on the market and encouraging people to try wool for backcountry skiing? I mean, isn't that what we all started with? The answer is yes. And no. Wool has come a long way in the last two decades. If you are a business guy (or gal) and have bought a suit in the last little while, you know that some amazing things are being done with wool fabrics--spun to be lightweight and cool, as an example. Merino, and how Ibex weaves it, is another quantum leap in the evolution of wool.
Ibex Outdoor Clothing is a smallish company focused exclusively on the design and manufacture of merino wool clothing. They are based in Vermont (which we love) and many of their items are produced in Vancouver. We like the company and their politics—not too preachy and merino-will-save-the-world-y, but good sound business and manufacturing processes backed-up by solid products. To check out other reviews we've done of Ibex gear, see the Ibex Equipo Jacket and Ibex Equipo Pant reviews elsewhere on the site.
The high value of merino wool next-to-skin is almost universally acknowledged. I seem to get a little scratchy around the neck with some of the tighter fitting zip-up turtle necks so I tend to stick with the crews or go unzipped. I have nothing but praise for merino long johns under a hard- or soft- shell layer. As with some other makers of merino clothing, Ibex breaks down its various products according to their thickness or the "micron gauge." 17.5 micron is used in the thinnest baselayers and the thickness increases from 18.5 next, to 21 to 24.5 which Ibex uses in outer layers.
We tested a bunch of Ibex underthings (as well as the Shak Lite 1/2 Zip) and here are some details as well as our impressions:
---
The Ibex Woolies Bottoms:
Price: $70 USD
Inseam: S = 28.5", M = 29", L = 29.5", XL = 30", XXL = 30.5" Black only
Made in Canada (yippee)
Deets/Features:
18.5 micron
100% Zque™ New Zealand Merino wool
150 g/m2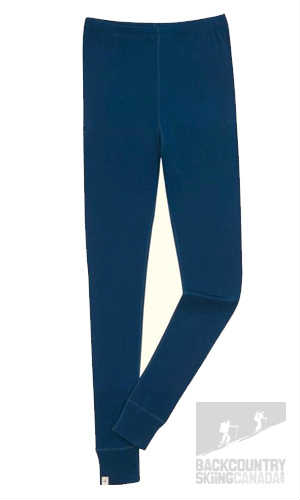 The Ibex Woolies Bottoms are a part of the "BASE" collection because they work as a base layer—and boy do they ever work. Made of 18.5 micron, the woolies bottoms are the next to thinnest layer and can be worn entirely next to skin or with a pair of merino boxers. Whatever you do, DO NOT wear these with cotton boxers. That'd defeat the purpose. The bottoms are one of the best base layers I have ever had. They are perfect under hard- or soft-shell pants and work well under jeans to take the chill off in an under-heated house or while walking around town. These bottoms deliver on the promise of merino. No stink, stay dry, be cozy. They work best when you are on the move. Wear something else if you are stuck in a snowbank.
---
The Ibex Woolies Crew:
Price: $80 USD
Inseam: S,M,L,XL Colours: Salsa, black and parsley (but they change 'em up every season)
Made in Canada (yippee)
Deets/Features:
18.5 micron
100% Zque™ New Zealand Merino wool
150 g/m2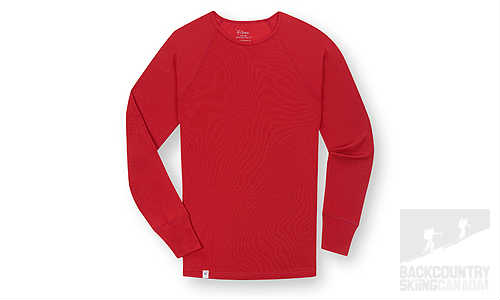 The Ibex Woolies Crew is also part of the "BASE" collection. It works great as part of a layering system or on its own if the weather is good. The choice between a crew and a zip T is entirely subjective. The crew means a little less weight but perhaps a little less flexibility than the zip T. If you are a little sensitive to having tightish clothing around your neck, maybe consider the crew—which is also a 18.5 micron thickness.
---
The Ibex Woolies Zip T:
Price: $85 USD
Sizes: S, M, L, XL, XXL Colours: Green, black (seems to change every season. I have the blue, as pictured)
Made in Canada (yippee)
Deets/Features:
18.5 micron
100% Zque™ New Zealand Merino wool
150 g/m2 Garment weight (oz): 7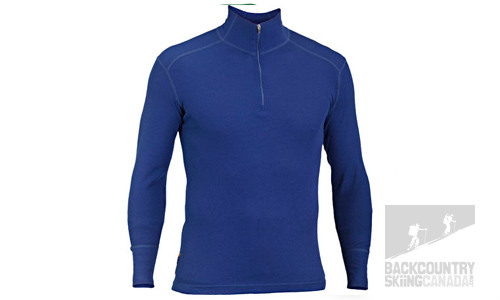 The Ibex Woolies Zip T is made with the same 18.5 micron merino wool as other items in the BASE collection. The zip is a key feature in that it enables one to vent in case of overheating. I just wore the Zip T on an all-day ski tour in warm weather and it kept me very happy. The neck tends to fit tightly and occasionally irritates my skin so I leave it unzipped for all but the harshest weather. This layer is good for biking and hiking too. I often just chuck it in my pack as a back-up.
---
The Ibex Shak Lite ½ Zip:
Price: $120 USD
Sizes: S, M, L, XL, XXL Colours: Black light, anvil grey, Neptune, tree top, tiathalon red, black Made in Canada (yippee)

Deets/Features:
21 micron
100% Zque™ New Zealand Merino wool
295g/m2 Garment weight (oz): 14.88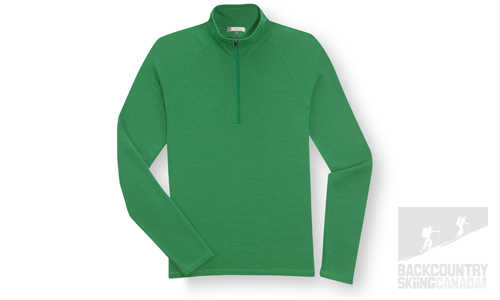 The Ibex Shak Lite ½ Zip is made of 21.0 micron wool and, as such, is a part of the Ibex "PEAK" collection which is more of a mid-layer than the woolies. The Shak lite also fits a little loser and, in my experience, is a slightly less technical garment. I like my mid- and baselayers pretty tight and this is a little loose for me (total personal preference though). The Shak has made it more into my "formal-wear" grouping. It is wonderfully warm for its weight, and looks great over a T-shirt. If I want to prep-out, I wear it over a button-down shirt.
Maximum swag - Ibex Shak Lite ½ Zip and Woolies Zip T Tops.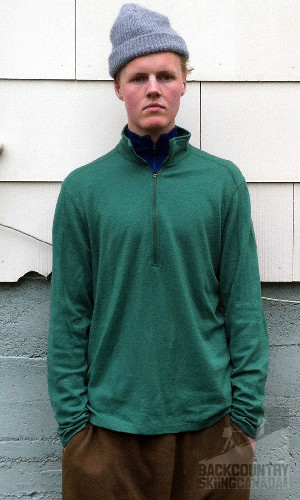 Verdict:
Ibex's single focus on merino means it does a good job and offers a great range of apparel. One thing that I neglected to mention is that merino doesn't stink after repeated wearings. This is very good news but can be said of most makers of merino. Aaaaanyway, the items that we tested all performed as promised—well. The neck in the zip T was as little scratchy to me but that is likely just my babies'-bottom skin. Of everything we tested, I think the woolies bottoms are my faves. Really versatile and high performance.
PROS:
All the pros associated with merino but with the added bonus of funky colours (check out the striped woolies by the way) and a wide range of styles and pieces for various applications. Ibex, the company, also seems to be fairly conscientious and thoughtful.
CONS:
Some may find the tighter pieces a little scratchy but that is likely just me. I have sampled items from other merino manufacturers and Ibex stuff is as soft as any.
Rating: 8.5/10
Fit / Comfort 1.5/2
Warmth 2/2
Moisture Management 2/2
Features 1.5/2
Quality / Price 1.5/2

This is only our opinion. Do you disagree? Did we miss something? Are we totally out to lunch? Join the discussion in the forums here, and let us know what you think. People like/dislike gear for different reasons so chime in and we'll get a well-rounded evaluation.
Back to the rest of the reviews.
---