Head Protostellar 98 Skis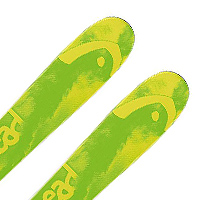 I have been a fan of Head skis ever since I bought my very first pair of resort skis way back in the early 80's. I continued to ski Head skis right through the years when they were crushing it with the Head Monster line of skis. After this I got into backcountry skiing and went for lighter and fatter skis. The Protostellar 98 skis are Head's answer to the growing backcountry market segment. At 98cm under foot (or more accurately 99cm) the Head Protostellar skis are by no means fat but what they lack in width they make up for in shear fun!
The Head Protostellar 98 skis are touted as an Advanced Freeride/Powder Ski designed for off-piste skiing. At 3.7 kilos their weight is conducive to uphill travel in the backcountry. While not the lightest ski out there by any means it's still a respectable middle of the road weight for a touring ski. Their sub 100mm waist width isn't the best for floating in deep snow, however the early rise tips are wide at 125mm relative to their waist dimension and therefore help get the ski above the snow. With this narrower underfoot dimension the Protostellar 98 have an increased edge-to-edge quickness over other fatter powder skis and are therefore more agile on groomers and hard pack snow.
Their 80% camber / 20% rocker design is similar to the Salomon Q98 Skis that we reviewed last season.
http://www.backcountryskiingcanada.com/index.php?p=page&page_id=Salomon-Q-98-Skis-Review The early rise tips means that the Protostellar 98 is versatile and maneuverable, while the camber under foot provides great edge hold with a solid carving ability.
Head is a US born ski manufacturer which was started by an aeronautical engineer Howard Head in 1950. The company manufactures everything from tennis rackets to shoes and of course skis. They have been instrumental in creating several technologies such as LiquidMetal energy recovery, Aircoat cores and Intelligence electronic ski management. While these technologies have for the most part faded away over time Head continues to manufacture solid skis for the resort crowd and now has it's sights set on the backcountry market as well.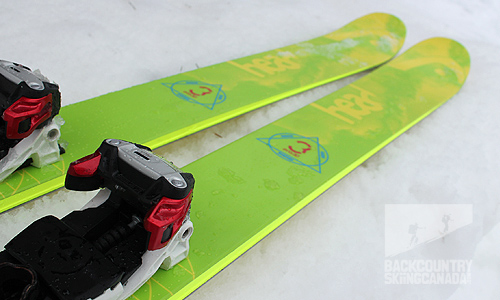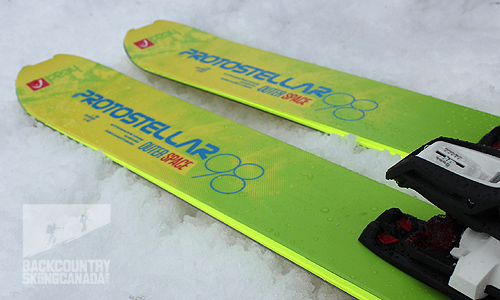 Features:
- ERA 3.0 rocker technology features 80% camber and 20% rocker in the tip for maneuverability and float
- Nano Tech surface
- Lightweight wood core
- Sandwich cap construction
- Die-cut UHM C base
- Progressive Radius
- Intellirise Rebound for stability
Plenty of early rise in the tips.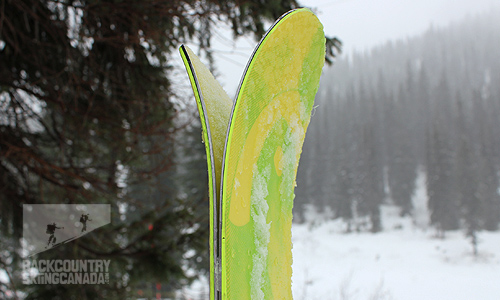 The tails have a slight flare and a built in skin notch to keep your climbing skins in place.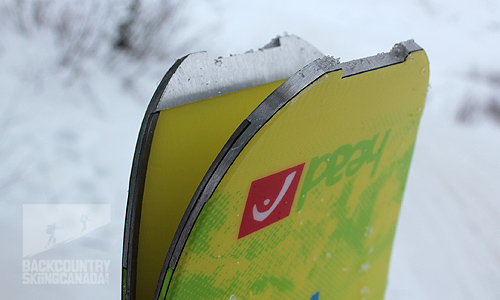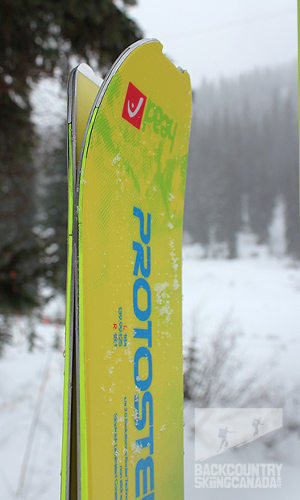 Sandwich constructions with camber underfoot.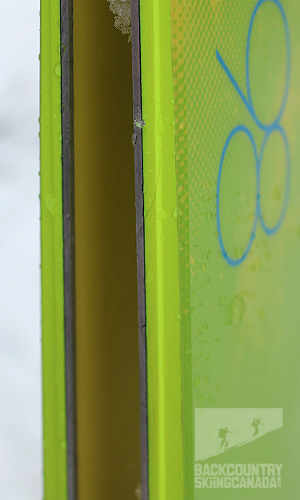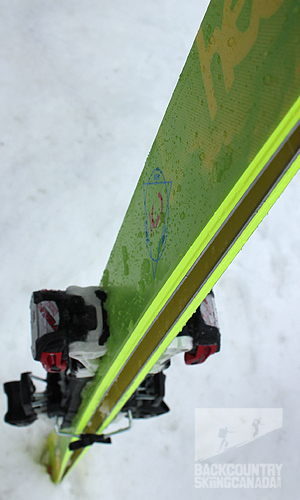 Verdict:
As you can likely guess at 99cm underfoot the Protostellar 98 is not going to get huge marks for float in deep powder snow but it did impress as an all-round ski for resort skiing and sidecountry laps. While I would not choose this ski to be my dedicated backcountry ski I would pick it for an all-round ski that tackles chunder, pow and especially groomers. With camber underfoot the Protostellar 98 rails on groomers and is good at edge-to-edge proficiency. The early rise tips do have some chatter which can cause the ski to get away from you on very hard pack or in icy snow conditions.
The classic shape, dimensions, camber and early rise make the Head Protostellar 98 a solid ski for those looking to do it all. I would classify it for those who are a 75% resort / 25% backcountry skier. Given their modest weight I was very surprised at how aggressive this ski was in all conditions. In softer snow the Head Protostellar 98 skis were the most fun and were able to drive over crud easily while still having a fast edge-to-edge transfer given their turn radius and narrow width underfoot. They had good flex in the bumps but are stiffer than they are soft. On groomed corduroy, big GS turns are a blast thanks to all that camber underfoot, on solid ice they struggle as most skis do.
While their dimensions don't make them a pure backcountry player the Protostellar 98's are great for resort and sidecountry excursions under the ropes but not a serious multi-day trail breaker. 
SPECS:
Price: $699CAN
Weight: 3.7 kg / 8lb 3oz
Lengths: 156/163/170/177/184
Dimensions: 139/99125mm
Radius: 18.1m
Intended Use: All-Mountain/Touring
PROS:
- Modest width underfoot allows it to ski resort and sidecountry with ease
- Dimensions allow it to rail on groomers while still blasting through chunder
- Super vibrant top sheet graphics
CONS:
- Not a pure backcountry ski and in deep powder 98 underfoot may make you wish for more
- Tip chatter due to the early rise can affect how the edge hold performs if you do not stay on top of them
Rating: 8/10
Powder Performance     1/2
Groomer Performance   2/2
Stability                       1.5/2
Weight                         1.5/2
Value                            2/2

Join the discussion in the forums here, and let us know what you think. People like/dislike gear for different reasons so chime in and we'll get a well-rounded evaluation.
Back to the rest of the reviews.
---