Haglofs Flint Soft Shell Pants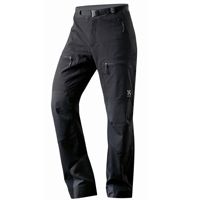 I have been a fan of Haglöfs products since initially reviewing the Haglöfs Endo Jacket. In traditional Haglöfs style, the Flint pants do not disappoint. Haglöfs has a wonderful way of combining design, functionality and materials together to not only look great but also perform as intended in the mountains.
The Haglöfs Flint pants work as a great all mountain pant. You can use the Flints for hiking, snowshoeing, mountaineering, rock climbing, alpine climbing and also, of course, backcountry skiing. They have great stretch properties to give you a full range of motion no matter what your choice of activity. Because these are a soft shell pant they breath exceptionally well while still blocking out the wind's bite. The fabric is designed to wick away moisture and keep you dry while the DWR (durable water repellent) treated face ensures that the snow and rain will not wet you from the outside. Keep in mind that these pants are soft-shell and so are not designed for a downpour, if you are caught out in the rain, you will get wet.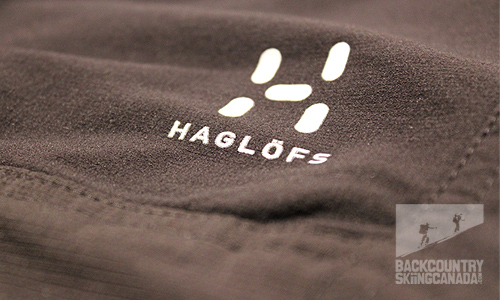 The Haglöfs Flint pants are light but sturdy and will take some abuse thanks to the combination of two soft shell materials. The thicker of the two materials is enhanced with a mix of Cordura fibre for superior strength and wear and at the leg cuff it is even more bomber in order to prevent ski edge tears.
Features:
- Reinforcements on the knees and inside of the ankles in Schoeller Keprotec 880.
- Flat waist belt with laminated loop tunnel construction.
- Two front, two front-thigh and one back pocket, all zippered.
- Closure system with zip fly and double button.
- Adjustable inner gaiter and lower zipper for easy put on and off and adjustable volume at the boot
- Form-fitted legs with articulated knees.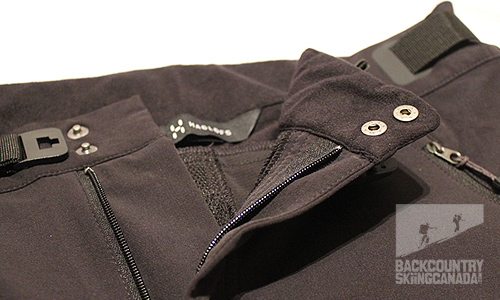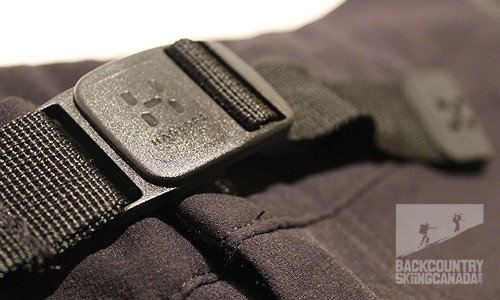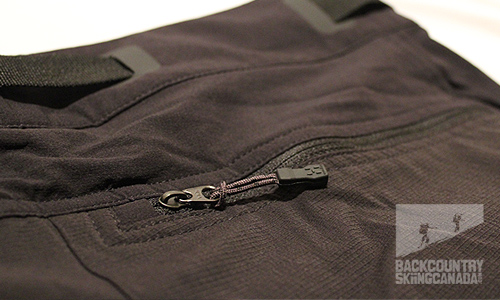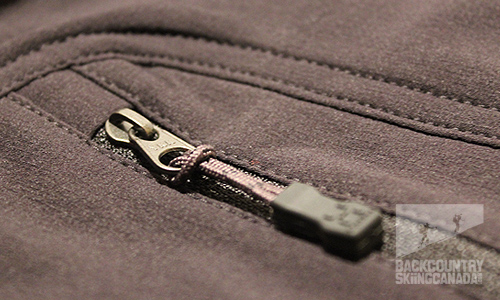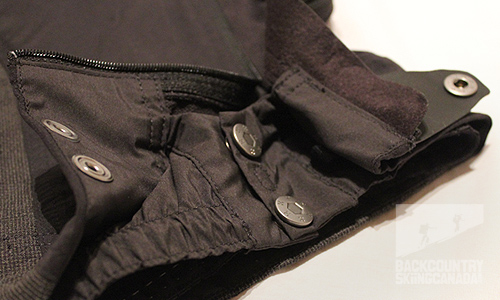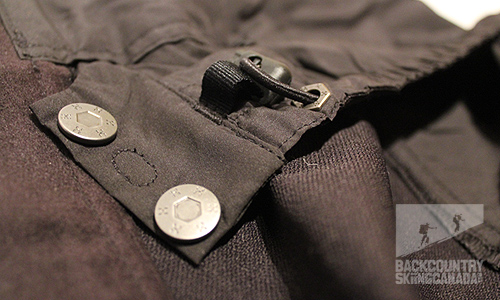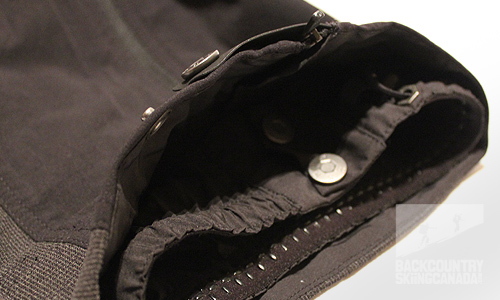 A Bluesign® product:
The Bluesign product label means the Flint pants are manufactured in accordance with highest environmental standards. Textiles with this label are ideal for people with sensitive skin. The independent Bluesign environmental standard guarantees compliance with stringent standards in regard to consumer safety, occupational health and safety, water and air emissions. It ensures conservation of resources and the exclusion of hazardous substances throughout the entire manufacturing chain of all labelled products.
Fabrics:
The Haglöfs Flint pants are constructed with Flexable® 1557 and Flexable ® 1559 which are durable 4-way stretch ripstop weaves. This provides a lightweight and wind resistant 4-way stretch pant with superior abrasion resistance. The material is composed of 90% Polyamide and 10% Elastane which weighs 205 g/m2. Being a Bluesign product the Haglöfs Flint pants are Luorocarbon-free and use a hydrophobic treatment DWR which is 100% free of fluorocarbons.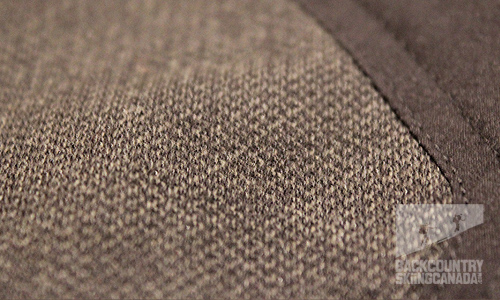 Verdict:
The biggest benefit of the Haglöfs Fllint pants is that the design is not über-specific to backcountry skiing so they are versatile enough to use for several activities. The design is also detailed enough that you can partake in some après-ski without feeling like you have ski pants on. All five pockets are mesh lined to provide additional ventilation when needed. The location of the two thigh pockets are also strategic to help you get rid even more heat. The built in belt and dual snap closure system keeps them up where they belong and wins the war with your pack which constantly tries to ride them down. The interior of the waist is fleece lined so they feel super soft and won't let the belt dig into you even with your pack hip belts centred right on the belt. I found that they were warm enough on milder shoulder season days but with light insulation underneath they are good in -5 to -10 celsius weather as long as there is not too much wind. They keep you cool on the up track and dry on the down as the snow sheds well and does not penetrate thanks to the DWR. The cuffs have a built in zipper and two snap options and similarly the gaiters have two snaps and velcro closure system so the snow stays out. While this flexibility is nice I did find them a little snug around my AT boots, however they did fit and it eliminates the bell bottom ski pants look when you are wearing them around town. Overall a solid design and construction which looks and feels right.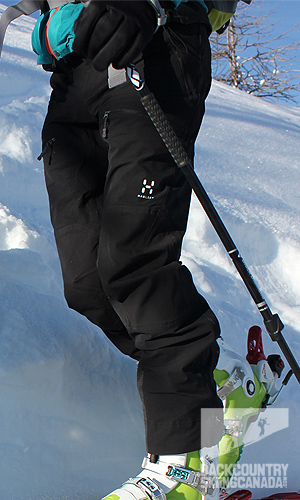 SPECS:
Price: $275 CAN
Sizes: S/ M/ L / XL / XXL / XXXL / XS
Colours: Black
Weight: 550g (size L)
PROS:
A beautifully designed pair of soft shell pants that work well for mountain adventures and makes you look good doing it. Lots of pockets and room to move.
CONS:
Cuffs and gaiters are pretty tight around a pair of ski boots and the belt slips loose easily while you wear them.
Rating: 9.5/10
Fit / Mobility 1.5/2
Packability 2/2
Warmth / Breathable 2/2
Features 1.5/2
Quality / Price 2/2

This is only our opinion. Do you disagree? Did we miss something? Are we totally out to lunch? Join the discussion in the forums here, and let us know what you think. People like/dislike gear for different reasons so chime in and we'll get a well-rounded evaluation.
Back to the rest of the reviews.
---
UPDATE APRIL 2013:
The Haglofs Flint Soft Shell Pants are my go to spring ski touring pant. They are pretty light weight and just fit over my ski boots so I wear them when the mercury hovers over zero degrees. Nothing worse than getting to hot on a spring tour but luckily the Flint pants have mesh venting pockets to let some breeze in. These are also the best looking soft shell pants I have seen on the market, that classic Euro-styling again. After 18 months of wear everything still functions and the ski edge nicks on the inside of the ankles has been non-existent thanks to the Schoeller Keprotec 880 fabric.
---