Haglofs Endo Hard Shell Jacket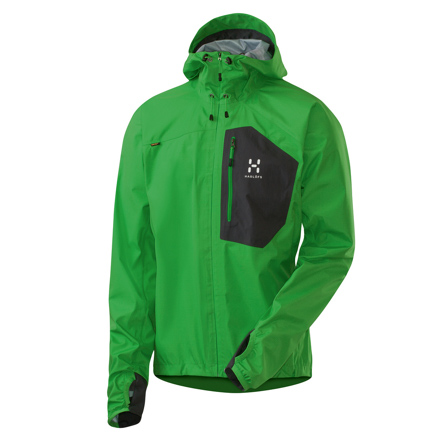 This autumn/winter there is a new breathable/waterproof fabric from Gore-Tex hitting the shelves for the 2011/2012 season and Haglöfs will be one of a handful of companies integrating this fabric into a new shell design. This new fabric is called 'Gore-Tex Active Shell' and it is a lighter, thinner Gore-Tex membrane with improved next-to-skin comfort. They achieve this by still using a 3-layer construction. This time, however, the garment lining is integrated in the Gore-Tex membrane. W.L. Gore and associates claims "Sweat is very quickly conveyed away from the skin and transported out through the textile in the form of water vapour, while moisture produced by rain, snow and wind has no chance of penetrating. These outstanding moisture management capabilities ensure optimum body climate control for maximum sports performance." In short, this new fabric increases breathability while reducing weight – win, win. Enough about the fabric though, lets talk about the Haglöfs Endo Jacket which takes this minimalistic, lighter approach and applies it to their new shell.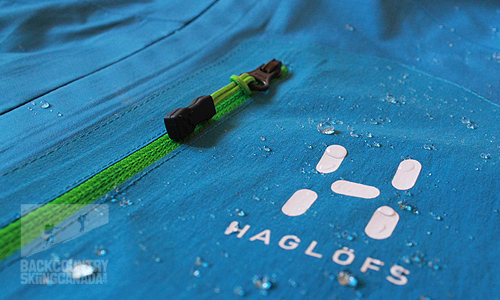 The Haglöfs Endo Jacket is the first Haglöfs waterproof jacket made with Gore-Tex Active Shell. It will be available for the 2011/2012 ski season in the late fall. Thanks to the use of the new Gore-Tex Active Shell the Endo jacket is highly packable and very light while providing increased breathability. This increase in breathability means you are more comfortable and thus enables you to wear the Endo jacket for extended periods. Technically then, this allows for a single jacket solution - i.e. same jacket for the up and the down (we will need some more time on the snow next season to confirm this one for you). Haglöfs went even further to reduce weight incorporating non-traditional stretch fabric cuffs with thumb holes, thus eliminating the ubiquitous velcro cuff adjustments. This is a nice change which makes the cuffs more streamlined, enabling them to fit under your gloves and seal out the cold and snow. When you are on the skin track (sans gloves) the thumb holes provide some warmth and protection. Haglöfs has also streamlined the hood adjustability and eliminated everything but the draw cord, again reducing weight and keeping the function. For those ladies out there Haglöfs has not forgotten you, they have also created the women's-specific equivalent, the Endo Q.
Fabric:
In order to use the new Gore-Tex Active Shell fabric Haglöfs has had to follow some rather strict guidelines on construction to maintain maximimum breathability. Haglöfs was only allowed the equivalent of an A4 sheet of paper in pockets and double fabric areas. This means that there are no pockets on the Endo jacket except for a single chest pocket, which is made from a light soft shell material to optimize performance/breathability. The details of the fabric by the numbers are below:
GORE-TEX Active Shell: 100% polymide, double ripstop 30D face with ePTFE membrane and knitted backer. 105g/m2
Hydrostatic Head: >28,000 mm
(Rain resistance is measured as a hydrostatic head in millimetres (mm). This indicates the pressure of water needed to penetrate a fabric. Heavy or wind-driven rain has a higher pressure than light rain. Whilst a hydrostatic head of 1,500mm will keep out heavy rain, it will not stand up to the increased pressure put on a fabric in general use and by backpack.)
RET: <3M
(RET stands for "Evaporative resistance of a textile, which shows the levels of resistance the fabric has to allow evaporation. The lower the resistance, or RET, the better the breathability. 0 has excellent breathability whilst a RET of 30+ is not very breathable at all.)
Features:
GORE-TEX Active Shell: new levels of breathability in a waterproof shell.

Fit: Dropped rear hem and articulated sleeves.

Innovative pattern construction: reduces weight and bulk.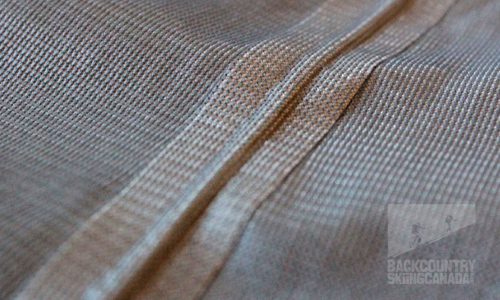 Hood: Three way adjustability.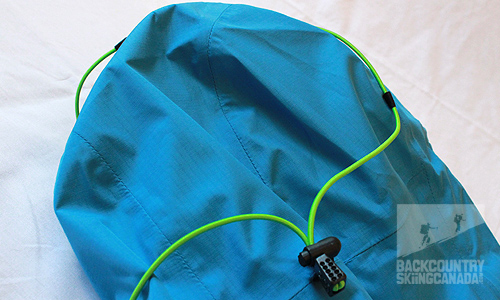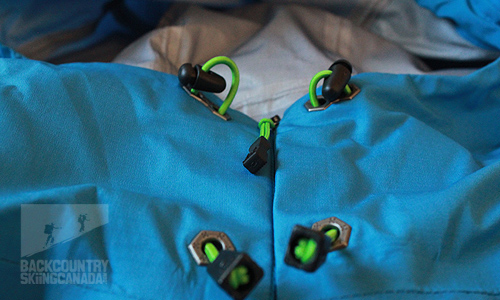 Zipper: GORE-TEX weather guard behind watertight main lightweight YKK zips with laminated tricot chin guard.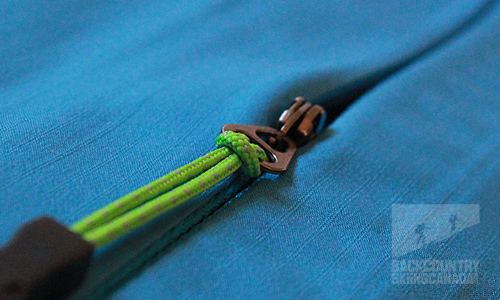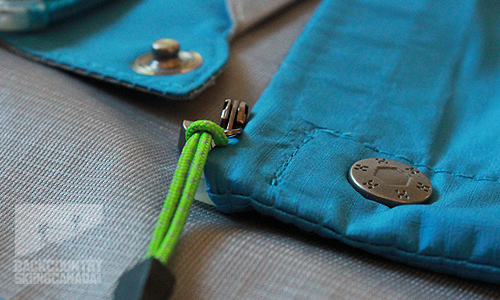 Chest Pocket: Breathable, stretch woven non membrane zippered chest pocket.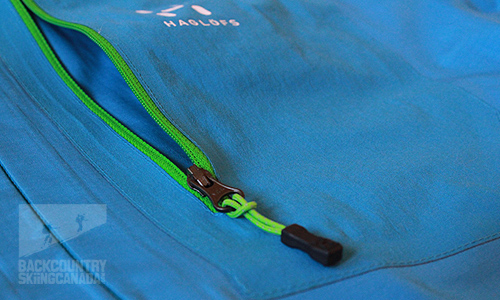 Hem adjustment: Single handed waist adjustment.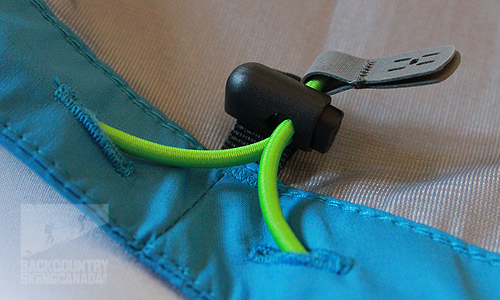 Cuffs: shaped elasticized cuffs with thumb loops.

Safety: reflective detailing.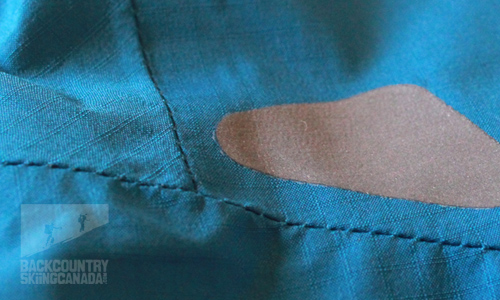 Verdict:
With almost 100 years of manufacturing behind them and a solid European influence it is easy to see why Haglöfs dominates the market in Europe. They take the time to focus on the details and eliminate any superfluous details to create functional products that work. I am a fan, can you tell? After spending some time with the Haglöfs Endo jacket I quickly grew to love it. Initially I thought the bare-bones hood adjustment and lack of pockets was a little strange, but like all good things you eventually see the light. I cannot say enough good things about the soft shell cuffs. They work well, feel super comfy and will likely eliminate that weak crease in the fabric that you get after a few years of use with traditional velcro cuffs. With so many innovative and functional elements to this jacket there is still one that stands head and shoulders above the rest. I wish I could say it was the Gore-Tex Active Shell - however this did function as promised and it is a game changer, but no… it is the zipper. The Haglöfs Endo Jacket uses a micro YKK zip that is invisible when zipped up and sheds any exterior moisture. To engage the zipper the mechanism is incredibly sleek and flawless and works well with gloves on (even given its micro size). All of this adds up to a great product and if they ever make in-roads into North America it will surely raise the bar.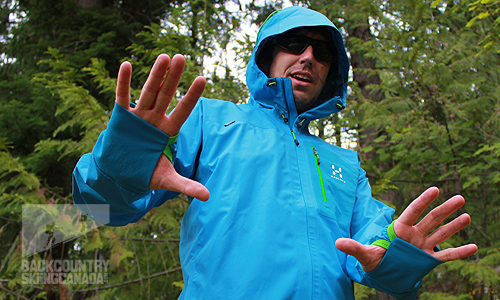 SPECS:
Cost: $340 CAN
Weight: 320g (Mens Large)
Sizes: S, M, L, XL
Colours: Oxide Green, Blue, black
Awards: Nominated for a 2011 Scandinavian Outdoor Group Award
PROS:
Really light, bare bones jacket that packs down to nothing. Gore Tex Active-Shell lives up to its accolades.
CONS:
Minimal hood adjustments may get snagged in the trees if you ski with your hood up. While the hood is technically not "helmet compatible" it did work well with those that we tested.
Rating: 9.5/10
Fit / Mobility 2/2
Packability 2/2
Waterproof / Breathable 2/2
Features 1.5/2
Quality / Price 2/2

This is only our opinion. Do you disagree? Did we miss something? Are we totally out to lunch? Join the discussion in the forums here, and let us know what you think. People like/dislike gear for different reasons so chime in and we'll get a well-rounded evaluation.
Back to the rest of the reviews.
---
UPDATE APRIL 2013:
The Haglofs Endo Jacket came to us as a pre-production model and it was still built flawlessly. Over the past two years this jacket has become my dedicated ski touring jacket thanks to it's minimal design and compact size. It's still waterproof thanks to the Gore-Tex Active Shell material and the zipper is still the coolest thing I have seen. The colour is not a friend of dirt but I baby this piece of gear and it stays fairly clean. After almost 100 ski tours in this jacket I can say that is is truly a great piece of gear and ideally suited to backcountry skiing and any activity where weight and space are at a premium.
---