Haglofs Arete jacket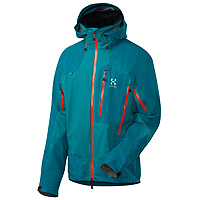 The Haglöfs Arete jacket uses what the industry calls 'body mapping' or 'zonal construction' to combine the benefits of multiple fabrics into one jacket. While some jackets combine totally different materials the Arete jacket uses no fewer than three types of Gore-Tex fabric to get the job done. This includes the new and very popular Gore-Tex Pro shell 3-layer waterproof/breathable fabric. This combination of Gore-Tex fabrics applies the benefits of each to areas on the jacket where they work best. Ripstop capabilities on the torso of the jacket, extra waterproofing for the hood and chest pocket and the standard Gore-Tex 2-layer everywhere else. It is redundant to say that this is a 100% waterproof breathable shell, however I want to mention that the Arete has a soft mesh liner to keep your skin away from the Gore-Tex interior fabric which normally would make you sweat should you wear it with out any insulation layers (or as a rain jacket in the off season). The Collar is also backed with a light fleece lining which is super soft and warm for when the wind picks up and you need to batten down the hatches.
Thanks to the unique material combinations of the Haglöfs Arete jacket it does not have that stiff, heavy feel of many gore-Tex jackets in the technical, full featured mountaineering category - of which this jackets belongs. The cut is generous and comfortable to wear as there is lots of room to manoeuvre while skiing down or skinning up. The articulated sleeves feel natural and the hood cocoons your head and face with the ingenious wire brim.
The pockets on this jacket are not only finished with beefy waterproof zips on the exterior, they are abundant, large and functional (you can never have enough pockets in my opinion). The two internal elastic pockets are large enough to accommodate your skins on the up-track (one per side). Of course no jacket is complete with out pit-zips and the Arete has these - massive double zip ones.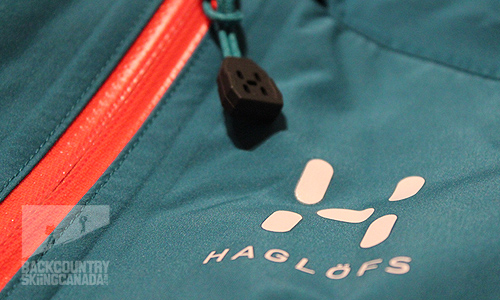 Features:
A multitude of features are show below and a few more include articulated sleeves, waterproof and highly breathable Gore-Tex fabrics with reinforced in critical areas.

Hood: Stand alone collar with 3-layer Gore-Tex® Pro Shell 3-way adjustable hood.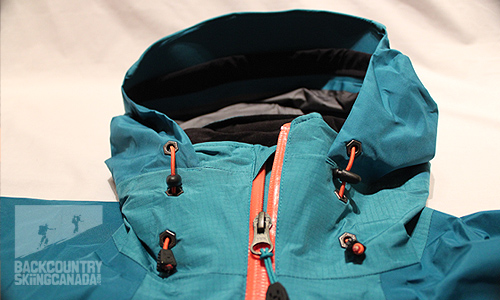 Fleece lined collar: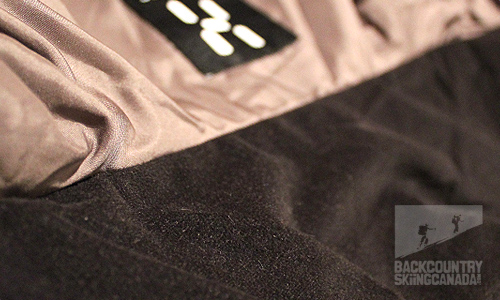 Pit Zips: Watertight pit zips for increased ventilation.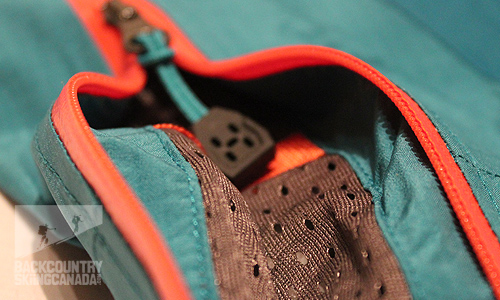 Cuffs: Velcro adjustable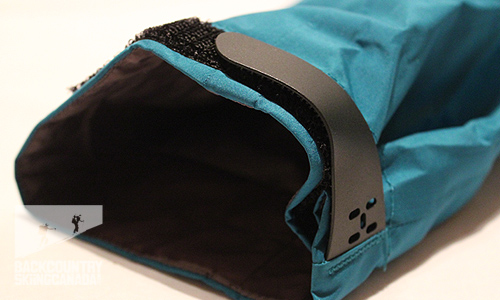 Zipper: Include Sipper Garages

Pockets: Three inner mesh pockets – one zippered, One laminated 3-layer Gore-Tex® Pro Shell chest pocket.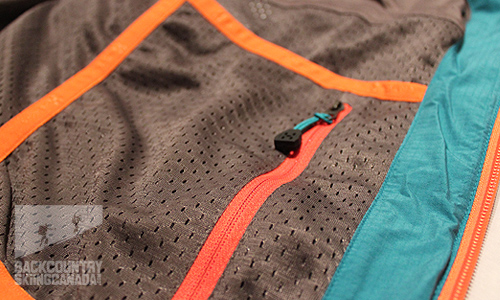 Hem: Single-hand adjustable hem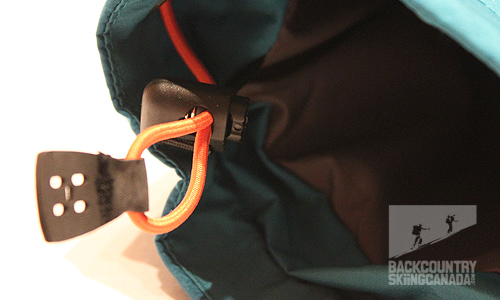 Fabric:
The Haglöfs Arete jacket utilizes two types of Gore-Tex 2-layer material, one with ripstop for the main body to provide added protection from rips and abrasions and good 'ole Gore-Tex 2-layer for sleeves and hem. The hood and chest pocket use 3-layer Gore-Tex Pro Shell to offer even more waterproof protection in those important areas.
Gore-Tex® 2-Layer Performance Shell double ripstop
Material: 100% Polyamide, 30D double ripstop with ePTFE membrane.
Performance: Hydrostatic head: >28,000 mm, RET: < 6
Weight: 85 g/m²
Gore-Tex® 2-Layer Performance Shell 85 g/m²
Material: 100% Polyamide, 40D plain weave with ePTFE membrane.
Performance: Hydrostatic head: >28,000 mm, RET: <6
Weight: 85 g/m²
Gore-Tex® Pro Shell 3-Layer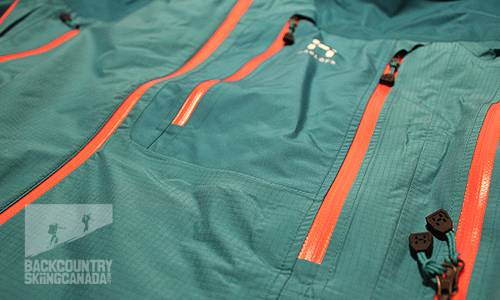 VERDICT:
I like this jacket—a lot. It feels really comfortable and roomy while not being too wimpy and thin. This is thanks to the materials but also the articulated sleeves and active cut. The hood contours around your head with lots of adjustable features, of which I like the wire brim the best. All the pockets are waterproof and instil confidence every time you zip them up and down - these suckers are beefy - no moisture is getting past them. The pockets themselves are some of the most generous on the market and can easily accommodate a map or climbing skin each should you choose. Nice details including on the zipper tabs and cuffs round things out for this reviewer. The one downside is that I cannot personally pull off the Kollibri Blue/Teal Blue with orange zipper combo - no offence to the colours, I just can't seem to rock it.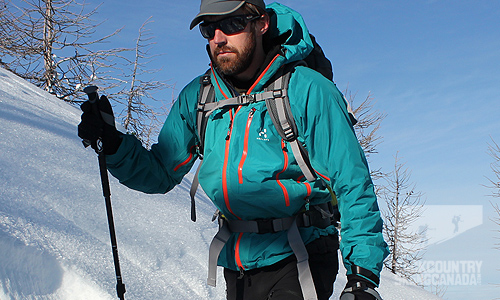 SPECS:
Price: $520 CAN
Sizes: S/ M/ L / XL / XXL
Colours: Sunset/Orange Rush, Kollibri Blue/Teal Blue, Black, Abyss Blue/Messo Blue
Weight: 650g (size L)
PROS:
Details on the small things, zonal construction, articulated sleeves and active cut, wire brim adjustable hood, soft fleece lined collar and deep - deep pockets are but a few of my favourite things.
CONS:
Ability to stow the hood would be nice and a media port from the chest pockets.
Rating: 9/10
Fit / Mobility 2/2
Packability 2/2
Waterproof / Breathable 2/2
Features 1/2
Quality / Price 2/2

This is only our opinion. Do you disagree? Did we miss something? Are we totally out to lunch? Join the discussion in the forums here, and let us know what you think. People like/dislike gear for different reasons so chime in and we'll get a well-rounded evaluation.
Back to the rest of the reviews.
---