Giro Montane Helmet and Onset Goggles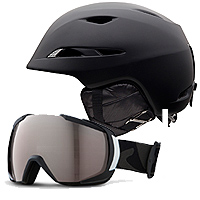 There are few sports, or activities I can think of, if any, where a simple area of tanned skin in the wrong location can determine one's class in their chosen activity's society. Sure a farmer tan at the beach isn't the best look, but it just says you've had the pleasure of spending lots of time outside, if not always at the beach. Walk into a lodge or step into a slope-side hot tub with a band of tan across your forehead however, and you'll likely exit the hot tub as single as you entered it. Indeed, the feared gaper line screams out beginner, and may just be the only justifiable reason to visit a tanning bed ASAP. Thus, the need for a perfect fit between helmet and goggle is not just about comfort, warmth and style, but rather is critical to your social standing among fellow snow sports enthusiasts.
This winter, I have protected my melon for the first time since my high school racing days. For numerous reasons I avoided them; too hot, too cold, bad fit, too heavy, not stylish enough, can't hear well, lack of flexibility for weather changes, etc. You name it I have used every reason not to wear a helmet over the years. Strapping on the Giro Montane helmet and Giro Onset goggle combination this season, I was able to eliminate all of the above complaints, and the integrated helmet / goggle system eliminated the potential for gaper line humility.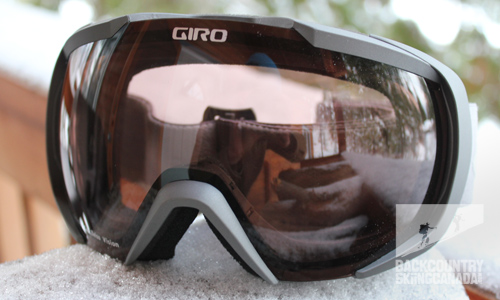 Just as I'd always shunned helmets in the past, so too had I shunned the family friendly skiing of the Okanagan. While one wall was falling, why not knock down others? My first day out on the Giro helmet / goggle combo was a New Year's Eve backcountry mission at Big White. I know right? Backcountry at Big White? Weird. The conditions proved to be epic, and a wide ranging test for the new gear.
Boot packing up from the T-bar, and then skinning along the ridgeline looking for the opportune drop in off the undeveloped, provincial park on the North face of the mini-range, the first issue I had with the helmet was exposed. Not used to skiing with helmets, I found the biting winds nipped at my noggin more than I was used to from my toque and hood days. My Zimstern coat's hood would not comfortably go over the helmet, so it was a case of chin tuck and bear it until we dropped into the windless backside bowl. Still unfamiliar with the helmet, I realized, on reaching the wind scoured summit the second time around that the vents were open. Locking down the generous 12 vent system with a mitten friendly, switch solved the cold issue.
The surprisingly light helmet proved to be plenty warm and more comfortable than I expected any helmet to be. The earflaps, ready-made for aftermarket in helmet audio systems if that's your thing, met the ideal balance of comfort, and warmth without being so tight as to negatively affect your hearing. The weight was what really impressed me. At 380 grams the Montane was built for the backcountry skier looking to protect their head. I kept the helmet on for the first four skin ups, on an overcast morning of about -5 degrees without fogging issues. Giro's in mold construction process which fuses the helmets shell to its liner, forming a one piece exoskeleton is their explanation for the helmets ability to be durable, strong and light. From the backcountry skier's perspective, you could easily replace your toque entirely and wear their helmet on the ups and downs in most temperatures with ease.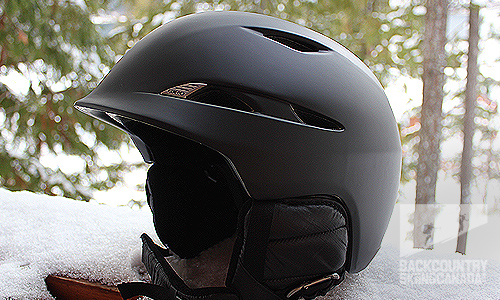 With the sun breaking through in the afternoon and temperatures hovering around the freezing mark, I did encountered fogging along the top of the goggles and opted to take off the helmet and hang it off my pack for the final two skins. The built in mini-carabineer on the back of the helmet made it a quick clip-on, change-over on the move. The newer model of the Montane helmet model has incorporated a vent directly above the goggles aimed at eliminating the fogged up situation I faced as temperatures rose.
The comfort and fit of the helmet is unique to Giro and well known by anyone who's used a Giro bike helmet in the past. My personal issue has always been finding a helmet with a good fit. Partly due to my seemingly irregularly shaped and large head, in the past I've always had to try on XXL helmets and then pad them smaller to fit I'd still always seem to end up with a pressure point on my forehead. Giro's Roc Loc 5 system, made adjusting the fit a breeze. The small dial at the back of the helmet, easily operated with mitts on allows you to tighten and loosen the helmet without removing it. Like Nike Pumps back in the old days, the head cradle hugs inward evenly around your skull as you turn the dial. Personally I enjoyed the comfort of backing it off a bit looser for the ascents and ratcheting it up for the descents. Chipping away the grams, their Roc Loc version five knocked off 40% of its weight from version 4.
The front contours of the helmet naturally align perfectly with the Giro onset goggle. The really true test with goggles of course is a simple one. Can I see where I'm going consistently and regularly without having to take my goggles off every ascent and descent to wipe down the fog? Having just gotten back into touring with a helmet, I wanted to keep my goggles on for the ascent and descent. Neither stretching them out to sit on my helmet brim, letting them hang off the back of the helmet, nor packing them up each run seemed like a good option. Knowing that and thinking of previous goggles I've owned over the years I had low expectations. Transitioning from high winds and a fast descent to a windless bowl, and increasingly higher body temperature on the ascent the Onset's functioned near flawlessly. A few months into wearing the goggles I have found though that the anti-fog is less and less effective. Doing an "urban backcountry" mission from door to door on skis in Rossland this week, at minus 6 they were fogged from the top down just enough to be frustrating half way up the first ascent. It was likely due to many goggle wipes with mitts on, but regardless, after a about 15 uses, the anti-fog is not what it originally was.
On the down, the spherical lenses provided an exceptionally wide view plane. The parallel vision afforded was near perfect. According to Giro they offer the widest peripheral vision of any goggle on the market, and I'd have to agree with them. Going to the masters of lense technology, Carl Zeiss, Giro nailed it when it comes to undistorted, clear and wide vision. The nature of the spherical design was interesting in that it creates a larger space between your eyes and the lense. On the technical side that design allows for less prismatic distortion of your vision, and cuts down on fog up potential. In practical terms, it created an interesting spacious and comfortable feeling that had a luxurious feel to it.
Features:
Giro Montane Helmet
Certification: ASTM F2040 / CE EN1077
Vents: 12 with "thermostat" control / ability to partially open or close vents
Construction: In mold construction creating a one-piece 'exoskeleton' allows low weight, durability and better venting
Compatibility: with Tune-ups audio system
Built in carabiner for clipping to your pack.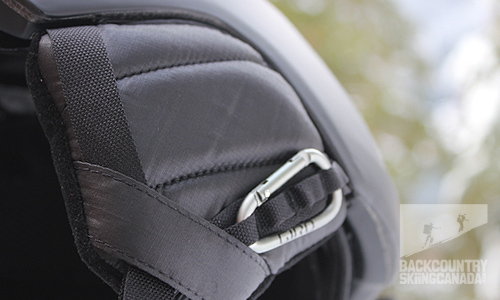 Goggle strap retention system.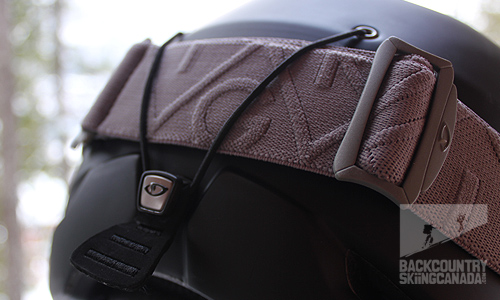 Ear flaps to keep the cold out.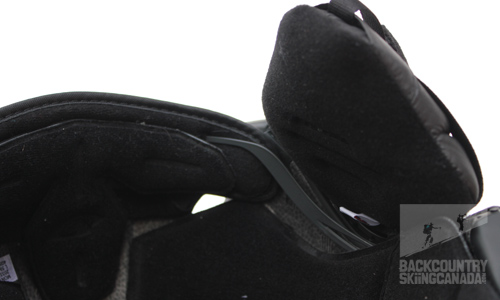 Padded fast clip for securing.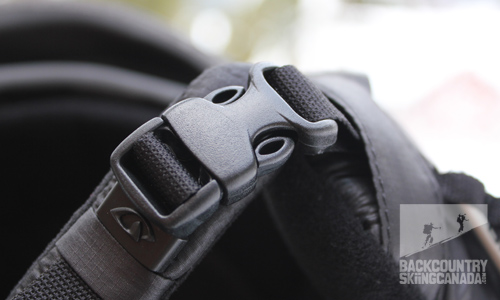 Adjustability for big or small.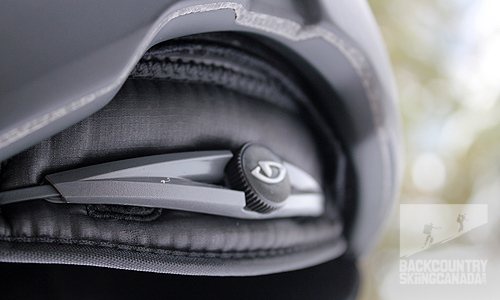 Giro Onset Goggles
Lens Type: True Sight™ by Carl Zeiss Vision Spherical dual lens
Design: Helmet Compatible
EXV Technology = super wide peripheral vision
Super Fit large size adult frame
Triple layer face foam with micro fleece facing
Anti-fog coating
Venting uop top.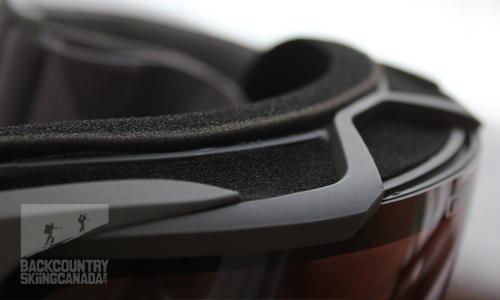 Foamy soft.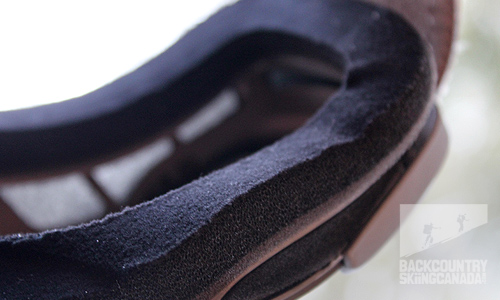 Verdict:
Now two months into wearing them, the Giro helmet and goggles combo has become my go to headwear whether in the backcountry or riding lifts. If you're a gram shaver in the backcountry, this is the helmet you're looking for, combining comfort and durability with a super lightweight.
My previous negative attitudes toward helmets have been shattered and I'm comfortably and warmly rocking full head gear around the mountains, even the previously unknown to me Okanagan backcountry. My face and head have already thanks me many times over for taking the impacts of countless tree limb whips. While I have yet to crash test the helmet, here's hoping it does its job when needed. Until then, count me among the converted when it comes to bringing a lid along on backcountry treks.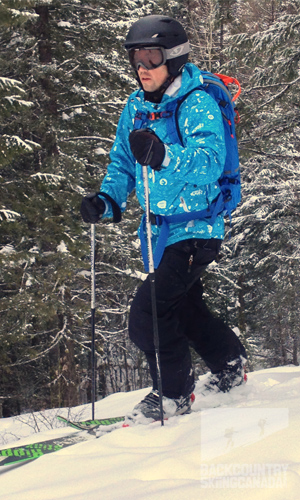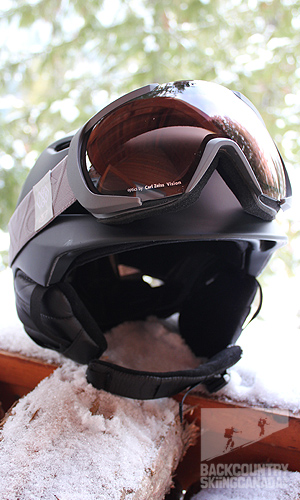 SPECS:
Giro Montane Helmet
Price: $130.00
Weight: 380g / 4.58 oz
Giro Onset Goggles
Price: $125 -$150
PROS:
Giro Montane Helmet
- Super lightweight
- Easily adjustable sizing while keeping gloves on
- Built in mini-carabineer for easy transition to hanging on pack
- Built to fit with Giro goggles
- Comfy and warm
Giro Onset Goggles
- Super wide peripheral vision, widest of any goggle on the market
- Spherical Carl Zeiss lense had no distortion
- Seamless fit with Giro Montane helmet
- Comfy face foam
CONS:
Giro Montane Helmet
- This model did not have a front vent to match up with goggle venting and increased goggle fog up. Note this has been rectified on current models.
- Not the most stylish helmet on the hill
Giro Onset Goggles
- Anti-fog began to wear off after about 10 days wearing them
Montane Helmet Rating: 9/10
Comfort / Fit 2/2
Features 1.5/2
Function 1.5/2
Quality 2/2
Price 2/2
Onset Goggle Rating: 6/10
Comfort / Fit 1.5/2
Features 1.5/2
Function 0/2
Quality 1/2
Price 2/2

This is only our opinion. Do you disagree? Did we miss something? Are we totally out to lunch? Join the discussion in the forums here, and let us know what you think. People like/dislike gear for different reasons so chime in and we'll get a well-rounded evaluation.
Back to the rest of the reviews.
---