Giro Chapter Helmet and Basis Goggle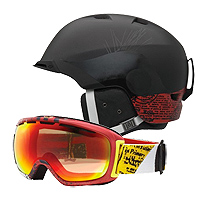 When it comes to safety in the backcountry, one of the most under-utilized tools is likely the helmet. I was looking for a light helmet that offered good ventilation and fit – basically, a helmet that could tour comfortably. Along comes the Giro Chapter, a lightweight, well-vented helmet combined seamlessly with the exceptional Giro Basis goggle.
When it comes to deaths due to avalanches in BC and Alberta, a recent study (http://www.cmaj.ca/content/180/5/491.full) showed an average of nearly one quarter are caused by bodily trauma (30% for heli skiers and and 33% for out-of bounds skiers) and half of those are caused by head trauma. Needless to say, wearing a helmet in the backcountry can significantly increase your chance of avoiding injury and possibly death. But with all the bulky, heavier models on the market, I found the Giro Chapter and Basis goggle to be one of the best options to encourage use.
The Giro Chapter features a slick, low profile fit while managing exceptional ventilation thanks to its eight "Super Cool" vents. Two intake ports on the brow of the helmet force air into a chamber between the in-mold internal expanded polystyrene (EPS) exterior and an internal subshell via the deepest channels Giro has ever put in a helmet. Six exit ports along the top and back of the helmet allow the air to flow freely, with a "Thermostat Control" (sliding tab to close the top four vents). Out of all the helmets I've tried, the Chapter has the best airflow and control system yet.
While different helmet brands fit differently, the Chapter was easy to adjust for a comfortable, snug fit thanks to its "In Form" system – a dial at the base of the back of the helmet is quick and easy to adjust. A vertical adjust system accessed by removing the "In Form" dial helps goggles fit seamlessly (read: no gap between the goggle and helmet at the forehead), which is a gripe many people have with helmets. Customizable pads for the inner liner allow fine-tuning to your specific head shape. Simply put, the Giro Chapter can be adjusted to fit most heads remarkably well.
The Chapter's durable microshell exterior is bonded to the EPS liner, bringing the helmet in at an impressively light 16.5 ounces (claimed). This is a must if a backcountry skier is balancing the weight to safety factor.
The Chapter also features a vent placed over the centre of the goggles to force air through the goggle's top vent, ensuring fog-free performance. Coupled with the Giro Basis Goggle's large centre top vent, I experienced virtually no fog over the past two months of use in relatively warm winter conditions.
The Basis Goggle (I tested the matching "Crypto" graphics/styling) features a full frame, spherical dual lens made by renowned lens company Carl Zeiss. The optical quality was excellent – on par with the Oakley goggles I usually wear, which is saying something – and has a roomy interior.
My Basis goggle came with the Red AMB Scarelet 40 mirrored lenses, which is suitable for bright sunlight to overcast days. Only on the darkest of foggy days was I wishing I had a lighter lens. However, Giro does make a wide variety of tints and mirrored lenses to cater to any type of light you may encounter. I have heard spare/extra lenses can be difficult to acquire for Giro goggles, but I have not yet tried to source them. As a final note on the all-important lens equation, mirrored lenses on some brands have a tendency to be soft and scratch easily. While I'm pretty careful with my goggles, I found the Carl Zeiss lens durable and so far scratch-free, even after rubbing off freezing fog with my gloves.
Lastly, the dual density face foam is comfortable while not being overly bulky and the easily adjustable strap features rubber strips to keep it in place on the helmet. It slides neatly into the durable helmet attachment on the back of the Chapter helmet.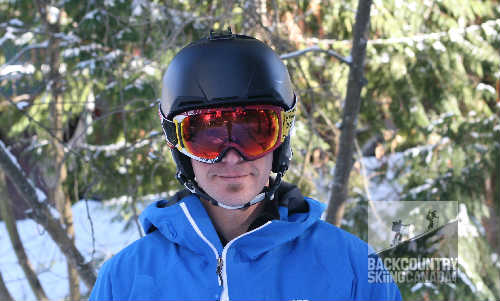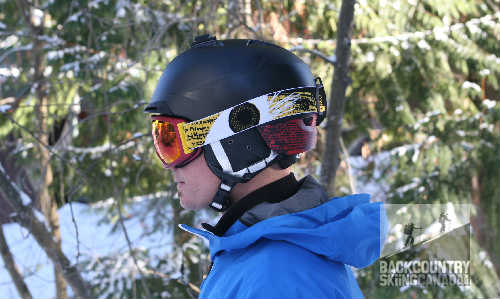 Features:
Giro Chapter helmet features: In-mold construction; Interior subliner; 8 Super Cool vents with Thermostat control; Intake Port vent system; Stack Vent
Accessories: Compatible with all after market TuneUps (audio) systems.
Certifications: ASTM 2040 / CE EN1077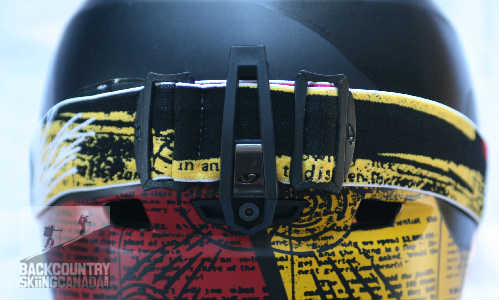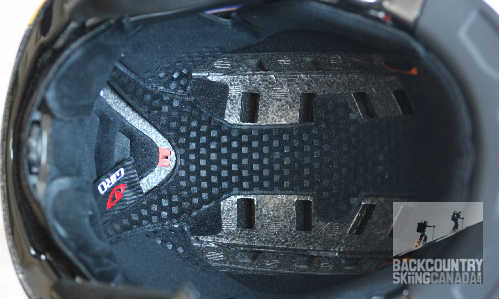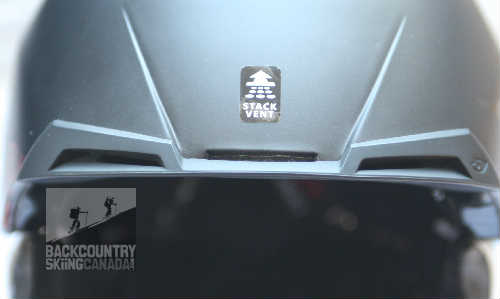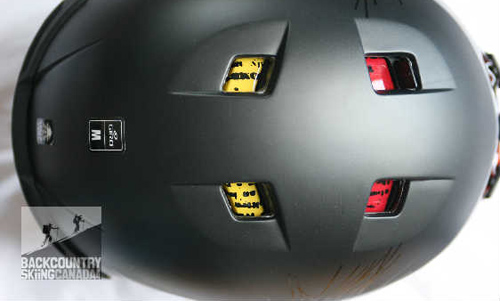 Giro Basis goggle: features: Dual-density face foam with micro fleece facing
Fit: Super Fit full size adult frame
Lens type: True Sight™ by Carl Zeiss Vision Spherical dual lens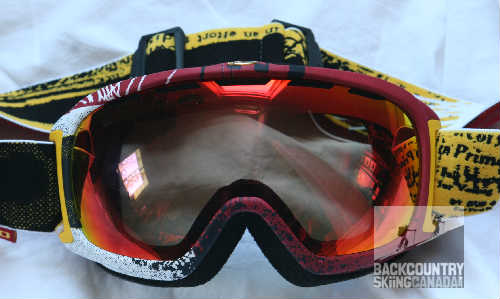 The Verdict:
While we try not to whitewash reviews here at backcountryskiingcanada.com, it was hard to find much fault with the Giro Chapter helmet and Basis Goggle. The helmet is light, durable and has an exceptional fit with superior ventilation. The matching Basis goggle has excellent optics, wide range of view and fits comfortably and seamlessly (no goggle gap) with the helmet. Together, I found the goggles virtually never fogged up thanks to the ventilation interface. It just makes sense to have a goggle/helmet interface and Giro hit the nail on the noggin. Combine this with a wide variety of graphic options, there's a style for everyone, be it the subdued granola crowd to the Technicolor park rat.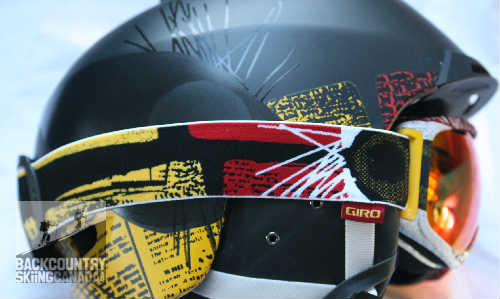 SPECS:
Giro Chapter helmet:
Price: $140 US
Sizing: S (52 – 55.5cm), M (55.5 – 59cm), L (59 – 62.5cm)
Giro Basis goggle:
Price: Suggested Retail $89-$114 depending on lens type
Compatible: Helmet compatible design
PROS:
Integrated, gapless interface between goggles and helmet, excellent fit, good ventilation, comfortable, light, durable, superior optical quality.
CONS:
Difficult to source additional lenses? Cumbersome to replace lenses, slightly higher price (but reasonable for high-end helmets/goggles).
Rating: 9/10
Comfort / Fit 2/2
Features 2/2
Function 1.5/2
Quality 2/2
Price 1.5/2

This is only our opinion. Do you disagree? Did we miss something? Are we totally out to lunch? Join the discussion in the forums here, and let us know what you think. People like/dislike gear for different reasons so chime in and we'll get a well-rounded evaluation.
Back to the rest of the reviews.
---