Fox River Socks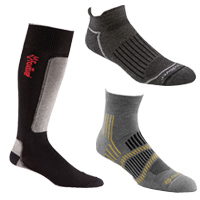 I'm sure I am not alone in this but one of my favorite things in life is pulling on a brand new pair of high quality merino socks. So when I was handed a bag of socks from FoxRiver to review it wasn't suprising that I was pretty stoked.
After digging through the somewhat busy packaging I settled on the first pair to try on. It is summer after all so I started with the Fox River VVS MV Ski and donned my ski boots. There was no snow to be found so I just hung out in them for a few hours watching tv. This introductory look might see trivial but I can say that there were no big concerns, the length was good, and the sock was very low profile and ideal for ski touring. If I was to compare this pair of socks to other brands I would say that from a pure quality and design perspective they seem very comparable to brands like Icebreaker and Smartwool, premium quality for sure.
All the socks that I recieved were size Large and fit me pretty well, I am between an 11.5-12 US so that's on the upper end of the sizing range that they suggest on the packaging, all and all I'm happy with a Large.
The fit of all of the Fox River socks was great and each pair recieved atleast a handful of wearings and a few washes, over the course of the last two months I did not experience any problems or concerns with the overall quality in any of the pairs tried. This is pretty good since I have had expensive brands dissapoint me with a random hole after initial wearings in rare cases.
After doing some research online I read a bit about the company and surprisingly this company has actually been around a long time. The company was actually founded in 1900! That fact surprised me because I really have never heard of them. Proudly made in the USA, FoxSox are made in Osage Iowa. In Canada this company is around but I have never noticed them. When Canadians think of good merino socks we usually think about other brands. Hopefully this review helps more Canadians discover Fox River as they are making some really great socks.
Fox River has a history of sustainability long before it was a buzzword. Taken from their website.
Fox River's knitting mill is an international model for "green" companies, and is part of a state-of-the-art environmental initiative in our hometown of Osage, Iowa. As part of the Osage Municipal Utilities (OMU) Demand-side Management Program, Fox River has reduced energy costs more than 30%. The OMU program begun by conservationist and now retired OMU General Manager Wes Birdsall in 1974 has become world-renowned. In fact, Osage has been dubbed "the energy conservation capital of America."
There is more information about their company available online as well. The website is pretty easy to navigate.
Studying the packaging definitely benefits from an understanding of all the marketing terms. I decided that it would be helpful to give an unnofficial Glossary of Terms which I have included below.
Helix Fit
Used in all the Peak Series socks Helix Fit is big improvement in fit and also includes volumetric compression for continous support. The newest sock fit technologies with gentle foot and leg compression. Has the following features:
Leg and foot volumetric compression - Gives improved circulation, faster recovery, and reduced fatigue along with a better overall fit.
Memory-Knit Construction - Sock conforms to your foot for a custom feel.
CrossFlex Heal Pocket - Makes a deeper heel pocket
Anti-Slip Anchor Zones - Keeps Sock in place in strategic places.
Tapered Comfort Toe - Fine tuned fit in the toe without extra bulk.
Mesh Ventilation Zones - Increased breathability where it's most needed.
Ever Wear Durability Shield - Extra durability throughout the sock.
Reinforced Heel and Toe - Super tough where you need it most.
URfit
A combination of memory knit construction, contoured rib top and spandex compression zones, provides a custom feeling fit.
Wick Dry
A special way to weave the synthetic and natural fibres in the sock in such a way to maximize moisture movement and keep a dry next to skin environment.
Primaloft Yarn
Known for it's warmth Primaloft is a high quality synthetic insulating fibre that is known to be very warm and durable.
Anatomical Fit
Gives you a left and right sock, socks are shaped to give you a better fit for each foot.
Merino and Silk
We all know that Merino is soft and comfortable and silk is well silky smooth so pairing these two natural fibres together in a sock produces something quite luxurious.
---
Snowmass - Unisex:
Price: $29.04 CAN
Material: 45% Nylon, 25% Primaloft, 25% Merino Wool, 5% Spandex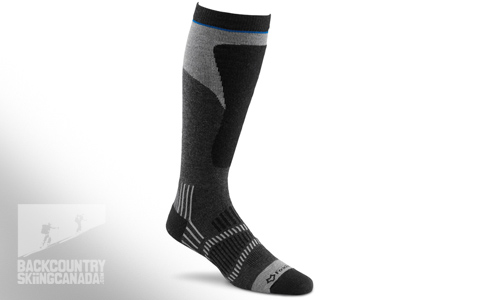 This is a medium weight ski sock that is in the Fox River Peak Series. This introduces us to helix fit which gives this sock compression sock benefits and a better overall fit. Also used in this sock is Primaloft, Merino and Nylon. Of the three ski socks I received for testing t his one seems the toughest and best suited for colder days or resort skiing. The padding in the shin is very nice and the length comes up nicely above my ski boots.
---
Stowe Lite Quarter Crew:
Price: $22.12
Material: 45% Nylon, 26% Primaloft, 26% Merino Wool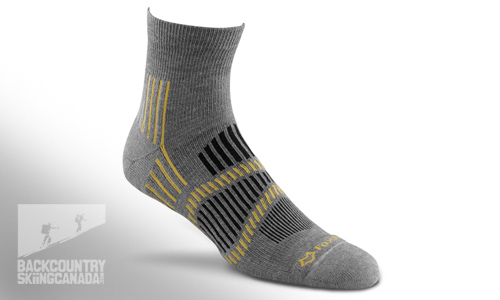 A lightweight lower cut crew from the Peak Series this sock introduces volumetric compression to help with recovery, circulation and reducing fatigue. I did not test these claims, however all the Peak socks fit much better than the Regular Outdoor Series. I think that most people who want a premium Merino sock are expecting this upgrade in fit, materials and design. I liked this pair but owning a bunch of socks like this would add up fast.
---
Atlas - Unisex :
Price: $26.27
Material: 37% Nylon, 30% Primaloft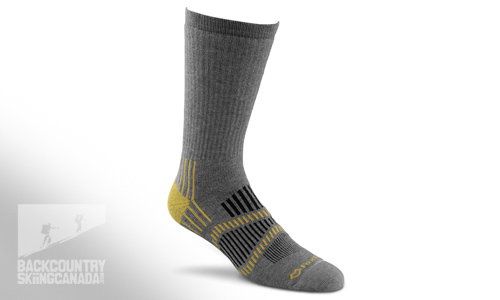 A medium weight hiking sock from the Peak Series this sock is a great fitting option for someone who wants the added comfort of helix fit and added durability of Nylon and Primaloft.. The Peaks Series socks are much better quality in design overall and should be your choice if the added price isn't a concern.
---
Stowe Light - Unisex:
Price: $22.83 CAN
Material: 45% nylon, 26% PrimaLoft polyester, 26% Merino wool, 3% spandex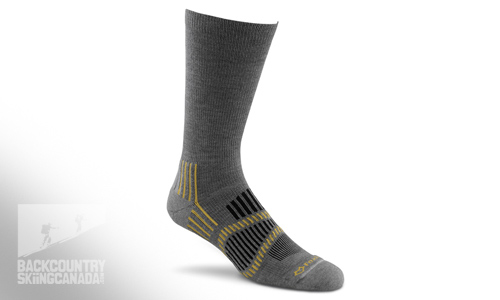 A light weight hiking sock from the Peak Series this sock is similar to the one above but is a full height crew. A good option for tighter fitting boots or warmer weather when you want a sock that goes to the top of your hiking boot.
---
Fox River VVS MV Ski :
Price: $30.42 CAN
Material: 41% Merino wool, 40% Nylon, 17% Silk, 2% Spandex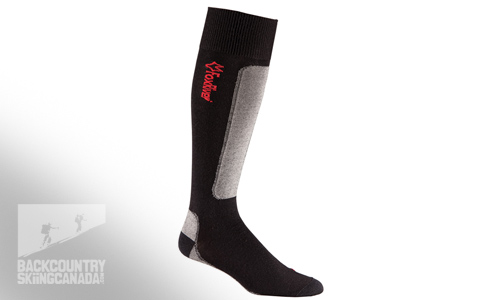 Perfect as a ski touring sock, I plan on putting these through the ringer this upcoming winter, not to thick and a great fit with no bunching or seams to mess with my ski boot fit. These are anatomically designed with a better fit for your left and right foot and combine the comfort of merino and silk. They come up well above my calf as well which means they won't slip down into my boot.
---
Rocky Skis:
Price: $27.66 CAN
Material: 38% Nylon, 30% Primaloft, 30% Merino Wool, 2% Spandex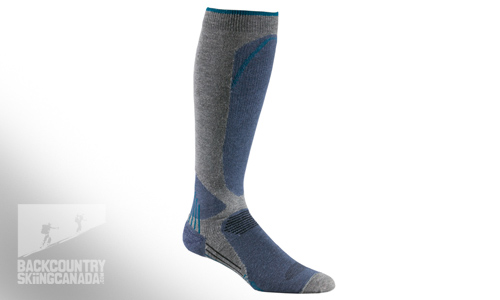 This is another light weight ski sock that uses URfit, Primaloft and Merino, it is sort of very close to the sock above but trades Primaloft for Silk and loses the Anatomical fit. Once on my feet it would be hard to choose between the two. After a long day ski touring not sure I would be able to, I guess one should decide if they like the idea of having a different sock for their left and right foot. Both socks are comfy and fit well and are perfect for ski touring with their low bulk.
---
Gibraltar :
Price: $26.27CAN
Material: 85% Merino wool, 14% Nylon, 1% Spandex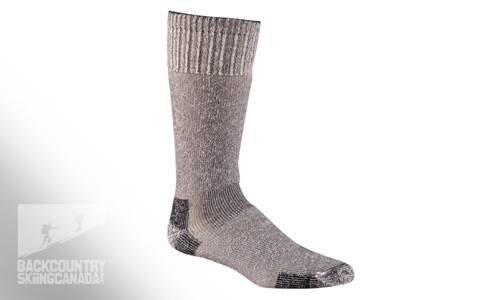 This sock is the warmest of the bunch I received, I would only ever use something like this if I was out snow shoeing all day. Not something I would own for every day use or ski touring but good for people who experience very cold winters or are hunting, ice fishing etc in the middle of winter. Much too bulky to fit in a ski boot.
---
Trail Ankle:
Price: $15.83 CAN
Material: 38% Nylon, 30% Merino, 30% Acrylic, 2% Spandex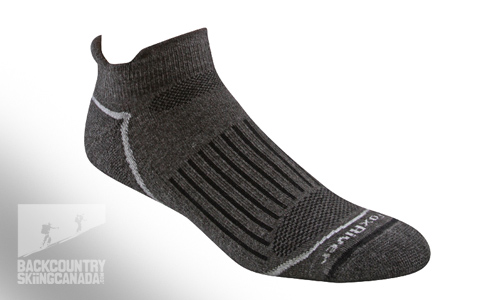 I really like short socks for every day use in the summer so this sock definitely saw the most use, I liked the almost custom fit that you get with memory knit construction that they call URfit. These socks feel butter soft and cushy when you put them on new and that feeling continued with washings. Had to wash more often as these ones got a little funky after a day or two of my sweaty feet.
---
Trailmaster:
Price: $15.91 CAN
Material: 75% Merino, 24% Stretch Nylon, 1% Spandex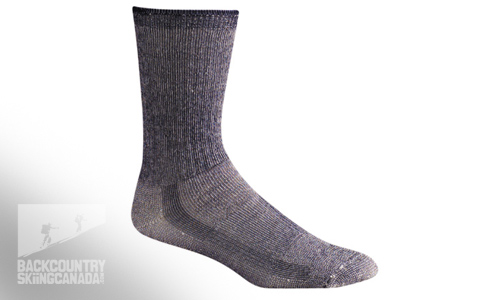 A medium weight hiking sock that really impressed me with fit and value. This sock is probably my favorite in the bunch in the hiking crews that I tried as I don't like super thick socks for hiking.or every day use.
---
Trailhead:
Price: $22.12 CAN
Material: 77% Merino Wool, 22% Stretch Nylon, 1% Spandex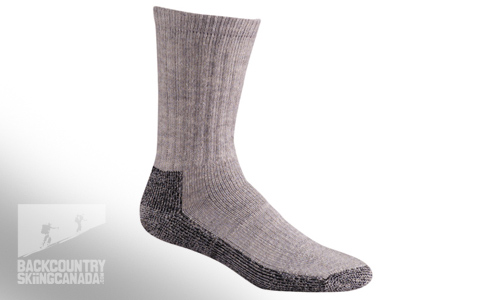 A very thick heavy weight hiking/trekking sock, good for long trips where padding is important, a little bulky for a close fitting boot. The fit is pretty comparable to other sox in the Fox River Outdoor Line. Very good quality but nothing too modern, competitive price with Wigwam or Smartwool's offering in this category.
---
Verdict:
Fox River socks in general are well made with a good selection of different options representing all the trends that you see from their competition, they use high-quality materials and domestic manufacturing which sets them apart from companies that manufacture overseas. For the majority of the people that view this site the ski socks are of most interest and I highly recommend them and will update this review with how they hold up to a season of ski touring.
As mentioned in another review by Brad, I agree with his statement of merino socks for everyday wear. I too like wearing merino socks day to day and my favourite pair in this bunch is the Atlas because it's very cushy and fits great.
The new Peak Series of socks represent some of the nicest socks I have seen from any brand and I gave my rating based on this new offering from Fox River.
SPECS:
Price: $15.83 - $29.04 CAN
Materials: Nylon, Spandex, Merino Wool, Silk, Acrylic
Recommended Ues: hiking, skiing, ski touring, biking, trekking
PROS:
- It's nice to see a product that is made in North America by a brand that takes pride in it's quality and history.
- Fox River does contribute to a number of charities and has an environmental focus as well.
- Very well made socks in a lot of different categories, I strongly recommend people try the ski socks and the Peak Series especially.
CONS:
- Not great brand awareness in Canada which made me initially question their pricing and value.
- The sock packaging is pretty confusing at the start but this is not unique to Fox River as most sock companies tend to cram too much information into a small piece of packaging.
- They might be hard to find this side of the border.
- Not the most exciting fabric designs.
Rating: 8.5/10
Fit/Comfort 1.5/2
Durability 1/2
Warmth 2/2
Features 1.5/2
Quality / Price 1.5/2

This is only our opinion. Do you disagree? Did we miss something? Are we totally out to lunch? Join the discussion in the forums here, and let us know what you think. People like/dislike gear for different reasons so chime in and we'll get a well-rounded evaluation.
Back to the rest of the reviews.
---