First Ascent Messenger Bag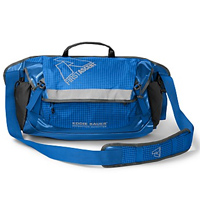 We are big fans of First Ascent products as we have reviewed several in the past, namely the First Ascent High Season Wind Jacket, First Ascent Hyalite Jacket, First Ascent BC-200 Hard Shell Jacket, First Ascent Seaba Heli Guide Jacket, First Ascent Guide Pants and High Route Shirt and the award winning First Ascent Front Point Jacket. Since these were all apparel reviews we thought it was time to venture into the world of First Ascent hard goods, so we decided to give the First Ascent Messenger Bag a whirl. This bag is designed to function as if you were actually a messenger; its primary focus is to protect its cargo from the environment, dirt, rain, abrasions and anything else you throw at it. The 420 and 210 denier nylon is ripstop and has a tough TPU coating which gets the job done. Heck even the shoulder strap is thick and beefy with an extra long and wide should pad to distribute the weight. The moulded back panel protects your laptop directly on the other side and provides a comfortable base for your back when you wear it slung over your shoulder. At 23" x 11" x 9" the First Ascent Messenger Bag is no slouch - it can carry a ton of stuff: laptop, lunch, double water bottles, iPod, toque, gloves, rain shell, keys, wallet, powder cord, sweater and more. The internal organizer includes a laptop sleeve and velcro strap to keep your digital investment well protected and separated from other items. Zippered pockets and compression straps ensure everything is in its' place and secure.
It's easy to see why the First Ascent Messenger Bag can be considered your urban back pack for day to day life while not in the mountains.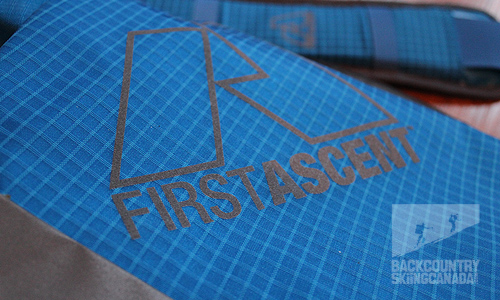 Features:

Fleece lined pockets and velcro tabs to protect personal electronics.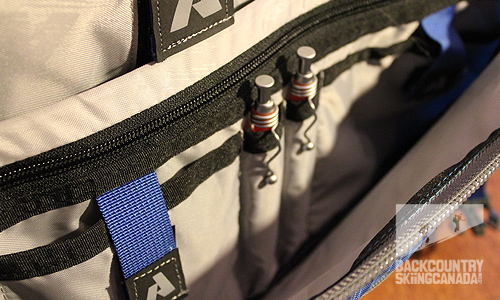 Interior organizer includes protective 15.5" laptop compartment with velcro fastener.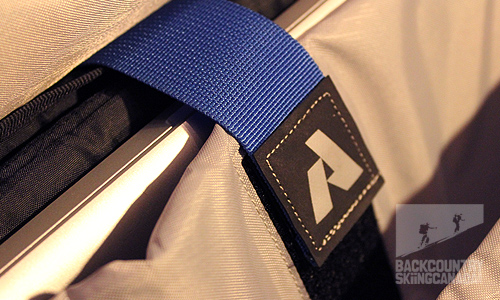 Interior pocket for other items.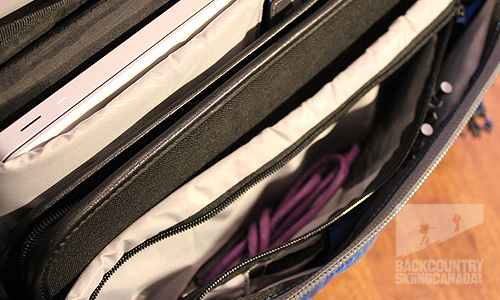 Room for everything.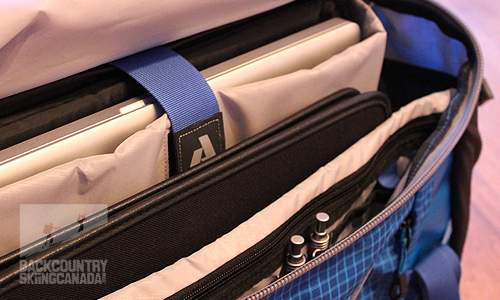 Main compartment clip and fast pull tab.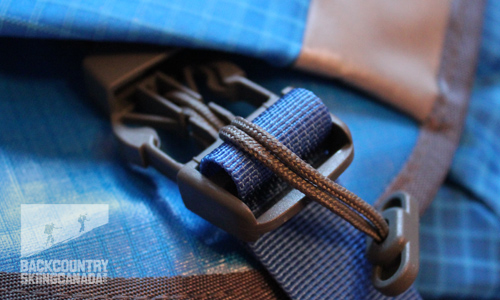 Two exterior side pockets for water bottles or other items and main strap adjustability.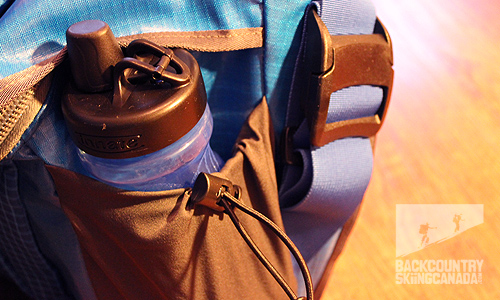 Tough zips with pull tabs.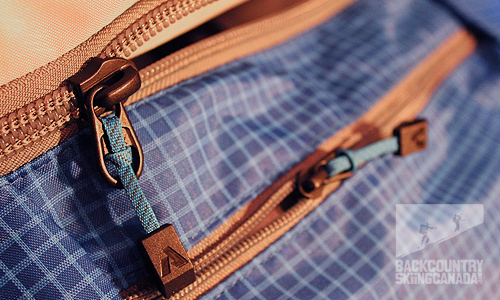 420 and 210 denier nylon ripstop with TPU coating Repels water and resist abrasions.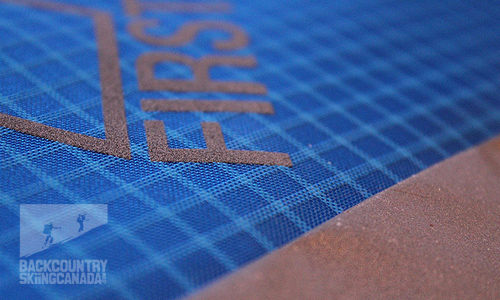 Moulded back panel.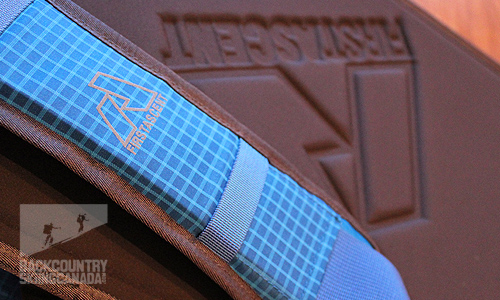 Rugged handle.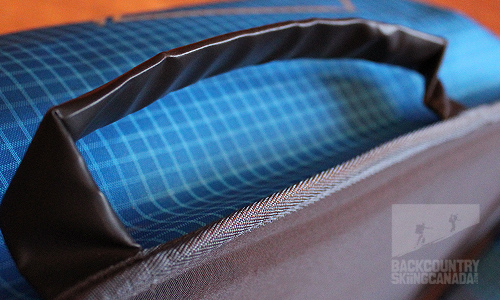 Verdict:
Sometimes a back pack is just too much bulk and more 'mountain guide look' than you want for the urban jungle. It is nice to have more organization for your things and a hefty increase in protection for the $2,000 laptop you are lugging to a meeting. This is where the First Ascent Messenger Bag come in and fills the void. It has a heap of room for more than just the essentials and can easily accommodate a spare insulation/rain layer (or two). Everything inside has its' place and is kept nicely organized as interior pockets abound. It even has velcro fasteners/zippers and plush liners. Overall the First Ascent Messenger Bag is really comfortable thanks to it's well padded and extra wide strap and semi-rigid back panel. There is plenty of strap if you like to wear it low-rider style and even a secret strap storage area within the side pocket to deal with all that extra strap if you are more of a high and tight wearer. A secondary strap for your waist would be required if you were going to use the First Ascent Messenger Bag primarily while riding your bike. The addition of an exterior pocket on the flap would be a welcome addition for those items you need quick access to, like iPod, wallet and keys. Even better would be an integrated headphone cord retention system in the strap.
On the down side there is no dedicated location for business cards but you can make due with any one of the numerous interior pockets. The biggest beef I have is with the top access flap. Given its clam shell design two hands are often required to access any of your things inside, as the flap does not stay open naturally. Some sort of fabric hinge would easily alleviate this problem and make access much easier. The top flap buckles also pose some challenges as they are slightly recessed so it is hard to get your fingers in there to pinch them open. Small pull tabs are included to help with this problem but you need to pull on these so hard that it feels like you may break the buckles or dislocate your shoulder.
Overall these issues are minor and the protection and organization offered are top shelf. Backpacks are ideal for the mountain adventures and the First Ascent Messenger Bag definitely has its' place in the urban jungle.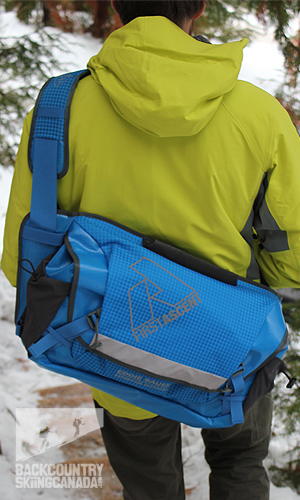 SPECS:
Price: $99.95 US
Colour: Blue / Limeade
Material: Nylon ripstop
Size: 58.4cm W x 27.9cm H x 22.8cm D / 23"W x 11" H x 9" D
PROS:
- durable fabrics protect the contents from dirt and water
- dual side pockets ideal for water bottles
- several interior pockets for organization
- velcro tabs to secure items inside
- fleece lined pockets for protection of electronic devices
- comfortable to wear
CONS:
- no dedicated business card holder inside
- could use an exterior waterproof zippered pocket for fast access
- the semi rigid back provides protection from pointy bits inside the bag but can be too stiff and make the bag awkward for smaller people to wear
- not ideal to wear slung over one shoulder
- could use more padding on the bottom of the internal laptop sleeve
Rating: 8/10
Innovation 2/2
Function 1/2
Aesthetics 1.5/2
Features 1.5/2
Quality / Price 2/2

This is only our opinion. Do you disagree? Did we miss something? Are we totally out to lunch? Join the discussion in the forums here, and let us know what you think. People like/dislike gear for different reasons so chime in and we'll get a well-rounded evaluation.
Back to the rest of the reviews.
---