First Ascent Guide Pants and High Route Shirt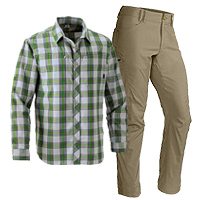 For summer backcountry adventures you need clothes that are comfortable, offer a good range of motion and provide moisture wicking capabilities. It also helps if your technical clothes don't look too technical so you can actually wear them around town without looking like you just dropped off a glacier. Enter the First Ascent Guide Pants and First Ascent High Route Shirt. Both of these items are designed for hiking, climbing and mountaineering in the mountains spring summer and fall. They are guide-built (as First Ascent terms it) by Seth Waterfall who appears to have tested them on some of America's iconic peaks.
First Ascent Guide Pants:
Breathability and keeping cool is the general goal for any hiking or light ski touring pants and the Guide pants deliver on this one (especially the expedition khaki colour). They also protect against light wind and moisture and dry relatively fast when they do get wet. The fit is designed to be spacious with out being baggy and offers a good range of motion for climbing and walking hence the articulated knees. With 2 back pockets, two hip pockets and two cargo pockets there are lots of options for storing things. The cargo pockets are designed to exactly fit the size of a BCA Tracker II avalanche transceiver, however the 4" zippered access is only big enough for the smallest of hands and don't even think about trying to squeeze a gloved hand in there.
Articulated Knees.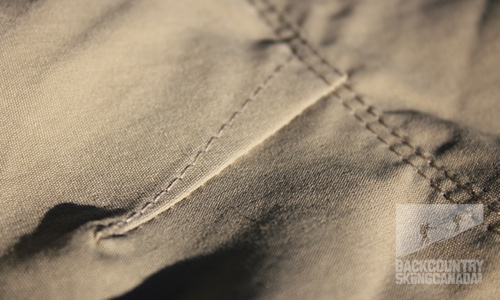 Front view with fastners and belt loops.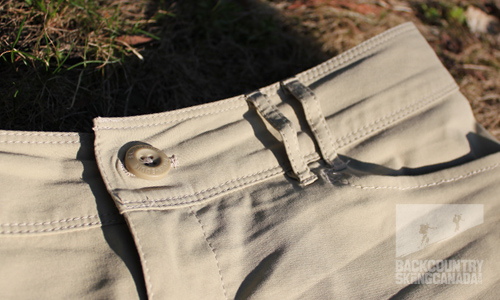 Side view with Cargo pockets and the 4" zipper.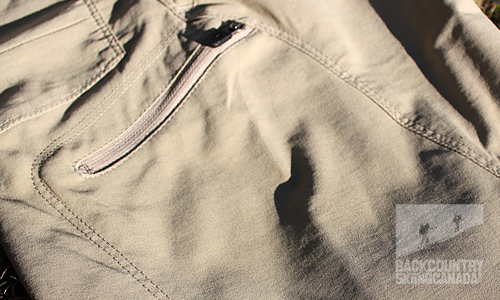 Rear view with pockets.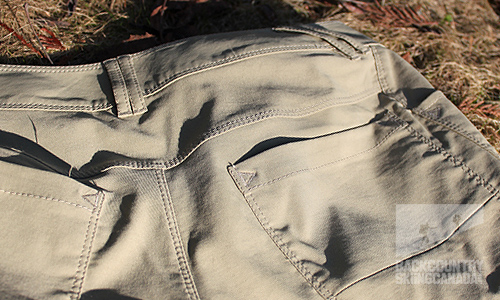 First Ascent High Route Shirt:
The Hollow-core Polyester/Rayon blend fabric dries amazingly quick and won't hold a wrinkle so it will make you look good even after a big day of hiking. The active fit and casual style makes the High Route Shirt at home on a mountain hike or a evening out for dinner. With two chest pockets, one with an invisible zipper you have a few options for securing important maps or tickets to the game.
Front view with collar and buttons.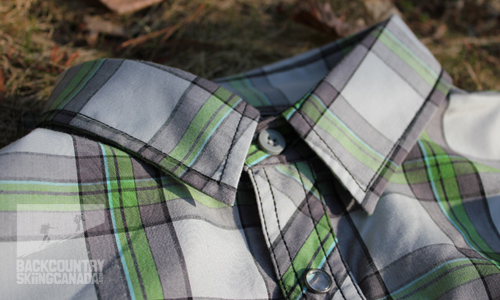 Back view with pleat.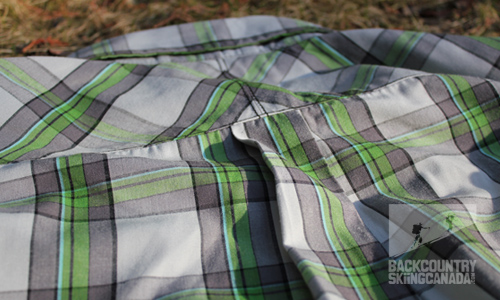 Cuffs and button details.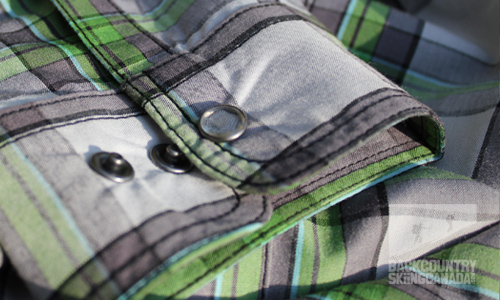 Invisible front chest pocket and zipper.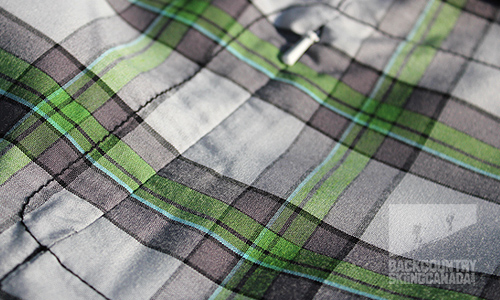 Everyone loves a good plaid pattern.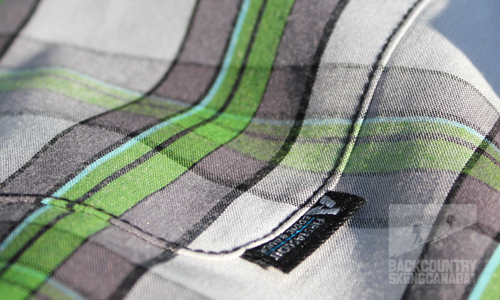 Verdict:
The 1- 2 combo of the First Ascent Guide Pants and High Route Shirt offer a really comfortable, breathable, wicking solution for mountain adventure and urban life. No longer do you have to look like a mountain guide to go for a hike, this is a nice cross-over of functionality and style - way to go First Ascent. The quick dry times (and I do mean quick) on both garments is impressive, you can soak the fabrics with water or sweat and most of the moisture is gone within minutes. The articulated fit on the Guide Pants and active fit on the High Route Shirt gives a good range of motion should you need to climb, hike and ski mountaineer this spring/summer. Other niceties on the Guide pant include a very low pack volume (roll them up and they take not space in your pack) and the fleece lined waist band, keeps things soft against your skin, especially under a back pack hip belt.
The only issue I have with the Guide Pants is with the pockets. The cargo pockets only have a 4" opening and this is tight—super tight (I have what I would consider a normal size hand and cannot fit it in). Hopefully First Ascent can widen this for the next iteration of these pants. While they are looking at the pockets it would be great to include some sort of closure system on the two back pockets, zipper or even some velcro. On the High Route Shirt it is pretty hard to make any improvements but it would be nice to include some sort of fastener to help keep the sleeves rolled up on those hotter days.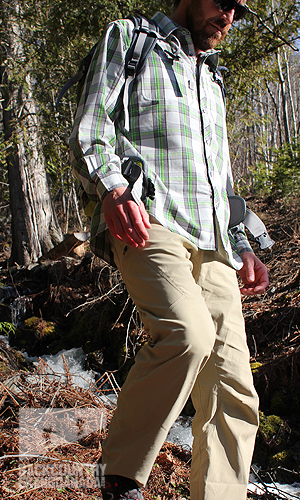 SPECS:
Guide Pants
Price: $69.95
Size: 30/30 to 38/34
Colours: Dark Smoke, Expedition Khaki
Fabrics: 94% Nylon / 6% Spandex
High Route Shirt
Price: $69.95
Size: S, M, L, XL, XXL (Regular, Tall)
Colours: Black, Lime, Cardinal
Fabrics: 60% Polyester / 40% Rayon
PROS:
Great range of motion and stretch fabric on the Guide Pants. Well designed for backcountry use and stylish enough for urban use. High Route Shirt is at home in the mountains or for city casual. Invisible zipper on chest pocket is a nice touch.
CONS:
Pockets on the Guide Pants are spacious but the access zipper is not big enough for your hand.

This is only our opinion. Do you disagree? Did we miss something? Are we totally out to lunch? Join the discussion in the forums here, and let us know what you think. People like/dislike gear for different reasons so chime in and we'll get a well-rounded evaluation.
Back to the rest of the reviews.
---