First Ascent Frontpoint Jacket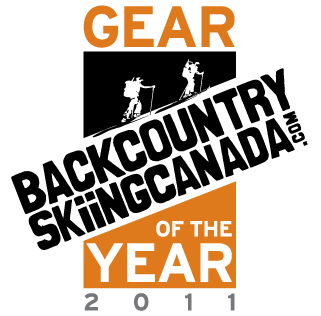 The First Ascent Front Point Jacket gets the "Gear of the Year" stamp from the Backcountry Skiing Canada testing team for the 2010/2011 season. The Front Point is a winner due to its intelligent combination or soft-and hard-shell fabrics, its supreme comfort and its every-day-in-the-backcountry usability. High fives.
The Backcountry Skiing Canada Team.
---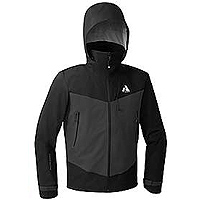 I like to think of the First Ascent Jacket as the PB+J experience. From an early age we acquire a fondness for peanut butter and in its own right jam, but put them together and you have an all american staple that everyone loves. What does this have to do with the new First Ascent Frontpoint Jacket you ask? well, it's the best of both worlds come together to make one hell of a sandwich,… I mean jacket.
First Ascent brings together the breathability, comfort and windproof features of soft shell and the water proof qualities of a hard shell. A hybrid of sorts. The outer shell is comprised of a soft-shell chest and back with hardshell fabric throughout the rest of the jacket. The placement of the hardshell material is strategic so it repels water from your shoulders and head which tend to wet out first. Rounding out the jacket, the lower torso and arms are also waterproof hardshell material.
First Ascent the company:
The Eddie Bauer company (creators of the original 'puffy down jacket') was formed in 1920 by its' name sake in Seattle Washington and recently expanded its market reach in 2009 by creating the outdoor adventure brand 'First Ascent'. First Ascent features products which are designed and tested by mountain guides (true story) - specifically Chad Peel for the Frontpoint Jacket. The entire First Ascent brand is over seen by Mountain Guide Peter Whittaker – son of Jim Whittaker, the first American to climb Mt. Everest in 1963. With this strategy you get everything you need and nothing you don't. If it works for these icons then it will work for your everyday weekend warrior and then some.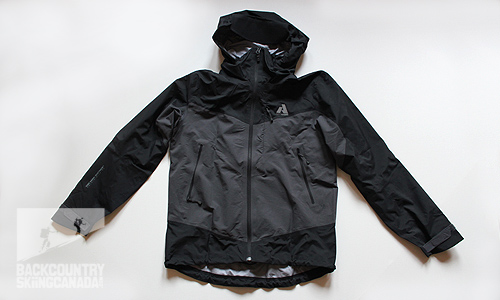 Materials:
First Ascent uses there own waterproof material called 'WeatherEdge Pro' which consists of a 3-layer 100% polyester waterproof/breathable barrier with 'StormRepel™ durable water-repellent (DWR) finish to give this fabric a 20,000mm/20,000g rating. What this means is that the fabric can withstand 20,000 mm of water suspended over its surface before moisture seeps through. The second number shows its breathability: In 24 hours, it allows 20,000 grams of water vapor to escape per square meter of fabric - this is the same rating for most tent floors. The soft-shell material is made up of a 70-denier soft shell fabric (59% Nylon, 32% Polyester, 9% Spandex) with Stormrepel™ DWR finish. This makes the material not only breathable and water resistant (not water proof) but also windproof and the 9% spandex provides a comfy 4-way stretch.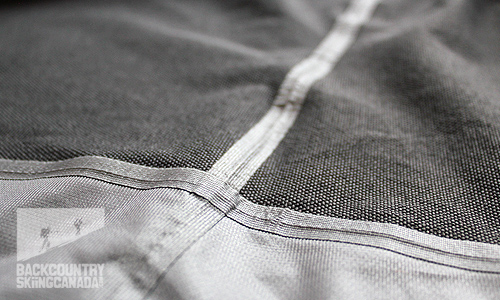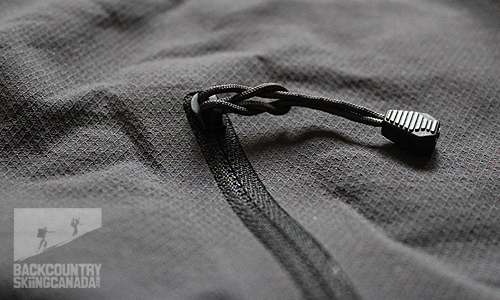 What makes it winner:
There are a lot of little things that make this jacket a winner in my books, besides the obvious benefits of the materials mentioned above, here are a few of my fav's:
Ergonomic Pocket Design: The torso pockets are placed up high and out of the way of pack straps and harness so you can get your stuff when you need it. These pockets are extra deep and flow below the zipper by a good two inches so things should not fall out if you forget to zip.
The cut: It's a slim fit so it is cut closer to the body without any bunching or binding but still has a bit of stretch to allow for ease of movement.
High turtle collar: Accommodates a helmet and lets you turtle the top of the collar around your neck whether the hood is up or down.
Pockets, pockets, pockets: Three exterior pockets including one Invisible Napoleon pocket with a media cord pass through and one interior zippered pocket.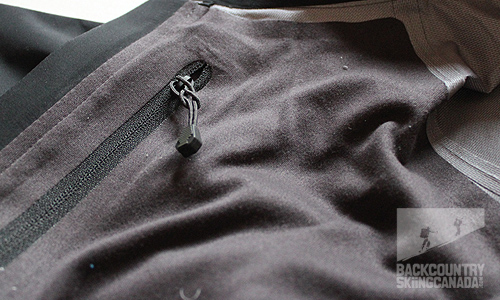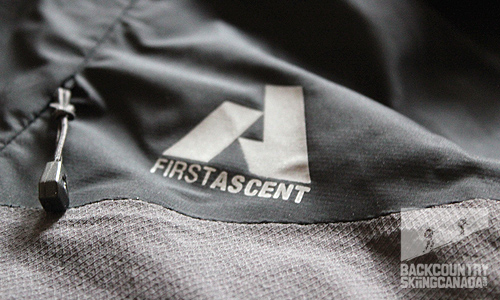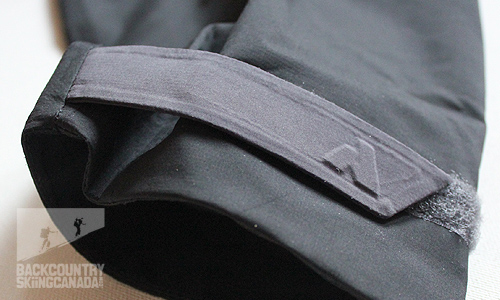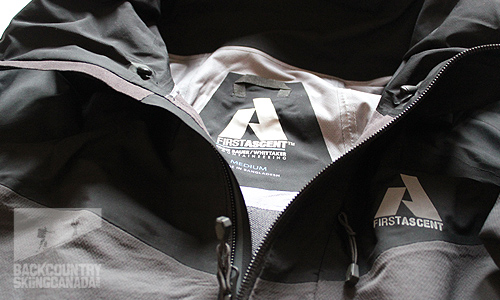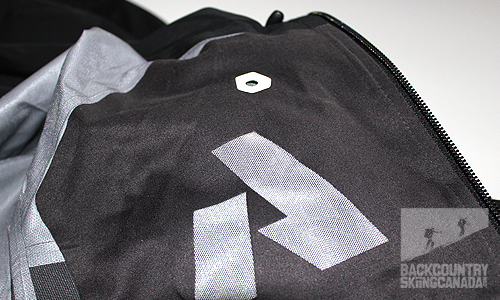 The Verdict:
The First Ascent Frontpoint Jacket stands up to wind and rain while feeling much more comfortable and lighter than a traditional hard shell. It performs in the mountains on a ski tour and just walking around town. Move over soft shell/hard shell, with this killer-fabric-combo the Frontpoint Jacket is now my 'go-to' backcountry ski touring jacket. I still use my hard shell occasionally for those epic storms but like I mentioned before why go with just peanut butter when you can get the full PB+J benefit.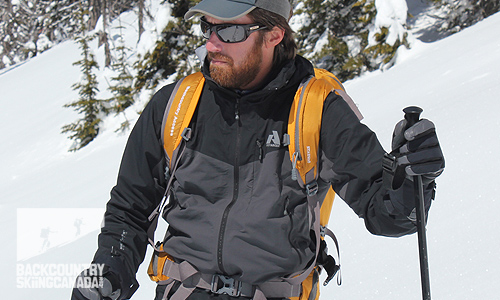 SPECS:
Price: $249 US$
Colour: Black / Orange
Size: S, M, L, XL, XXL
Weight: 17.28oz / 491g
PROS:
Well thought out design with the combination soft and hard shell fabrics. Super light and comfy, it just feels better than a hard shell or a soft shell - period.
CONS:
Pit zips would be a nice addition and if the hood was optional (or stowable) then this jacket could be layered if required since it is so light and thin.
Rating: 9.5/10
Fit / Mobility 2/2
Packability 2/2
Waterproof / Breathable 2/2
Features 1.5/2
Quality / Price 2/2

This is only our opinion. Do you disagree? Did we miss something? Are we totally out to lunch? Join the discussion in the forums here, and let us know what you think. People like/dislike gear for different reasons so chime in and we'll get a well-rounded evaluation.
Back to the rest of the reviews.
---