Dynafit Zzeus TF-X Alpine Touring Ski Boots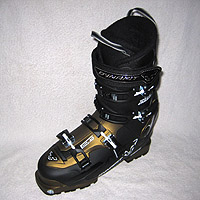 I've had many pairs of boots over the years. I guess this pair of Dynafit ZZeus TF-X's would be about my 12th-or-so pair (my third AT boot). As I get older, my feet become a little wonkier and fewer and fewer boots seem to work for me. A pair of Denali TTs got sloppy on me, a pair of BD Methods pinched my heel and didn't have enough room in the toe area. I picked up the Dynafit Zzeus at the beginning of last season and I think I'll hold onto them for a while. Of course, at 2 kilos each, they are a little heavy compared to the new light and beefy offerings from many of the manufacturers this year. Sometimes even the most rabid gear fan (me) needs to settle down a bit and accept that what they have is pretty dang good.
I put in about 50 or so days on these last season—about 35% of which was in the backcountry (give or take). Going downhill, I experienced a similar feeling to old alpine boots, which I haven't, by the way, donned for decades. The Zzeus are stiff and supportive enough in all the right places. I skied loads of powder, groomers and maybe even a little ice. These boots delivered. On the uptrack, when touring, I could feel the weight of these a bit—frankly though, none of my AT boots have been that light so I don't have much with which to compare them. An overall thumbs up on the climb, though I did experience a pesky issue with my walk mode popping back into ski mode—not the end of the world and the good folks at Dynafit customer service took care of my problem.
Bells and whistles:
Gear these days is so fluffed up with gizmos, it's tough to tell which features lead to real benefits for you and your enjoyment of a day skiing. I have highlighted below the features which I think make a positive difference.
Quick-Step-in-Insert – Easy in and Out:
It's the little things in life that count, right? If you ski on Dynafit or G3 AT bindings (also known as "tech"), you know that getting in and out takes a little practice. If you spend too much time in the backcountry blogosphere like I do, you know that the interface between some boots and tech bindings has been an issue. One brand has even been recalled because of it. This all highlights the importance of a good boot/binding interface. Back to the Zzeus…the little Quick Step cut-out below the hole where the binding pins go makes popping your toe in a little easier. In general, the boot/binding connection feels very solid with the Zzeus and tech bindings. Dynafit wrote the book on this stuff so chances are good the boot to binding connection will be excellent.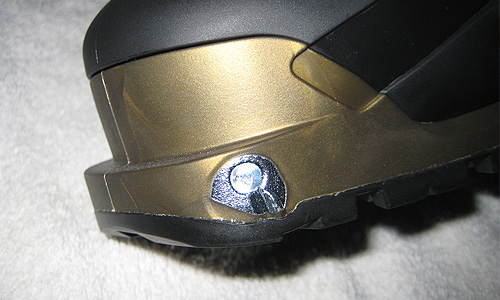 Overlapping Cuff – Stiff Enough
If you like the feel of a standard alpine boot on the down, you'll like the overlapping cuff. I find that the cuffs (along with the poly urethane shell material) are what makes the boots stiff and enable you to really lock down for a snug and responsive fit. The Zzues compares in stiffness to a BD Factor or a Garmont Radium. These are stiff boots. Period. I can't imagine wanting anything stiffer for any type of skiing that I'll ever do.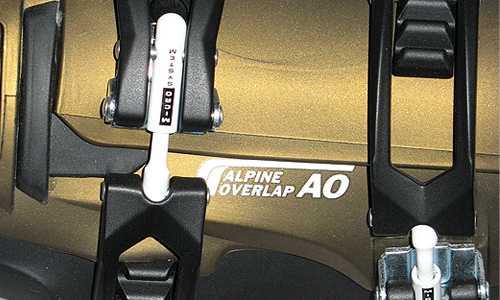 Triple Binding Sole – Simple AT to Alpine:
I got a call from an old high school buddy because his brother was unable to make it for a day's heli skiing up near Revelstoke. I grabbed some super fat skis from ROAM here in Nelson which were mounted with alpine bindings. The Zzeus are my boot-of-choice, but they come with an AT sole so I got to work on the transition to alpine (sole included with purchase). It took me about 5 minutes to swap out the AT soles on the Zzeus for the alpine version. Once they were on, they felt super solid. From my experience, this speed and tight fit is not something many boot makers can claim. Good stuff. Great day.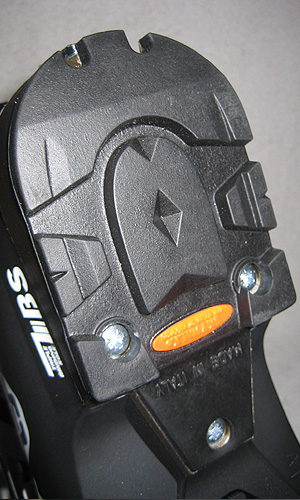 TF-X Liner - Warm Support:
Liners are tied-in with both comfort and performance. For me, there are a couple key criteria in judging liner quality: fit, warmth and support. Fit-wise, I would place the TF-X in the middle of the pack. They are thermoformable and, after having them fitted professionally, I noticed that they were not as "mapped" to my increasingly weird feet as other liners in the past had been. The TF-Xs are warm enough for the skiing I do in the Selkirks. Other liners I have experienced have left me with cold toes and foot bottoms. The TF-X liner is very supportive but I guess that's as much a factor of the overlapping cuff and PU shell. I 86'ed the laces that came with. No need for them in my experience and they just make the in-and-out more of a challenge.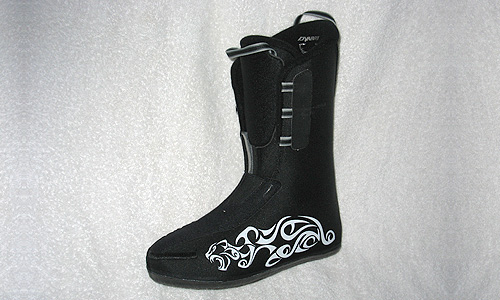 Walk/Tour Mode Lever - Finicky Function:
This little doohickey could use a design tweak. It is small enough to be a pain to pop up into walk mode and the mechanism is internal so field repair, in the case of a breakdown, would not be easy. If the Zzeus lives on for another season, this is something Dynafit should change.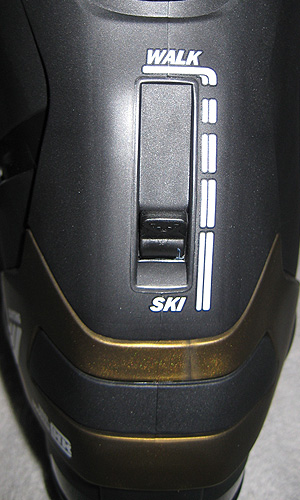 Varia:
I have skipped the remaining features because I either didn't understand how they translated into skier benefits or they were of little consequence (stuff like the Heel Booster, Magnesium "Micro-System" Buckles and adjustable canting---meh.)
SPECS:
Price: $640 CND
Weight: 4 lbs 7 oz/2.1 kilos each (mondo 27)
Flex: 120
Sizes: 25-30.5
Height: 36.8cm/14 1/2 inches (sole bottom to liner highest point)
Color: black and gold –I've been told they look like a high-end motorcycle
PROS:
Easily stiff enough for any kind of skiing descents. Look cool as heck. Nice boot/tech binding interface. Comfortable, supportive and bomber. Good for skiers who split their time between front- and back-country.
CONS
These boots are not light-weight. The performance-to-weight ratio is good though. The walk mode lever is a pain—needs re-thinking. The liner could be a little more form-fitting for a more precise, glove-like fit.
Rating: 7.5/10
Fit/Comfort 1.5/2
Cuff Rotation 1.5/2
Function 1.5/2
Weight 1/2
Quality / Price 2/2

This is only our opinion. Do you disagree? Did we miss something? Are we totally out to lunch? Join the discussion in the forums here, and let us know what you think. People like/dislike gear for different reasons so chime in and we'll get a well-rounded evaluation - Andrew.
Back to the rest of the reviews.
---