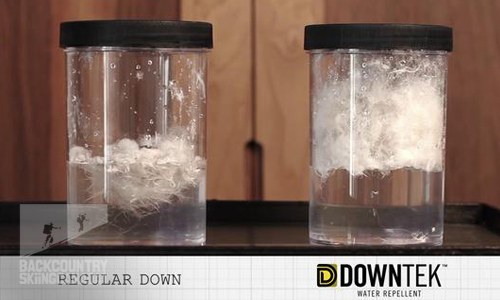 Features:
- 93/7 percent treated goose/duck down
- Absorbs 30% less water than untreated down
- Dries 60% faster than untreated down
- Retains loft after exposure to water
- Washable with down-specific detergent without losing water repellency
- Retains same fill loft as normal down with virtually no weight penalty
- All natural and claimed "environmentally safe"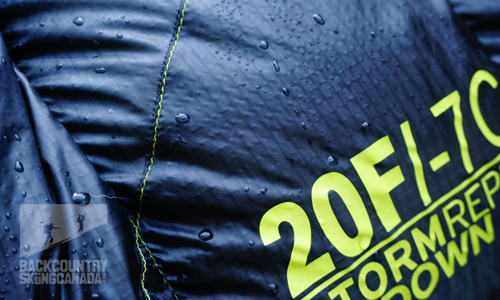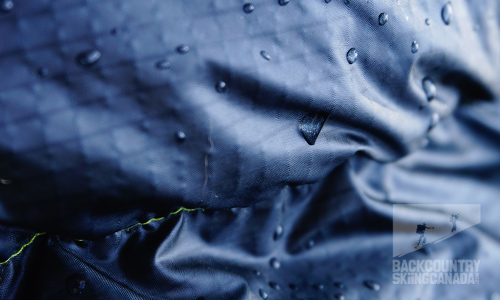 Verdict:
The search for a water repellent is the holy grail of the outdoor industry and there are other treated down products (i.e. Marmot Down Defender, Sierra Designs DriDown) on the market. But after rigorous testing, top brands as mentioned above are convinced the DOWNTEK Stormdown is the best out there, and our experience doesn't downplay the claim. While you won't go sleeping in a monsoon in the Stormdown expecting it to stay dry, you can expect that it will stay dry longer, dry faster and maintain it's loft (i.e. insulation) considerably better than untreated down. If we're headed "out there," this peace of mind makes the DOWNTEK's Stormdown a winner…as long as you can afford the premium price. 
SPECS:
Depends upon the individual products.
PROS:
- As per all above features
- Top brands stand by DOWNTEK's claims
CONS:
- Products utilizing DOWNTEK's Stormdown tend to be substantially more expensive
- Not water-proof, but show us similarly treated down that is
Rating: 9.5/10
Function:       2/2
Warmth:         2/2
Innovation:     2/2
Durability:      2/2
Quality/Price: 1.5/2

This is only our opinion. Do you disagree? Did we miss something? Are we totally out to lunch? Join the discussion in the forums here, and let us know what you think. People like/dislike gear for different reasons so chime in and we'll get a well-rounded evaluation.
Back to the rest of the reviews.