Deuter Neosphere -10 down sleeping bag Review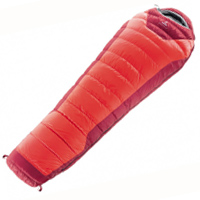 Deuter is a German company well known for designing and manufacturing quality packs for over a hundred years. We've reviewed a few of their hiking packs like the Deuter Guide Lite 32 Pack and the Deuter ACT Lite 65+10 that accompanied this reviewer throughout Nepal on a five week trek. We have also reviewed a few ski touring specific packs like the Deuter Freeride Pro 30 Pack and the backcountry skiing workhorse for both men and women, the Deuter Rise 30+ SL and 32+ Pack. Enough about packs already though, this is a sleeping bag review after all. Deuter manufactures sleeping bags with over nine down bags to choose from and a product line that covers any temperature rating you could ever want, sleeping bags for kids and women specific designs. Deuter has proven their expertise to us in the pack world and this reviewer was interested to see if they could apply this knowledge and extend their track record to producing a down sleeping bag worthy of our backcountry skiing readers.
While the debate over down versus synthetic is largely personal preference, I would like to state mine up front. Down. Hands, uh,… down. For a bag with the same warmth, down is more compact, lighter and provides more loft than synthetic sleeping bags. On the other hand, synthetic will keep you drier when the bag gets wet which is a major point when winter camping or if you get your tent flooded out (trust me it happens). A good all-round sleeping bag in my opinion is a -10°C down bag as it works well in the alpine for summer camping and will also serve you well on backcountry skiing hut trips. Some would say -10°c is over kill but I like to have some additional warmth in case the hut is not heated, the stove goes out or worse case scenario—you don't find the hut. At -10°C you could spend a night out and remain relatively comfortable on all but the coldest winter nights and even then it would get you through until dawn breaks.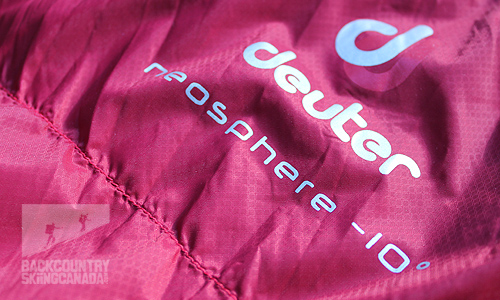 The Deuter Neosphere -10 down sleeping bag comes with a heap of features that are listed below. The one feature that particularly sets the Neosphere apart from other bags is the "Dryzone Fabric". To minimize synthetic insulation's advantage of being warm when wet, Deuter has incorporated a water repellent exterior 30D nylon material at the head and feet of the Neosphere sleeping bag. These are the areas that typically get wet when camping in colder conditions as they tend to touch the tent walls which have condensation on them. Short of offering a water proof down treatment, which seems to be all the rage these days, Deuter has addressed the issue at the locations where it's needed most.
Features:
Storage Sac: A nylon mesh storage sac is provided to keep your bag protected and ensure the loft is not compromised when stored for long periods of time.
Trapezoid Construction: Opposing diagonal trapezoid pockets and full-length side chambers keep the down stationary and help eliminate cold spots.
Hood: A warmth collar with Velcro closure and elastic cord keep drafts out.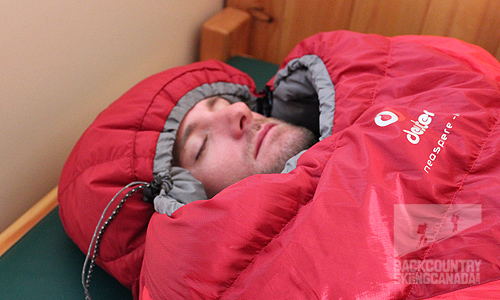 Stuff sac: A light weight compression sac is included.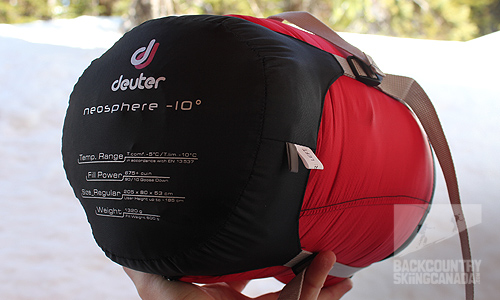 Ergofoot: A raised foot box that mimics the natural position of your feet for added comfort and freedom to move around.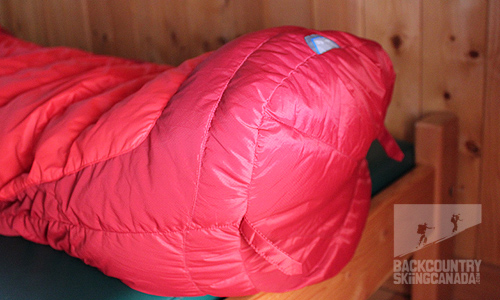 Adjustable neck draft collar keeps out the cold.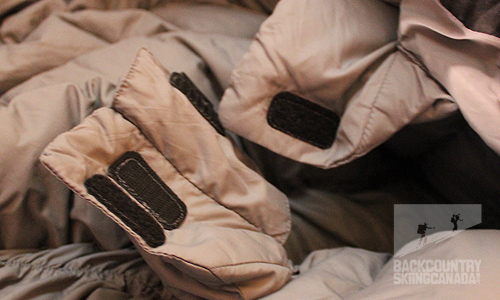 Thermo Stretch Comfort System: The lining on the inside is constructed with elastic seams allowing it to expand up to 25 % in width.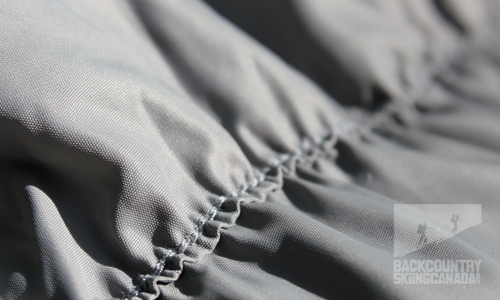 Zipper: 2-way full-length YKK zips enables Neosphere models to be zipped together.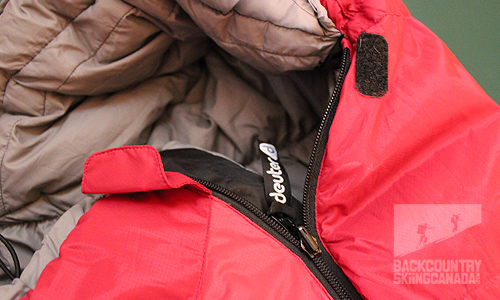 Pockets: A single internal pocket for valuables or night time essentials like headlamp or earplugs.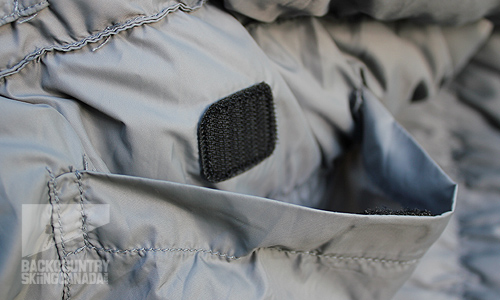 One handed hood adjustability and two handed adjustability on the neck draft collar.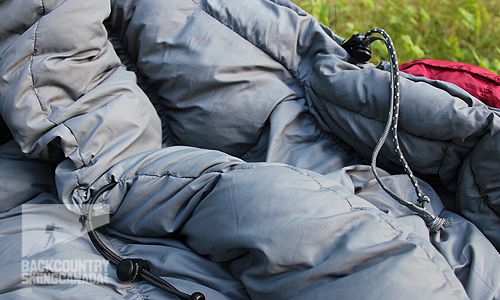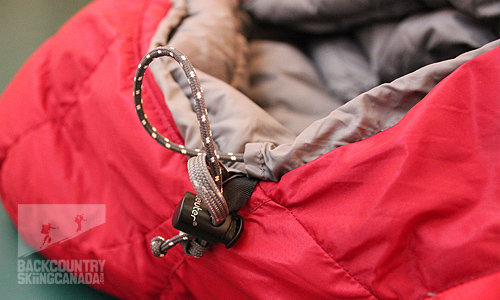 Dryzone: Water repellent material in the head and foot area keep areas that typically collect moisture dry.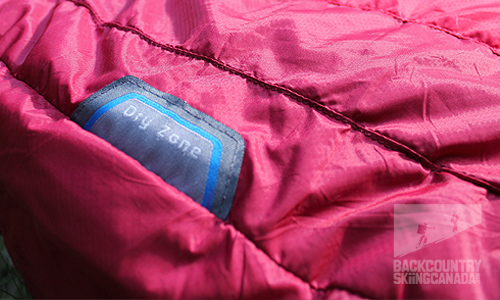 Fabrics:
Fill: 675+ goose down fill power.
Outer shell: Water resistant, wind and water proof Deuter Diamond 30D Nylon
Inner lining: Tactel Soft lining Nylon
The ratio of down to smaller feathers is expressed as "fill power" in cubic inches per ounce of down. This measurement indicates the quality of the bag's loft as well as the expansion power of the down. Deuter uses 90% down with 10% smaller feathers giving the Deuter Neosphere -10 down sleeping bag a rating of 675 cubic inches or 10.6 litres per 1 ounce (or 28.3g). Although these numbers seem a little arbitrary, remember the higher the volume the better the insulation value.
The outer shell of the Neosphere is made up of Deuter Diamond 30D Nylon which is a tightly woven 30 denier Nylon. The tight weave makes the material light, strong and relatively durable while providing some windproof and quick drying properties. Deuter also claims that this material is "down proof", meaning that the feathers should not poke through the fabric and from our testing we would have to agree.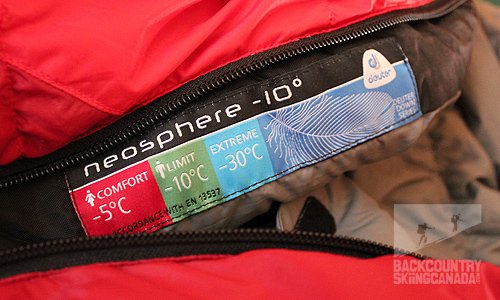 Verdict:
This spring we have gone on a sleeping bag review blitz comparing seven of the latest down sleeping bags from several manufacturers including: Deuter, First Ascent, Sea To Summit, Mountain Hardwear, Sierra Designs, The North Face and Big Agnes. Rather than just review the Deuter Neosphere -10 down sleeping bag on its own we wanted to compare it to other bags on the market to see how it stacked up and give you the reader a more informed verdict over all. Check out the other reviews to get the details for each bag tested.
The Deuter Neosphere -10 down sleeping bag had better loft than other bags in the 600 - 700 down fill range we tested which resulted in a very warm sleep. I would say the -10 rating is very accurate.
Although Deuter does not use any down waterproofing technologies similar to other sleeping bags we reviewed, I was happy with their strategically placed waterproof nylon at the head and feet of the bag as it kept me dry throughout my testing. The interior fabric was as comfortable as other bags we tested, however, the elasticized seams were noticeable against bare skin. The exterior fabric proved to be as durable as all others we tested and given the two tone fabric colours used I found the aesthetics to be among the best sleeping bag designs out there.
The full length dual zipper slid along the tack easily and didn't catch thanks to the heavier weight material on either side. The zipper itself was sometimes hard to locate as it can flip from the inside to the outside of the bag. If Deuter used two zipper pulls like on the Sierra Designs and Sea To Summit bags then this would alleviate the problem. The built in draft tube around the zipper kept me warm as did the adjustable neck collar tube. It's nice to see Deuter provide the user with an adjustable neck collar as some other manufacturers neglected to do so. It would have been better, however, if both the neck collar and hood adjustments were a one hand operation instead of just the hood; it is always more efficient to be able to use one hand rather than two to tighten things up.
On the fit side of things, the Deuter Neosphere -10 down sleeping bag used the "Thermo Stretch Comfort System" which essentially allowed the bag to expand laterally and provide more room as you move inside the bag thanks to elasticized seams. This was a unique feature to Deuter and only the Mont-Bell line of sleeping bags offered a similar feature. I like this feature, as the Neosphere provided plenty of room in the regular size I tested while most of the other bags tested were a Long size which adds additional overall weight. Deuter claims the Thermo Stretch system allows for 25% growth in the bag. Although I found the amount of stretch to be adequate, I question if it was actually 25%.
The Deuter Neopshere bag included an internal pocket for earplugs, headlamp or iPod storage. This a must have feature in my mind, however, some manufacturers do not include this inexpensive little perk. The pocket itself was large enough, however, the location and velcro closure could be improved upon. Since the pocket lays horizontally when you are in the bag the contents continually fall out. A zippered pocket is the only way to go in my opinion as found on the Sea To Sky and First Ascent bags.
Deuter also included a few extras with the Neosphere bag, including a nylon mesh bag and a compression sac. The mesh nylon storage bag works to ensure the down does not compress while you are not using the bag (very important), while the top shelf compression sac helps to synch the bag down nice and small to better fit into your backpack.
Overall, I was happy with the quality and features that the Deuter Neosphere -10 down sleeping bag had to offer, definite value for the money. It's weight was right in the middle of the pack of sleeping bags we reviewed as was the compression size. I have always thought of Deuter as a back pack company, but no longer.
It's a good looking, functional three season bag seen here at Kokanee Glacier Cabin.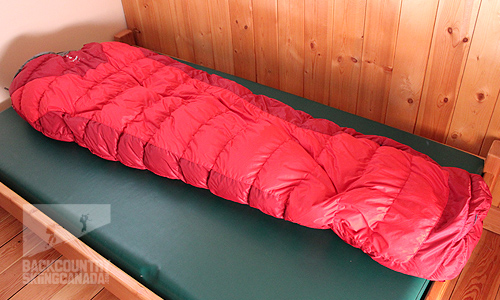 SPECS:
Price: $420 US
Weight: 1320g / 2lbs 15oz
Size: Regular
Dimensions (Length x Shoulder Width x Foot Box Width): 205 x 80 x 53cm / 81 x 31 x 21inches
Fill: 675+ goose down fill power
Fill weight: 600g / 1lb 5oz
Stuff Size: 17 x 38cm / 6.7 x 15inches
Temperature Rating: Comfort -5°C,Lower limit -10°C, Extreme -30°C
PROS:
- Very warm
- Like the stretch, provides extra room but not sure I would say it's 25% more
- Great looking
-Comfortable and full featured
- Dryzone water repellent material at the head and feet kept things dry
CONS:
- Elasticized seams inside were uncomfortable on bare skin
- Internal draft collar adjustment gets in the way as the synch cord is extra long
- Internal pocket feels like an add on; it's not ideally located and has no zipper to secure its contents
Rating: 8.5/10
Warmth                2/2
Compressibility     2/2
Features               1.5/2
Weight                 1.5/2
Quality / Price     1.5/2

This is only our opinion. Do you disagree? Did we miss something? Are we totally out to lunch? Join the discussion in the forums here, and let us know what you think. People like/dislike gear for different reasons so chime in and we'll get a well-rounded evaluation.
Back to the rest of the reviews.
---