Delorme inReach two-way satellite communicator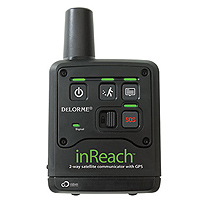 Travelling in remote locations away from cell phone signal is a part of the wilderness experience that many of us look for when ski touring. In an age of ubiquitous smart phones constantly keeping us connected, stepping off the grid can give us a sense of freedom, with no one to call and bother us about work, business or picking up groceries on the way home. But things can go sideways in the backcountry and the old school method of telling next-of-kin your departure point and expected to return, while still a good idea, will only let Search and Rescue extrapolate your location in the event of a catastrophe. Thankfully technology has got us covered.
Over the last few weeks I have had the pleasure of testing the Delorme inReach two-way satellite communicator. This boxy little device comes in two versions, one for pairing with Android phones and one for pairing with the Delorme PN-60w GPS unit. Our testing was done on the PN-60w version (review on the comprehensive PN-60w GPS unit coming soon). The inReach can be used a standalone device, however its functionality is limited.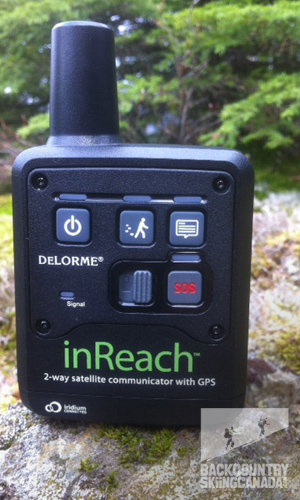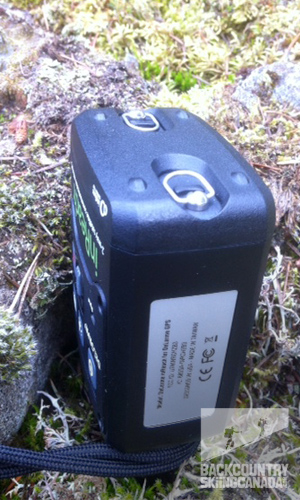 Personal locator beacons (PLBs) are nothing new, the popular SPOT (and now SPOT 2) devices have been on the market for several years. What separates the inReach from these other PLBs is the device's ability to send AND receive messages. The inReach is unique in this way, as other devices on the market will confirm delivery, only this one can receive messages from anyone logged into the explore.delorme.com website, including search and rescue personnel. Digital two way radios can eliminate false alarms as well as allow SAR to communicate updates and instructions to parties in distress.
All of this possible with with Iridium, the only satellite network with 100% global coverage. A constellation of 66 low earth orbiting satellites create a fully meshed network to ensure coverage from pole to pole. At the heart of the inReach lies the Iridium 9602 Short Burst Data (SBD) transceiver, the link to the Iridium satellite constellation. The low cost and small volume of this transceiver make it possible to package inside the relatively small case of the inReach.
Setup for the inReach takes several steps including pairing with your interface device (e.g. Android phone) and the online activation and registration. It is important to follow these directions carefully, as the button sequence is very specific during the pairing process. There are four options for the monthly subscription in Canada:
Safety (only SOS function included, charges 95c/message and 25c/ track overage) - $12.95/month
Chat (100 messages, 25 tracks included, 50c/message and 10c/track overage) - $26.95/month
Track (10 messages, 250 tracks included, 50c/message and 10c/track overage) - $26.95/month
Expedition (250 messages, unlimited tracks, 25c/message overage) - $49.95/month
All plans have the SOS function with a $30 activation fee and require a 12 month commitment.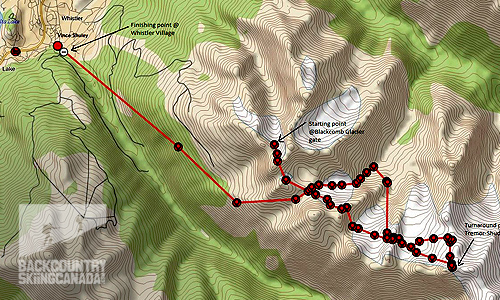 For field testing I took the inReach and PN-60w unit out in the Spearhead Range here in Whistler, with the goal of completing the entire traverse in a day. Unfortunately weather did not cooperate and our party had to turn around about a third of the way around, but the 10 minute interval tracks still show a good plot of our route. I turned on the inReach at the Blackcomb Glacier gate, the point at which you leave the boundary of the resort. The bunched points show the slow-moving climbs on the skin track and the stretched out points show the faster ski descents.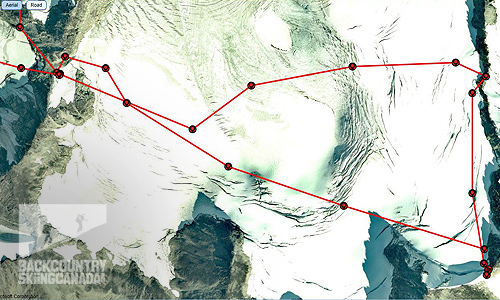 The detailed aerial image shows our approach to what we thought was the Tremor-Shudder Col (white out conditions can be quite disorienting) , but upon inspection of the GPS unit we realized we had to travel further up the ridge. After breaking for lunch and making the group decision to turn around, we had to make our way back down the Tremor Glacier, again in full whiteout. With zero definition, we slowly traversed back across the glacier back towards Mt Pattison, stopping several times to discuss what our location was with white cloud all around us. With the PN-60w unit I was able to see our current position relative to the tracking points set on the way up and we were able to continue forward with confidence that we weren't going to overshoot our way back home.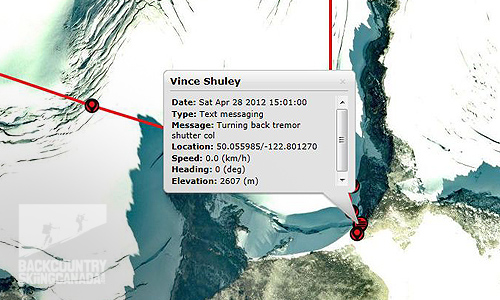 I also sent several text messages out during the trip to my next-of-kin, all of which were transmitted with minimal delay to my friend's email account and cel phone. I also sent the message to my own email so I could retrieve the message later. As the screen shot above shows, the message contains text body, my current co-ordinates and a link to the explore.delorme site where the recipient can view my current location and even reply to my text. I was also able to update my twitter and Facebook accounts, which provided links to my location on the explore.delorme site.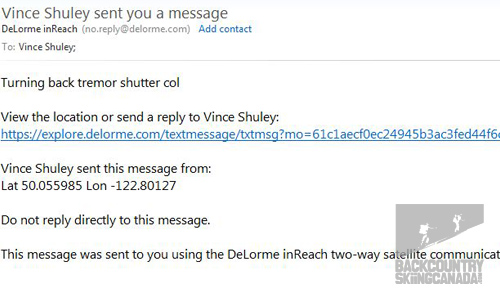 Verdict:
The inReach device can be used as standalone device but can only transmit three pre-loaded messages and obviously cannot receive messages without a display screen. A When paired with an input device however, the inReach is unmatched in network coverage, transmission reliability and 2-way communication. The price of both the inReach unit and the associated service plans is significantly more than its competitors, but to be subscribed to the world's most advanced satellite network comes at a premium.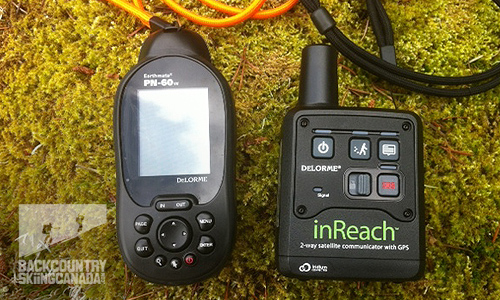 SPECS:
Price: $269.95 CDN (PN60w sold separately)
Weight: 8 oz / 227g with batteries
Size: 4.77" L (including antenna), 2.85" W, 1.73" D, 12.1cm L, 7.2cm W, 4.4cm D
Power: 2 x AA batteries (battery life with lithium batteries when tracking every 10 minutes approximately 60 hours. NOTE: the PN60w battery life is significantly less than inReach)
Accuracy: +/- 5 meters
Frequency spectrum: 1.61 GHz - 1.63 GHz
PROS:
Unmatched functionality, sturdy build quality (impact resistant, water and dust proof), excellent online mapping tools, interactive SOS and 2-way communication with home base (when paired with input device), social media compatibility.
CONS:
Unit cost, activation fee and service plans all more expensive than competing products.
Rating: 8/10
Ease of use 1/2
Features 2/2
Quality 2/2
Size / Weight 2/2
Price 1/2

oin the discussion in the forums here, and let us know what you think. People like/dislike gear for different reasons so chime in and we'll get a well-rounded evaluation.
Back to the rest of the reviews.
---